Trains from Carlisle to Edinburgh
Trains begin running from Carlisle to Edinburgh at about 07:00 during weekdays. Approximately 19 services make the connection daily, and you can find trains running, on average, once every hour. On Sundays, trains begin running later, closer to 12:30, with a total of about 11 trains throughout the day. On Saturdays, the schedule remains similar to weekdays; however, the final train does depart earlier.
Carlisle to Edinburgh Train Time: Daily Departures
Services run between Carlisle and Edinburgh daily. The earliest trains usually begin from just before 07:00, and you will find a train between the two cities running at least once every hour. On Sundays, the earliest train departs after noon, and the last train of the evening leaves Carlisle Station at around 21:20. At roughly 22:00 is the final train on every other day of the week.
How long is the journey by train from Carlisle to Edinburgh?
The journey from Carlisle to Edinburgh can be made in about 1h 15min to 2h 50min. This depends on the requirement of changeovers. The fastest journey is made by the trains that travel directly between the two cities. If you cannot catch a direct train, then you will likely need to make two changeovers during your journey; these will generally take place at Glasgow Central and Glasgow Queen Street Station.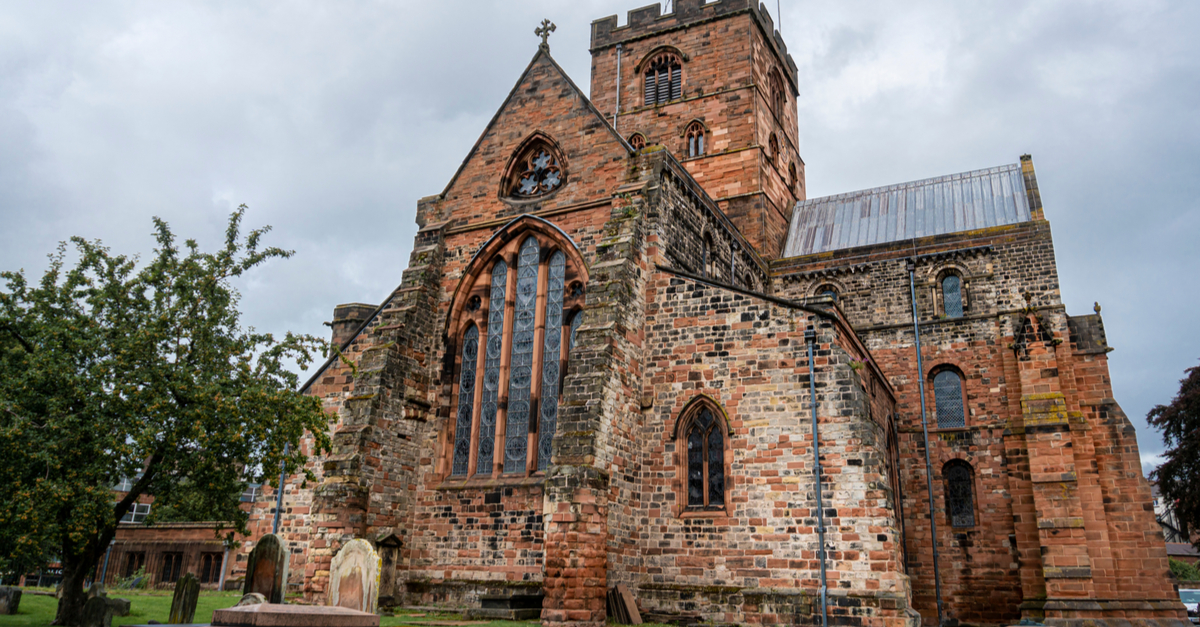 Cathedral in Carlisle. Source: Shutterstock
What are the departure and arrival stations for trains from Carlisle to Edinburgh?
Departure train station: You will depart from Carlisle Station. It is located in the centre of town, making it very accessible. Nearby, you can find the bus station, if you wish to travel to the station by bus, and there is also a station car park, with 160 spaces and open 24/7. Inside the station, you can find public toilets located by Platform 4 and 6, with baby-changing facilities and ticket machines also available.
Arrival train station: Edinburgh Waverley Station will be your arrival point, and it's the main station of the city, located in central Edinburgh. From the station, you can find bus and metro services as well as a shuttle bus operating between the station and Edinburgh Airport (EDI). In the station, you will find public Wi-Fi, a cashpoint, shops and a station buffet available for your use.
Which train companies travel from Carlisle to Edinburgh?
Two train companies connect the two cities. You will find trains serviced by Avanti West Coast and TransPennine Express. Avanti West Coast services about half of the trains that run the connection and has both direct trains running to Edinburgh as well as train services that require two changeovers. TransPennine Express runs the remaining trains from Carlisle to Edinburgh. Most of its trains run direct, but some require a single changeover, at either Carstairs Station or Glasgow Central. TransPennine Express services the first train of the day, while Avanti West Coast services the last train in the evening.
Night trains Carlisle
Unfortunately, you won't be able to find a train service from Carlisle later than around 22:00 during the week, and Sunday trains only run as late as about 21:20. These trains will have you arriving in Edinburgh after 00:00, however. You can catch the earliest train in the morning from noon on Sundays and as early as around 07:00 every other day of the week. If you are commuting for work, this service will land you in Edinburgh generally before 08:30 and is the only train that will reach Edinburgh before 09:00.
Avanti West Coast trains from Carlisle to Edinburgh
Avanti West Coast runs trains from Carlisle to Edinburgh, most commonly, every 2 hours. Its service offers both direct and non-direct trains to Edinburgh Waverley as well as the cheapest and fastest journeys. For more information about Avanti West Coast, clickAvanti West Coast.
TransPennine Express trains from Carlisle to Edinburgh
TransPennine Express also runs direct trains roughly every 2h between Carlisle and Edinburgh. Their non-direct train requires a switch at Glasgow Central, to a bus service which will take you to Glasgow Queen Street Station. From there, you make your second switch and take the train, via ScotRail, the remainder of the journey to Edinburgh Waverley.
Trains from Carlisle to Edinburgh: Sustainability travel
Travelling by rail from Carlisle to Edinburgh is a more sustainable form of travel than traversing the distance by car. By choosing to travel via public transport, you also reduce sound and light pollution created by other vehicles, which can disrupt both towns and wildlife, especially during the evening. Both Avanti West Coast and TransPennine Express are working towards making their rail travel more sustainable, with the goal of reducing their environmental impact even further. If you are interested in further lowering your own environmental impact, taking a look at the sustainability article inThe Window Seat can offer even more options for travelling more eco consciously.
Train Carlisle to Edinburgh: Services on Board
Both train companies running the service between Carlisle and Edinburgh offer a first-class ticket option. With first class, you travel more comfortably, with wider seats and extra legroom. First-class Avanti West Coast tickets also include power points and free drinks. With a standard ticket, you have access to free Wifi on board the train, and power points are available to all customers travelling with TransPennine Express. On board the train, there is room for luggage in overhead storage spaces. Each passenger has an allowance of three items of luggage, one small and two large. Each passenger also has an allowance of two pets on board the service, as long as pets are kept on a leash or in a carrier for the duration of the journey; this comes at no additional cost. Assisted travel can be arranged for elderly passengers or passengers with a disability. This service includes help finding seats, aid on and off the train and room for wheelchairs. If you are in need of assisted travel, be sure to contact the rail service prior to your journey, so they can prepare everything.
How to find cheap train tickets from Carlisle to Edinburgh?
Cheap train tickets for Carlisle to Edinburgh can be found online. It helps to book your tickets in advance if you are looking to find the cheapest prices. Our website or app can aid in showing you which train fares cost the least along with the differing fares in regard to first and standard class. Being flexible with dates and times of departure also ensures you a cheaper fare, as some train services have the option of a cheaper ticket to travel during off-peak hours.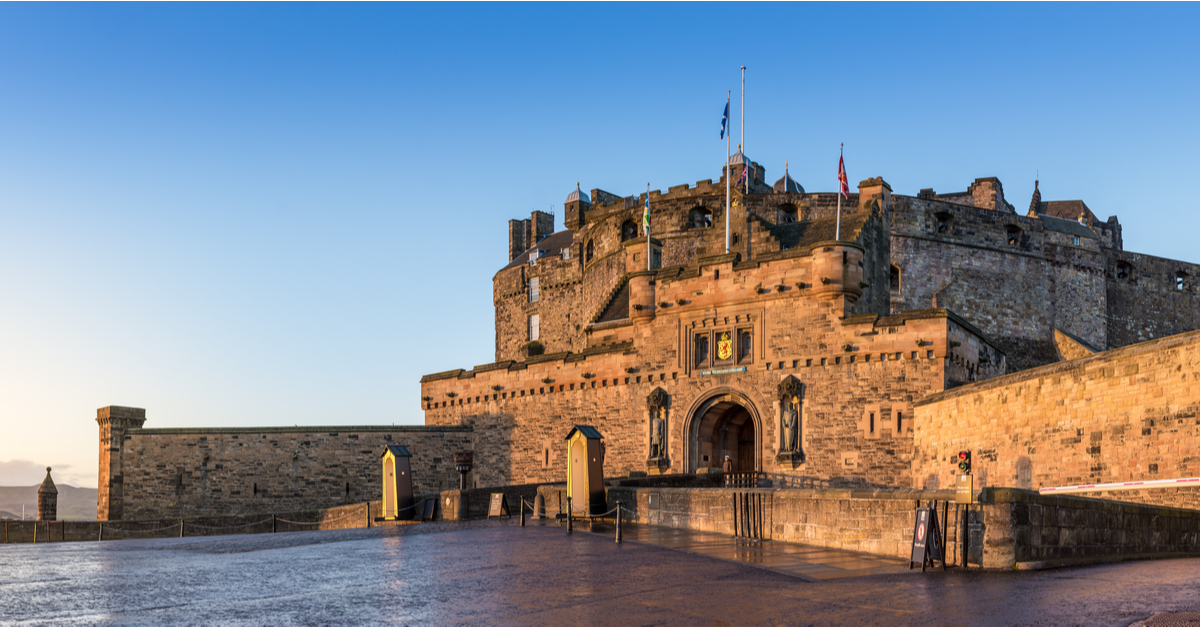 Edinburgh castle in the morning. Source: Shutterstock
To Edinburgh by train—travel tips
Scotland's capital, Edinburgh, has plenty of exciting activities and sights to offer. From Edinburgh Waverley Station, you can head straight to Edinburgh Castle, only about a 10min walk away, located on Castle Rock. From here, you'll find yourself overlooking the city. Inside the castle, you will find some of the UK's oldest crown jewels, the Honours of Scotland, along with many more important artefacts. South of the station, around a 9min walk away, you can find yourself at the National Museum of Scotland. With free entry and open seven days a week, the museum is great to visit any time of the year but especially when the sun isn't shining. Or for something more dark, the Edinburgh Dungeons, also only a few minutes' walk from the station, is an interactive experience of Scotland's dark past.
Catch a show at the Festival Theatre
Climb the 287 steps to Scott Monument and soak in the views
Visit the Scottish National Gallery of Modern Art
Bring the kids on an adventure at Dynamic Earth
Explore the attractions at Camera Obscura and World of Illusions