Flights from Gdansk to London
There are many daily flights from Gdansk to London, allowing you to pick and choose between direct flights and those that make stopovers en route, the airline you prefer, and the time of day that you wish to travel. Travel times vary just as much, with the shortest flight taking only about 2h 20min. At the other end of the scale, the longest flight will take over 26h. On average, though, you're looking at a flight of around 5-8h. Flights are very frequent with several dozen departing throughout the day at roughly half-hourly intervals, although these aren't regular, so make sure to check the exact departure times on Omio.
Gdansk to London flight time: Daily Departures
There are over 50 flights a day from Gdansk to London, offering you hundreds of options each week. The earliest flights of the morning depart from Gdansk at around 5:35 a.m. and the last take off for London at about 6:35 p.m. The flights are most densely concentrated during the early morning and late afternoon/early evening, with others dispersed throughout the day. These flights are a mixture of direct and one- or two-stop routes, with exact flight times varying accordingly.
How long is the journey by flight from Gdansk to London?
The quickest flights from Gdansk to London take roughly 2h 20min, which makes it quite a short-hop journey. These are direct trips without any intervening stopovers or plane changes. You'll also find plenty of one-stop flights, and these take a minimum of roughly 4h. Most of them require a change of plane at the stopover airport. If you don't really mind how long your flight takes and you're looking for good value for money, choose one of the two-stop flights. The quickest of these takes around 8h 30min.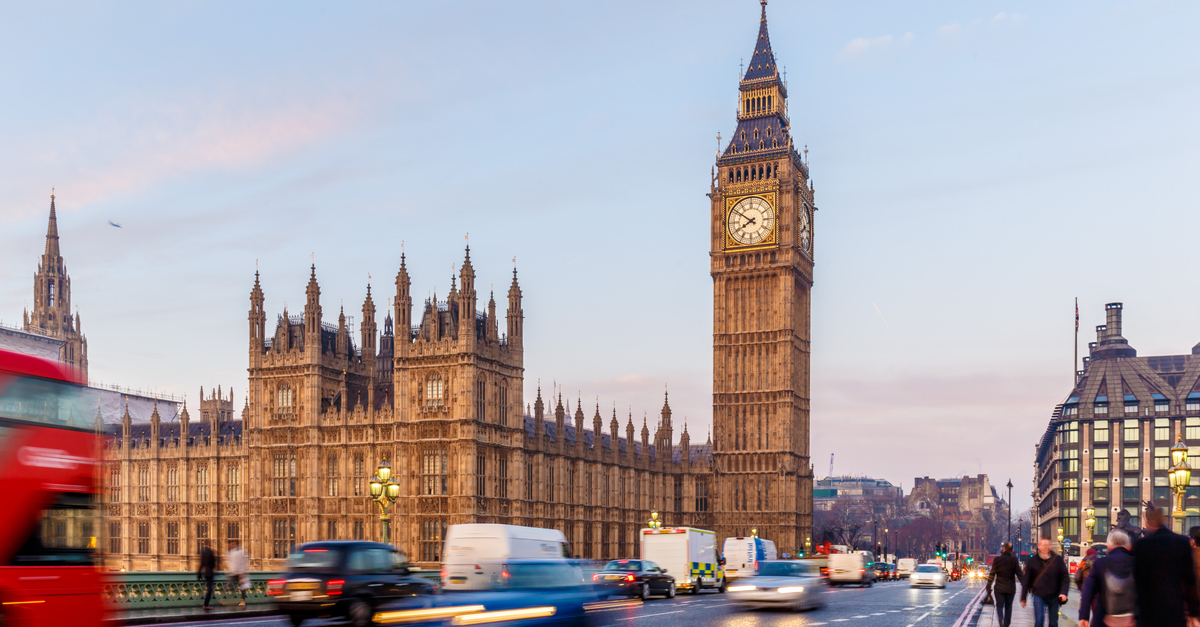 London Street Big Ben. Source: Shutterstock
What are the departure and arrival airports for flights from Gdansk to London?
Departure airport: Flying out of Gdansk you'll depart from Gdansk Lech Walesa Airport (GDN). It's only about 10.5 miles (17 km) from the city centre, which you can traverse by train in about 6min, leaving from Gdansk Osowa Station. The airport is a fully-fledged international hub, providing plenty of shops (including duty-free), restaurants and coffee shops. There are baby care and children's play facilities and accessibility assistance is always available.
Arrival airport: Flights from Gdansk to London typically land at one of three airports – London Heathrow Airport (LHR), London Stansted Airport (STN) or London Luton Airport. You can get to these airports most easily from London Central by catching the Heathrow Express (about 15min to Heathrow), the Stansted Express (about 50min to London Stansted) and a National Express bus (about 1h 15min to London Luton). All three airports have duty-free areas, family and limited mobility amenities, and many pubs, fast-food outlets and other eateries.
Which airlines travel from Gdansk to London?
Flights to London from Gdansk are divided into two types, those operated by budget airlines, and the rest. You can enjoy huge savings by flying with these budget carriers. Happily, they are all quick, direct flights too, operated by Wizz Air and Ryanair, taking roughly 2h 20min to make the trip, regardless of which of the two you choose. In order of travel time, the other airlines that fly several times a day between the two cities are KLM, Lufthansa and LOT Polish Airlines. These all make intermediate stopovers where you'll usually change aircraft, in cities including Amsterdam, Dusseldorf and Warsaw. Flight times on these airlines are extremely disparate, with some taking as few as 5h and others over 24h. You can use the handy filters on the Omio live flight schedule pages to sift through them all and find the one that suits you best.
Wizz Air flights from Gdansk to London
Wizz Air offers two flights a day, one in the early morning and one in the early evening. You can expect a quick travel time of about 2h 25min, and these are all direct flights without any changes on the way. They're also the cheapest flights you'll find between the cities, and offer the convenience of getting you to London in time for a full day, or by mid-evening so that you can get a good night's sleep.
Ryanair flights from Gdansk to London
Ryanair also offers significant savings on Gdansk-London flights. It too flies direct, taking about 2h 20min to make the journey. It's a good idea to set a ticket alert using the Omio online booking platform for these flights, as there's only one a day that leaves in the morning and tickets for this very popular flight can sell out before you know it.
KLM flights from Gdansk to London
KLM offers the quickest of the one-stop flights to London. These leave in the early morning and again in the late afternoon, with a few flights available almost simultaneously at these times. The fastest KLM flights take around 4h, and you'll make your stopover at Amsterdam Schiphol Airport (AMS), where you'll also change planes. These tickets are also on the more cost-effective side, compared to some of the others available on this route, so they're worth looking out for too.
Lufthansa flights from Gdansk to London
Lufthansa flights to London from Gdansk are usually the longest ones. They also tend to make an extra stopover on the way. However, you will be able to find one or two a day that only take about 4h 45min, with only one stop for a transfer at Munich Airport (MUC). Other flights on Lufthansa take between 5h 30min and 8h, while the long flights with two stops taking about 26h.
LOT Polish Airlines flights from Gdansk to London
LOT Polish Airlines flies one-stop flights between the two cities, the shortest of which takes around 5h to make the journey. This is a one-stop flight, requiring a plane change at Warsaw Chopin Airport (WAW). The airline also offers longer and cheaper flights that fly an identical route, but spend a lot more time on the tarmac in Warsaw.
Flight Gdansk to London: Services on Board
The non-budget airlines offer the typical in-flight services you'd expect from modern major international carriers, with the usual classes you're accustomed to: Economy, Business and First class. Some also offer valued-add sub-classes of Economy. Since most people fly Economy, we'll focus on that, and discuss the budget airlines afterwards.
KLM offers a straightforward Economy class with in-flight entertainment, recharging sockets on each seat and free Wi-Fi. You can choose the kind of seat you prefer, for a small extra fee: Extra Leg Room seats offer exactly that, while Economy Comfort seats have more leg room and lean further back. Lufthansa offers extra leg room on all Economy tickets, with adjustable head rests. There's plenty of digital entertainment and a menu of meals, drinks and snacks. LOT Polish Airlines has an Economy class and a Premium Economy class. The former has seats with recharging and USB sockets, and entertainment that includes movies, series, movies, live concerts and games. You also get complementary drinks, alcoholic and non-alcoholic. Premium Economy offers wider seats and an upgraded menu.
All of these airlines have comprehensive limited mobility assistance and amenities, and allow the standard luggage weight of around 50 lbs (23 kg). Both budget airlines only have a single class, with not much to choose between the two. Ryanair allows you to pre-select and pay for packaged snacks and drinks, but no hot beverages. Wizz Air also offers an in-flight selection of food and drink that you can buy. These airlines rely on airport limited mobility services to provide accessibility assistance.
How to find cheap flight tickets from Gdansk to London?
Obviously booking with the budget airlines is the best way to find cheaper tickets on Gdansk to London flights – these can cost 10 times or even 20 times less than the other tickets, without exaggeration. You can also pick up cheap tickets by booking far in advance, as airlines are anxious to fill planes as soon as possible to plan their flight schedules most economically. On the other hand you can hold out till the last minute and use Omio to get alerts on good ticket deals that come through due to cancellations. As we've noted, the longer flights are often cheaper too, and we can recommend the KLM flights for a good balance of cost vs travel time.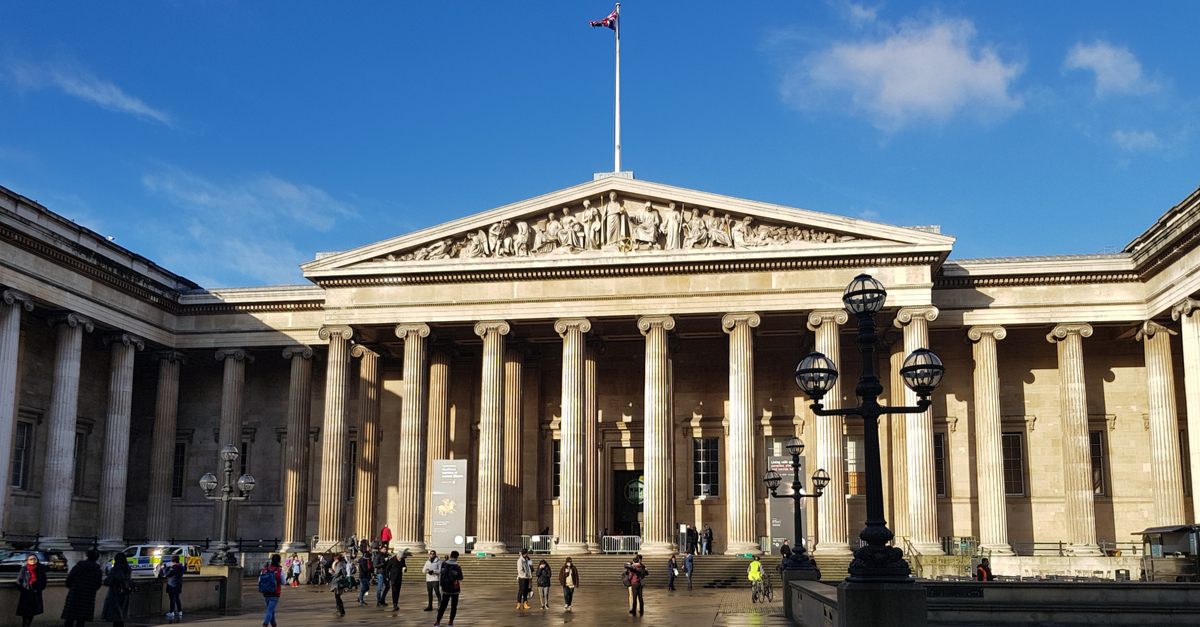 London Museum Holborn Tourists. Source: Shutterstock
To London by plane—travel tips
London has some of the world's most famous tourist attractions, and you'll be a bit like a kid in a candy store trying to decide what to do. Must-see highlights are the British Museum, the Natural History Museum and the Imperial War Museum, all of which house major collections cataloguing the history of human civilisation and natural evolution from pre-historic times to the present day.
Trafalfar Square is one of the most iconic gathering places in the world, with Piccadilly Circus nearby, and there are few national landmarks as celebrated as Buckingham Palace. More modern attractions include the London Eye that will swing you high up above the city for a view only outdone by taking a trip to the top of The Shard that stands over 1,000 feet in the air.
Then there's Soho, London's bohemian centre for many centuries. A visit to the Tower of London is also well in order, where you can see the Crown Jewels. The Houses of Parliament are famous for Big Ben clocktower, and art lovers won't want to miss the fabled Tate Modern art gallery.