Airports across Europe
Getting from the airport to the city centre can't be that hard, right? We've found in the past that escaping the clutches of the baggage reclaim/airport terminal and finding your way to the city centre, without dropping your life-savings on taxi fare, is often harder than it should be.
That's why we at Omio decided to look into the 10 most convenient European airports, based on the most popular ones our UK passengers fly to. Thanks to our research you can spare the stress, high blood-pressure, arguments and sometimes tears of getting from the airport to the city centre.
Perfect for Passengers - Interactive Airport to City Centre Overview
This interactive table includes distance, duration, price and transport mode from over 70 European airports to the city centre. Simply type in your arrival airport or country and find your result.
All Rights Reserved. Omio must be credited when sharing the graph.
Major Airports in the UK
Flights in the UK form a major part of the air traffic network in Europe, so unsurprisingly the UK is home to some of its largest and busiest airports. London, in particular, is a major world aviation hub with a total of 6 international airports which, collectively, handle hundreds of millions of passengers each year. Of these, London Heathrow remains the country's busiest airport by a long way, handling over 70 million international passengers annually.
In fact, altogether, more than half of flight passengers in the UK travel via London's airports - other than Heathrow, Gatwick and Stansted, London Luton also makes the top 5 and London City makes the top 20. Manchester, Birmingham and Edinburgh Airport are the busiest airports outside London. With the rise of travel search sites and flight comparison tools, travelling between them has never been easier.
International Airports in London
London Heathrow Airport
Heathrow handles more international passengers than any other airport in the world and is the busiest airport in Europe. At the moment, Heathrow has 2 runways and 5 terminals and is located in the west of London in Hillingdon, still within the M25 motorway ring. A massive amount of destinations and countries can be reached, both short-haul and trans-continental.
It is the main hub for British Airways and the operating base of Virgin Atlantic, who offer transcontinental flights. The busiest routes within Europe from the airport are between Dublin (London - Dublin is one of the busiest routes in the world), Frankfurt and Amsterdam, with each of these seeing nearly 1.5 million passengers in a year.
Most Popular Flights
London Gatwick Airport
Gatwick is the UK's second-busiest airport after Heathrow, with 43 million passengers travelling through in 2016. The airport is a base for flag-carrier airline British Airways, as well as a number of low-cost airlines including easyJet and Flybe. The majority of its busiest routes are those destinations in Spain, as well as major cities around Europe including Dublin, Amsterdam and Geneva. Gatwick's dedicated train station connects passengers to Victoria Station by the Gatwick Express service.
Gatwick is home to Europe's busiest single-use runway and is the leading airport in Europe for point-to-point flights. As such it forms a key point in the network of low-cost carriers in Europe. Gatwick is about 50 kilometres to the south of central London, although it can be easily reached by public transport, including the Gatwick Express service from London Victoria station.
Most Popular Flights
London Stansted Airport
London Stansted is the fourth-busiest airport in the country, behind Heathrow, Gatwick and Manchester, with roughly 20 million passengers passing through its gates each year. It is the largest base in the UK for budget carrier Ryanair, which serves over 100 destinations from the airport. Stansted is approximately 50 km to the northeast of central London, within the county of Essex. The Stansted Express train service travels directly from London to the airport in under an hour - booking well in advance is advised.
Most Popular Flights
Edinburgh Airport
Edinburgh airport is the busiest airport in Scotland and the 5th busiest in the UK, with over 10 million passengers travelling through it each year. It is located just under 10 km to the west of Edinburgh city centre. Over 40 airlines, among them Jet2 and Norwegian Air, serve Edinburgh airport, flying to over 140 destinations worldwide. The airport can be easily reached from the centre of Edinburgh via the light-rail tram link service which, since 2014, runs directly to the airport terminal.
Most Popular Flights
Birmingham Airport
Birmingham airport is the 7th busiest airport in the United Kingdom, with about 10 million however, it is the 6th busiest in terms of international passenger numbers. The airport is the main operating base for flybe, as well as being a significant base for other major airlines offering cheap flights, such as Monarch and Ryanair. The airport has its own station - Birmingham International Station - which is served by trains on the West Coast Mainline between London and Birmingham.
Most Popular Flights
Manchester Airport
The largest and busiest airport outside of London, Manchester airport has flights to more than 220 different places, making it the airport in the UK that serves the most destinations. The airport has 3 terminals and 2 runways - the only one apart from London Heathrow to operate more than a single runway. Located just shy of 15 kilometres from Manchester city centre, the airport is well connected to the M56 motorway as well as to the public transport network, making it a viable option for not just people in the Manchester area, but from the entire North of England.
Destinations in Spain such as Tenerife, Palma de Mallorca and Alicante are particularly popular from Manchester Airport, with some 3 million passengers flying these routes between 2012 and 2013. Domestic routes are also particularly busy, including those to London Heathrow, flights to Belfast and flights to Aberdeen. The airport has over 50 airlines operating a global network of flights, among them are Virgin Atlantic, Thomas Cook Airlines, easyJet, Monarch and Ryanair.
Most Popular Flights
London Airports Map
With 6 airports surrounding the bustling UK capital getting to your required take-off can be stressful. At Omio we like to help eradicating these problems. Below you can check out our map, containing each of London's airports and how to get there via. bus or train.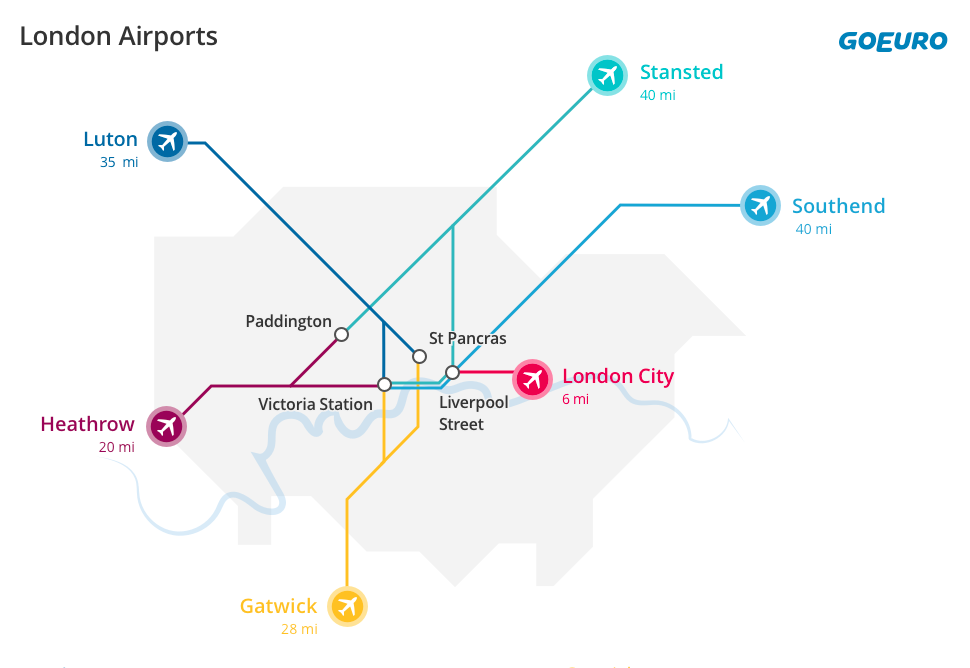 Luton
St Pancras
Victoria Station
Victoria Station
Victoria Station
Victoria Station
Thameslink
EasyBus
GreenLine 757
National Express
Terravision
Gatwick
St Pancras
Victoria Station
Victoria Station
Victoria Station
Victoria Station
Thameslink
EasyBus
Gatwick Express
National Express
Southern
Heathrow
Paddington
Paddington
St Pancras
Victoria Station
Heathrow Connect
Heathrow Connect
Piccadilly Line
National Express
Stansted
Liverpool Street
Liverpool St./Victoria
Liverpool St./Victoria
Liverpool St./Victoria
Paddington
Stansted Express
EasyBus
Terravision
National Express
National Express
Southend
Liverpool Street
Liverpool St./Victoria
Abellio Greater Anglia
National Express
London City
Liverpool Street
Stratford Bus
Docklands light Railway
Bus 473, 474
Popular Flights in Europe