Buses from Halifax to Birmingham
Traveling from Halifax to Birmingham by bus will take anywhere between 3h and 5h to complete. The variables in the duration of the trip will be affected by the route you pick, the number of stops on the route, and the bus company that you decide to travel with. You can pick the best option for you on Omio. Direct bus trips are available from Halifax to Birmingham. If you pick a one-stop bus trip the first bus you take leaves every hour and the second makes the journey twice a day.
Halifax to Birninghman bus time: Daily Departures
You will find about 8 buses leaving Halifax daily, which can vary on public holidays where there are typically 3 - 5 buses leaving. You are able to sort the available buses according to their departure times on Omio. There are multiple journeys per day, with multiple bus companies. The first leaves at 4:30 from Huddersfield, Market Street and the last leaves at around 11:20 p.m. from Halifax.
How long is the journey by bus from Halifax to Birmingham?
When travelling from Halifax to Birmingham you will cover a distance of 85 miles (137 km). Depending on which trip you pick your trip can take between 2h 40min up to 5h to complete. You will find there are direct buses which are the quickest, as well as one-stop buses which require a single change, which generally happens in Sheffield.
What are the departure and arrival stations for buses from Halifax to Birmingham?
Departure bus station: there are two departure locations available for this route. One being from Huddersfield, Henry Street, and the other being from Halifax the main bus station called Halifax Bus Station on Wade Street. If you would like to get from the city centre of Huddersfield to the bus station you could catch a taxi or walk to 0.4 miles (0.6 km) which will take you approximately 2min. Getting from Halifax Bus Station terminal is located just a 3min walk away from the city centre.
Arrival bus station: there are two different bus stations which you could arrive at when you reach the destination of Birmingham, depending on the ticket you have booked and the bus company you are travelling with. If you pick a direct bus you will arrive at Birmingham, Hill St / Railway Bridge. If you want to get from the station to the city centre, you can make the 0.6 miles (1km) long trip by catching a bus or a taxi. If you don't have too much luggage you will find it an easy brisk walk. If you book a bus journey that incorporates one change, you will arrive at Birmingham Coach Station. There are again 3 ways to make the trip from the station to the city centre, however, they are slightly longer. Catching a taxi on this route will take about 4min, where a bus will take 5min. Walking this route will take you approximately 8min.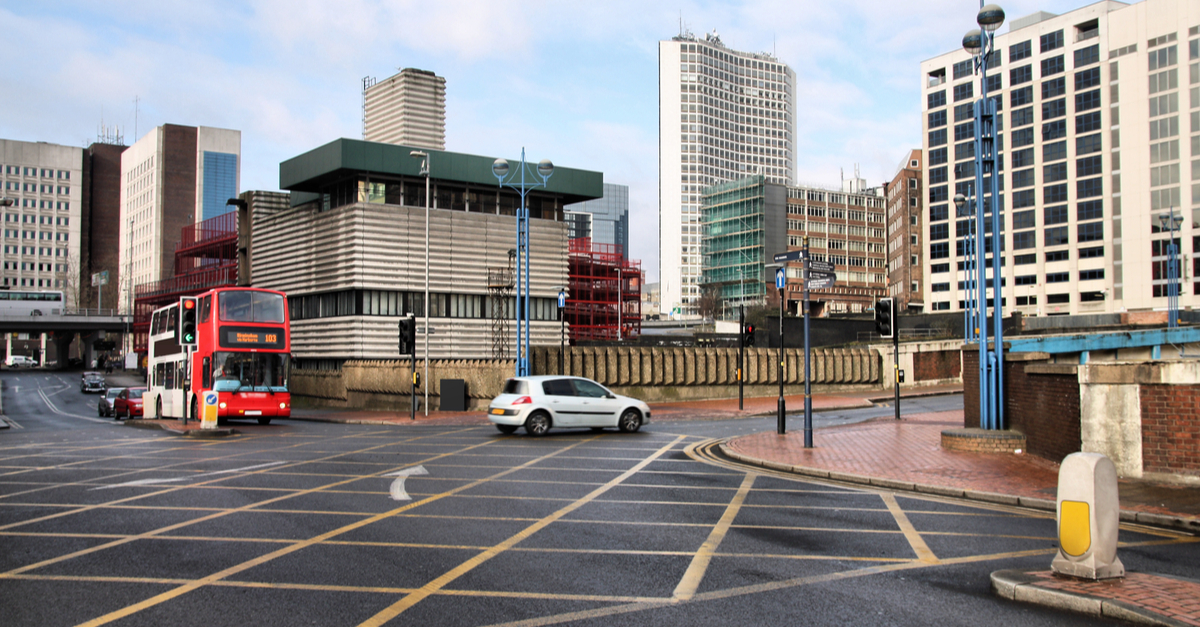 Edinburgh. Source: Shutterstock
Which bus companies travel from Halifax to Birmingham?
There are two companies offering bus tickets from Halifax to Birmingham. MegaBus is the company that runs a direct trip between Halifax and Birmingham, which the other is the National Express. Their route incorporates one change over. Both companies leave from different stations and arrive at different stations. The MegaBus journey is approximately 3h and is the cheapest ticket available. The journey offered by the National Express takes just under 6h to complete. Check Omio for the latest bus schedule, see the different tickets and departure times offered by each company. Then purchase the best ticket for your travel requirements.
MegaBus buses from Halifax to Birmingham
MegaBus is the most popular choice of bus service provider for this route, not only are their tickets affordable and in most cases the cheapest option available on a specific day, but this company offers a direct trip to the destination being Birmingham. The duration of the trip is 3h 10min, and there are about 5 buses a day running this route, which start at around 4:30 a.m. and the last one leaves at 10:20 p.m. MegaBus has two fleets of buses, for this trip, you will be travelling on their high-speed buses.
National Express buses from Halifax to Birmingham
The National Express bus service is one of the oldest operating buses companies in the UK and is therefore highly trusted as a bus service provider. For this particular journey from Halifax to Birmingham, they run two buses a day on the route. The first leaves at around 7:35 a.m. and the last at 11:20 p.m. Their buses for this route leave from Halifax Main Bus Station, and can take between 5h 30min to 7h to complete. The route mapped out by this company to reach Birmingham does include one change over in Sheffield.
Bus Halifax to Birmingham: Services on Board
To discuss the onboard services of both companies let's first look at Megabus policies. When travelling this long-distance route you will be able to book a sleeper coach if you would like to rest before you arrive in Birmingham in total comfort. Your luggage allowance with the Megabus company is 20kg, with an overhead storage rack that allows you to keep your hand luggage close by.
Unfortunately, you are not allowed to travel with a pet that is not an assist animal on MegaBus, and your assistance dog must be harnessed appropriately for the duration of the trip. If you are travelling in a wheelchair or with the aid of a lightweight mobility scooter, and are able to climb the few steps onto the bus, the MegaBus drivers will assist you in getting on and off the bus while also storing our aid in the storage hold.
When we look at National Express we can see their disability program includes services such as making sure your wheelchair will fit on board before you reach your bus. The company will weigh both the passenger and the wheelchair to make sure the combined weight does not exceed the wheelchair lift. Your luggage allowance is the same for both companies. You can bring your bike onboard a National Express bus, but it is recommended you book a spot in advance as there are limited storage spaces. Only assist dogs are allowed on National Express buses, and they too must be properly harnessed through the journey.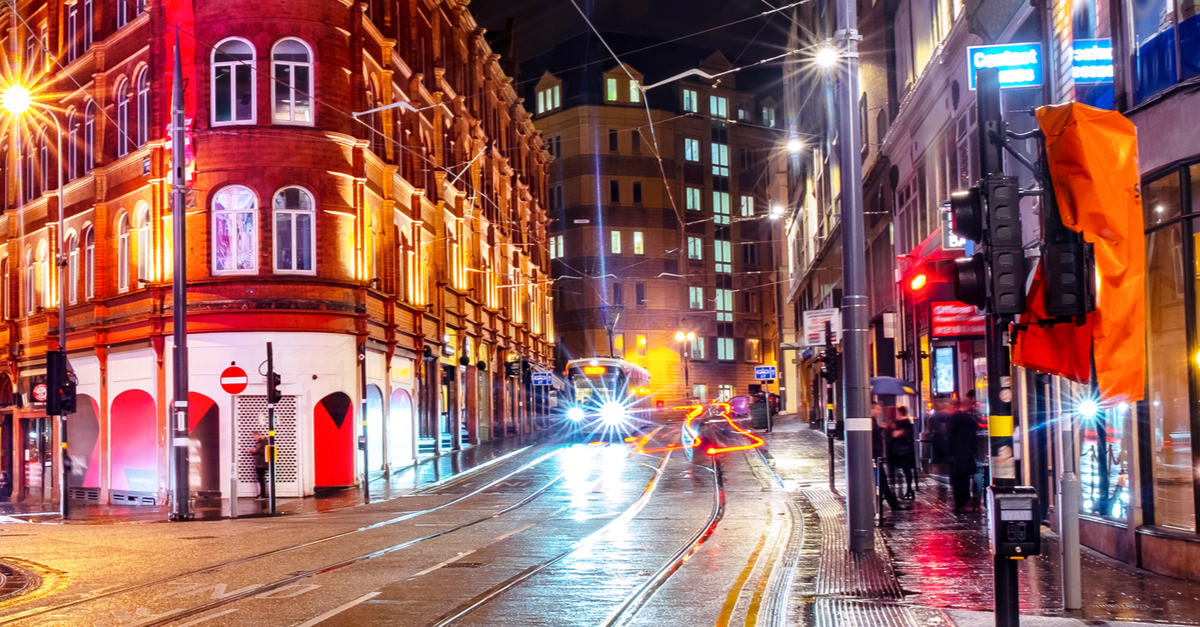 Edinburgh. Source: Shutterstock
How to find cheap bus tickets from Halifax to Birmingham?
Searching for cheap bus tickets from Halifax to Birmingham on Omio is easy. You are able to adjust the filter to sort through the available options and display only the cheapest bus tickets which are available on that day. Remember that to guarantee you get the best deal available make sure you book in advance. You can book a ticket in advance anywhere between 30 and 120 days depending on the bus company you are travelling with. Adjusting your travel dates, and remaining flexible with them is also a top tip when keeping your budget in mind. Often moving your dates by only one or two days can take you from a high volume travel day to an off-peak travel day where the tickets will be cheaper.
To Halifax by bus—travel tips
Visting Birmingham means you will be visiting one of the friendliest cities in the country. Meet the local people nicknamed 'Brummies' and experience the charm of the area through building friendships! With over 8000 acres of green open-air parks, travellers wanting to spend outdoors and enjoying walks must-visit Cannon Hill Park. Be sure to stop by The Bull, long considered the best restaurant to try the most popular local cuisine of faggots and peas.
Among the most favourite activities to do in Birmingham include Birmingham Comedy Festival, which showcases globally celebrated comedians and has been running yearly for over 20 years, and packs out every show. The Birmingham Botanical Gardens are and an oasis of local and exotic flowers, trees, birds and butterflies allowing nature lovers peace and relaxation. The heart of the city revolves around the old town hall in Victoria Square which is best explored on foot. The old town hall is now the home of the Birmingham Symphony Orchestra, which is a must for your visit.