Trains from Southhampton to Amsterdam
The train journey from Southhampton in the United Kingdom is approximately 285 miles (460 km) to your destination of Amsterdam. Embarking on this journey will take you between 7h and 8h 30min depending on the variation of ticket you book. The duration of the journey can be extended according to the number of changes along the route. There are no direct trains, you will be required to make either one or two changes to complete the trip.
Southhampton to Amsterdam train time: Daily Departures
When departing from Southhampton please keep in mind that there are four departure trains per day. The earliest trains leaving the station are at 6:43 a.m. and the latest departing train will leave at 8:00 a.m. For your convenience, you will find two trains that leave between the first and last train, which depart within approximately 30min of each other
How long is the journey by train from Southhampton to Amsterdam?
Your train journey from Southhampton to Amsterdam covers 285 miles (460 km), which will mean you will have travelled for an average of between 7h and 8h 30min by the completion of the journey. The duration of the journey can vary depending on the number of changes along the route. There are no direct trains, you will be required to make either one or two changes to complete the trip.
What are the departure and arrival stations for trains from Southhampton to Amsterdam?
Departure train station: When leaving Southhampton you will be departing from Southhampton Central Station, and travelling with South Western Railway Services. This is the only train station in Southhampton and it will take between 1min and 11min to get there from the city centre, depending on the mode of transport your choice to make the trip. By taxi or car is the fastest. Your next option is to take a bus which will take about 7min and the longest travel time will be a journey on foot.
Arrival train station: There are a total of nine train stations in Amsterdam, but you will be completing your journey from Southhampton to Amsterdam at the main train station, Amsterdam Centraal. It can take between 5min and 30min to get from Amsterdam city centre to Amsterdam Centraal Train Station, depending on which mode of transport you choose. The speed train is the fastest. You can take a bus or a taxi which will take between 8min and 15min, and the longest way to get there is via the subway.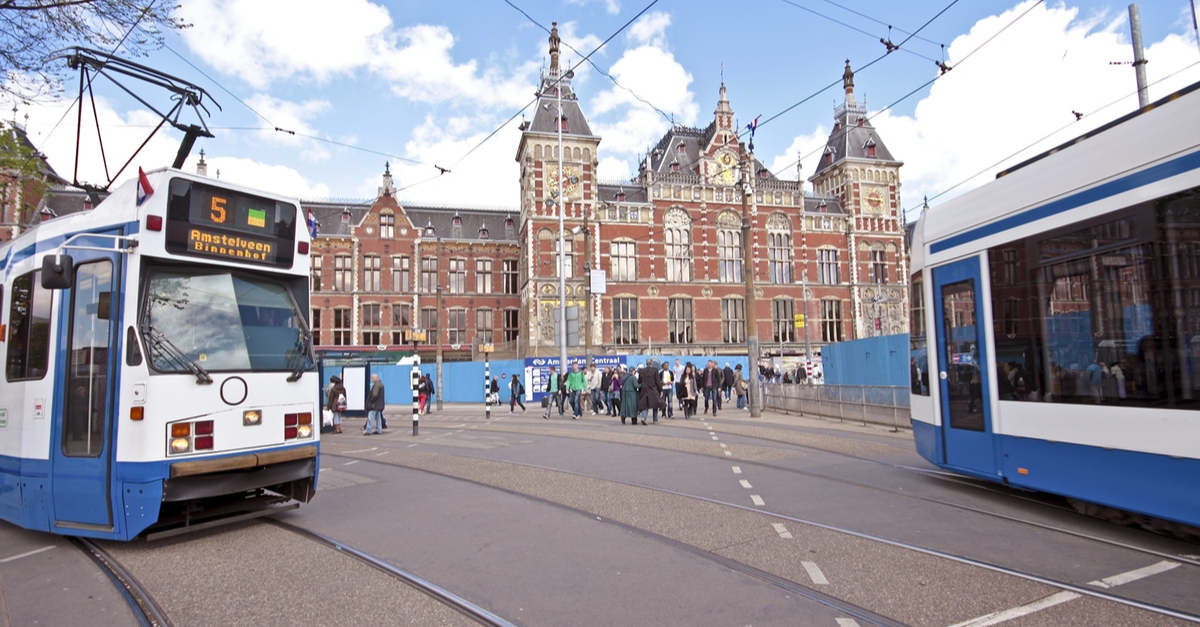 Amsterdam City Tram. Source: Shutterstock
Which train companies travel from Southhampton to Amsterdam?
You will be travelling with either two or three different train companies when completing the journey from Southhampton to Amsterdam. This will be determined by whether you have booked a one change or a two change ticket on Omio. If you book a two change ticket, the first service provider you will travel with will be the CrossCountry train company. Then at your first and second change, you will be boarding South Western Railways trains and then will complete your journey on a Eurostar train. When you book a one change ticket you will be using only South Western Railways and will complete the journey with Eurostar.
South Western Railway trains from Southhampton to Amsterdam
South Western Railway has 10 different trains on their network. The train you will board when making the trip from Southhampton to Amsterdam will be the Class 450, which is a multiple carriage high-speed electric train. There are no direct trains to complete this journey due to the distance covered. The services offered by the company include station Wi-Fi, assisted travel, bike travel facilities, car parking for short and long term as well as ticket and cash machines.
Cross Country trains from Southhampton to Amsterdam
Cross Country Train Services have a fleet of 57 Voyager trains. These are diesel-electric, high-speed multiple-unit trains, The company offers a number of services such as assisted travel, a 24h help desk, reimbursement or rebooking of tickets if there is a delayed train. They also offer pet travel policies and the option of different class tickets for each train running this route.
Eurostar trains from Southhampton to Amsterdam
Eurostar runs a fleet of 38 EMU trains which means their trains are multiple unit trains that are self-propelled, meaning they travel slightly slower than the more modern high-speed trains. Travelling with Eurostar means you will be privileged to services such as being able to exchange or refund your tickets with no hassle, live updates on train movements, and up to date departure and arrivals schedules.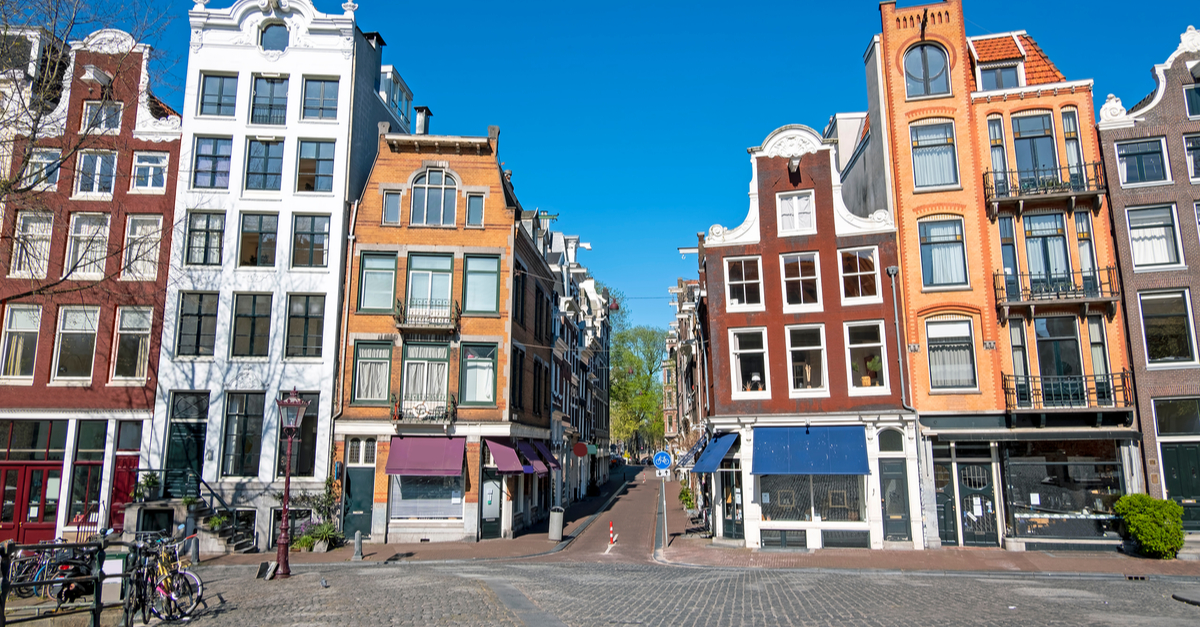 Amsterdam City Houses. Source: Shutterstock
Train Southhampton to Amsterdam: Services on Board
With South Western Railway you will have access to several onboard services that includes a quiet zone, which prohibits the use of phones and does not allow any loud media or music to be played. There is restricted Wi-Fi onboard meaning some sites deemed inappropriate are blocked on the network. First-class weekend upgrades is a service that allows you to upgrade from economy class to first class at a discounted rate if you are travelling on a Sunday or a public holiday. When you board the Cross Country trains you can expect a catering trolley to be available for the duration of your trip.
Onboard free Wi-Fi, priority seating for elderly travellers, or those who have mobility issues, or pregnant mothers, as well as special storage for unusually shaped or large items of luggage. With Eurostar, the onboard facilities cover a wide range of catering options that include special dietary requirements, and children's meals. They also offer free Wi-Fi across economy class, business class and first-class, with devise charging points at each seat.
How to find cheap train tickets from Southhampton to Amsterdam?
When looking for cheap train tickets from Southhampton to Amsterdam the first thing to do is make sure you search the Omio site well in advance. When booking with South Western Railways you are able to book up to 12 weeks before your intended travel date. This could reduce the overall price of the ticket by up to 80%. Another top tip for booking in advance is too flexible with your travel dates. Especially when travelling around national or global holidays, weekends and public holidays. Mostly if you are able to change the date by one or two days you can reduce your ticket price by 40-50%. Travelling on the earliest or latest trains also will affect the cost of your ticket, as well as booking for more or fewer stops. Generally, more stops take longer but the tickets are cheaper.
To Amsterdam by train—travel tips
There is an endless list of reasons why you would be most happy with a trip to Amsterdam, I guess the real question is why not visit Amsterdam? Amsterdam is most famous for its beautiful scenery and epic canals, museums, coffee shops, craft beers and the red light district. A place that embodies liberal beliefs with quirky architecture and experiences that will have you engaged every second of your visit. Do make sure to stop into a local craft beer pub and try one of the many varieties of handcrafted beer over a snack of the most popular local cuisine, Bitterballen, before soaking up some history at the Van gosh Museum or visiting Anne Franks House.