Train to Rochdale
Rochdale is situated in the Greater Manchester area in the Pennines foothills and, as such, is a historic textile production hub sparked by the Industrial Revolution. The town is most famous for establishing the first commercial Co-op outlet in Britain, thus creating the blueprint for the ensuing local co-op economic model adopted around the Western world.
The town has one main train station, Rochdale Railway Station. This became an important regional terminus in 2013 when the Metrolink light rail network extended its Oldham Loop line that used to run from Manchester to Leeds, to end at Rochdale instead, becoming the Oldham and Rochdale Line. This has connected Rochdale with other main cities and towns in the region, primarily Leeds, Bradford, Dewsbury, Halifax and Manchester Victoria Station. As a result you can catch trains to Rochdale from all of these places.
Metrolink to Rochdale
Two train companies operate on the lines in and out of Rochdale. There's the light rail system run by Metrolink and a heavy rail service that National Rail operates. Metrolink trains to Rochdale run on the Manchester Metrolink line, which is the most expansive light rail system in the UK. It uses Rochdale Station as its end point on the one side of the line, with Manchester Victoria Station being the end point on the other side. Trains to Leeds, Bradford Interchange and Halifax Railway Station are some of the most popular and frequently available on this route.
The station immediately preceding Rochdale on the Metrolink light rail network is Newbold. Here the route becomes known as the East Didsbury-Rochdale Town Centre Line. There are about five trains an hour running on this route, so you can catch one every 12min or so. These are available from around 6:00 a.m. till about 12:30 a.m. from Monday to Thursday, with the last trains leaving at around 1:30 a.m. on Fridays and Saturdays. On Sundays Metrolink trains run between about 9:00 a.m. and 6:00 p.m.
National Rail to Rochdale
National Rail trains run on the Northern Calder Valley Line, which also travels in the other direction to Blackpool. The stations immediately preceding Rochdale on the Calder Valley Line are Mills Hill or Castleton, depending on the exact route the train takes from Manchester Victoria Station. The stations immediately following Rochdale on the line are Todmorden and Smithy Bridge – unlike Metrolink, National Rail doesn't use Rochdale Station as a terminus. The carrier concentrates on providing train services from Rochdale to Manchester and Leeds.
There are around six trains an hour during the day to Manchester, with about three trains an hour heading to Leeds. These are a combination of express trips, and ones that make a couple of stops on the way. In the evenings, trains leave every half-hour, either travelling to Bradford and onwards to Leeds, straight to Blackburn, or directly to Manchester, continuing to Bolton. The exception is Sundays, when there are two trains every hour, one to Manchester via Southport, and the other running non-stop to Manchester, and then onwards to Hebden Bridge.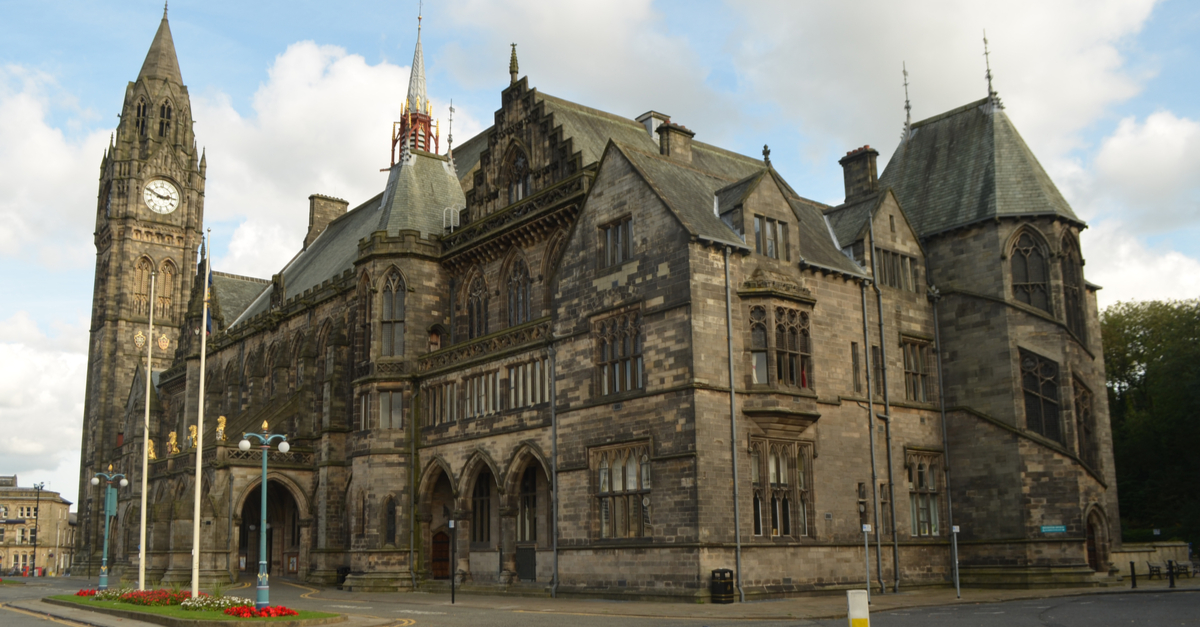 Rochdale Gothic Church. Source: Shutterstock
Main train stations in Rochdale
There's only one train station in Rochdale on the national and regional networks, Rochdale Train Station. It's known as a multi-nodal transport hub, due to the different types of rail lines it supports. It also forms part of the Rochdale Interchange, which about half a mile away from the station terminal. This complex is also the main bus station in Rochdale, as well as being integrated with Rochdale Town Centre tram stop.
Rochdale Train Station is very much in the centre of the town, roughly 3min away from the epicentre on the Line 471 bus. If you're only travelling with something like a backpack, you can walk from the station to the downtown district in about 12min. The station consists of two adjoining halves, one servicing Metrolink's light rail trains and the other providing heavy rail tracks for National Rail. It doesn't offer many facilities, as it's quite a rudimentary station. It does offer personalised limited mobility assistance, platform ramps and step-free access coverage.
Onboard facilities Rochdale
Metrolink trains are designed as quick commuter services, and have very good accessibility features. Each carriage has an area for wheelchairs and baby pushchairs, and you can bring a mobility scooter on board by obtaining a permit beforehand. Bicycles are allowed, provided they're foldable and can be fully covered in a suitable container. National Rail trains to Rochdale provide free Wi-Fi, with power points for device chargers and laptops.
All trains offer a single Standard class. Limited mobility assistance personnel are available on board, and audible and visual information is provided for those with other needs. You can take up to three luggage items for free, as long as you can carry them yourself and they're no larger than about 3 feet (1 m) in any dimension. You can also take a maximum of two domestic pets at no extra cost provided they're small enough to fit into a container that you can keep at your feet or on a leash. All types of service dogs are welcome.
Train tickets to Rochdale: useful to know
If you buy your tickets directly from National Rail, you can use the ticket office at the station or self-service ticket machines, if they're provided. You can also buy them from third-party travel agencies, or simply get them online at Omio. These are e-tickets that you can store on your smartphone and display, or add to a rail card that you can just swipe at the turnstiles. Metrolink offers more digital options.
You can buy physical tickets at the train stations, or use your mobile device to download a ticket app through which you can purchase tickets. There are also pay points at supermarkets, convenience stores and newsagents in towns on its light-rail network. You'll sometimes be required to show photo ID when buying tickets, especially in the form of travel cards, so bring that along just in case. Omio offers a fast and seamless online ticketing service, which makes buying train tickets to Rochdale really easy. You can store all your tickets in your Omio account to ensure you never lose them and always have a complete history of every ticket you've bought.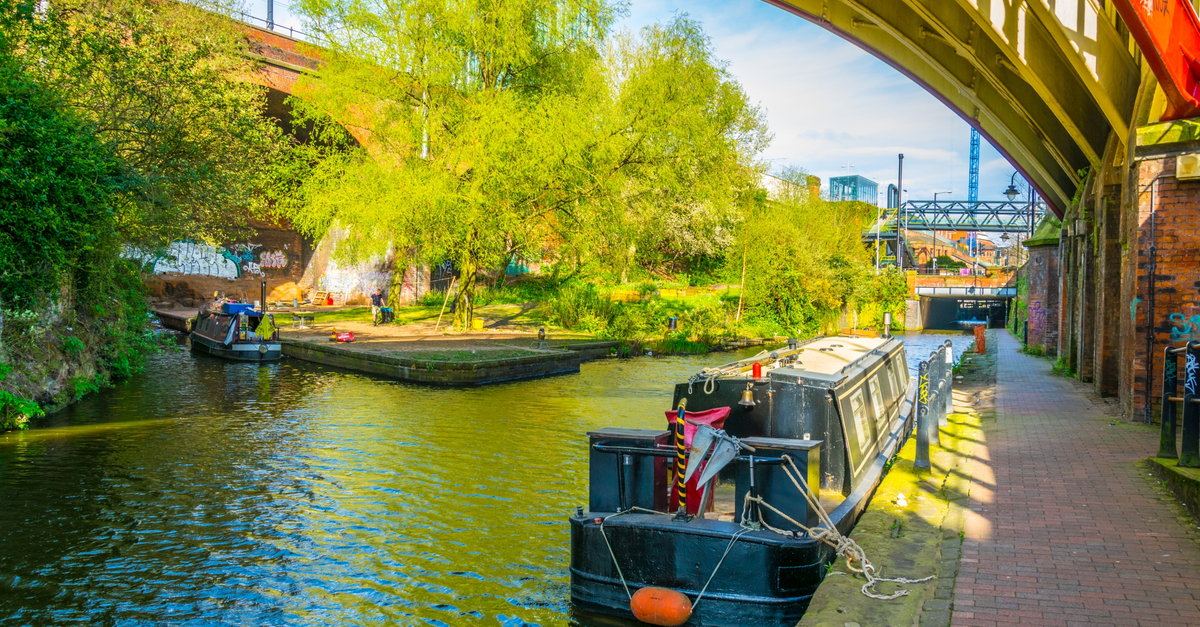 Rochdale Canal Boat. Source: Shutterstock
To Rochdale by train–travel tips
The main form of public transport in Rochdale is the town's bus service, which has its central hub at Rochford Interchange. Head there to catch a bus to any part of town you want to reach. Rochdale holds the distinction of being the town where the co-op system was invented. The original building where the first co-op set up shop in 1844, known as the Rochdale Equitable Pioneers, has been carefully preserved and now forms part of Rochdale Pioneers Museum.
The town also has one of the most unusual municipal buildings in the UK, officially acknowledge, mind you, the Rochdale Town Hall. Opened in 1871, it's an empathically Gothic Revival building complete with pointed arches, a clock tower and a gargoyle-decorated embattled parapet. It's really quite something to behold. The town's other claim to fame is Hollingworth Lake, which is where Captain Matthew Webb trained in preparation for becoming the first person to swim the English Channel in 1875.
To Rochdale by train–travel tips
To quickly get acquainted with the local lifestyle and cultural heritage, head to Touchstones. Built in 1883 from local Yorkshire stone, it now houses the town's museum, central library, art gallery and visitor information centre. You can get out into the countryside easily too, as Rochdale isn't a very large town.
Healey Dell is a lovely woodland area alongside the Spodden River, over which you'll find a Victorian-era viaduct spanning it high above. While you're there, make sure to stop in at the Healey Dell Heritage Centre and Tea Rooms.
Another fascinating attraction is the prehistoric bog garden at Truffet Park. Possibly the most beautiful park in Rochdale is Denehurst Park, which holds a Green Flag Award.
On the culinary front, don't miss Brown's Handcrafted Cakes or the Roebuck, a very popular local tavern. The Medicine Tap is also a great place to find coffee shop, pubs, cafés and restaurants in one destination. For more sightseeing tips, check out our online travel magazine, The Window Seat.