Trains from London to Maastricht
Travelling by Train is a convenient and easy way to get between England and The Netherlands. Trains from London to Maastricht usually run once a day. Importantly, trains do not usually run on weekends, instead running Monday to Friday, so you may need to plan ahead if you are intending a weekend getaway. They usually depart London at around 9:01 a.m. and arrive in Maastricht at around 2:13 p.m.
London to Maastricht Train Time: Daily Departures
Trains to Maastricht from London run Monday to Friday, but not on weekends. If you need to travel on a weekend you can get buses to Maastricht from London on Saturday and Sunday and these are usually overnight trips. Trains usually depart between 8:30 a.m. and 9:30 a.m.. Most commonly the trains depart at around 9:01 a.m.. These journeys usually have two changes and take around 5h to reach their destination. This includes stopping for changes. Occasionally one or more of your trains will be subject to bus replacements, though these will still follow the train timetable.
How long is the journey by train from London to Maastricht?
The journey to Maastricht by train from London is usually around 5h. Most trips have two have two changes in Brussels and Liege-Guillemins. These journeys are also usually more expensive and include around 4h 12min on the train plus extra time at the station waiting for the connecting train, bringing the total up to around 5h. With the train arriving directly in Maastricht station, it will likely be easy and quick for you to get from the station to your final destination.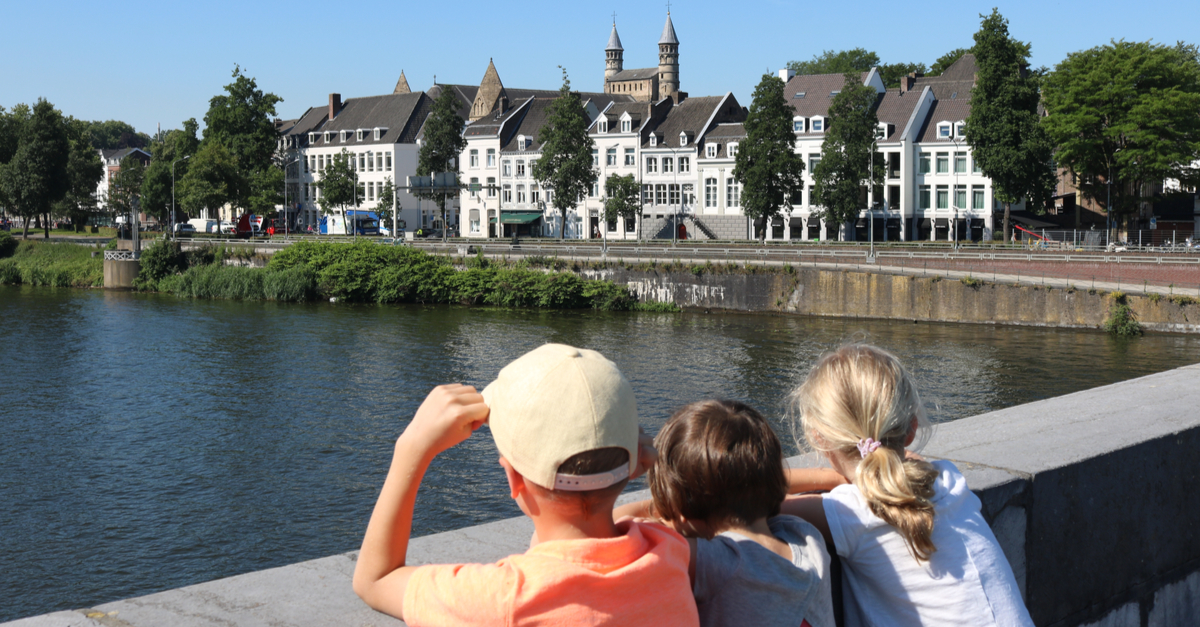 Maastricht Family Sintservass Bridge. Source: Shutterstock
What is/are the departure and arrival stations for trains from London to Maastricht?
Departure train station: The departure station is usually London Picadilly station. An underground station located beneath Picadilly Circus and a roughly 20min drive from London's city centre. You can also access it by train in roughly 24min from London Bridge station. Bear in mind that it tends to be quite busy around the time of the London to Maastricht train's departure so make sure to arrive in plenty of time to find your platform. The station has EuroCash machines so you can easily get prepared for your cash needs in Maastricht. Wi-Fi and payphones are also available.
Arrival train station: The arrival station is usually Maastricht Station, this is the most central railway station in Maastricht. When you arrive you may see it written as Centraal Station Maastricht. Like London Picadilly Station it will likely be quite busy at the time of arrival. The station will put you on one side of the Meuse river in the city centre and it is roughly a 15min walk or 5min drive to the other side of the river and the city centre. You will find a place to exchange money if you need to and plenty of parking for bicycles. It has a wheelchair accessible entrance.
Which train companies travel from London to Maastricht?
The main train company travelling from London to Maastricht is Deutsche Bahn. They offer the early morning train that departs at around 9:00 a.m. and includes two changes. Their trains run once a day, Monday to Friday and take roughly 5h to get from London Picadilly Station to Maastricht Station. Their trains offer first class options as well as specified cars for quiet or mobile phone optimised trips.
Deutsche Bahn trains from London to Maastricht
Deutsche Bahn trains from London to Maastricht run Monday to Friday but not on weekends. There is one departure a day from London Picadilly Station and there are two changes in Brussels and Liege-Guillemins before arriving at Maastricht Station. The journey generally takes roughly 5h all up, with roughly 4h of travel on the train. Make sure to check for any updates on the day of your travel, in case there are any delays to your departing or changeover trains.
Train London to Maastricht: Services on Board
Deutsche Bahn trains allow you to take luggage with you on your journey without any extra charges. You also don't need to worry about the specific weight of your luggage as long as it can be carried by one person. You can take one larger item of luggage and extra hand luggage such as briefcases and rucksacks. Pushchairs, sports equipment such as skis or surfboards and scooters and bikes that fold are all permitted, so you can bring everything you need for your travels.
Certain trains will have capacity for bicycles and you will need to reserve a space for them. First class is available and offers more space, seat reservation and acess to the Deutsche Bahn Lounge. On certain trains it also includes free Wi-Fi and food and beverages served at your seat. Most trains also have specific cars designated as 'Quiet Zones' for passengers who prefer a more peaceful trip. For those who need to be in contact with the outside world for as much of the trip as possible you can book a mobile phone zone. These includes special amplifiers so you can continue to get mobile phone reception without interruptions.
How to find cheap train tickets from Maastricht to London?
As there is usually only one provider travelling from London to Maastricht, the best way to get cheap tickets is likely to book in advance. This will also help make sure there is a train trip available on the day you want to travel as the buses between London and Maastricht are usually more expensive. Certain days may be less popular and offer cheaper tickets so if you can be flexible with the date of your travel you will likley be able to find a better deal.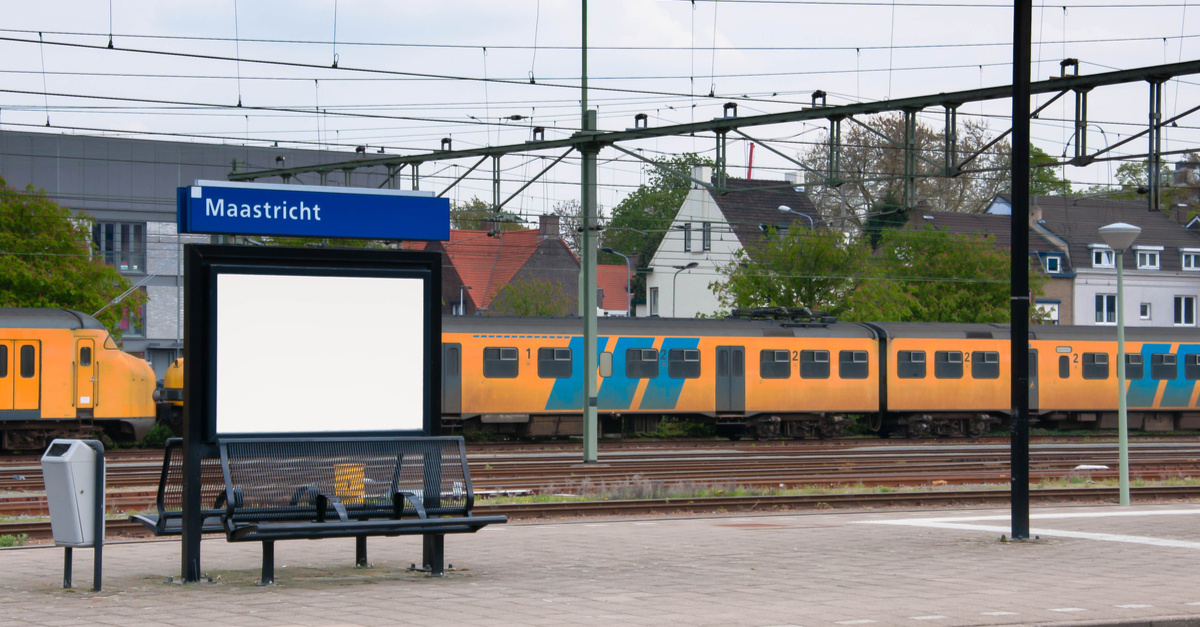 Maastricht Station Train. Source: Shutterstock
To Maastricht by train—travel tips
The capital of Limburg, the Netherland's most southern region, Maastricht is very close to both Belgium and Germany, making it the perfect homestead for day trips into Europe. Within the city itself it is known for its food, culture and historic sites.
Not to be missed is the Markt neighbourhood which holds the Town Hall and Market Square. Every Wednesday and Friday morning Markt hosts a large vendor market in Market Square, with artisanal products from regional Maastricht, fresh food and a textiles market that is world famous. The Vesting Museum is there to remind visitors and locals alike of just how old the city of Maastricht is.
A medieval gate, part of the old city walls dating back to the 13th century, that has been preserved and restored to keep the history of the city alive. The Maastricht Underground is a unique tourist attraction where you can go on a guided tour through the city's underground tunnel system. Initially used for mining and later used to store artwork and weapons and shelter military and civilians during World War II, the caves have many fascinating stories for eager visitors to learn.
Vrijthof is one of the main squares in Maastricht. It is a versatile setting,you could use it to take a break and have a bite to eat from one of the surrounding cafes, meet up with friends at night and head out to a nearby restaurant or bar, or catch a concert out in the open air.
Eurostar Trains from London to Maastricht
The Eurostar is a high-speed train company connecting the UK to continental Europe and beyond.
When planning trips to Eurostar destinations, consider checking back for offers on Eurostar tickets. Speak to the Customer Care team at the Omio help centre for cancellations or changes to your ticket from London to Maastricht.