Trains from London to Bordeaux
If you're planning on taking one of the rains from London to Bordeaux, you'll be glad to know there are a few trains travelling this route a couple of times a week. Your journey will either require one or two changes along the way. If you find a journey that only requires one stopover, the route you take will usually be from London St Pancras International Station to Bordeaux Saint-Jean with a stopover at Paris Gare du Nord, where you'll switch terminals and head to Gare Montparnasse station and board the last train to Saint-Jean.
When travelling on routes with more than one stopover, your train will also depart from London St Pancras and head to Paris Gare du Nord. The second option is more consistent time-wise and usually takes around 5h 25min, whereas the first option depends on the length of your stayover and can take between 5h 50min and 7h 20min.
London to Bordeaux Train Time: Daily Departures
If you're planning on taking a train with one changeover along the way, you'll typically only find a couple of these trips one day a week. Usually on a Thursday. If you take a train via Gare du Nord and Paris Montparnasse, requiring a couple of changes along the way, you'll find a train from London to Paris Nord twice a day.
Once you arrive at Paris Nord, you'll be able to take the subway to Gare du Nord, which departs every 10min or so. Gare du Nord to Montparnasse-Bienvenue usually takes around 15min and then you have a 10min walk from there to Paris Montparnasse station. Trains from Paris Montparnasse heading to Bordeaux Saint-Jean depart once hourly and will take approximately 2h.
How long is the journey by train from London to Bordeaux?
Your travel time from London to Bordeaux will depend entirely on the route you decide to take and the day you travel. If you're travelling on a Thursday on a route that requires a single change along the way, you'll be travelling from London St Pancras to Bordeaux Saint-Jean via Gare Montparnasse and your stopover can be anywhere from 1h 25min to 2h 50min depending on the time of day.
On the other hand, when travelling on a train route requiring two stops, your travel time will be more consistent, usually around 5h 25min. These trips travel from St Pancras to Bordeaux Saint-Jean via Paris Nord and Paris Montparnasse with minimal transfer times between them. The distance covered by these trains is roughly 460 miles (742 km).
What are the departure and arrival stations for trains from London to Bordeaux?
Departure train station: Your departure station for all trains between London and Bordeaux will be London St Pancras International Station, which is located roughly 2 miles (3.2 km) from Central London and will take around 20min by car or taxi. London St Pancras is home to a wide variety of on-site restaurants, cafes, and bars, as well as an international gift shop where you can purchase souvenirs for your loved ones. Some of the other facilities you can find at the station include charging points for your devices, accessible and standard toilets, baby-changing facilities, ticketing offices, phone booths, a pharmacy, and waiting areas.
Arrival train station: Your arrival station for all of these journeys will be Bordeaux Saint-Jean railway station, the main station serving the city of Bordeaux. It's less than half a mile from the city centre and about a 6min walk. There are three parts to the station, the arrival hall, the departure hall, and the cafeteria in the middle, where you can get a bit to eat. Some of the other facilities you'll find at the station include waiting rooms, accessible and standard bathrooms, currency exchange, lost and found, ATMs, a police station, a passenger centre, and self-service luggage storage facilities. You'll also have access to trams, buses, and taxis at the entrance of the train station.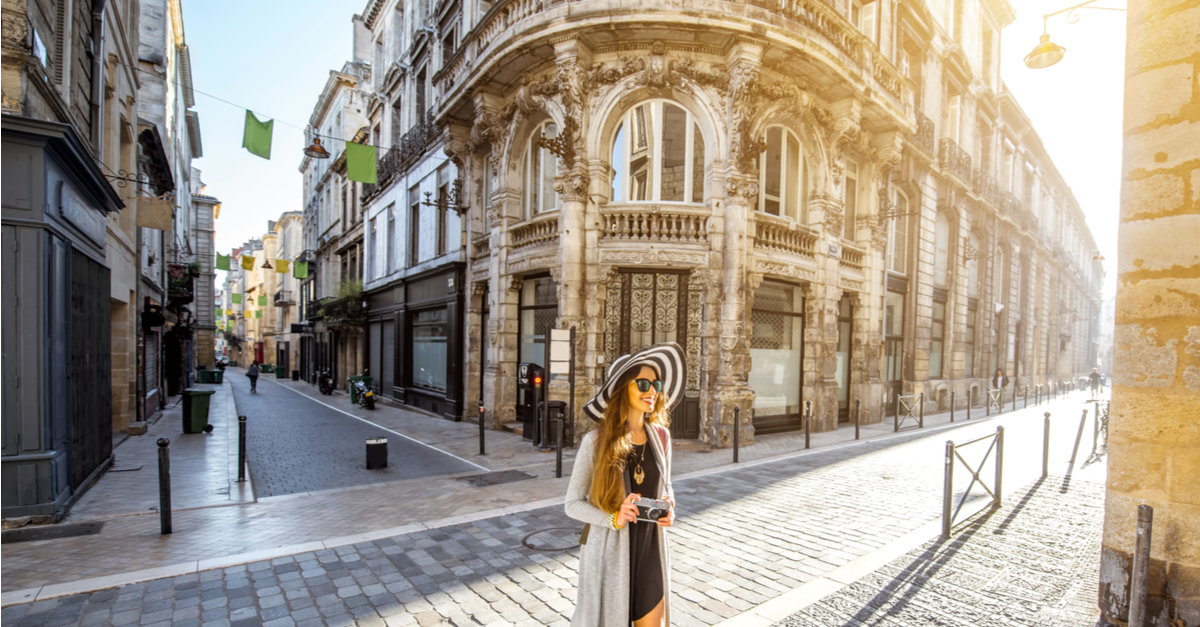 Bordeaux Street Tourists. Source: Shutterstock
Which train companies travel from London to Bordeaux?
All of the train journeys operating between these two destinations will be handled by the same train companies. The first leg of your journey from London St Pancras to Paris will be operated by Eurostar, one of the leading high-speed train operators in the UK offering direct routes between London and Paris. Once you arrive in Paris and ake the transition to Paris Montparnasse station, the last leg of your journey will be operated by TGV INOUI, a premium TGV train service in France operated by SNCF.
Eurostar trains from London to Bordeaux
Eurostar is the first and only high-speed train operating routes from London to mainland Europe and includes destinations like Paris, Lille, Brussels, and Amsterdam. They operate the first leg of all train rides from London to Bordeaux and depart from London St Pancras International Station. These routes are direct and operate at least twice a day. Once you arrive in Paris, you'll disembark the Eurostar train and board a train operated by a new company.
Train London to Bordeaux: Services on Board
One of the best things about travelling with Eurostar is there is no restriction on luggage, except that you must be able to carry the luggage onboard yourself without any assistance. You are also not limited in terms of food and liquid so pack to your heart's content.
The only animals allowed on Eurostar trains are assistance animals. You will be able to travel with foldable bikes on Eurostar trains, but space may be limited when it comes to standard bikes. We suggest calling ahead to book a space if they're available. If you're travelling with a disability, Eurostar is committed to helping you but request that you contact them ahead of time, preferably 48h in advance, to ensure you receive the assistance you need.
How to find cheap train tickets from London to Bordeaux?
There are several ways to ensure you get the best deals possible. To start with, you'll want to book your tickets with flexible dates to make sure you capitalise on any deals offered on different days. You'll also find weekday travel cheaper than weekend travel. Book your tickets as far in advance as you can to take advantage of early bird prices, and take advantage of any student or senior discount if possible.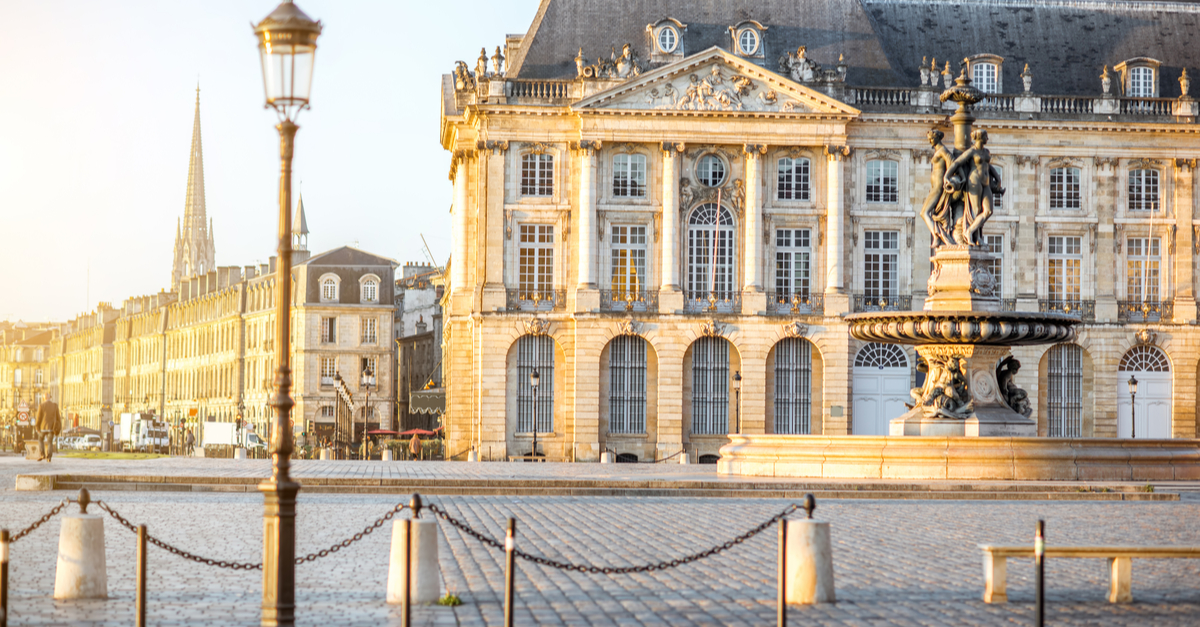 Bordeaux Plaza Icon. Source: Shutterstock
To Bordeaux by train—travel tips
Bordeaux is a port city in France well-known for its Gothic architecture and famed wine. It may not be as busy and hectic as Paris, but it's equally as beautiful and offers guests several sights and activities to explore and indulge in. If you're interested in learning about the wine in and from the region, explore the wine-related exhibits held in the modern space of Cite du vin.
One of the most famous architectural pieces in the city is the Bordeaux Cathedral from the 11th century and well worth a visit. France wouldn't be France without its art offerings and Bordeaux is the same way. To check out some local art and artefacts, visit the Musee d'Aquitaine or the Museum of Fine Arts.
For some contemporary art, you can make your way to the CAPC Museum of Contemporary Art held in an old warehouse. Place de la Bourse is one of the city's most recognisable sights and has been recognised on the UNESCO World Heritage list as an "outstanding urban and architectural ensemble" and sits within the historical part of the city.