Arrival train station: FTW or Fort William station is where you will disembark on this journey. The station is approximately 10min away from the city centre of Fort William. The cheapest way to get there is by bus, and the quickest way to get there is by taxi. You are also able to securely park your bike at the station as it provides bike lockers and stands at a fee. The station offers public Wi-Fi as well as payphones, however, there are no ATMs at this station so be sure to carry cash if needed. There is a new paper stand and a few refreshment stations for your convenience. You will find yourself comfortable in one of the paid waiting rooms which also allow shower facilities if you need them.
Which train companies travel from Inverness to Fort William?
There are two companies offering trips between Inverness and Fort William. Both are well-known service providers. Scotrail and the Caledonian Sleeper are both options for train travel. The Caledonian Sleeper ticket prices are higher in some cases as they include sleeping accommodation on the train. The most common company to book with is Scotrail. Scotrail does offer refunds or changes to your ticket if that change is made within 24h before your scheduled departure, whereas the Caledonian Sleeper does not always allow for changes or cancellations depending on the type of ticket you have booked. Be sure to check you have a Flexi ticket if you are not 100% sure about your travel plans.
Scotrail trains from Inverness to Fort William
You will be able to book your ticket online as one of the services provided by the Scotrail company. To make sure you get the best possible price for your ticket Scorail offers an early bird discount. Tickets go on sale up to 3 months in advance. The trains used by the company have been upgraded and are now fully electronic making for a quieter, quicker and safer journey than before. There is no direct trip between Inverness and Fort Willam, you will make one stop on this trip. The Caledon Sleeper train company runs its overnight trains six days a week from Sunday to Friday. You can book your ticket up to 12 months in advance. You can book a room for up to two travellers on this train. This service also offers guest lounges at the station you are leaving from or arriving at, be sure to ask the onboard representative how to get to the guest lounge at the specific station you are at.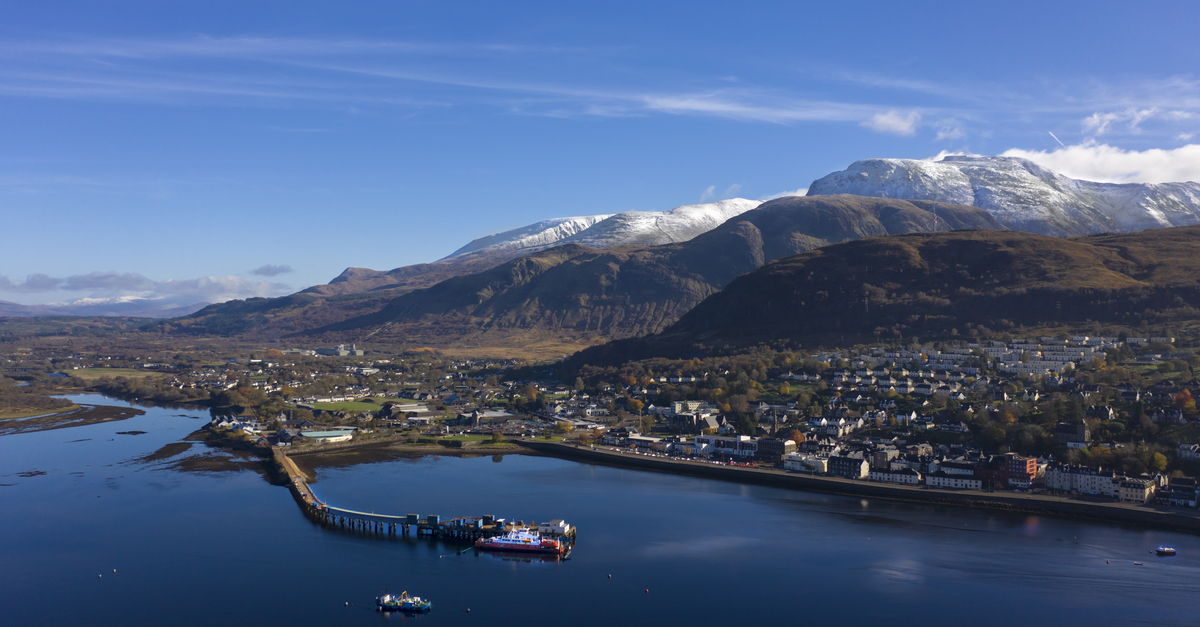 Fort William Town. Source: Shutterstock
Train Inverness to Fort William: Services on Board
Scotrail offers an impressive bike program. There are loads of lock-up stations where you can park your bike securely at the train station. You will not be charged to bring your bike on the train. We advise you to pre-book this service to ensure there is enough space. The Scotrail trains are pet friendly, up to two pets can travel with you if they are in carrier travel boxes for the entire trip. For travellers with any disabilities, Scotrail offers an accessible travel policy, which includes parents with very young children, first-time travellers and people with temporary disabilities. There are hot and cold refreshments available from the trolley service and drinking Alcohol is not allowed between 9:00 p.m. and 10:00 a.m. The luggage allowance onboard is 3 pieces per passenger.
When taking your pets on the Caledon Sleeper you don't have to pay for them to join but you are asked to pay a cleaning fee for your room at the end of the journey. You are allowed up to two pets and pets are not allowed to sleep on the beds! Travelling on the train with your bike is welcome but does require you to book a space in the dedicated storage area beforehand. There is a full breakfast served on the Caledon Sleeper and menus vary depending on the type of room or seat you have booked. For disabled travellers, you must enquire about the easy access rooms which ensure peace of mind for any disability you are facing.
How to find cheap train tickets from Inverness to Fort William?
The most efficient way to ensure you have paid the best possible price for your train ticket is to book in advance, you can book up to 12 months in advance. Another thing to keep in mind is the days that you book your trip for. The weekend prices can go up while weekday low peak times will be cheaper. It's best to be flexible with the dates you travel and see if you change your ticket by even one day before or after your originally intended date what the rate change might be, especially over festive seasons such as Christmas or New Year.
To Fort William by train—travel tips
Often described as one of the most scenic train trips to be had around Europe, this journey is serene any time of the year, as the vast green open fields are rich in summer and the frosty glittering snow seems almost magical during a winter journey. Fort William is famous for its hiking trails, bike trails and breathtaking mountain views.