Travel from Inverness to Fort William?
You can catch a flight to cover this journey it is not a direct flight. Board a plane to Belfast City Airport first. Then get on a bus, a train or drive into Fort William. We recommend booking a bus as it is cheap and you can get one at the airport. This whole journey will average about 3h 10min of travel time, not including how long it takes to get on the road from one mode to another.
Another way to get from Inverness to Fort William is to catch a train and then a ferry. This journey will take about 6h and will require you to make four changes along the way. The most direct route is to drive, it will take you about 2h 45min and you will need to book your car onto a car ferry.
What is the Cheapest Way To Get from Inverness to Fort William?
One of the cheapest way to travel from Inverness to Fort William is via train. You can book this trip through Omio easily. The journey will take an average of 10h 11min depending on the time of day you book for. The fastest train that covers this journey is 7h 16min, and the slowest train will take up to 16h to complete the journey. There is one change on this route and you will find three trains daily.
What is the Fastest Way to Travel from Inverness to Fort William?
The fatest way to get from Inverness to Fort William is by bus. You will have travelled 64 miles (104 km) once you have completed this journey and it takes about 2h 15min to complete. It is a direct route and you can make sure you get cheap tickets a few different ways. The easiest way is to make sure you book in advance a little bit of planning ahead will ensure savings. Remember to be flexible with your dates. Moving your booking out of a peak day into a quicker travel day can make all the difference. Scottish Citylink and Stagecoach are the companies offering bus trips and they run a total of 77 trips per week.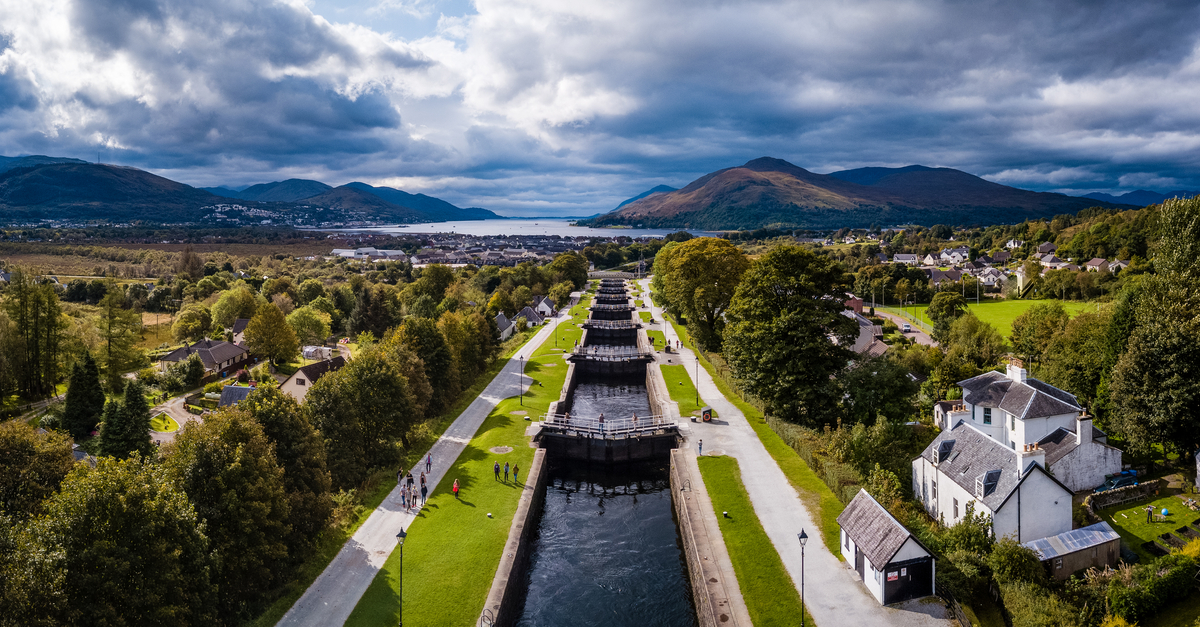 Fort William View. Source: Shutterstock
Find the best tickets from Inverness to Fort William and book with Omio
To find the best ticket that ticks your travel needs you need to go no further than the Omio site. Here you will be able to compare the different available modes of transport easily and choose the right option for you if it is the most convenient, the cheapest, the fastest or the most scenic journey you are after. Being an international traveller will be no problem when booking through the site, as it is available in multiple languages. Your ticket will be loaded on your profile making it mobile and conveniently always with you. If it is your first time travelling between Inverness and Fort William you can find all the useful information you need on the Omio magazine page
Trains from Inverness to Fort Wliam
Travelling by train on this route is a good mode of transport for a few different reasons. Firstly if you have unusually shaped language the restrictions on the train are much less rigid. Next, if you are planning on travelling with your bike you will be accommodated easily.
Travellers with mobility disabilities are recommended to opt for train travel, you will receive a discount on your ticket with most companies, and access to train facilities as well as getting on and off the train is much easier than with other modes of transport, not to mention the scenery. Relax and read a book while you soak in the hills and beautiful open fields along the way.
Train travel from Inverness to Fort William with Scotrail and Caledonian Sleeper
The two trains providers along this route are Scotrail and Caledonian Sleeper with Scotrail being the most popular choice as it is generally cheaper.
Caledonian is known as a more luxurious choice and can offer overnight travellers the comfort and privacy of a room and a bed. Both train companies operate from the same station being Inverness Train Station and both companies arrive at Fort William Station. The route taken is the same which will make one stop in Glasgow. They both use high-speed trains so the journey is approximately the same duration.
Buses from Inverness to Fort Wiliam
To travel from Inverness to Fort William you will need to catch a bus from Inverness train station and you will arrive at Fort William at the Belford Hospital. There are 55 buses that run this route weekly. There are more buses that run over the weekends than during the week. the first buses leave at 9:00 a.m. and the last at 08:15 p.m. There are two companies that run along this route, Scottish Citylink and Stagecoach with the Scottish Citylink being typically slightly faster than Stagecoach. Their journey is approximately 1h 50min.
Traveling by bus from Inverness to Fort William with Scottish CityLink and Stagecoach
Scottish Citylink and Stagecoach are the two companies running bus service along this route. They both leave from the same bus stations and arrive at the same location in Fort William. Scottish City link is the most popular bus service running this route as it is the fastest and has the cheapest ticket deals. Their buses also offer free wifi and air conditioning make it a more comfortable trip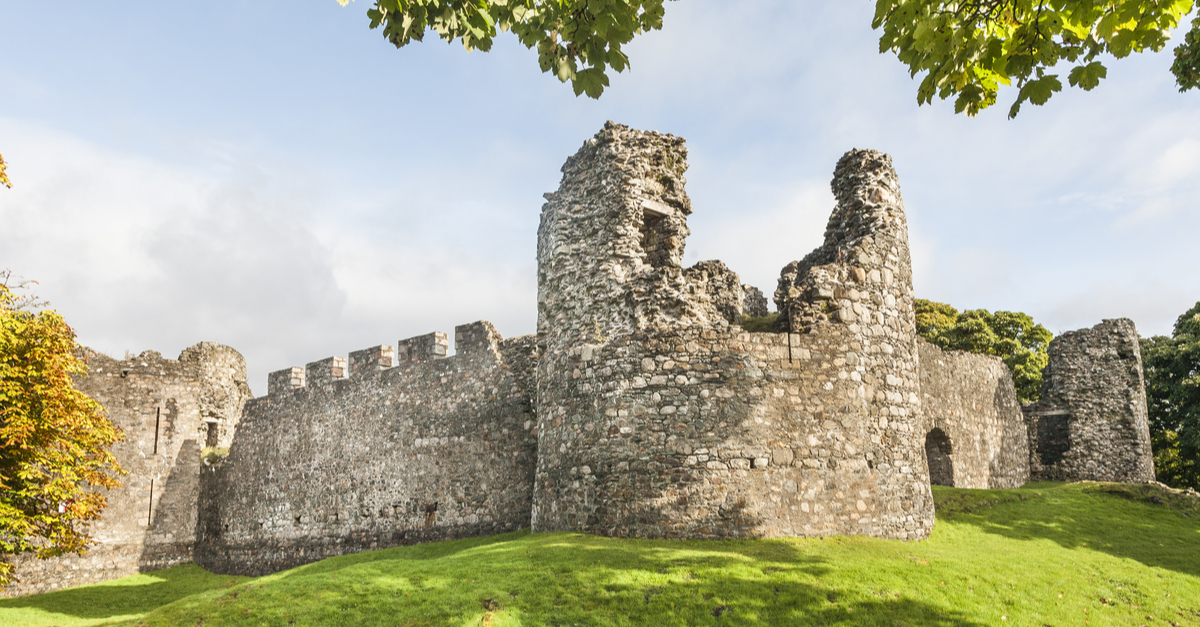 Fort William Castle. Source: Shutterstock
Flights from Inverness to Fort William
You cant flight directly from Inverness to Fort William. You would need to fly to Aberdeen, Glasgow or Belford and then catch a train or a bus to make the last leg of the trip. You can also hire a taxi or rental vehicle and drive yourself through. The airport companies offering this trip are Loganair and British Airways. The planes take off from Inverness Airport which is 6min away from the city centre. There are generally five flights a day and have departing times ranging from 6:40 a.m. till 5:30 p.m.
Flying from Inverness to Fort William with Loganair and British Airways
Loganair and British Airways are the service providers offering flights between Inverness to the closest airports to Fort William. Loganair is a popular choice because of its great offers when it comes to booking different types of tickets, they offer tickets such as compassionate fees which allows you to get the same rates as you would get from booking your ticket in advance if you have an emergency such as a family death or medical emergency. They offer free changes to tickets up to two days before or after the original ticket booking in case of bad weather or a deadline change as well as special rates for children groups and elderly or disabled travellers.
To Fort William by train/ bus/ flight—travel tips
Fort William considered the outdoor mecca of the UK is best known for its hiking trails, biking trails, mountain climbs and snow and water sports activities. Home to Ben Nevis, the tallest mountain in the UK, the captivating settlement has been the main attraction for mountain climbers the world over. They also boast sandy beaches for the summer months and have several local restaurants and pubs turning out great seafood dishes and a fine range of whiskeys.