Trains to Guilford32>
Passengers on trains to Guildford should know that the town is served by two railway lines: the New Guildford Line providing train service between the town and Central London as well as the Portsmouth Direct Line which provides service from Central London to Portsmouth. You can also travel to Guildford via the Reading to Gatwick Airport train on the North Downs Line or along the South Western Main Line from Central London to Weymouth. Guildford has two railway stations used by both railway operators and along with Southern trains, provides direct and connecting commuter train service to areas such as Reading, Ascot and Dorking.
Guildford
There are many fascinating attractions in Guildford. A must-see for any visitor is Guildford Castle. This medieval castle was built to protect the town in the 1400s and was one of Henry III's most luxurious residences. Guildford Cathedral was constructed in the 1930s and was the first to be built on a new site since the Reformation. St Catherine's Chapel is a ruined abbey just a short walk along the River Wey from the centre of the town. The Wey Navigation canal winds its way through the town until it reaches the River Thames in Weybridge. It is a great place to relax and watch the canal boats go by.
Just outside of Guildford there lies beautiful countryside and the magnificent former mansion of the Earl of Onslow. Built in the 18th century at Clandon Park it is well worth a visit. The building was designed by Italian architect Giacomo Leoni. Closeby is Denbies Vineyard, that produces extremely good wines from its locally grown grapes. Visitors can take horse and carriage rides through the vineyards. Guildford also has many excellent restaurants serving cuisine form all over the world, as well as local fare. Due to the university, there are also many pubs, live music venues, theatres and nightclubs.
Great Western Railway to Guilford
Great Western Railway (GWR) operates mainline and suburban commuter trains to and from areas in the southern regions of England with daily, weekend and holiday train service from London Paddington Station via the Portsmouth Direct Line and the North Downs Line which call at Guildford. If you choose Great Western Railway to travel to Guilford by train you can get hourly service daily from locations such as Central London, but you should expect reduced service on weekends and holidays generally. You should also know that rail service calling at Guildford regardless of point of origin will terminate at Guildford Railway Station, the town's primary terminal. Journey times for trains to Guildford will vary according to point of origin, for example train service from Central London takes approx. 1h 35min.
South Western Railway to Guilford
South Western Railway operates mainline as well as suburban commuter trains across the southern regions of England with daily, weekend and holiday train service from London Waterloo Station via the Portsmouth Direct Line and the New Guildford Line calling at Guildford. If you're travelling on trains to Guildford from London Waterloo Station there are multiple direct daily departures per hour with the first train leaving around 6:00 a.m. and the last one departing approx. 10:35 p.m. but you should expect reduced service on weekends and holidays. South Western Railway service on the Portsmouth Direct Line will call at Guildford Railway Station while service via the New Guildford Line will terminate at London Road (Guildford) Railway Station. Trains from London Waterloo can take as few as 33min or as long as 1h 10min to Guildford.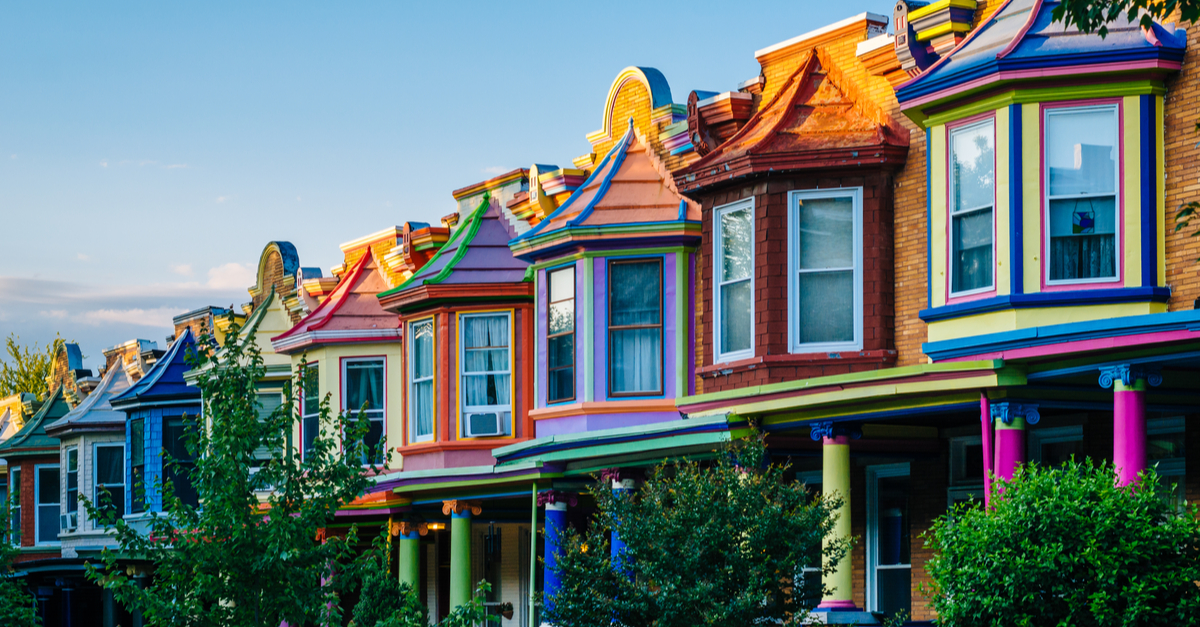 Guilford Colorful Houses. Source: Shutterstock
Main train stations in Guilford
When travelling to Guildford by train your journey will likely terminate at Guildford Railway Station which is the main terminal and the destination for most train service calling at Guildford. The larger of the two train stations providing rail service it is centrally located in the downtown area so you don't have to go far (about 10min) to get to the town centre. Among the facilities you can expect to find at Guildford Railway Station are WC (with baby changing facilities), ticket office and vending machines, free Wi-Fi, wait rooms, ATM as well as shops and refreshment area.
The ticket office at this station has hours of operation: Monday-Saturday: 6:10 a.m. to 10:00 p.m. and Sunday: 6:20 a.m. to 10:00 p.m. and provides access for disabled passengers. London Road (Guildford) Railway Station is the smaller and less frequently used rail station in the town of Guildford and is located about 0.7 miles (1.1 km) by car and about 0.3 miles (0.5 km) by foot from Guildford town centre so it's easy to get there once your train arrives at the station. If you are arriving or leaving from this station you can expect to find the following facilities there: WC, ticket office and vending machines, free Wi-Fi, and waiting rooms on all platforms. Hours of operation for the ticket office at London Road Railway Station are Monday-Friday: 6:30 a.m. to 1:00 p.m., Saturday: 9:00 a.m. to 2:00 p.m., Sunday: closed, public holidays: 9:00 a.m. to 2:00 p.m. and it does provide accessibility for disabled passengers.
Onboard facilities
Up to three pieces of luggage including handpiece are allowed per passenger and must fit into an overhead rack and/or luggage compartment with charges being levied for oversized cases. Prams and buggies are also allowed on trains to Guildford and should be stored overhead or in the luggage compartments. You can carry up to two dogs or cats as long as dogs are leashed and pets are kept in pet carriers with exceptions for guide animals and there is a bike allowance as well but you must reserve it at the time of booking but they may not be allowed onboard during peak hour trains. Hot and cold beverages, as well as snacks, are available for purchase on trains from London to Guildford (Pullman Dining service) and it is permissible to bring own meals if preferred. WC and complimentary Wi-Fi are available on all GWR trains which are accessible to disabled passengers. You are allowed the standard two cases and one handpiece on all South Western Railway trains to Guildford and they along with prams or buggies for infants or babies must be stored in luggage compartments or overhead racks.
If you wish you can travel with up to two pets provided they are transported in pet carriers and with leads in the case of dogs with certain exceptions for assistance animals. Bikes can be stored onboard but space must be reserved at the time you purchase your tickets and there are restrictions which apply to trains during peak periods of service. South Western Railway trains from Central London provide you with catering service as well as buffet service on some evening trains. WC and free Wi-Fi are provided as well as access for disabled passengers.
Train tickets to Guilford: useful to know
Great Western Railway provides five classes of tickets: Advance, Off-peak, Super Off-peak, Anytime and First Class. Advance tickets are non-refundable while terms and conditions apply to all ticket classes in the event of cancellations or changes to travel dates. There are often fare discounts and special offers for children, seniors, students and groups (Rangers and Rovers) available online to save you money. If you purchase an e-ticket you may still need a hardcopy version so pick one up from a kiosk at London Paddington Station using your confirmation receipt along with the credit/debit card used for purchase and it's always recommended you travel with at least one form of valid ID in case it's needed for boarding your train.
On Omio buying train tickets to Guildford is fast and easy and can be stored in your Omio account. South Western Railway offers Advance, Anytime, Carnet, Off-peak, Super Off-peak and First Class tickets to passengers on all their trains. Some of these (Advance tickets) are non-refundable while refunds may apply to others (First Class tickets) with terms and conditions applying in the case of cancellations and changes. If you are a student, senior, part of group or travelling with children there are often discounts on fares and special offers that can save you cash on ticket purchases.
You may need a hardcopy of your ticket on South Western Railway trains so print one at London Waterloo Station using your e-ticket conformation and debit/credit card and be sure to have at least one piece of valid ID if necessary. On Omio buying tickets to Guildford is fast and easy and can be stored in your Omio account.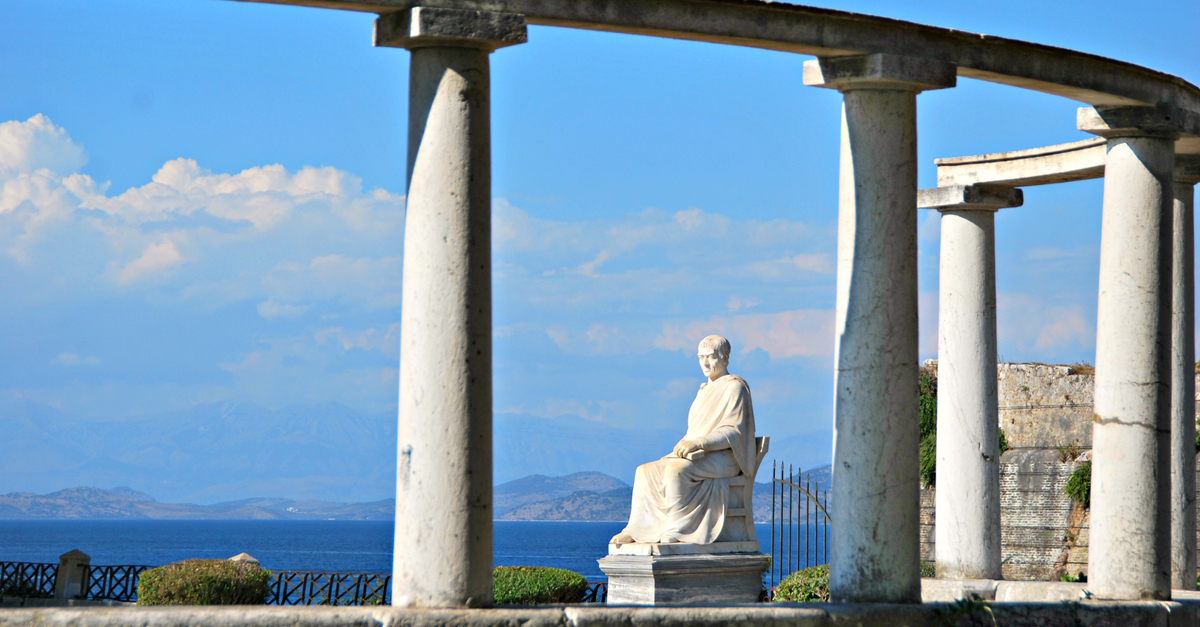 Guilford Statue View. Source: Shutterstock
To Guilford by train: travel tips
Paying a visit to the keep at Guildford Castle built during the early part of William the Conqueror's reign is excellent example of Norman architecture and one great reason to visit Guildford. The castle grounds and gardens are available for walks or excursions with family and friends and paying a visit to the keep to admire the view of the surrounding countryside is certainly worth the effort. You won't find any stained glass in the windows at Guildford Cathedral which is uncommon even for one erected during the 20th century and that makes this structure worthy of making your shortlist of attractions the town has to offer.
Guildford has a good transportation system which makes sense considering it hosts the main campus of the University of Surrey so you can expect getting around fairly easily. In addition to commuter and suburban rail service the town is also served by a few bus companies spearheaded by Stagecoach South and Arrive Kent and Surrey in addition to National Express Coach and Flixbus which offer service on the routes from Central London to Portsmouth and Southsea or you can hire a Brompton Bicycle at Guildford Railway Station and travel al fresco.
The other main attraction in town other than the castle and cathedral is the Guildford Museum which chronicles the cultural, historical and archaeological origins of the town and is free of charge for those who wish to explore the exhibitions on offer. Guildford's Farmers Market located on the High Street offers locally produced fruits, vegetables, meat and other items like artwork once a month. There are over forty vendor stalls to discover so reserve an hour or two to visit as many as you can or you can hop over to North Street Market which provides about twenty stalls featuring local arts and crafts.
For some daytime or evening entertainment there are several art galleries (Guildford House Gallery), theatres (Yvonne Arnaud Theatre) and live music venues (G Live) to name a few around the town centre while the Friary Centre is the main shopping drag in Guildford and a haven for locals and tourists. From takeaways to sit-in dining there are lots of restaurants and eateries to recharge your batteries. The Ivy Cobham Brasserie and The Drumming Snipe are two local favourites for table service while the Duke of Wellington and Farncombe Tandoori Restaurant have great takeaway menus.