Trains from Bristol to Dublin
Travel from Bristol to Dublin isn't possible solely by train. However, you can travel by train from Bristol the port city of Holyhead and from there you can take a ferry directly from Holyhead to Dublin. This train trip usually requires either one change in Birmingham or a change in Birmingham and a change in Crewe. You can find SailRail tickets on the Omio website which will allow you to connect from your train to a ferry with ease or you can purchase your train and ferry tickets separately.
Bristol to Dublin Train Time: Daily Departures
Trains from Bristol to Holyhead usually depart roughly once an hour between 8:00 a.m. and 11:00 a.m. and then again in the evening from around 6:00 p.m. with the last train departing around 10:00 p.m. Ferries from Holyhead to Dublin usually depart four times a day roughly every six hours between around 2:00 a.m. and 9:00 p.m. Both the trains and ferries run every day of the week.
How long is the journey by train from Bristol to Dublin?
The time spent on the move is usually around 9h however the overall trip from Bristol to Dublin may be shorter or longer depending on the number of changes and if there is a delay between one transport arriving and the other departing. Depending on these factors your travel will usually take between 9h 30min and 17h 10min. By booking with Omio you can check the length of any stopovers and make sure your train arrival and ferry departure times line up as conveniently as possible.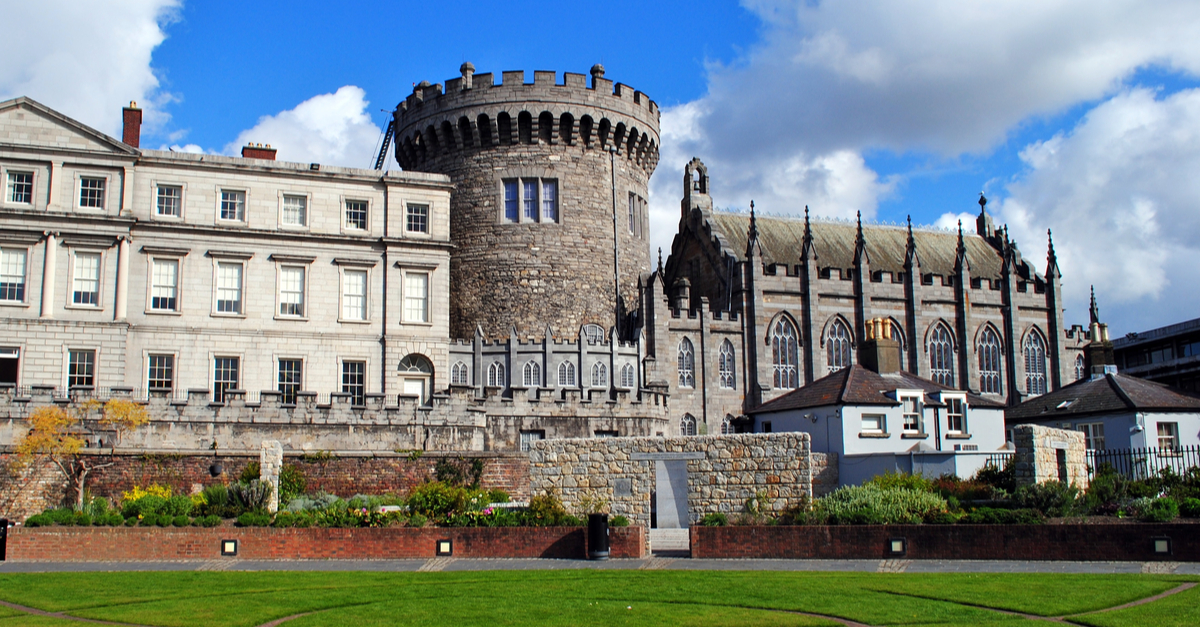 Dublin Castle. Source: Shutterstock
What is/are the departure and arrival stations for trains from Bristol to Dublin?
Departure train station: Most trains depart from the Bristol Temple Meads station. It is located around an 18min walk, 8min drive and 15min bus ride from the city centre. There are ATMs shops and baby changing facilities available if you need them and the station provides trolleys if you need them to transport your luggage. If there is any disruption to the train service, replacement bus services will be available at the station.
Arrival train station: The train will arrive at Holyhead station. If you have a long stopover between your train arriving and ferry leaving and wish to see some of the city then the station is located only around a 3min walk from the city centre. Once you are ready to board your ferry it conveniently departs from the same station that your train arrives in at the far end of platform 2. When you arrive Dublin Port you can get to the Dublin city centre via bus in roughly 26min and by car or taxi in roughly 14min.
Which train companies travel from Bristol to Dublin?
Arriva has trains that travel from Bristol Temple Meads Station to Holyhead Station. The initial leg of your trip will be operated by Arriva's Cross Country Trains services and you will then switch to the Arriva Trains Wales service, all routes operated by Arriva make this change when you arrive in Wales. Once you have arrived at Holyhead Station you will transfer to a ferry operated by Stena Line that will take you from the Port of Holyhead to Dublin Port which will complete your trip from Bristol to Dublin.
Arriva trains from Bristol to Dublin
Arriva offers connecting RailSail train trips that will take you from Bristol to Dublin These allow you to purchase a cheaper all-inclusive ticket rather than booking separately. However, if you choose to book your tickets separately, this allows you to opt for Arriva's first-class options. The routes usually involve at least one change, often two, though the stopover times usually only take roughly between 5min and 30min. These changes will take you from Arriva's Cross Country service to their Arriva Trains Wales service.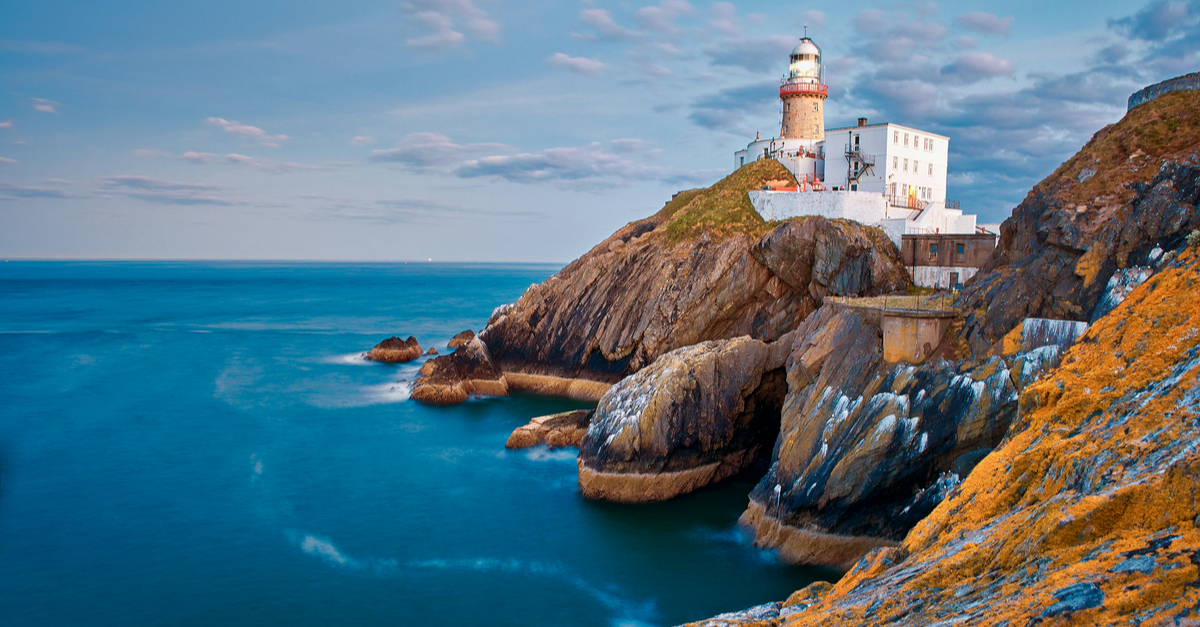 Dublin Lighthouse. Source: Shutterstock
Train Bristol to Dublin: Services on Board
Arriva Cross Country Trains offers a first-class option for an extra fee. It includes larger seats and foot space, a larger table and Wi-Fi as well as complimentary snacks and drinks on most trains. Arriva Cross Country also has hot meals on offer from the dining car as well as alcoholic beverages. Power points are also available on all trains in first class to help you get work done while you travel. arrive trains wales offers a business class option on some trains. The highlight of this option is the inclusion of freshly cooked hot meals and personal service as well as more space to stretch out.
Bikes and pets, especially service dogs can be taken on some Arriva trains, contact them before your trip to check and see if you need to book an extra space for your bike. The Stena Line ferry allows you to choose between a seat or a cabin as you finish your travel from Bristol to Dublin. There are a variety of cabins available from Standard to Deluxe so you can choose whatever suits your needs and budget. They also have a Hygge reclining lounge specifically designed for relaxing, perfect for those travellers prone to seasickness. If you upgrade to their premium service you can access the Stena Plus lounge which offers complimentary drinks and snacks as well as table service meals.
How to find cheap train tickets from Bristol to Dublin?
You can help ensure you get the best deal on your tickets from Bristol to Dublin by using Omio to compare the different prices and offers available. You can usually find the best prices by booking well in advance of your trip, this will also mean a greater variety of options will be available to you. As some routes or options may only be available on certain days, being able to travel on different days will help you take advantage of the cheapest option. It may also help if you can be flexible with the length of your trip. Anyone between the ages of 16 and 25 can get a Railcard which will give you a discount on any train tickets. If you're a student with an NUS extra or Apprentice extra card you can get further discounts on top of Railcard discounts.
To Dublin by train—travel tips
Dublin is a city with something for everyone with plenty to do, see, eat and drink. Renowned worldwide for its Guinness beer, travellers to Dublin can visit the Guinness Storehouse, a visitor experience that displays the history of the iconic brand's journey over more than 250 years. At seven storeys high, the Storehouse is an excellent way to get a birds-eye view of the city.
For some more ancient history, you can visit the National Museum of Ireland Archaeology which holds prehistoric, Celtic and medieval artefacts. To get away from the busy city streets, you can head to St Stephen's Green, a peaceful expanse of parkland right in the heart of the city. Fans of Gaelic sports can watch an event or tour the stadium grounds at Croke Parke, the home of the Gaelic Athletics Association.
For shopping and a bite to eat Grafton Street is Dublin's high street with plenty of boutique shops and well-known designers, it has a vibrant atmosphere with talented buskers frequently performing on the street.