Trains to Barnsley
The South Yorkshire town of Barnsley owns a proud heritage as a major centre of coal mining, glassmaking as well as for its textile and linen industries from the 17th century up until the end of the 20th century when the last of its coal mines was closed. The town still maintains a presence as a world leader in glass and metal works through its association with Ardagh Group and the British online cosmetics and clothing retail giant ASOS is a major employer in the area. The primary train station in Barnsley is Barnsley Interchange which sits along the Penistone Line connecting it to Huddersfield, the Hallam Line connecting Barnsley with Leeds and Sheffield and also the Leeds-Nottingham Line via Meadowhall Interchange.
Barnsley is a medium sized town in South Yorkshire which lies on the River Dearne. As it was once an industrial town much of Barnsley's culture stands as testament to its coal mining heritage. The town offers a wealth of arts and performance spaces including the Lamproom Theatre, the Cooper Gallery and the Cannon Hall Museum. The new Experience Barnsley Museum takes the visitor on a fascinating journey of the town. Outside of the town attractions include Wentworth Castle, Elsecar Heritage Railway and the Yorkshire Sculpture Park. Barnsley centre itself boasts a number of independent shops, caf├ęs and restaurants whilst the Alhambra shopping centre is great for high street names. Just 25 kilometres to the south of Barnsley is the lively city of Sheffield whilst 16 kilometres to the west lies the vast and majestic Peak District.
Northern Rail to Barnsley
Northern Rail is one of the principal operators of commuter rail trains in the north of England. If you are looking for trains to Barnsley, you can get service from Sheffield via four different modes operated by Northern Rail. These are Sheffield to Huddersfield via the Penistone Line; Sheffield to Leeds via the Meadowhall Line; Lincoln to Leeds via the Hallam Line and Nottingham to Leeds via the Hallam Line. The earliest train departs from Sheffield Midland Station around 5:40 a.m. and due to the short travel time involved (about 30min), you can generally find multiple departures to Barnsley Interchange every hour through to about 8:00 p.m.
After this there is one departure approx. at 9:00 p.m. and another around 10:30 p.m. which represents the last train leaving Sheffield Midland Station. The trains used by Northern Rail along this corridor are mainly Sprinter Class diesel multiple unit passenger trains which are the mainstays for the local and commuter fleet serving the area. Northern Rail also employs the Civity Class diesel multiple unit train engines on the Hallam Line between Nottingham to Leeds as well as on the journey from Lincoln to Leeds.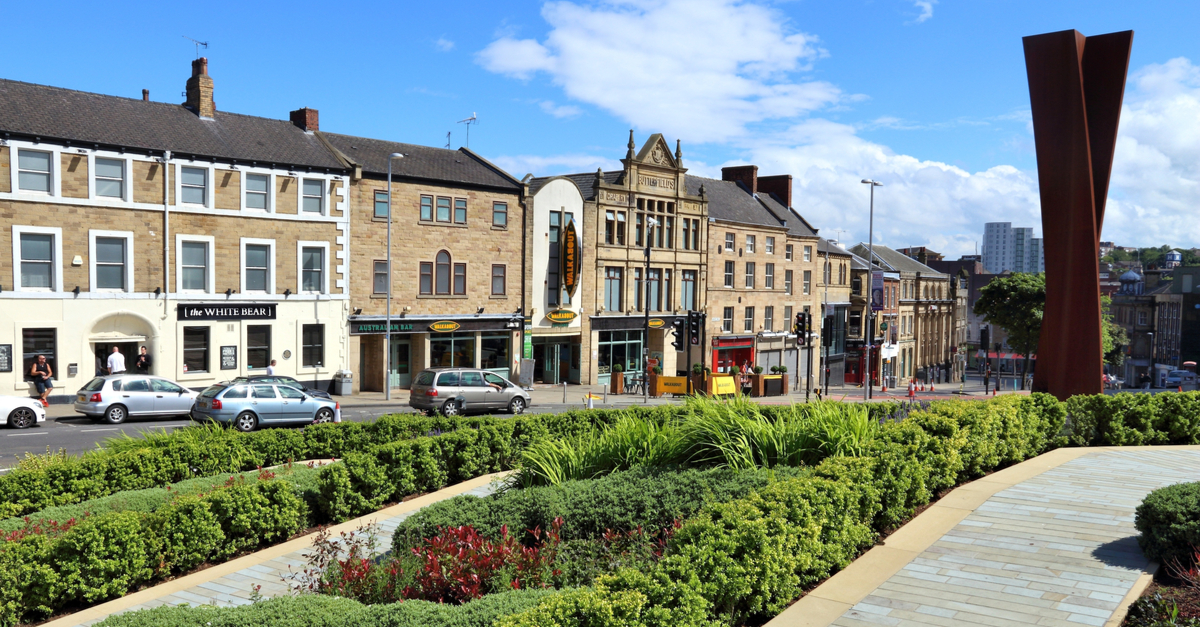 Barnsley Town Center. Source: Shutterstock
Main train stations in Barnsley
All Sheffield to Barnsley trains will terminate at Barnsley Interchange, the combined railway and bus terminal which is also the main train station in the town of Barnsley. Barnsley Interchange is conveniently situated in the town centre so no additional transportation is required once your train arrives there from Sheffield Midland Station. Barnsley Interchange is open for business from Monday to Saturday from 4:30 a.m. to 00:00 a.m. and Sunday from 7:00 a.m. to 00:00 a.m. and the ticket office is open from 06:00-19:30 Monday to Saturday and from 8:45 a.m. to 7:00 p.m. Sunday. Outside of these times there are several vending machines where return trip tickets can be purchased and there is a Customer Service Desk close to Stand 1 if you have any travel enquiries. The railway portion of Barnsley Interchange has two platforms joined by a footbridge.
The Main Building near Platform 1 offers a waiting room and WC while the waiting room at Platform 2 provides snack and beverage machines. Between the rail and bus portions you can find Lloyd's chemists, newsagents among other shops. There are two other rail stations within the town: Darton Railway Station (Penistone Line) to the north and Dodsworth Railway Station (Hallam Line) to the west of the town centre.
Onboard facilities: Barnsley
Northern Rail commuter trains from Sheffield to Barnsley provide several onboard facilities for the comfort and convenience of its passengers. You are allowed to travel with two pieces of luggage provided they can fit into the luggage compartments or overhead racks.
Folding bicycles and pushchairs are counted as standard luggage so take this into account if necessary. Up to two small pets properly caged are allowed per person and dogs must remain on the lead at all times while on the train. If you are an elderly passenger or disabled, Northern Rail's Passenger Assist service can provide any help you may require while onboard.
Train tickets to Barnsley: useful to know
Northern Rail offers two types of fare classes on its trains to Barnsley: Standard and First Class ticket which are good on any peak or off-peak train. Electronic tickets purchased online with Omio can be printed out once you arrive at Sheffield Midland Station as long as you have your 8-digit conformation number and the credit/debit card you used to make the purchase handy. This can make your journey a less stressful experience, especially if you are running a bit behind schedule.
Other classes of Northern Rail tickets such as Advance tickets, Anytime train tickets, Off Peak tickets and Super Off Peak tickets are also available on Omio. Flexibility regarding cancellations and refunds depends on the ticket type so be sure to check the terms and conditions of your tickets prior to purchase. Buying your train tickets on Omio to Barnsley is fast and easy and they can be stored in your Omio account.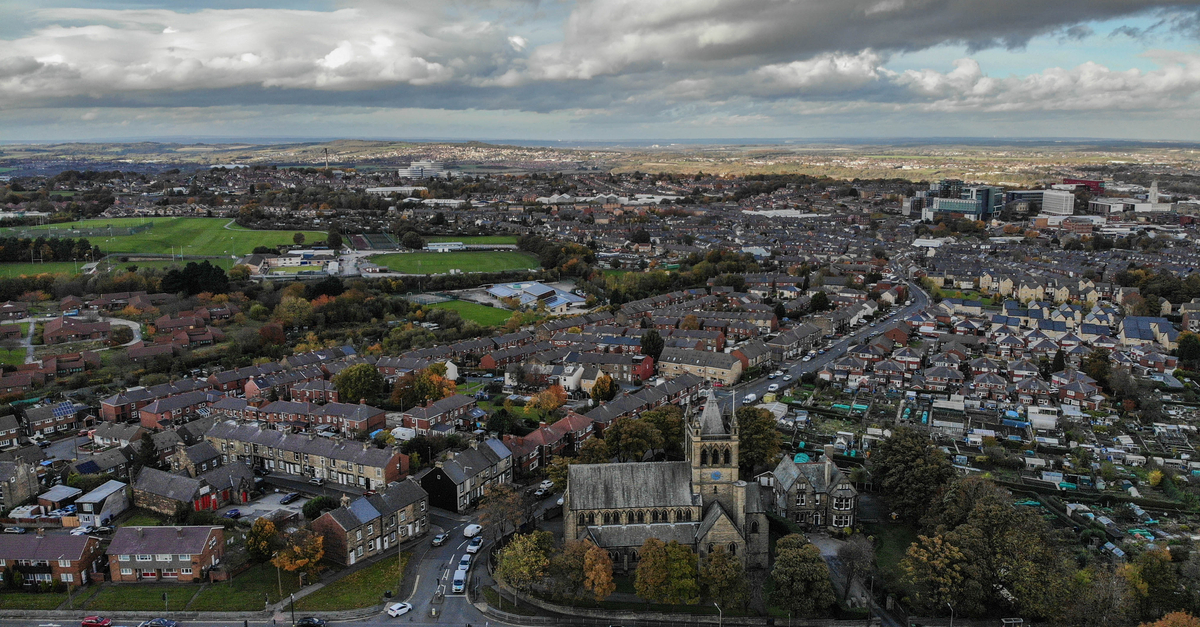 Barnsley Aerial Town. Source: Shutterstock
To Barnsley by train: travel tips
Barnsley's heritage and history as an industrial base is well known in the South Yorkshire region and across much of the UK, but it is also renowned for its brass bands. These owe their origins to the mining community social halls and some like the Grimelthorpe Colliery Band have even been enshrined in cinematic feature films such as "Brassed Off". Many of these abandoned industrial sites have become museums some of which you can visit to get a sense of their historical and economic importance past.
For a sight off the beaten track worth seeing, spend some time among the ruins at Monk Bretton Priory with its own links to history. Admission is free, but is closed to guests after 3:00 p.m. daily. If your explorations involve public transportation you should know that Stagecoach Yorkshire manages the majority of the bus service throughout the town. In addition to the main station Barnsley Interchange there is also rail service provide from Darton Railway Station in the town's northern section and Dodsworth Railway Station servicing the residents in the town's western precincts.
If you're travelling to Barnsley by train you'll have much to do and see once you get there. To get a sense of the town's industrial past there is no better place to visit than Barnsley Main Colliery located about two miles from the downtown area. Its surviving remnants include the shaft winding engine house, original headgear and pit head edifices. Other popular attractions include Cannon Hall Museum Park and Gardens which sits on an expanse of 70 acres and is great for family excursions for a day spent outdoors. While you're there visit the Pear Tree Collection which is so highly regarded among locals they even celebrate special events on Pear Day.
For a taste of local arts and culture The Cooper Gallery hosts regular touring exhibitions for local and regional artists and also houses its own Cooper's Trustee collection offering an impressive array of drawings and watercolours by several noted artists including Wadsworth and Turner. When you need to replenish your energy reserves Royal Spice offers Indian and Asian fare including vegetarian dishes while The Waggon and Horses provides a gastro pub menu with British treats for lunch, dinner or brunch. If you're out late at night after taking in a show or walking the city after dark, Bistro Romanos and Puccini's are two eateries serving hot and cold beverages and Italian pizza along with gluten free and vegan offerings.