Flights from Cardiff to Edinburgh
You can travel from Cardiff to Edinburgh with one airline, which has around five flights per week. The average journey time is around 1h 20min, so you'll be able to sit back, relax and enjoy the journey. As these flights are also all direct, there is no need for your to make a change along the way on your journey, so you'll ge to your destination quicker.
Cardiff to Edinburgh flight time: Daily Departures
There tends to be one flight per day from Cardiff Airport to Edinburgh, with the exception of Tuesdays and Saturdays when there isn't a flight in operation. The flights on the rest of the days during the week all depart between 11:20 a.m. and 4:20 p.m. With there being a regular service throughout the week, you should find there is a flight which matches your schedule.
How long is the journey by flight from Cardiff to Edinburgh?
The flight from Cardiff to Edinburgh is relatively quick, taking approximately 1h 20min from take-off to touchdown. As the journey is direct, this adds to the efficiency of the journey because you will not need to make any changes along the way.
What are the departure and arrival airport for flights from Cardiff to Edinburgh?
Departure airport:The departure airport is Cardiff Airport (CWL). This can be reached by bus from the city centre with ease. The T9 bus takes around 35min to get you to the terminal building from central Edinburgh. The airport also has hotels nearby, a car park, a fast track service and food outlets. CWL Airport is also very accessible for those travelling with disabilities. Should you need special assistance, this can be arranged with your airline in advance.
Arrival airport: The arrival airport is Edinburgh Airport (EDI), which is also very closely located to the city centre. You can catch the Airlink 100 bus, for example, from the terminal and be in the centre in around 25min. At the airport you will find a range of amenities, including restaurants, gift shops and ATMs. There are also several car hire agencies for you to use too, which can be helpful for your onward journey.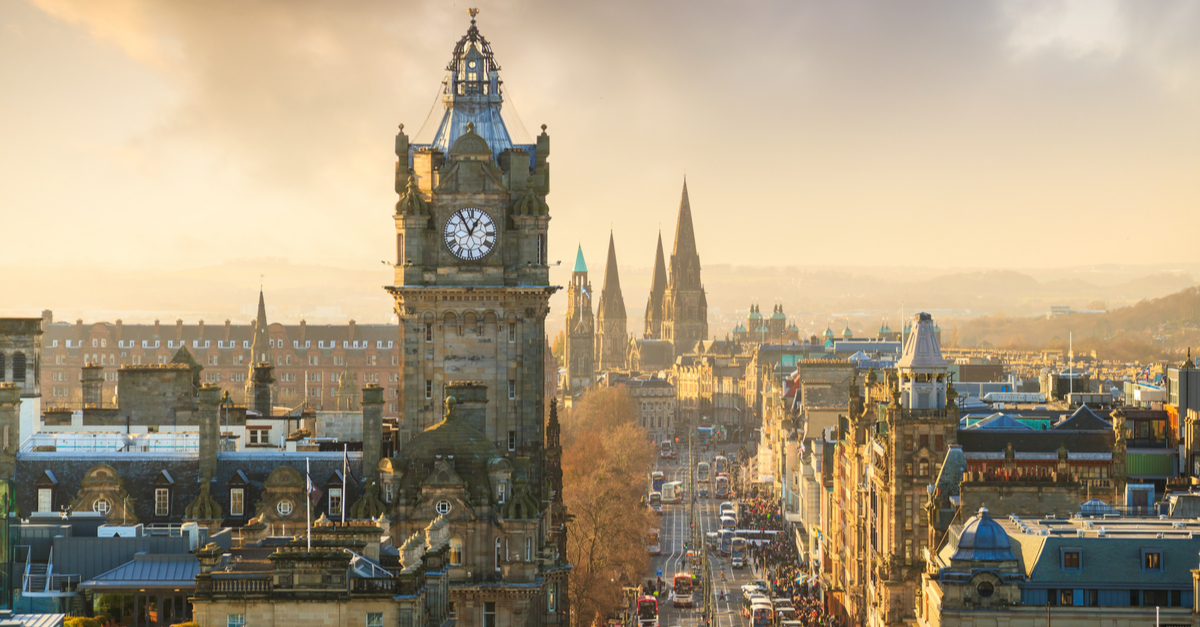 Old Town Edinburgh. Source: Shutterstock
Which airlines travel from Cardiff to Edinburgh?
There is only one airline which travels from Cardiff to Edinburgh, so you'll find it easy to find tickets for this trip. Loganair operates a regular service throughout the week to ensure there is an efficient travel connection between the Welsh and Scottish capitals. With the flight also being direct, you will find that it is a very convenient service, especially for business trips.
Loganair flights from Cardiff to Edinburgh
Loganair flights direct from Cardiff to Edinburgh are a great way to travel between these two cities. Offering five flights throughout the week, you'll get to your destination in no time at all. With the flights taking around 1h 20min in total, it's one of the fastest ways for you to complete this trip. All flights depart at a reasonable time too, at 4:20 p.m. on Sundays and Mondays, 11:40 a.m. on Wednesdays and Thursdays and 12:20 p.m. on Fridays, making this a great route to fly.
Flight Cardiff to Edinburgh: Services on Board
Flying with Loganair from Cardiff to Edinburgh is a great experience, with there being some great services on board the airline. Whilst there isn't the option for first class seats, all seating is comfortable and spacious on board. The fare class you pay for determines your luggage allowance too. Those who opt for the 'Fly' class get a 15kg hold luggage.
'Fly Flex' means you can bring approximately 23kg on the plane. Whilst 'Fly Flex +' offers up to 30kg in total. It is possible to take bikes on Loganair flights, but there is only space for two, so you will need to book this in advance. In addition all bikes will need to have deflated tyres, handlebars lowered and twisted in line with the frame and pedals removed. You can also bring pets on Loganair flights, but these will be put in the hold during the flight unless it's an assistance dog. Should you be travelling with a disability or a mobility issue, you can also request help from the airline prior to take-off. This can be done a minimum of 48h prior to departure and is especially beneficial to those who are wheelchair users and who have reduce mobility.
How to find cheap flight tickets from Cardiff to Edinburgh?
It's easy to travel from Cardiff to Edinburgh by plane, with Loganair offering a regular service throughout the week. It is also easy to find cheap fares if you know where and when to do so. One of the best ways of lowering the Cardiff to Edinburgh price is by booking in advance of your flights. With flights going on sale months in advance, you should be able to find a suitable fare in the build-up to your travel date. It is also very helpful to be flexible with your travel dates., For example, if you want to travel on a certain day, you might find that the Cardiff to Edinburgh cost of the flight is cheaper a day either side. Loganair also offer both one-way and return flight offers to students, which is a great way to save on your journey. So, if you're a student on under 26 years if age, you can get a reduced priced ticket for your journey between these two cities.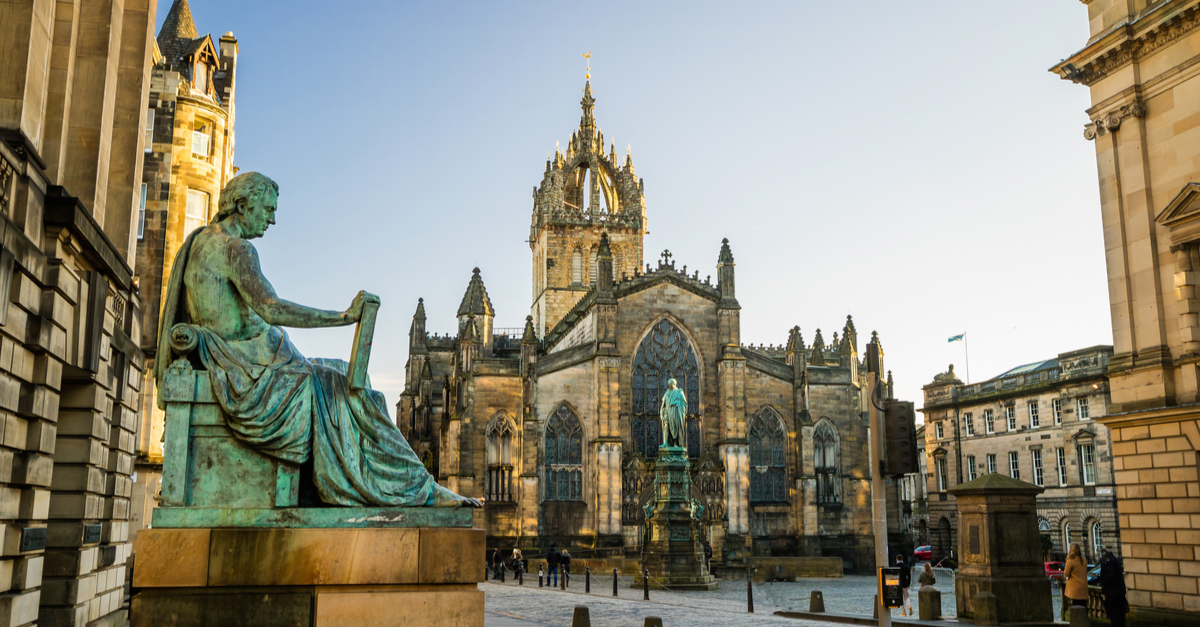 Royal Mile Edinburgh. Source: Shutterstock
To Edinburgh by plane —travel tips
Edinburgh is a lovely city to visit which has much to offer, so it's always a good idea to have an itinerary in place before you arrive. Begin your trip by seeing Arthur's Seat, which is a geological site and viewing spot that gives great vistas of the city. Next head over to Royal Yacht Britannia, which was once the Queen's former floating palace. If you want to get an understanding about the history of the country, then you can visit the National Museum of Scotland, which provides you with a great insight into the country's past. Then go and have a wonder around Edinburgh Old Town, which is a neighbourhood with historic walking routes and impressive buildings.
A trip to Edinburgh wouldn't be the same if you didn't visit Edinburgh Castle, which sits on top of the hill overlooking the city. For those travelling with children, head over to the Camera Obscura and World of Illusions, which is a interactive science building right in the centre of the city. For some more history, head over to the Palace of Holyroodhouse, which is a both a historical monument and art gallery for you to enjoy. The Royal Botanic Garden Edinburgh is also a great place to spend the afternoon, taking you away from the urban setting of the city and offering a more tranquil atmosphere.
If you're a fan of art then you can't visit Scotland without visiting the Scottish National Gallery, which has a range of paintings from various eras and artists. Grab a bite to eat at one of the many restaurants in the city centre and try out the Scottish delicacy of Haggis. Then you can walk off your meal at Holyrood Park, which brings you back to where you began your sightseeing adventure at Arthur's Seat.