Buses from Seville to Cordova
Buses run from Seville to Cordova multiple times each day. Buses depart in the morning, afternoon and night. Departures are usually between around 9:45 a.m. and 10:00 p.m. There are usually five departures each day, two in the morning, two in the afternoon, and one at night. The same schedule usually runs each day of the week.
Seville to Cordova Bus Time: Daily Departures
There are most often five daily departures from Seville to Cordova. These buses run every day of the week. There are usually two morning departures, leaving at around 9:45 a.m. and 10:00 a.m., two afternoon departures leaving at around 3:15 p.m. and 3:40 p.m., and one final departure at night, usually at around 10:00 p.m. With trips averaging 1h 50min, this gives you ample flexibility in considering your departure and arrival times.
How long is the journey by bus from Seville to Cordova?
The bus journey to Cordova from Seville usually takes between 1h 45min and 2h 15min. The difference in time spent travelling on the bus is usually due to the specific departure station. Remember to factor in the time it will take you to arrive at your departure station and the time it will take to get to your final destination in Cordova from the arrival station when choosing your departure time.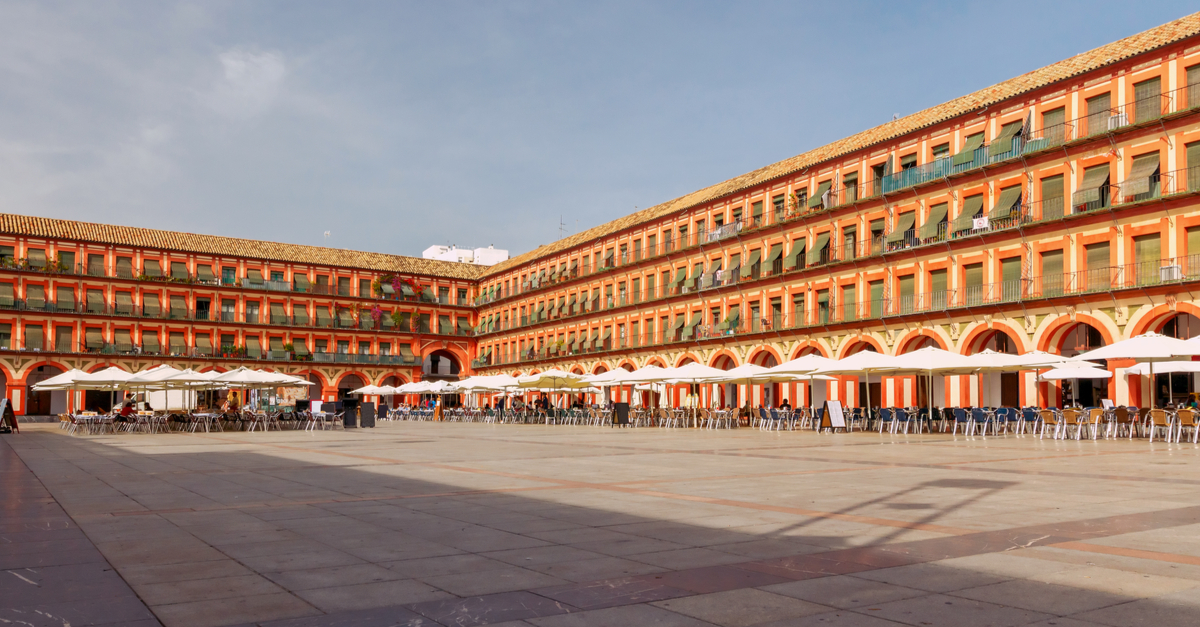 Cordova Plaza Terraces. Source: Shutterstock
What is/are the departure and arrival stations for buses from Seville to Cordova?
Departure bus station: Buses most often depart from the Plaza de Armas bus station in Seville. It is a large bus station located roughly 12min by car and public transport from the city centre. Many local Seville buses will travel directly to the bus station. Conveniently, there is a large shopping centre directly across the road from the station so you can complete any last-minute shopping you may need to do. Luggage lockers and cafes are also available inside the station. Buses also depart from the Prado De San Sebastian bus station. This station is the closest to the city centre, roughly 10min away by car and roughly 18min away by public transport. Like Plaza De Armas, public transport will take you directly to the station. The station has a cafe and vending machines to grab food and drink as well as an information counter to answer any concerns you may have. Buses also depart directly from the Seville Airport. This can be reached from the city centre in roughly 14min by car and in roughly 41min by public transport. This station will likely be most convenient for those flying into Seville before connecting by bus to travel to Cordova. The bus stop at the airport is located just outside of the main terminal.
Arrival bus station: Buses mostly arrive at the Cordova bus station, or Cordova Estacion Autobuses. This station is conveniently located close to the Cordova city centre, roughly 20min away if you walk and roughly 18min if you drive. The station has a waiting area and cafe. There is a taxi rank and the central station is a short 5min walk away if you wish to travel on via public transport.
Which bus companies travel from Seville to Cordova?
Alsa is the main bus company servicing travel from Seville to Cordova. They usually have five buses running each day and run every day of the week. They depart from multiple stations in Seville and usually arrive at the same station in Cordova.
Alsa buses from Seville to Cordova
Alsa offers buses that will take you from Seville to Cordova, multiple times a day. There are usually two buses running between 9:30 a.m. and 10:30 a.m., two between 3:00 p.m. and 4:00 p.m. and one at around 10:00 p.m. Their buses are direct with no changes and usually take between 1h 45min 2h 15min to reach Cordova from Seville. Buses departing from Seville Airport tend to be the shortest trips while buses departing from the Prado De San Sebastian bus station tend to be the longest trips.
Bus Seville to Cordova: Services on Board
Alsa has a variety of services on board that may differ depending on the type of bus available for your journey. All their buses include leg rests for extra comfort and free Wi-Fi on board as well as entertainment screens. Their Premium buses include space for pets and are also able to provide extra assistance to anyone who needs extra guidance or help during their journey. It also includes its own waiting area at certain stations and each seat has its own individual entertainment touch screen. The Supra option includes leather seats for extra comfort.
All of Alsa's buses include toilets on board. Some Alsa buses are adapted vehicles and have spaces specifically designated for passengers with reduced mobility or extra mobility needs. All Alsa urban buses have at least one space specifically for travellers using a wheelchair. These spaces do not need to be pre-booked but may be subject to availability. Passengers can also access extra assistance for boarding and disembarking Alsa buses as well as get help with their luggage if necessary. To access this ensure you arrive at the bay 15min before your departure time.
How to find cheap bus tickets from Seville to Cordova?
You can usually find cheaper bus tickets from Seville to Cordova if you are able to be more flexible in your travel arrangements. With multiple journeys each day, there are usually a few that are cheaper than the rest due to departing at less popular times such as late in the evening. Certain days of the week may also be less popular Journey length will also affect the price of your tickets. so if you don't mind a slower journey you may be able to find a cheaper option. Generally, however, the bus tickets to travel to Cordova from Seville are quite similar, so your best chance at cheaper tickets will likely be to book as far in advance of your travel as possible. Being able to plan ahead should help you secure the cheapest tickets.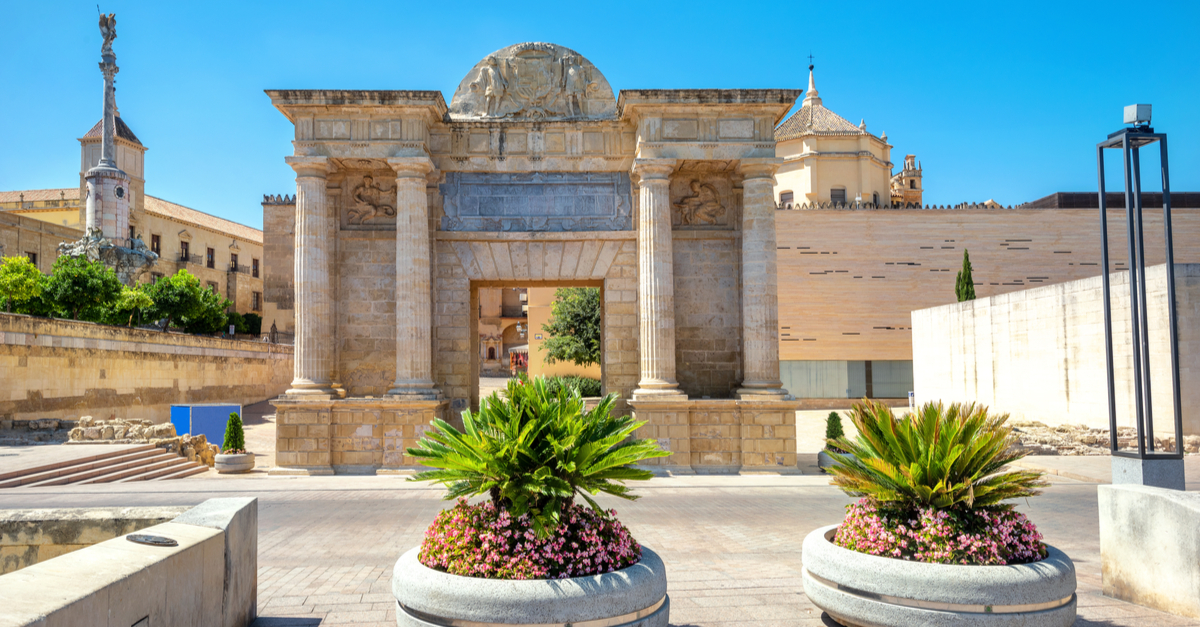 Cordova Buildings Gate. Source: Pixabay
To Cordova by bus—travel tips
An ancient city that has transformed over the years to blend modern amenities with a historic atmosphere, Cordova is a beautiful city to wander around. Stunning architecture can be found at sites such as the Mezquita Cathedral de Cordoba, a cathedral that blends different styles as it has evolved over centuries. Guided tours are available to learn about its history and how it came to be built the way it stands today.
The Mezquita Cathedral sits inside the Historic Centre of Cordova. This centre is a UNESCO World heritage site that you can spend hours walking around and admiring the historic buildings and squares, transporting travellers back to the city's past. When you need to stop and have something to eat you can find a range of restaurants to suit your tastes. Experience class Spanish and Mediterranean foods at restaurants like Bodegas Mezquita, a popular chain noted for its authenticity that can be found throughout the city, and Noor, a lauded restaurant, awarded two Michelin stars. Once you have had your fill of Cordova you may wish to travel on to other nearby Spanish cities such as Granada or the country's capital, Madrid.