Buses from Alicante to Benidorm
Buses depart from Alicante to Benidorm regularly each day, including at weekends. The journey usually takes less than an hour, with the fastest total journey times taking around 45min. There are numerous buses each day, usually departing every hour during the most popular travel times of morning and early afternoon. Some bus services run in the late evening or in the early hours of the morning, allowing passengers to travel overnight should they wish to.
Alicante to Benidorm Bus Time: Daily Departures
At least 20 buses depart from Alicante to arrive in Benidorm each day, with an average of one bus departing each hour at the most popular travel times and several services departing during the space of one hour at extremely popular times. Departing begin at approximately 2:00 a.m and run until around 10:00 p.m. Occasionally multiple buses may depart at the same time in order to allow all passengers to reach their chosen destination during busier periods. Services from Alicante to Benidorm run to the same schedule at weekends as buses on weekdays, with extra provisions put in during busier time periods when tourists may wish to travel.
How long is the journey by bus from Alicante to Benidorm?
The bus journey from Alicante to Benidorm usually takes less than 1h. Depending on the time you choose to travel, and where in Benidorm the bus will complete its journey, the journey duration may range from 45min to 1h 20min. The bus journey from Alicante to Benidorm does not require any changes, and you can complete your trip in one direct journey. Sometimes several buses may depart from Alicante at the same time, allowing you to access a faster or slower service dependant on what suits you best. Slower services outside of peak times are often cheaper than the bus journeys which are completed in a faster time.
What are the departure and arrival stations for buses from Alicante to Benidorm?
Departure bus station: Alicante Estación Tren. Buses from Alicante depart from Alicante's train station. This station is situated in Alicante's urban centre, surrounded by shopping outlets and restaurants. The station itself has a taxi rank and access to city Autobus services. Disabled access is available within the station and at bus services, and there are designated areas for bicycle storage. Within the station you can find plenty of buffets or cafes available as well as seating areas and other useful facilities. Alicante also has a designated bus station just a few minutes walk from the train station, where city and metropolitan bus services can be accessed readily.
Arrival bus station: While their are a variety of bus stops available in Benidorm, most buses from Alicante complete the journey at Benidorm Bus Station. Situated miles (3.56 km) from the city centre, it only takes about 10min to complete the drive from the bus station. Benidorm bus station has great facilities including a shopping centre integrated as part of the building, plus passenger services such as ATMs and waiting rooms. From the bus station you can go forward and find city bus connections and taxis close by. Some buses may have different points of arrival within Benidorm, such as Ave. Europa or Jaime I. These arrival points are usually located in central areas close to popular hotels or busy areas, so you can quickly access taxis or make your way on foot to your desired destination.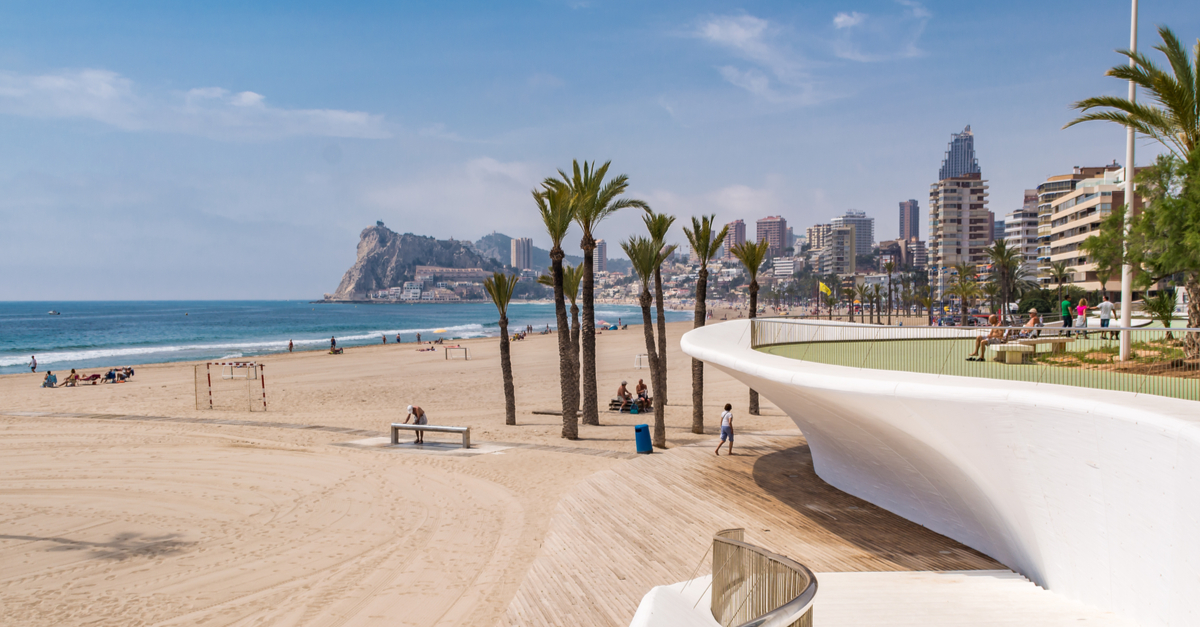 Benidorm Beach. Source: Shutterstock
Which bus companies travel from Alicante to Benidorm?
The main company currently providing bus services from Alicante to Benidorm is Alsa, a leading bus company operating routes throughout Spain. All Alsa buses complete the journey with no changes, and usually complete the journey from Alicante to Benidorm quickly, in under 1h. Alsa usually has sole responsibility for running this particular route.
Alsa buses from Alicante to Benidorm
Alsa is an excellent company currently operating buses from Alicante to Benidorm each day. All buses run directly and offer high speed comfortable travel allowing you to reach your destination in the most convenient way. Alsa run buses throughout Spain, offering further connections between popular cities and tourist locations. Around 20 Alsa buses depart from Alicante each day, reaching Benidorm in around 45min. At peak travel times, one bus usually departs every hour. Alsa also run a few services overnight, should you wish to travel during the late evening or very early morning e.g. around 1:00 a.m.
Bus Alicante to Benidorm: Services on Board
Buses from Alicante to Benidorm offer travel at speed and with a clear focus on comfort. Alsa buses currently operate the route solely, and have three levels of travel available to their customers: Comfort, Premium and Supra. With these different levels of ticket you can find varying levels of luxury facilities, but no matter which you choose you will have access to comfortable seats, on board entertainment and a fast service. Buses have internet connection and access to on board radio services to keep you entertained as you travel.
Alsa put a strong focus on making their buses accessible for all, and you can access specially adapted buses, special assistance services and wheelchair seating arrangements. If you think you might need assistance before you travel, you can always contact customer services who will help you arrange your journey in comfort. Alsa allow passengers to travel with a service dog, and have also put in provisions to allow other pets to travel on their bus services too. You can also transport your luggage, and for a small extra fee bring your sports equipment or bicycle too.
How to find cheap bus tickets from Alicante to Benidorm?
Finding cheap bus tickets from Alicante to Benidorm is simple, especially if you book online. Try to book in advance of the time you want to travel, in order to avoid last minute rising in ticket prices. If you can be flexible with your travel dates, try checking out a time that won't be as popular with other customers: for example early in the morning or overnight. These tickets are often cheaper. Choosing a slower journey between Alicante and Benidorm may take you a little bit longer to reach your destination, but it can also help you save some money. Finally, try comparing ticket prices side by side online using Omio, to find the best tickets for you.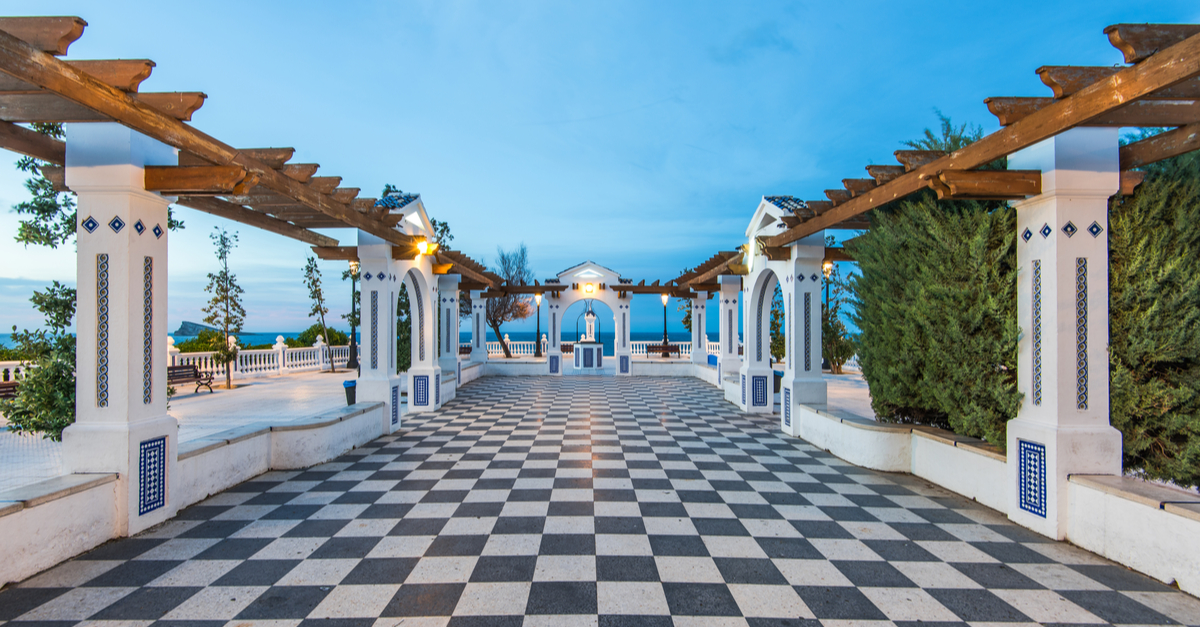 Benidorm Balcon Terrace. Source: Shutterstock
To Benidorm by bus—travel tips
Benidorm is one of Spain's most popular areas for holidaying travellers, with its endless beaches and ocean-side attractions. There are plenty of options to choose from when it comes to spending a day in the sun, whether you choose to relax on the beach, shop at the many small outlets which dot the promenade, or sample the local cuisine. Benidorm is naturally famous for its fresh seafood, but you can find gourmet food to suit your own tastes at the many sea view hotels and restaurants situated just a few steps from the Mediterranean itself.
Benidorm Old Town is a set back slightly from the beaches, but here you can revel in fascinating Spanish architecture as you explore the winding narrow streets or even pay a visit to the popular 'Tapas Alley'. Benidorm is a wonderful place to relax, whether you're visiting for a day or settling into a much needed holiday.