How to travel from London to Irun?
Travel from London to Irun is possible via bus, train and plane with at least two trips per day via each mode. ALSA provides bus service from London Victoria Station to Irun while Eurostar offers service departing London St Pancras International. You can also travel to Irun via airlines such as British Airways, Iberia, easyJet and Air France from various London metro airports. Weekday trips tend to be more popular since some modes of transport offer reduced service on the weekend.
Irun is a major border town between France and Spain with several coastal beaches and windswept hills waiting to be explored. This is a popular route with multiple daily departures by bus, train and plane. The average flight time from London to Irun is about 7h to Irun and the average train journey requires about 8h but it takes approx. 19h to travel to Irun by bus.
What is the cheapest way to get from London to Irun?
The cheapest way to get from London to Irun is by bus. ALSA offers service at least twice daily departing from London Victoria Station in Central London to Estacion Autobus Renfe Kalea Station in downtown Irun. There is no direct service available on this route so you should expect bus journeys from London to Irun to make at least seven connections at various cities in France and Spain along the way.
To get the best available fares along this route book your tickets as far in advance as possible. You should also consider off-peak journeys such as early morning or overnight trips to help reduce travel costs. Bus providers may also offer discounts applicable to students, seniors, children and persons with reduced mobility as well as to families and large groups which are additional ways to lower costs
What is the fastest way to travel from London to Irun?
Air travel is undoubtedly the fastest way to travel from London to Irun, with several airlines offering daily service between the two cities. British Airways, Air France, Iberia and easyJet are the main providers with departures from London Heathrow and London Luton airports destined to San Sebastian and Biarritz airports. Travel times vary among airlines, especially if stopovers are involved but you should expect connecting flights lasting about seven hours on average. All airlines offer multiple daily flights along this route.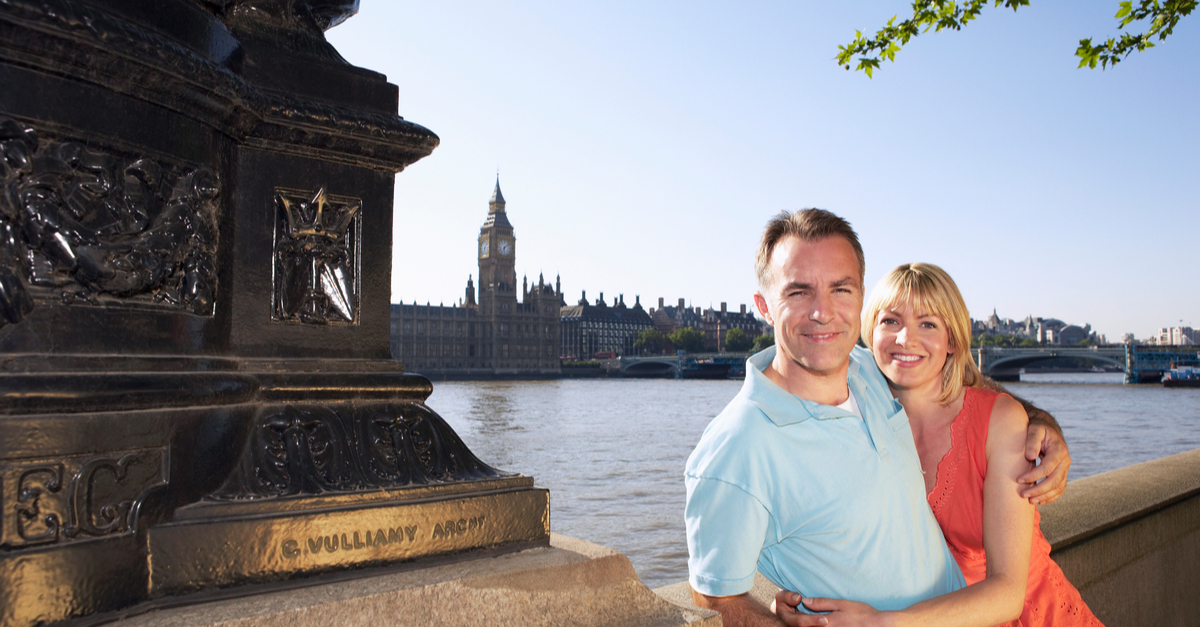 London Couple Bridge. Source: Shutterstock
Find the best tickets from London to Irun and book with Omio
Finding the best airline tickets can be a challenge to sift through all the data from various airlines, timetables, schedules and fare prices to determine the exact one which best suit your needs and purposes. Omio is an online search and booking platform that compares data on all modes of transport from London to Irun to offer you a comprehensive list of the best options.
Our easy to use app or online site allows you to scan all travel options at a glance, with mobile ticket options and customer service available in multiple languages for your comfort and convenience. Our Omio magazine has helpful tips to help you discover how to travel.
Trains from London to Irun
Eurostar is the biggest provider of international train service linking the UK with continental Europe and is a very popular as an alternative to bus service (too long). Business travellers and persons with more flexible budgets prefer this mode for overland travel and the experience of the Eurotunnel.
Eurostar has departures twice daily from London St Pancras International to Paris Gare du Nord. The Paris 4 metro offers connections at Gare Montparnasse for SNCF or TGV inOui service enroute to Gare d'Hendaye. From there you have local train options such as Euskotren to Irun.
Train travel from London to Irun with Eurostar
Eurostar train service from London to Irun operates along one route via Gare du Nord with connections from there to Gare d'Hendaye. Eurostar offers several seating classes including Standard Premier and Business Premier featuring upgraded seating and meal service among other benefits. Air conditioning/heating, Wi-Fi, onboard toilets and power outlets are standard on all Eurostar trains for a more comfortable journey.
Buses from London to Irun
Travel to Irun by bus is the most economical mode of transport but it requires long journeys from London to Irun. Their affordability makes them attractive options for students, travellers working with limited budgets and those with very flexible travel schedules who prefer to take the most scenic travel route from London to Irun. ALSA operates two trips each day from London Victoria Station which requires several connections (about seven) through France and Spain before arriving at Estacion Autobus Renfe Kalea in Irun. This is the central bus station so no further travel is required to reach the city centre.
Bus travel from London to Irun with ALSA
ALSA is the biggest provider of bus service to Irun with a fixed route from London Victoria Station with connections at three French (Nantes, La Rochelle and Saintes) and two Spanish stations (Burdeos and Bayona) before arriving in Irun. The ALSA coach fleet is equipped with air conditioning, Wi-Fi and onboard toilets with power outlets at each seat for your convenience.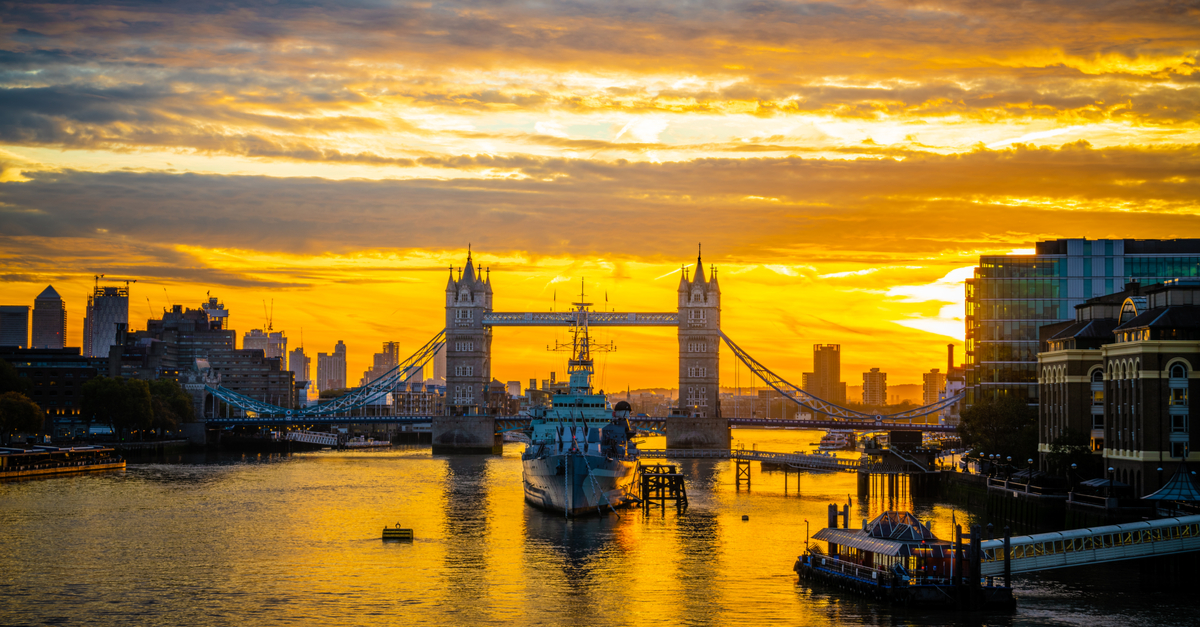 London Cruise. Source: Shutterstock
Flights from London to Irun
British Airways, Iberia, Air France and easyJet are major providers of flight service from London to Irun with departures from London Heathrow Airport and London Luton Airport.
All offers multiple daily trips from each airport to San Sebastian and Biarritz but direct flights are few if any. The majority of these are connecting flights make one or more stopovers via Barcelona-El Prat or Madrid Barajas airports with Iberia and British Airways offer some of the fastest flights on this route. Euskotren E2 and Lurraldebus provide service to downtown Irun from San Sebastian Airport while FlixBus and Blablabus provide service from Biarritz Airportto Irun city centre.
Flying from London to Irun with British Airways, Iberia
Of the airlines offering flights from London to Irun, British Airways and Iberia provide the most frequent service. Both also employ similar transit points for connecting flights, namely Barcelona-El Prat and Madrid Barajas airports as well as the same points of origin, namely London Heathrow and London Luton airports. Iberia offers the fastest overall flight to Irun from London at 3h 40min (Biarritz), though both offer multiple daily flights which can arrive at either airport in less than 6h. As the flag carriers for the UK and Spain, flying Iberia and British Airways is often a matter of national pride. All planes are equipped with Wi-Fi and toilets with some beverages and light snacks served on short haul flights.
To Irun by train/bus/flight travel tips
The town of Irun is situated in the north-eastern corner of the Basque region of Spain and is a principal railway interchange point on the French border. One of the biggest attractions in Irun is the annual Alarde de San Marcial parade in June which commemorates one of the major events during the Napoleonic Wars. There are many other landmarks and historical buildings to discover like the Castle of Charles V which is a historical fortress dating to the 10th century and the Gothic Church of Santa Maria de la Asuncion y del Manzano named for Infanta Maria Theresa, once Queen of France.
If you fly into Biarritz, make some time to enjoy the surf and sand at the Grande Plage before enjoying a delicious seafood meal at one of its restaurants (Soave serves great food at affordable prices) before heading south to Irun. Once you arrive, try the fusion menu at Bakar or book a table at the Inigo Lavado which proudly boasts a Michelin star.