Travel to Dundee
Travel to Dundee can be done via the bus, train, and flight. Bus and train routes run through most major cities in mainland United Kingdom. The bus routes come into the city around four times a day, two times in the morning and two times in the evening. The trains come through every half-an-hour during the standard train running times. Flights do not come in very frequently; most places only have 1 to 2 flights per day to Dundee Airport. The journey will take the longest amount of time on the bus. A flight would be the quickest way to get to the city if you are close to an airport that flies to Dundee.[
About Dundee
Dundee is located in Scotland and is Scotland's warmest and sunniest city. During the summer, the temperature averages at around 19°C. Dundee gets very cold in the winter, averaging at around 8°C. The currency used in Dundee is the Pound Sterling. In Scotland, they use the Scottish Pound Sterling, which is the same as the British Pound Sterling; however, the notes look different. Dundee has a variety of restaurants and bars, all of which cater for different mealtimes. Cafés will open earlier in the day, while bars will only open in the evenings.
Public transport in Dundee
Dundee travel makes it easy to get around as there is a variety of public transport available. The city has access to buses, trains, and taxis. There are buses along the main roads throughout the city. Bus times will be displayed at every bus stop. These buses come throughout the day at regular intervals. It is good to note that bus times may vary on Sundays and bank holidays. There is also a train station that stops in the city centre and has other stops in the nearby towns. It is also possible to use taxi services.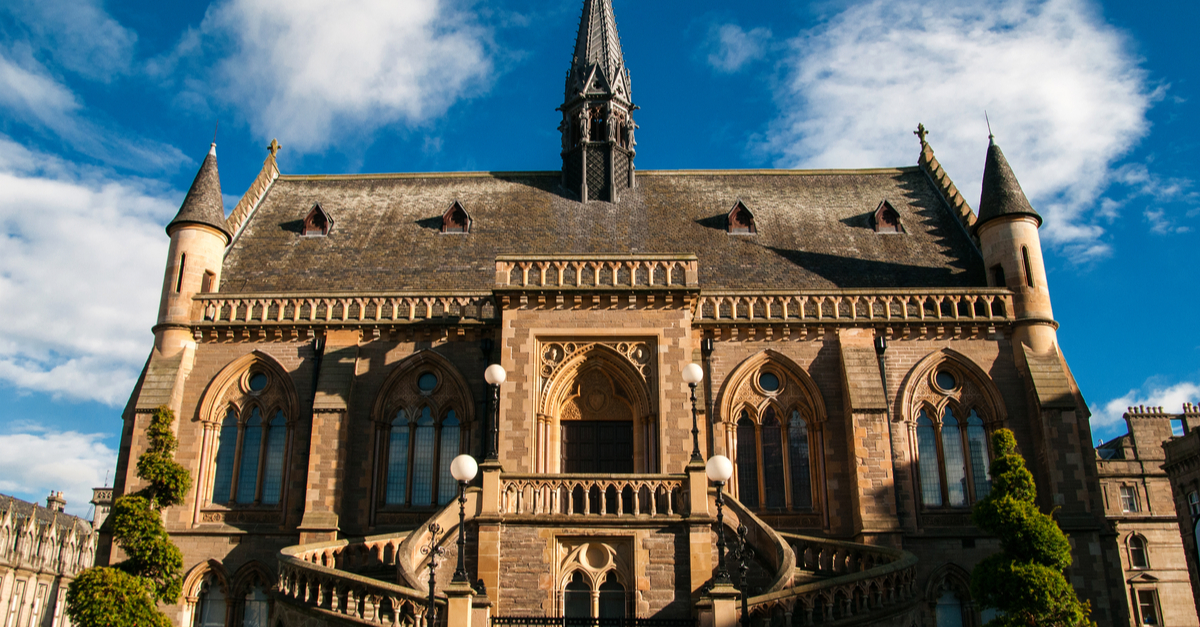 Dundee Gallery. Source: Shutterstock
Important bus & train stations, airports to Dundee?
Arrival bus, train, flight station, airport: The arrival airport is Dundee Airport. The duration of a flight ranges depending on your departure airport, however, if you are travelling from London City Airport, the flight is 1h 45min long. Dundee Airport is very close to the city centre and is a short bus trip from the airport. The airport has a variety of facilities available, such as shops and restaurants. Dundee Seagate Bus Station is the arrival bus station. The duration of travel depends on where you are travelling from, however, if you are travelling from London it is around 12h. The bus station is located in the city centre.
The bus station has a shop and bathroom facilities. The train station you arrive at in Dundee is called Dundee. The duration of travel depends on where you are coming from, however, if you are coming from London by train, it will take around 6h. The train station is located in the city centre. The train station has a few amenities including, a café, shop and bathroom facilities.
Which companies travel to Dundee?
Dundee travel uses these bus companies; Megabus.com, Stagecoach and National Express. Whether there is a direct bus to Dundee depends on your departure point. If you are taking a bus from outside of Scotland, you will most likely have a change in your route. Direct routes usually are faster than if you have changes. Dundee travel uses trains as well; the train companies used are Scotrail and London North Eastern Railway. There are both direct routes and indirect routes to get to Dundee. The faster routes are those that are direct. It is also possible to take a flight to Dundee; companies that fly to Dundee are Loganair. These flights are direct and take 1h 45min from London.
Megabus.com bus to Dundee
Megabus.com offers many services on their coaches. There are charging ports available at each seat, there are toilet facilities on the coach, there is air conditioning, and it is possible to book a seat with extra legroom. The buses from megabus.com run many times each day and stop in many places in the United Kingdom. There is no direct bus to Dundee; you will have to stop in Edinburgh and change to another bus there. The duration of the journey will vary depending on where you are coming from.
Scotrail train to Dundee
Scotrail has a variety of services that they offer onboard their trains. If you are on a long-distance train, there is a shop on the train which sells drinks and snacks. The train has many places that you can charge your devices. There are also large areas for you to keep your luggage. The trains from Scotrail run throughout the day. These trains are both long-distance and local trains. It is possible to take a direct train to Dundee; however, direct trains will only run a couple of times a day. The duration of the journey will vary depending on where you are coming from.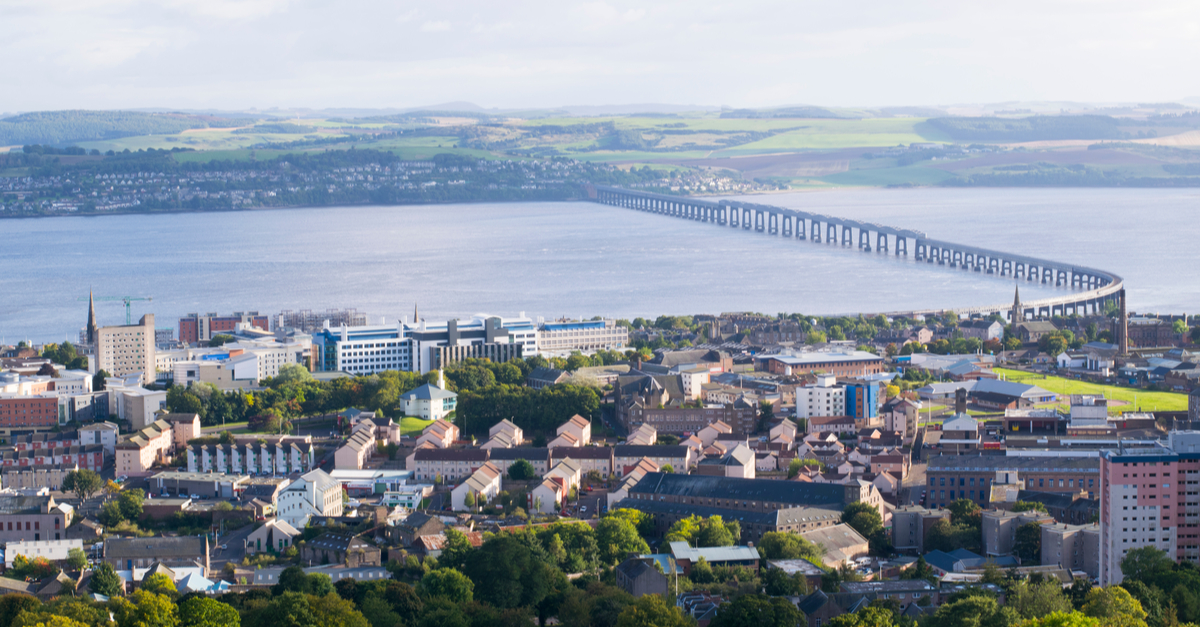 Dundee Skyline. Source: Shutterstock
Loganair flight to Dundee
Loganair provides a couple of in-flight services. Loganair offers a selection of snacks and drinks that you can buy during the flight. Some of the newer planes offer places for you to charge your phone. There are also toilets on board the plane. Flights to Dundee only come in a couple of times a day from different airports. To get to Dundee, you can take a direct flight. Loganair flies from London City Airport to Dundee. This flight is 1h 45min long.
How to find cheap tickets to Dundee?
Finding cheap tickets to Dundee is easy. It is best to book your ticket in advance, as they become more expensive closer to your departure date. The times of the day that the bus, train, or plane leaves may increase the ticket price.
If you want a cheaper ticket, book your ticket during the middle of the day, which tends to be a less popular time. Travelling during the week and not on weekends will also help you save money, as tickets are always cheaper in the middle of the week. If you choose a direct route or a route with limited stops, the ticket might be more expensive. If you have more changes on your route, your ticket will be cheaper.
Travel to Dundee - travel tips
Dundee is a great city to travel to as many sites to see during your visit. Dundee is home to V&A Dundee, which is the only other V&A in the world outside of London. The city is filled with historical attractions for the family and the historic traveller. An attraction you can visit is the Tay Rail Bridge; this bridge is acclaimed for having one of the worlds most beautiful rail routes.
If castles are something you love to see, Glamis Castle is definitely worth visiting. The castle offers fun guided tours for you and the family. Throughout the city, there are many museums; some recommended museums are The McManus, The Mills Observatory and Broughty Castle Museum. Dundee has a variety of restaurants and bars that you can visit during your stay. Most of the bars and restaurants are located in the city centre.
Nightlife is big in Dundee, and there are a variety of bars and clubs that dance the night away. Dundee is a beautiful and scenic city, as it is on the coast and is not far away from the Scottish Highlands. Dundee is a fantastic location for a holiday for the explorer, family, or business traveller due to the city's variety of attractions.