Travel to Coventry
There are many ways to reach Coventry, depending on the way of transportation you prefer and your point of origin. There is a great railway network in the West Midlands – the part of England where Coventry is located, and it can be easily reached via a direct train from most big cities in the area. There is also a large bus station located in Coventry which serves city and out-of-town routes to more remote destinations. The nearest airport is Birmingham International Airport, one of the larges airports in the UK, and it is also connected directly to the railway network in the area. Coventry is conveniently located near a couple of motorways as well, for those who prefer to travel independently.
About Coventry
Coventry is the 9th largest city in England and second largest in its area – the West Midlands, after Birmingham. It was awarded UK City of Culture for 2021, and is popular for many cultural landmarks, such as St Michael's Cathedral – a 14th century church that was mostly destroyed during WW2 by German bombings. The remains of the Cathedral dominate the city's skyline. The Herbert Art Gallery and Museum and the Coventry Transport Museum are also among the most popular tourist attractions in the city.
The weather in Coventry is pretty mild compared to other parts of the UK, with average temperatures ranging from 8 degrees Celcius in the winter, and 21 degrees in the summer. There are also plenty of activities for visitors such as bars, restaurants and shopping centres. Shops tend to stay open until 6:00 p.m., while bars and restaurants can be open way past midnight – make sure you double-check this before your visit!
Public transport in Coventry
The two most common ways to get around Coventry is by bus and by train. The city is easily located on the West Coast Main Line, and is connected to an extensive local and regional rail network, and there are also four train stations in the city. Bus services provide a number of bus operators that can get you to any point of the city in most parts of the day. Buses usually run from around 6am until just after 10:00 p.m., even though some routes tend to have exceptions. There are timetables and journey planning options for both buses and trains on the West Midlands Network website.
Important bus & train stations, airports to Coventry?
Arrival bus, train station and airport: The main train station at Coventry is Coventry station, and it is connected to three local stations – Canley, Coventry Arena and Tile Hill. It's only a few minutes' ride between each train station, making it convenient for people travelling into Coventry to reach their desired area faster and more conveniently. The main station features ticket offices, ferry services and a travel centre. The main bus station at Coventry is Pool Meadow Bus Station, located a short walk away from the train station in the city centre. It operates various companies daily and has been open since 1994. For those travelling from abroad, the nearest arrival airport would be Birmingham International Airport, that is conveniently located to the railway network.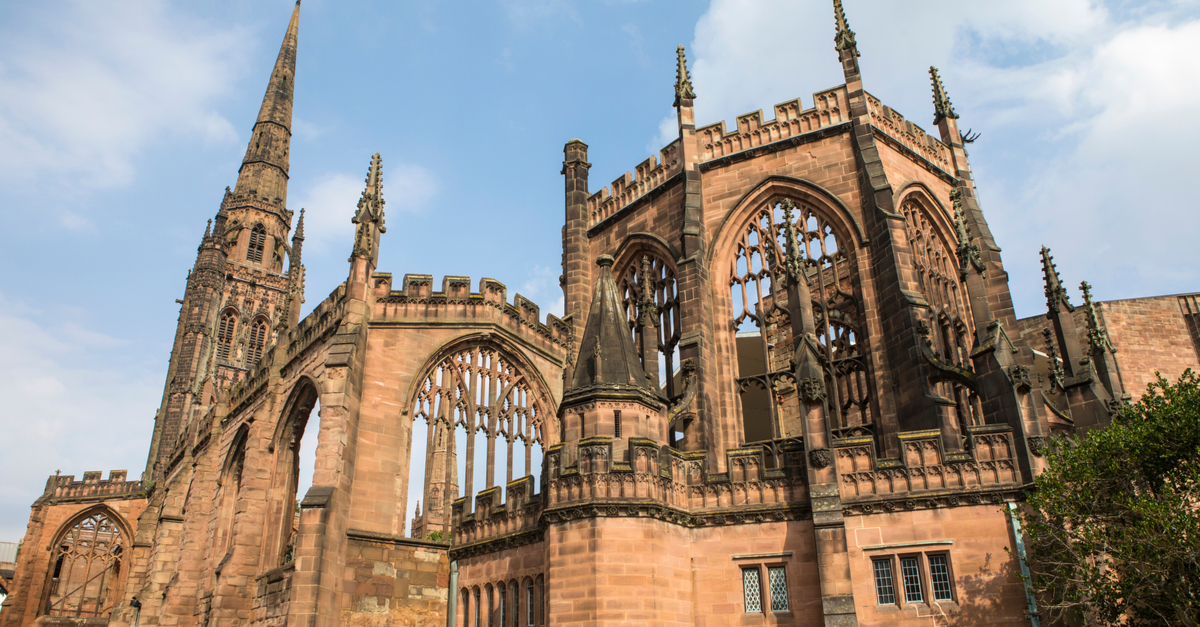 Coventry Historic. Source: Shutterstock
Which companies travel to Coventry?
Coventry train station is served by CrossCountry, London Northwestern Railway, West Midlands Railway and Avanti West Coast, and sees more than 8 million passengers each year. Pool Meadow Bus Station at Coventry has 19 departure and arrival stands, which are services by National Express, Megabus, Thandi, New Bahrat, and also additional city scheduled bus services.
Birmingham International Airport offers both domestic and international flights to Europe, Middle East, Asia and North America. It is an operating base for Jet2, RyanAir and TUI Airways. The fastest and most convenient way to travel around England, to and from Coventry, is by train – there are many high-speed services available that will take you to your desired destination in no time. If you are travelling on a budget, and/or have some more time on your hands, you can opt for taking a bus – it also provides you with a scenic route to enjoy during your journey!
National Express bus to Coventry
The bus company that is most often associated with travelling to Coventry, and services more routes than most, is National Express. There are currently more than 50 direct routes that travel either to, or via Coventry Bus Station. Travelling from Birmingham, where the nearest airport is, and travelling from the geographical centre of the UK – Leicester, by bus, takes just shy of an hour. If you are travelling from London on the other hand, you should expect travelling around 5h (can vary due to traffic on the motorway), and there is also one change in the journey. You can expect to travel directly by bus from London to Coventry in the late hours of the night.
National Rail train to Coventry
Coventry is conveniently located on the West Coast Main Line, at is at a centre of a junction, so you can expect frequent and fast services to Coventry from most parts of England. The typical departure stations are London Euston and Birmingham New Street, and the journeys take around 1h and 20min respectively. There are also long-distance services served by CrossCountry that can take you between Coventry and Manchester in the North, and Bournemouth in the south.
RyanAir flight to Coventry
The flight operator that is associated with travelling to and from Birmingham International Airport most often is RyanAir. There are dozens of direct routes that reach Coventry, and the most popular ones are Dublin, Amsterdam, Paris, Frankfurt and Palma de Mallorca. As most of those are located in Europe, the flight from any of those cities to Coventry is anywhere between 1-3h. Once you arrive at Birmingham Airport, you can reach Coventry by train – directly from the airport terminal, by bus – via stand located conveniently outside the airport, or by car – getting on the motorway that goes all the way to Coventry.
How to find cheap tickets to Coventry?
There are many ways to find cheap tickets to Coventry. If you are coming from abroad, you can opt for a connecting flight, which might save you some cash at the time of booking. You can be flexible with your travel dates and escape Fridays and weekends, are those are most popular with people who are looking for a short getaway.
If you are travelling by bus or by train, try to avoid peak hours, which can be between 7:00 a.m. and 9:00 a.m., and 4:00 p.m. and 6:00 p.m.: when people usually go to or get off work. And lastly, make sure that you book your journey in advance so you can get the best deal out there – check our Omio magazine for useful travel tips and tricks.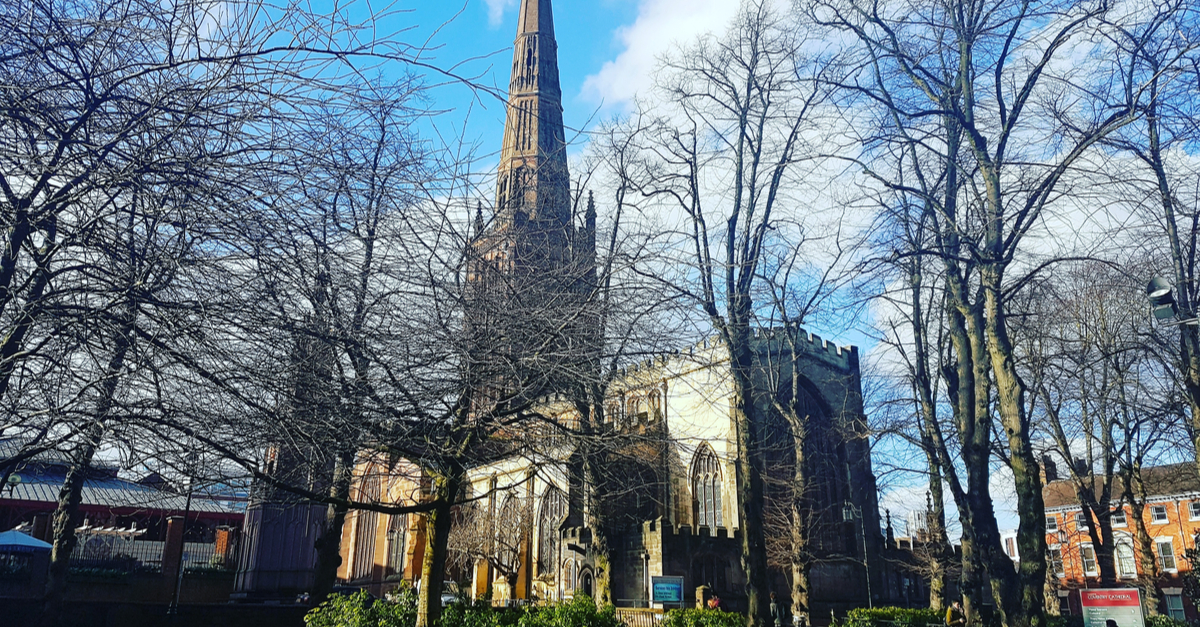 Coventry Church. Source: Shutterstock
Travel to Coventry —travel tips
Coventry, just like most cities in the UK, is extremely multicultural and is a great way to explore different cultures while staying in the same city. The food scene is extremely popular, with people travelling into Coventry very often to enjoy the vast range of restaurants and bars there are.
It is also named the UK City of Culture for 2021, considering its historical landmarks such as the Museum of Transport (conveniently located just opposite the train station), and the remains of St. Michael's Cathedral. Don't wait up – book your trip to Coventry via Omio now!