Trains from Manchester to Belfast
There are a number of route options from Manchester to Belfast by train. Each of them requires a ferry journey between Britain and Ireland. Option one is a train from Manchester to Liverpool and a ferry from Liverpool to Belfast. Option two is a train from Manchester to Holyhead and a ferry from Holyhead to Dublin and then another train from Dublin to Belfast. Option three is to take a train and bus from Manchester to Cairnryan in Scotland and then take a ferry to Larne in Northern Ireland where you can take a train for the final leg to Belfast.
Trains from Manchester to Belfast: Journey Details
Departing once a day, seven days a week, catching the train from Manchester to Belfast may not be frequent but it is reliable. Passengers should expect a minimum of four transfers at Preston, Glasgow Central, Ayr, Cairnryan onto a ferry to Belfast port.
Manchester to Belfast Train Time: Daily Departures
Trains depart Manchester PIccadilly daily for the three ferry destinations to connect you with Belfast. Trains for Liverpool are very frequent with around three per hour making the approximately 1h train journey. Trains to Holyhead leave Manchester hourly with a journey time of around 3h and trains to Cairnryan leave Manchester hourly with two changes required. The journey time is 4h 50min.
How long is the journey by train from Manchester to Belfast?
The train from Manchester Piccadilly to Liverpool takes around 1h and is a direct service with no changes required. The train to Holyhead in Wales takes around 3h and there are direct services as well as services with one change required. The train to Cairnryan usually requires two changes and takes 4h 50min to complete. In addition, there is a bus connection needed for the final leg to the ferry port so the full journey time to Cairnryan will be around 5h 30min. Travel time from Manchester to Belfast will be largely determined by the ferry route you take. The Cairnryan to Larne ferry route is the shortest, taking only 2h. The Holyhead to Dublin ferry will take between 2h and 4h depending on the ferry type you book. The Liverpool to Belfast ferry is the longest with an 8h crossing.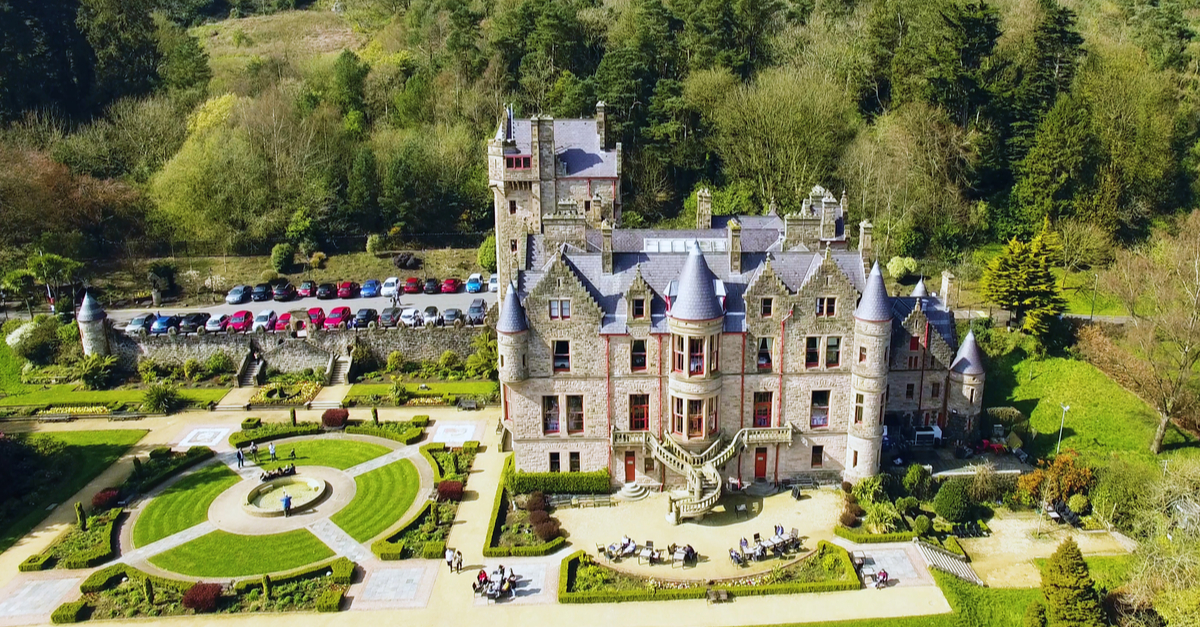 Belfast Castle. Source: Shutterstock
What is/are the departure and arrival stations for trains from Manchester to Belfast?
Departure train station: Trains for Belfast all leave from Manchester Piccadilly Station, irrespective of the ferry connection chosen. Piccadilly is in the city centre in Manchester and easily reached by local transport. It's a busy modern station with good passenger amenities including cafes, restaurants, waiting rooms, toilets and shops.
Arrival train station: Trains to Belfast will arrive in Belfast Central Station in the city centre. It has cafes, toilets, waiting areas and an information desk. It's a short walk to all the main attractions in the centre and local transport connections are very good. You will find taxis and buses outside the station arrivals area.
Which train companies travel from Manchester to Belfast?
To connect with Belfast from Manchester by train you have a choice of companies. On the Manchester - Liverpool leg you will travel with Northern Rail. On the connection via Holyhead you will travel with Arriva and to continue after the ferry you will travel with Irish Rail from Dublin to Belfast. On the Manchester Cairnryan route you will travel with ScotRail and the First Transpennine Express.
Northern Rail trains from Manchester to Belfast
The Manchester - Liverpool connection with Belfast is a direct 1h journey. It takes you to Liverpool Central Station where you will take a bus or taxi to the port to connect with the ferry. There are as many as three trains per hour on this route.
Arriva and Irish Rail trains from Manchester to Belfast
Arriva trains depart Manchester hourly for Holyhead and Irish Rail trains for Belfast depart hourly from Dublin's Connolly Station in the city centre. The journey to Holyhead will take around 3h and the train from Dublin to Belfast will take 2h 15min.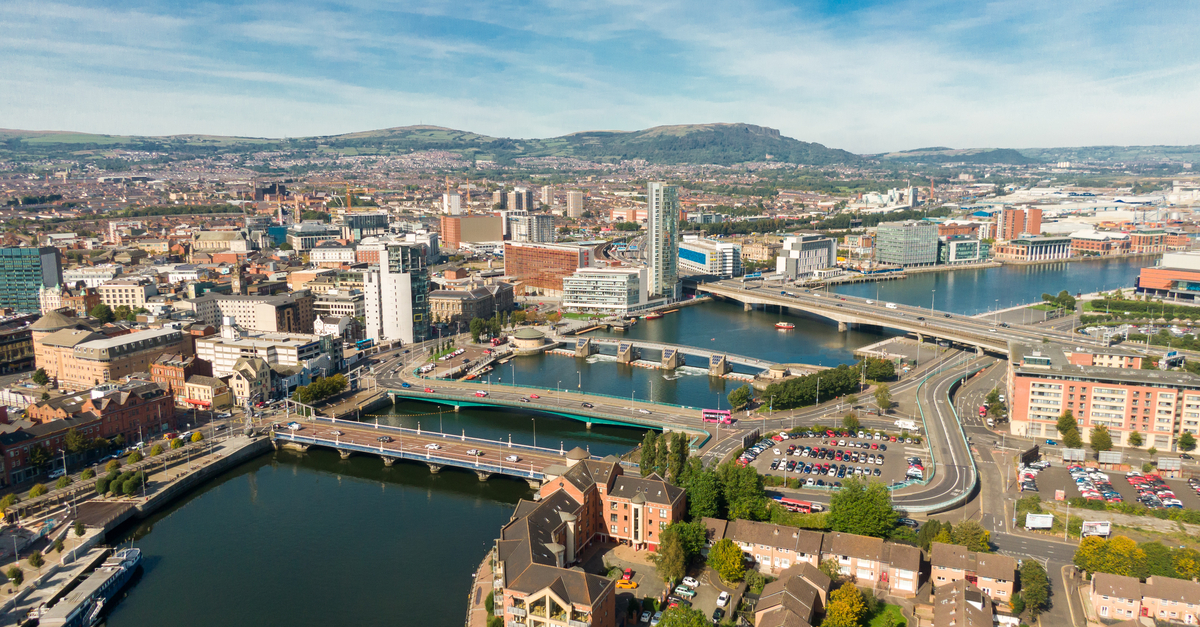 Belfast Panoramic View. Source: Shutterstock
Scotrail trains from Manchester to Belfast
Scotrail trains depart Manchester Piccadilly hourly for Kilmarnock where you will connect with the First Transpennine Express service towards Cairnryan. There are two changes required. The full journey across both connections will take 4h 50min. You will need to transfer to a bus for the final leg of the journey to the ferry port at Cairnryan.
Train Manchester to Belfast: Services on Board
Northern Rail's Manchester to Belfast via Liverpool route operates standard class carriages. There are food and beverage snack facilities on board and the trains have been adapted to be accessible to all passengers. Pets are welcome on board. Dogs must be on a leash and cats and other small animals must be in rigid travel boxes. Arriva's rail link with Holyhead offers first class and standard class services on its 3h journey. These trains are also accessible to all passengers and staff have been trained to assist passengers with limited mobility or sensory issues.
You can bring a bicycle on the train but you will have to register it at the time of booking. Passengers can bring two suitcases and one piece of hand luggage. Scotrail also offers a modern efficient service on its route to Cairnryan with food and drink services, bike storage, two pieces of luggage as well as one piece of hand luggage and offers accessible carriages with staff trained to assist anyone who requires it. This is the longest train route of the three.
How to find cheap train tickets from Manchester to Belfast?
The cheapest way to get from Manchester to Belfast is by booking early. The train prices vary depending on how close to the departure date you book. The ferry connection prices can vary also, depending on the route you take. The ferry from Holyhead to Dublin takes between 2h to 4h.
There is a so-called fast ferry which completes the crossing in two hours and a slower cruise ferry which needs almost four hours to complete the ferry crossing. The ferry from Cairnryan to Northern Ireland takes 3h and the ferry from Liverpool to Belfast takes 8h. You can save on each if you are flexible in your dates and times. There are family discount tickets available on each of the ferry services also.
To Belfast by train - travel tips
Belfast has been reinvented as a very popular tourist destination. The Titanic was built there and the shipworks where it was assembled have been used to reinvigorate the city with a brand new cultural and entertainment quarter built around it in the city centre called the Titanic Quarter. New hotels, bars, restaurants and cafes have opened as well as world-class galleries and theatres.
The city has a young population and there is great nightlife. There are plenty of family activities throughout the city with parks, cinemas, great farmer's markets like St Georges Market near the Titanic Quarter and a children's science museum. Belfast is also the gateway to the Antrim coast and the beaches, tourist destinations and small towns and villages it offers.
Around Belfast you will find castles, forts and harbours that each tell a different story of the important history of the city and a tour by Black Taxi can bring you around the wonderful murals that capture the political story of the region. The city centre is small enough to walk around and big enough to lose yourself in, with busy shopping centres and small local retail outlets. Belfast locals are famously friendly and a trip here is always memorable.