Trains to Belfast
The capital and largest city in Northern Ireland, Belfast was a major port city and shipbuilding mecca during the Victorian age and is best known as the birthplace of RMS Titanic. If you're interested in travelling to Belfast by train you should know that there are four major routes which comprise the Belfast Suburban Rail network: the Belfast-Larne Line, the Belfast-Bangor Line, the Belfast-Newry Line and the Belfast-Derry Line. The city has five railway stations, two of which are considered major depots providing direct train service links to/from several Northern Ireland towns including Londonderry, Bangor and Larne via Translink UK. You can also get direct service to/from the Dublin in the Republic of Ireland, but rail service is not possible from the UK mainland due to the lack of bridge or tunnel crossings.
Translink UK to Belfast
Translink UK is the sole operator of railway service in Northern Ireland through its subsidiary Northern Ireland Railways (NIR) which provides suburban rail service across the region. Translink UK oversees all five rail stations in the city: Belfast Lanyon Place Station (Belfast Central) which is the city's principal rail terminal and Great Victoria Street Station (the two major stations) as well as Botanic Railway Station, City Hospital Railway Station and Yorkgate Railway Station. You can travel to Belfast by train with frequent direct service from locations around Northern Ireland daily from Monday to Friday with reduced service on Sundays and holidays. The length of your journey will vary according to point of origin with some service like the 9:38 p.m. night train from Londonderry involving an overnight stopover and transfer at Coleraine.
Irish Rail to Belfast
Irish Rail operates the national railway network in the Republic of Ireland and provides direct service to Belfast by train via Enterprise which is its intercity train connection from Dublin Connolly Station to Belfast Lanyon Place Station. You can get one of the nearly 10 daily departures along this route from Monday to Friday with reduced service on weekends and holidays (about five trains). All departures from Dublin Connolly Station to Belfast Lanyon Station are direct and you can expect a journey to vary from about 2h 5min to about 2h 15min depending on the hour.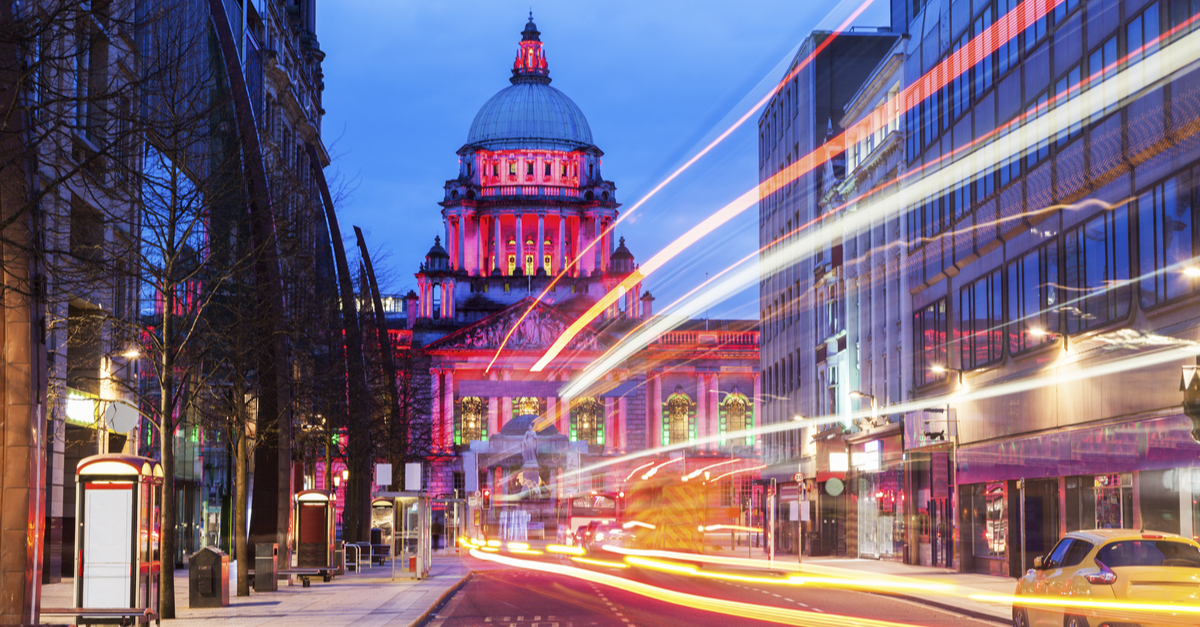 Belfast Night Lights. Source: Shutterstock
Main train stations in Belfast: closer to Belfast centre; better facilities
Belfast Lanyon Place Station situated about 1.2 miles (1.9 km) east of the city centre is the main rail station in Belfast. This station is open Monday to Friday from 7:00 a.m. to 5:00 p.m. and closed on Saturdays and Sundays. After closing hours train tickets can be purchased onboard outbound trains. Belfast Lanyon Place Station has very limited facilities beyond WC and a ticket office but is accessible to disabled passengers. There are no parking facilities at this station. Great Victoria Street Railway Station is the more centrally located of the two major train stations in Belfast due to its location in the Europa Business Centre which also houses Europa Buscentre, the city's main bus terminal. This station offers limited facilities such as WC and ticket office with access for disabled passengers. Car parking is provided at this location.
Onboard facilities
Translink provides dedicated spaces for wheelchairs, priority seating and accessible toilets for disabled passengers. Assistance or guide animals are also allowed on all trains to Belfast. You are allowed to travel with one pet per passenger but leashes and pet carriers must be used. Other than assistance animals no pets are allowed on trains before 9:30 a.m. Monday-Sunday, otherwise pets travel for free with owners. You can travel with your bicycle free of charge on all trains after 9:30 a.m. Monday-Friday but storage space is limited and available on a first come, first serve basis.
According to UK policy you are allowed up to three pieces of luggage on Translink trains including two large cases which must be stored in overhead compartments. Refreshment service may not be available so you should carry your own food and beverages just in case. Wi-Fi service is free on all Translink trains to Belfast. You are allowed to carry the standard amount of three pieces of luggage including two large cases aboard Irish Rail trains provided they can fit into the overhead space or luggage compartments. Bicycles are allowed on all trains but restrictions may apply during peak hour service. If you travel with a bike add it on your ticket at the time of booking to avoid being charged later once your ticket has been purchased.
You are allowed to travel with small pets as long as they are leashed and muzzled (dogs) and conveyed in appropriate pet carriers with assist animals travelling free without restriction. Wi-Fi service is free on all Irish Rail trains and catering services may be available on Enterprise trains from Dublin to Belfast.
Train tickets to Belfast: useful to know
Translink UK offers you several ticket types including Single, Day and 3 Day Flexi in addition to Weekly and Monthly tickets if you are a frequent traveller. 3 Day Flexi tickets are restricted to mLink customers only while the others generally offer unlimited travel between train stations within Northern Ireland. Prior to purchase, you should make yourself aware of the terms and conditions applicable to your ticket choice(s) relating to cancellations and refunds. Electronic tickets can be used aboard Translink trains and can be purchased online often at a discount.
It's always a good idea to travel with at least one piece of ID should it be necessary for boarding. On Omio buying train tickets to Belfast is fast and easy and can be stored in your Omio account. If you choose Irish Rail for your train trip to Belfast there is a wide variety of options for Adults, Children, Students and Families such as Single, Day Return and Open Return fares as well as Weekly and Monthly ticket types. Children are defined as minors between ages 5 through 15 and are charged at half of the adult rate except for weekly or monthly tickets. If you are a student you must produce a valid ID is in order to purchase weekly or monthly tickets.
It's recommended to make yourself aware of the terms and conditions which apply to your preferred ticket option regarding cancellations and/or refunds. Irish Rail does allow for boarding with e-tickets and since train service from Dublin to Belfast is considered international travel you should have a valid ID and passport with you as well. On Omio buying train tickets to Belfast is fast and easy and can be stored in your Omio account.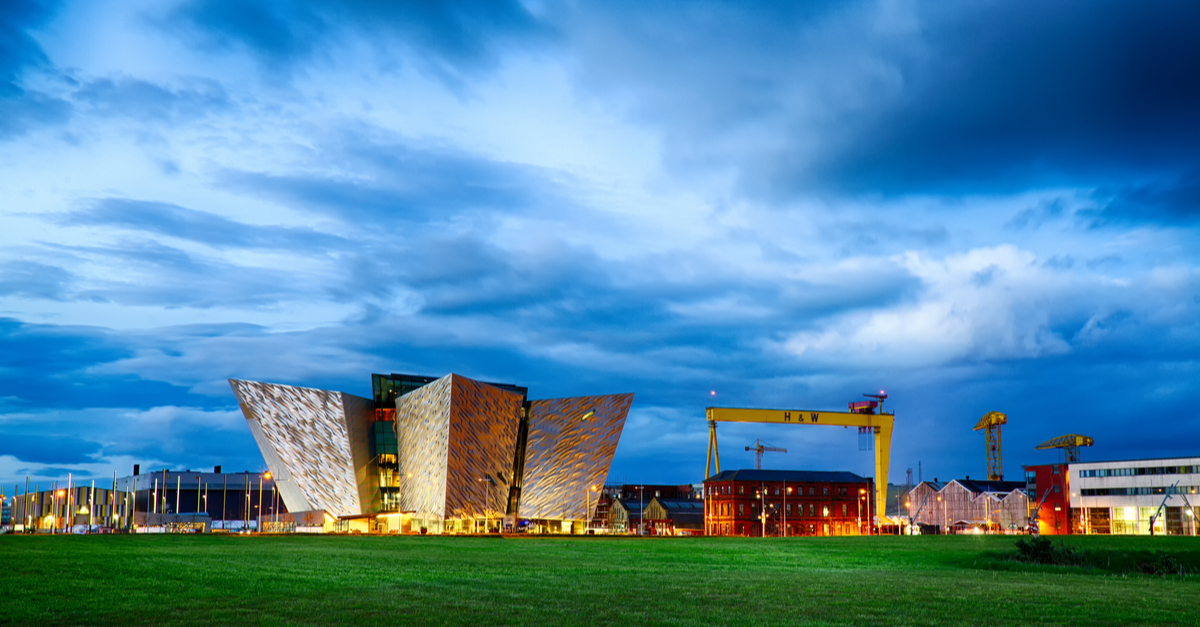 Belfast County Antrim. Source: Shutterstock
To Belfast by train: travel tips
Regardless of which side of the border they hail, the hospitality of the Irish people is well known the world over and if you're up for a good craic then Belfast is a great place to explore the traditions and history of Northern Ireland, both ancient and modern. The Emerald Isle is famous for its natural landscapes and you can find a few excellent examples in and around Belfast such as Black Mountain, Cavehill and Giant's Causeway, the UNESCO World Heritage Site featuring an impressive volcanic rock formation.
Giant's Causeway lies a few miles outside of Belfast thankfully the city provides a comprehensive public transportation network so you don't have to drive to visit many of its natural and manmade attractions. Translink Metro operates the bus and metro system, and along with Glider Bus links the city with its suburbs while Ulsterbus provides links to the most distant parts of the city. Commuter and suburban rail services are provides by Translink via NIR and there is also ferry service via Stena Line with routes across the Irish Sea to Scotland, the Isle of Man and cities along the west coast of England
It's pretty safe to say that the Titanic Building with its distinctive architectural design features is the jewel of all tourist attractions in Belfast period. For a fee you can tour this iconic structure and enjoy its audio, visual and interactive exhibitions dedicated to this historic shipbuilding site. If you enjoy museums add a trip to Ulster Museum to your list but if you savour exploring stately buildings then the magnificent Belfast Castle, saintly St. Anne's Cathedral and the grandiosity of the Parliament Buildings, Stormont should not escape your sightseeing itinerary.
Belfast is a modern, active city with a vibrant nightlife scene and a robust cultural calendar as evidenced by Waterfront Hall, the Grand Opera House and the elegance of the Botanic Gardens which is a dazzling sight. St. George's Market offers a massive variety of fresh produce, seafood and the occasional food festival while Cathedral Quarter is a haven for restaurants and a bit pub crawling if you've got the energy to spare.