Flights to Montpellier
The medieval city of Montpellier is located along the southern coast of France about midway between the cities of Beziers and Nimes. Home to one of the world's oldest universities, it is a cultural city with a vibrant urban population boasting an idyllic Mediterranean climate making it an ideal destination for summer travel. You can get flights to Montpellier departing from several London metro airports such as London Heathrow Airport (LHR) and London City Airport (LCY), Montpellier–Méditerranée Airport (MPL), or Fréjorgues Airport but many of them will involve stopovers. During the busy summer season, easyJet and Ryanair operate direct service from London Gatwick Airport (LGW) and London Stansted Airport (STN) respectively en route to Marseille Provence Airport (MRS).
Air France to Montpellier
The French national airline offers several daily one-stop flights from London Heathrow Airport to Montpellier–Méditerranée Airport making connections via Paris Charles de Gaulle Airport (CDG) en route to Montpellier. You can also get Air France flight service from London Heathrow Airport to nearby Marseille Provence Airport and travel by train to Montpellier as an option if other flights are fully booked. Stopovers at Paris Charles de Gaulle range from as few as 4h to as many as 26h in some cases depending on the time of flight so be advised.
KLM to Montpellier
You can also travel by flight to Montpellier via the Dutch carrier KLM from London City Airport to Montpellier–Méditerranée Airport. These flights require two stopovers at Amsterdam Schiphol Airport (AMS) and Paris Charles de Gaulle Airport before arriving at their destination. KLM flights departing London City Airport to Marseille Provence Airport make one stopover in Amsterdam before completing their journey. These flights are a more affordable option if you don't mind taking a train from there to Montpellier. Be advised that stopover times can vary from as little as 4h to as many as 27h depending on the number of connections and time of flight.
Ryanair to Montpellier
p>Ryanair offers very affordable direct flights from London Stansted Airport to Marseille Provence Airport which is about 2h by train or about 80 miles (128 km) by car from Montpellier. These flights are few in number and occur mainly during the months from around the beginning of June to about the middle of October. -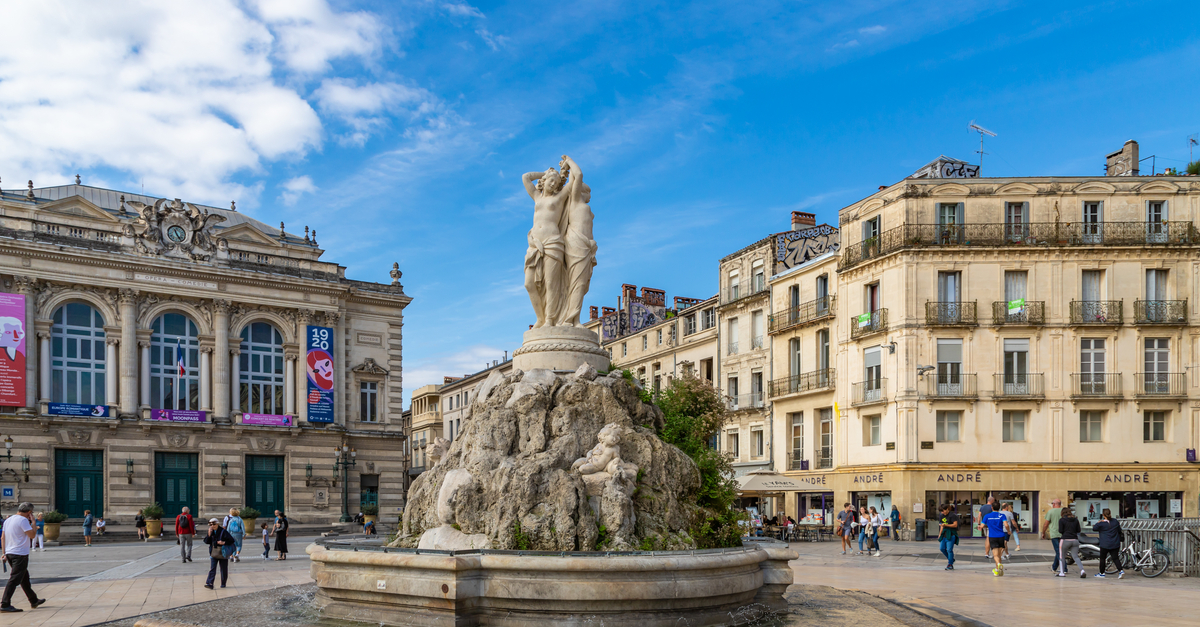 Montpellier Square. Source: Shutterstock
Main flight stations in Montpellier
Montpellier–Méditerranée Airport located in the Mauguio area of Herault, about four miles ESE of downtown Montpellier is the only international airport in the city and ranks as one of the busiest airports in France by passenger volume due in part to its significant traffic during the months from June to September which is peak tourist season in southern France. Montpellier–Méditerranée Airport consists of a single terminal building servicing both Domestic and International flights mainly from points of origin across Europe with hours of operation from about 04:30-23:00 local time daily. Despite its size the airport still manages to offer a good range of amenities and services available to passengers aboard flights from London to Montpellier.
Onboard facilities: Montpellier
Passengers on Air France flights to Montpellier–Méditerranée Airport may have access to in-flight entertainment in the form of music, television shows or movies, and video games as well as pillows and blankets as necessary. Snacks and beverages are usually served on short-haul flights. Business Class perks include more luxurious seating and personalised cabin depending on the type of aircraft. Passengers flying aboard KLM flights may be provided with in-flight entertainment including music, television shows, movies, and video games.
Ask the flight attendant for a pillow or blanket to make your flight more comfortable and enjoy the beverages and snacks provided while you're in the air. If you're flying Business Class you can enjoy better seating and upgrades in snacks, meals or beverages. Ryanair passengers are provided with hot and cold beverages and sandwiches on all flights and you are invited to bring your own food and drink if you prefer. As most of their flights are short-haul types there is no inflight entertainment but you are allowed the use of most electronic devices such as tablets, mobiles, and portable DVD players to pass the time.
Flight tickets to Montpellier: useful to know
Passengers aboard Air France flights to Montpellier or Marseille should know the company offers two ticket types on its flights to Montpellier: Economy and Business Class and as always, a valid passport is required for travel to any international destination. While e-tickets are a convenient and modern way to travel it's still a good idea to have a hardcopy in your possession to avoid any delays at check-in. KLM is a SkyTeam partner with Air France and follows the same basic ticketing criteria for flights to Montpellier: you can choose between Economy and Business Class.
Electronic tickets may not be valid on some flights so it makes sense to have a paper ticket just in case. All passengers must be in possession of a valid passport for foreign travel. Ryanair offers several classes of ticket types ranging from Value which is the most basic to FlexiPlus which is its most premium ticket with advantages such as free check-in and complimentary security fast track services. Electronic tickets may not require printing if purchased on the Omio site. It's always quick and easy to purchase your flight tickets on Omio and you can always store them in your Omio account for future use.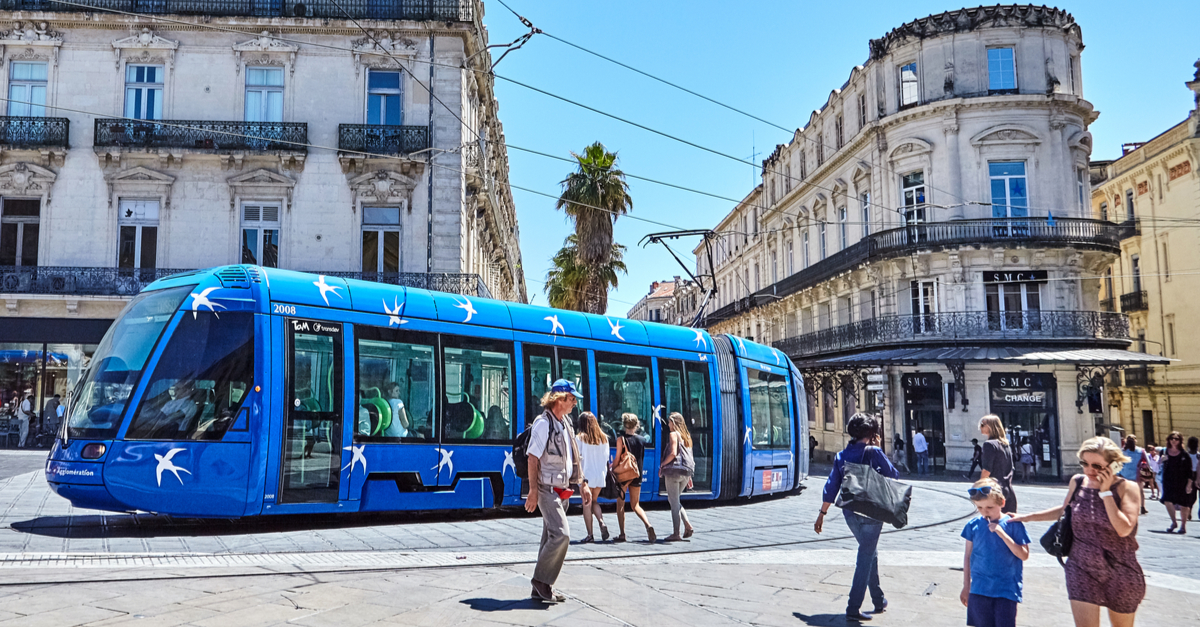 Montpellier Blue Tram. Source: Shutterstock
To Montpellier by flight: travel tips
Montpellier is a city famous for its world-class vineyards, agreeable Mediterranean climate, and historical landmarks such as the St. Pierre Cathedral, but it also offers a few unique gems for those who prefer something extraordinary away from the usual tourist hustle and bustle. For example, you can enjoy a day of thrills and excitement with a few spins around the 0.43-mile (0.7 km) karting circuit at Loc'Karting which is located about seven miles to the southeast of the city.
Or perhaps you may prefer to explore the impressive pink marshland and flamingos at Salin Aigues-Mortes situated about 23 miles (37 km) east of the city centre. For those who intend to rely on public transportation, you should know that getting around Montpellier is easy due to the extensive tram and bike-sharing networks operated by TaM which oversees the city's public transport system. If you need to range further afield you can take a TGV bullet train departing from the city's main railway station at Saint-Roch (Gare de Montpellier) to many cities across France in either direction.
There is much to offer passengers on flights to Montpellier whether you are an accidental tourist or a more intrepid sightseer. This city offers an exciting blend of the historical and contemporary embodied most notably in the Musee Fabree, one of the foremost Fine Arts museums in all of Europe. Situated next to this national treasure is the spectacular plaza known as the Place de la Comedie, dominated by the grand Opera Nationale du Montpellier more familiarly known as Opera Comedie with its 1,200 seat auditorium.
You can saunter along many of its medieval streets such as the Rue du Bras de Fer or and investigate the sights and sounds along the way. The city's historical district is a haven for shops and boutiques like the Montpellier's Arts' Workshops featuring ceramics, pottery, jewellery and stained glass by local artisans perfect for picking up some memorabilia and souvenirs as well as eateries and restaurants like Café Joseph and La Coquille serving a mixture of traditional and contemporary cuisine.
If you're travelling as a family or part of a group, try the Montpellier City Card which gives you free access and discounted admission to many of the city treasures for 24h, 48h or 72h periods.