Flights to Gibraltar
Sitting at the southern tip of the Iberian Peninsula, the British overseas territory of Gibraltar and its famous rock is one of the most famous, photographed and iconic places on earth. Prized throughout history for its geographic and strategic importance, Gibraltar is a world-famous destination for summer tourist traffic. If you're seeking flights to Gibraltar you can get service from London metro airports including British Airways direct flights from London Heathrow Airport (LHR) and easyJet direct flights originating from London Gatwick Airport (LGW) to Gibraltar International North Front Airport (GIB) or Gibraltar Airport. Flights are also available from other London airports and regional cities such as Manchester and Birmingham but these involve connections and/or transfers enroute to Gibraltar.
British Airways to Gibraltar
You can travel by flight to Gibraltar aboard British Airways the UK national airline which offers at least one daily flight from London's Heathrow Airport to Gibraltar Airport. On days when the airline offers multiple flights you can choose between an early morning and late morning departure time since British Airways usually doesn't offer flights to the territory any later than 12:00 p.m. Direct flights to Gibraltar from London Heathrow Airport usually depart from International Terminal 5 and take a little less than three hours to arrive at Gibraltar Airport.
easyJet to Gibraltar
easyJet operates flight service from its hub of operations at London Gatwick Airport to Gibraltar Airport with direct flights at least once per day, usually during the mid-morning hours with few if any flights after 12:00 p.m. One of the most popular of the low-budget airlines, you can get very competitive prices with easyJet along this route. If you choose them as your carrier of choice please know that easyJet flights usually depart from the North Terminal at London Gatwick Airport with an average travel time of about three hours to Gibraltar Airport.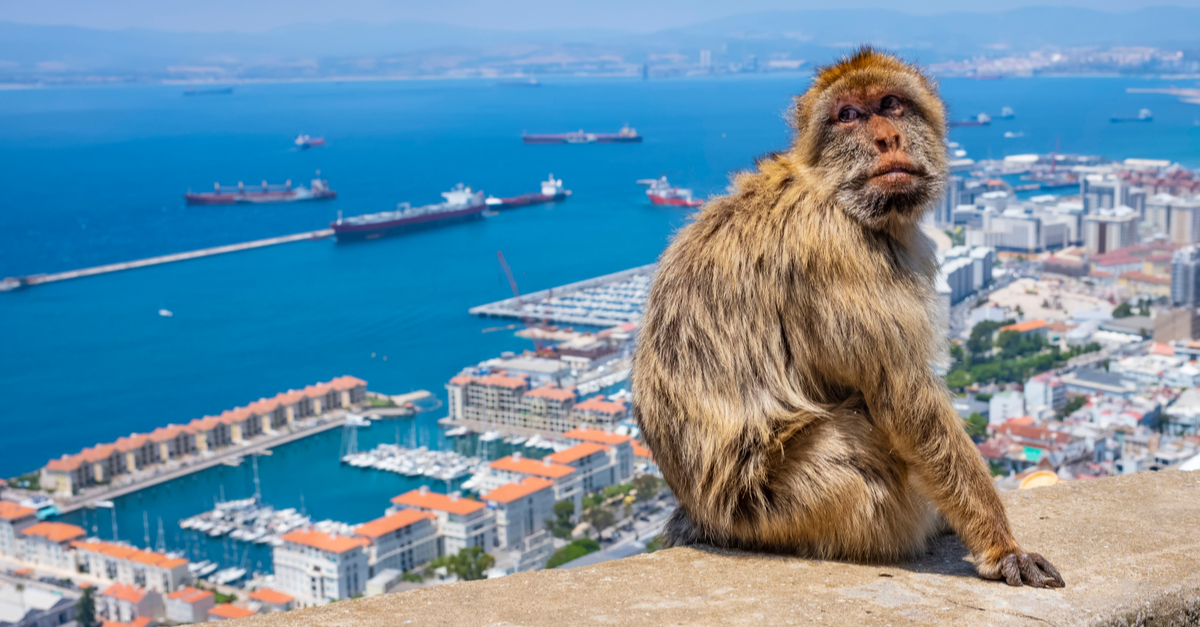 Gibraltar Macaque Panoramic View. Source: Shutterstock
Main flight stations in Gibraltar
Gibraltar Airport is the only airport on the British overseas territory of Gibraltar and accepts both regional air traffic from across Spain as well as international flights from around the world. It is located a mere 1.2 miles (2 km) from the downtown area which means you can enjoy a leisurely walk to the centre of town as opposed to taking a taxi or other means of transport. If you're travelling to Gibraltar by flight you should know that Gibraltar Airport is a single terminal structure and not very big yet it offers a good mix of facilities and services for arriving passengers. These include WC, ATMs, postal services, luggage lockers, duty-free shops and restaurants, free Wi-Fi throughout the airport, prayer room, car hire services, and Information Desk among others.
Onboard facilities
British Airways does not generally offer in-flight entertainment on flights lasting less than two hours and may provide limited options on flights from London Heathrow Airport to Gibraltar which is a three-hour flight. Therefore it's a good idea to bring along your own personal electronic device such as a tablet or laptop and use the free Wi-Fi service to entertain yourself while in transit. The airline does offer complimentary food/snacks and hot or cold beverages on its flights and if you require a pillow or blanket to make your trip more comfortable you can request them from a member of the flight team. If you're travelling with small children or infants the airline does offer food as well as bottle warming services and baby changing facilities for your convenience.
Passengers aboard easyJet flights from London Gatwick Airport to Gibraltar should know the airline does not offer complimentary meals as part of its in-flight service however you can purchase food and beverages from their bistro or opt to travel with your own refreshments particularly if you are vegan, vegetarian or observing dietary restrictions. Short haul flights do not typically offer pillow and blankets to passengers, but you may request them from a flight attendant if/when necessary.
Also, easyJet flights do not provide inflight entertainment though flights do offer Wi-Fi service so you can make use of your tablet, mobile or other electronic device to keep yourself busy while in-transit. Families or parents travelling with small children or infants should make enquiries whether the airline provides baby changing facilities or bottle warming services before making final arrangements.
Flight tickets to Gibraltar: useful to know
There are four types of Euro Traveller ticket for passengers on British Airways flights within Europe. Basic and Plus Euro Traveller tickets are the least expensive options and are non-refundable while Plus Flex tickets can be refunded in full and premium Club Europe tickets can be changed at any time, but you'll have to make up any applicable price difference. Familiarise yourself with the terms and conditions on cancellations, changes and refunds according to your ticket type before finalising your purchase. You cannot use electronic tickets on British Airways flights so printout a copy of your boarding pass to be allowed on the plane.
There are kiosks at London Heathrow Airport where you can get one as long as you have the debit/credit card used for the purchase and your electronic confirmation number or receipt. Flights to Gibraltar are considered international travel so you'll need a valid passport or ID for entry into the country. On Omio buying flight tickets to Gibraltar is fast and easy and can be stored in your Omio account. easyJet offers passengers a choice of Standard, Flexi and Plus fares for flights to Gibraltar where Standard is the least expensive option which usually means its non-refundable fare. Flexi ticket holders can change flight only once for free and benefit from an increased baggage allowance and voucher for the in-flight bistro service while Plus ticketholders fares enjoy additional hand luggage, airport Fast Track services and their choice of seating.
Depending on type of aircraft First and Business Class options may be available on some short haul flights so make a few enquiries prior to purchasing your tickets. Terms and conditions regarding changes, refunds and cancellations vary across ticket classes so be sure of your travel plans before booking. easyJet allows you to board with an e-ticket which is most convenient and you'll need a valid ID and passport for passport control once you arrive at Gibraltar Airport. On Omio buying tickets to Albufiera is fast and easy and they can be stored in your Omio account.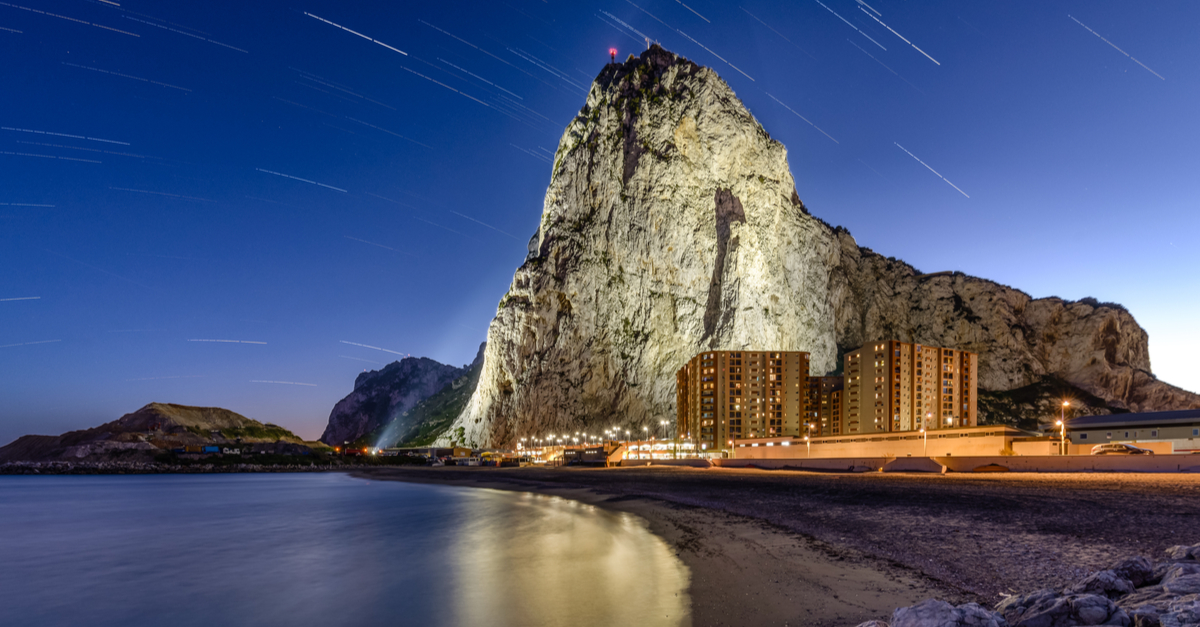 Gibraltar Rock View at Night. Source: Shutterstock
To Gibraltar by flight: travel tips
If you expect its iconic rock to be the only exceptional feature on Gibraltar you would be very much mistaken for this tiny stretch of real estate offers some visually stunning natural features that never fail to disappoint any tourist. The Great Siege Tunnels carved into the rock's north face are wonders of engineering and technology which take you back to the territory's importance to the Allied forces during WWII. St.
Michael's Cave with its wondrous stalactites and stalagmites and its associated chambers are breath=taking in scope, size and beauty as it the equally stunning Cathedral Cave which actually hosts live performances and other special events. Then there's O'Hara's Battery which sits near Highest Point which at 1,394 ft (425 m) elevation is quite literally the top of the rock and from where the most magnificent panoramic views of the Straits across to Morocco can be experienced.
Among locals and tourists motorcycles are a popular mode of transport to get around Gibraltar since there is no bus service to speak of and vehicular tie-ups are a common occurrence, especially in the summer months. This is balanced by a thriving ferry service between the territory and Algeciras as well as Morocco.
If you love picture-taking the Skywalk and the Gibraltar Suspension Bridge are double delights providing panoramic vistas to thrill any amateur or professional photographer. Equally impressive is the Gibraltar Cable Car ride across to the Gibraltar Nature Reserve which may be a bit daunting for younger kids but a thrilling mode of travel for most everyone else.
A visit to Trinity Lighthouse at Europa Point or La Alameda Gardens offer moments of tranquillity after a long day of adventure and fun or you can make your way to Casemates Square to catch your breath before visiting the Gibraltar Museum. When it comes to gastronomy, Gibraltar offers a variety of pubs, bistros and eat-in restaurants serving a variety of dishes. Aragon Bar and The Angry Friar are great for traditional pub lunch or Sunday roast while Casa Pepe serves tapas and Little Bay Restaurant offers some of the best Indian cuisine anywhere in Europe.