Flights from Exeter to Manchester
It is easy to travel from Exeter to Manchester by plane, which makes this a great route to fly. There tends to be three days of the week which you can fly between these two cities, which are Tuesday, Thursday and Saturday. The average time of the flights is around 1h 20min too, so you won't be up in the air for too long before you touchdown. These flights are direct as well, which means you don't have to make any changes along the way.
Exeter to Manchester flight Time: Daily Departures
There is normally one flight per day on Tuesday, Thursday and Saturday, meaning there are regular flights operating throughout the week which you can take. On Tuesday and Thursdays the flights tend to leave Exeter Airport at around 10:25 a.m., touching down in Manchester Airport at about 11:45 a.m. On Saturdays the flights leave a bit later at 11:05 a.m. and land at around 12:25 p.m. in the afternoon. With all the flights being direct, you can just sit back, relax and enjoy the journey.
How long is the journey by flight from Exeter to Manchester?
The flights times from Exeter to Manchester are relatively quick, meaning you won't be up in the air for too long. With an average flight time of approximately 1h 20min, you'll travel the 197 mile (318 km) distance in great time. The airports that you depart and arrive into are always the same too, which helps avoid confusion on the day that you travel.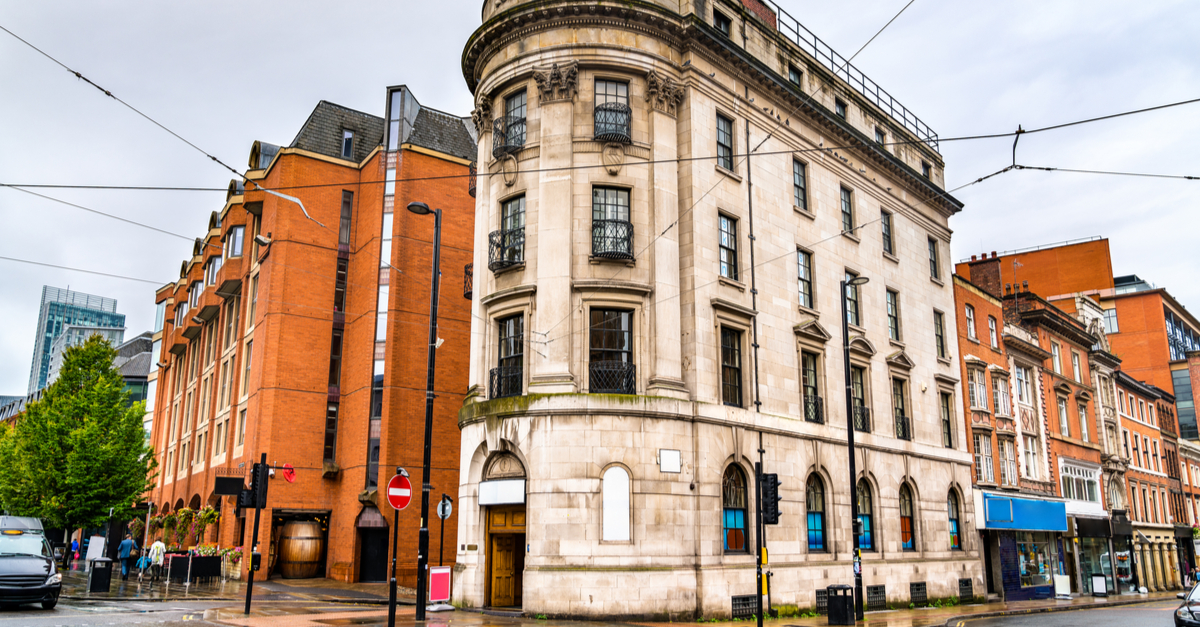 Manchester Street Buildings. Source: Shutterstock
What is the departure and arrival airport for flights from Exeter to Manchester?
Departure airport: The departure airport is Exeter Airport (EXT), which is located conveniently close to the city centre. You can reach the terminal building in about 40min if you take the number 56 bus from Exeter. The airport itself has lots of facilities to offer passengers, with there being food outlets, shops and currency exchange offices for you to use. You'll also find toilets and cash points throughout the terminal. If you are travelling with a disability, you can call ahead to arrange special assistance too.
Arrival airport: The arrival airport on this route is Manchester Airport (MAN), which is also well located close to the city centre. You can get the train from the airport station to Manchester Piccadilly train station in around 15min. you will also find that the airport has lots of facilities, including restaurants, gift shops and hotels. Whilst there are also cash points and toilets throughout as well. You are also able to request special assistance if you have trouble with mobility or if you are travelling with a disability.
Which airlines travel Exeter to Manchester?
There is only one airlines that operates the route from Exeter to Manchester, so you should find it relatively easy to find tickets for this journey. The airline that flies this route is Loganair, which operates an efficient and fast service three times a week. A Scottish regional airline, it is popular for domestic routes in the UK. Offering a direct flight between Exeter and Manchester is very popular for both business and tourism.
Loganair flights from Exeter to Manchester
Loganair flights Exeter to Manchester are one of the best ways to travel between these two cities in the UK. With there being three flights per week, you'll have the option of flying on different days to complete this route. You can fly on either Tuesday, Thursday or Saturday from Exeter to Manchester, meaning the flights are well spread out across the week. The average flight time is about 1h 20min, with the departures being at 10:25 a.m. on Tuesdays and Thursdays and 11:05 a.m. on Saturdays. With a direct service being operated, you also won't have to worry about stopovers along the way.
Flight Exeter to Manchester: Services on Board
Flights with Loganair from Exeter to Manchester are a great choice, with there being top facilities on board the airline. There is no option for First Class, however all the seating is comfortable with ample legroom. You will have a choice during your booking to pick a 'fare class', which will determine how much luggage you can take with you. For instance, 'Fly' class includes a 33 lbs (15 kg) hold luggage. Whereas 'Fly Flex' class allows you to take 50 lbs (23 kg) on the plane.
If you have a lot of luggage then you should opt for 'Fly Flex +' class, which enables you to take up to 66 lbs (30 kg). Should you want to take a bike on board this must be booked in advance, as there is only space for two. You'll need to deflate the tyres, lower the handlebars and twist the handlebars before you arrive. The pedals will also need to be removed. Pets can be taken with you on your journey, but they will be stored in the hold for the entire flight. Assistance dogs are permitted on board all Loganair flights. If you need special assistance at the airport, you can request this from the airline at least 48h prior to take off.
How to find cheap flight tickets from Exeter to Manchester?
To can get Exeter to Manchester cheap flights with Loganair with ease, if you know when and where to look. One of the easiest ways to get cheap Exeter to Manchester prices is to search and book your flight as far in advance as possible. Tickets tend to go on sale a few months before flights take off, with tickets bought earlier often being the cheapest. So, the sooner you try to book you trip, the higher likelihood you'll get a well-priced Exeter to Manchester cheap ticket. You should also be as flexible as possible with your travel dates, as this might lead to you find cheaper tickets.
For instance, if you can travel a few days either side of your desired travel date, then you might find that tickets are better value. You can also get one-way and round-trip tickets cheaper if you are a student, as those that are under 26 or in full time education can get discounts on flights from Exeter to Manchester.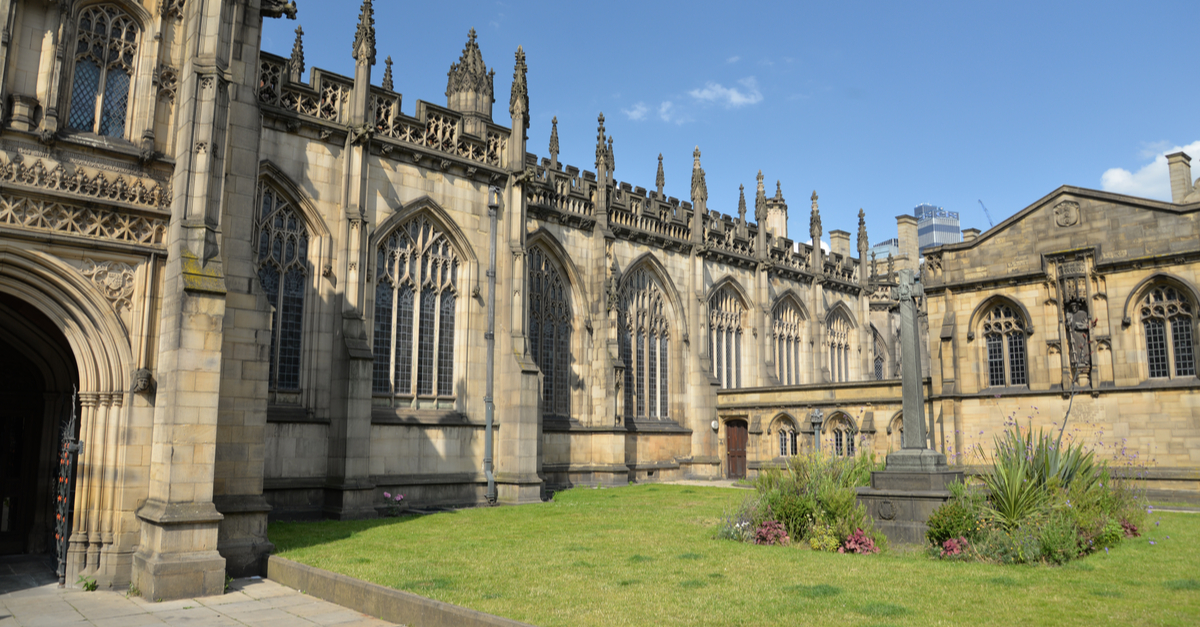 Manchester St.Mary Church. Source: Shutterstock
To Manchester by plane —travel tips
Manchester is a popular city in the north of the UK, that attracts tourists from all over the UK and abroad each year. To ensure that you don't miss out on the top attractions, it's a great idea to plan your trip before you arrive. For instance, you can begin you visit to Manchester by going to one of the famous football stadiums. Both Old Trafford and the Etihad Stadium offer tours and, if you're lucky, you might even be able to watch a game.
Next up, you should head over to John Rylands Library, which is an impressive neo-gothic building located in the heart of the city. Another must do whilst you in Manchester is head to one of the museums. The Science Museum, National Football Museum and The Manchester Museum all provide a great insight into the city's history. Another attraction worth visiting is Manchester Cathedral, which is one of the more prominent buildings of the remaining medieval part of the city. You'll find there are loads of places to eat in the city centre, so why not treat yourself to one of your favourite cuisines, before going to The Palace Theatre, where you can watch a world class performance from leading actors.