Flights to Avignon
The city of Avignon in south-eastern France has a long and unique history and is most famous as the seat of the Avignon Papacy during the late Middle Ages as well as for its annual Avignon Festival. Unfortunately, you are unable to get flights to Avignon from any UK location even though it has an airport - Avignon-Provence Airport (AVN). Instead, you can get flight service to Marseille Provence Airport (MRS) from London Heathrow Airport (LHR) via several airlines including British Airways, Air France or KLM while Ryanair also provides service to Marseille Provence Airport from London Stansted Airport (STN). Marseille Provence Airport is about 50 miles (80 km) from Avignon city centre.
British Airways to Avignon
British Airways provides direct flight service from London's Heathrow Airport to Marseille Provence Airport. These flights occur once a week (every Monday) during the mid-afternoon hours and require about two hours' flight time to arrive at Marseille. British Airways flights from London Heathrow Airport depart from Terminal 5 and arrive at Terminal 1A, Marseille Provence Airport. Once in Marseille you can get an SNCF high speed train from Marseille St. Charles Station to Gare d'Avignon Centre which takes less than two hours or you can hire a car at Marseille Airport and drive there (about one hour).
KLM to Avignon
KLM (in conjunction with its SkyTeam partner Air France) offers twice daily flight service from London Heathrow Airport to Marseille Provence Airport, but these flights require a short stopover and transfer (usually about an hour) at Amsterdam Schiphol Airport (AMS) before continuing on to Marseille. KLM flights from London Heathrow Airport depart from Terminal 2 and will arrive at Terminal 1A once they Reach Marseille Provence Airport. From there you can either hire a car for about an hour's drive or take high speed rail from Marseille St. Charles Station to Gare d'Avignon Centre which takes about two hours' time.
Ryanair to Avignon
You can also travel by flight to Avignon via Ryanair from London Stansted Airport where it operates an air hub to Marseille Provence Airport. These daily flights are a mixture of direct and one-stop trips with stopovers and transfers at Eindhoven Airport (EIN), Tours Val de Loire Airport (TUF) or Dublin Airport (DUB) depending on the day of the week. Regardless, all Ryanair flights originating from London Stansted Airport will arrive at Terminal 2, Marseille Provence Airport. From there it's about an hour's drive via car hire or you can make your way to Marseille St. Charles Station and take the SNCF high speed rail to Gare d'Avignon Centre which is journey of about two hours.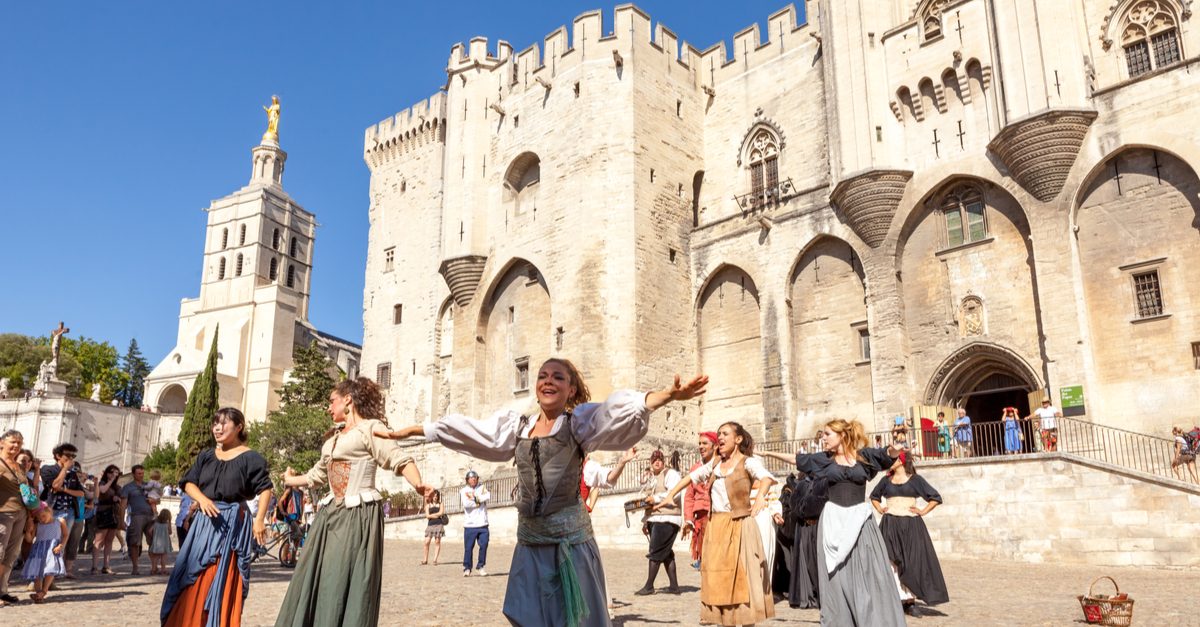 Avignon Festival. Source: Shutterstock
Main flight stations in Avignon (Marseille)
Since Avignon-Provence Airport does not accept flights from UK destinations, Marseille Provence Airport is your next best option to get there by air. Marseille Provence Airport lies about 17 miles (27 km) north of Marseille and is the fifth busiest airport in France by passenger volume. Passengers travelling to Avignon by flight should know that Marseille Airport has two terminals: Terminal 1 for regular airlines and Terminal 2 for low-budget carriers. If you choose to spend the night there before continuing to Avignon there are hotels located within a few miles of the airport. That said, Marseille Provence Airport offers a good range of facilities and services such as free Wi-Fi, ATMs, banking and currency exchange services, duty free shops and restaurants, medical services, car hire centre, ground transportation including buses, taxis and trains and an Information Desk. Marseille Provence Airport remains open 24-h each day.
Onboard facilities
Due to the brief duration of these short haul flights it is unlikely that British Airways will provide any in-flight entertainment on its flights from London Heathrow Airport to Avignon, so you should travel with your own entertainment in terms of tablet or laptop for music and movies provided you use headphones so as not to disturb nearby passengers. Or, you can bring along a book or magazine for reading material. Food and beverages will be served on short haul flights and you if needed you can request a pillow or blanket from the cabin crew. Premium ticketholders (First and Business Class passengers) usually enjoy greater benefits than Economy Class ticketholders in terms of refreshment, seating, and entertainment choices. Wi-Fi is free on all British Airways flights. KLM does not generally provide in-flight entertainment on short haul flights under two hours in duration. To be safe you should bring along your own tablet or laptop for movies, music, and gaming as long as you wear headphones in consideration of other passengers. Books, magazines, and e-readers are also allowed onboard.
Basic Wi-Fi for messaging is free of charge, but if you require large amounts of data there are pay services such as Surf and Stream. For refreshments the airline does offer a choice of hot or cold beverages and bottled water as well as snacks though premium class ticketholders usually receive hot meals and upgraded beverage options. Pillows and blankets may not be provided and should be requested from cabin staff as needed. Passengers on Ryanair flights to Avignon will be given a choice of hot or cold beverages with a sandwich or snack on short haul flights and the airline encourages you to bring your own meals onboard if you so choose. You should also travel with an electronic device to enjoy your time onboard since there is no in-flight entertainment on Ryanair flights due to their brief duration but you must use headphones in consideration of your fellow passengers. Acceptable entertainment options are small DVD or MP3 players and tablets or e-readers. Wi-Fi is free on all Ryanair flights and e-readers, magazines and books are also allowed for reading material.
Flight tickets to Avignon: useful to know
British Airways gives you a choice of four ticket types for travel across continental Europe (Euro Traveller). Basic and Plus Euro Traveller tickets are the least expensive options and are non-refundable while Plus Flex fares are fully refundable and Club Europe tickets can be changed at any time with any fare difference paid for by the ticketholder. British Airways does not allow the use of e-tickets so print your boarding pass before you leave home or do so while at the airport.
There are kiosks at London Heathrow Airport, just bring along the debit/credit card used for purchase and have your electronic confirmation number ready. Since Avignon is a foreign destination you will need a valid ID and passport for passport control at your destination. On Omio buying flight tickets to Berlin is fast and easy and can be stored in your Omio account. KLM only offers Economy Class and Business Class tickets on all their flights which makes choosing an option a simple choice in this case. Economy Class tickets are limited in regards to changes, cancellations and refunds so brief the ticket terms and conditions before booking your flight.
Even with an e-ticket you may still be required to produce a hardcopy of your boarding pass. If you don't have one you can take your e-ticket conformation number and the debit or credit card used to purchase your ticket to a kiosk at London Heathrow Airport and receive a printout. You will need a valid ID and passport in order to enter France so make sure you have them with you. On Omio purchasing flight tickets to Avignon is fast and easy and can be stored in your Omio account. If you fly Ryanair to Avignon there are Economy Class ticket options such as Value, Regular, Plus or FamilyPlus fares with FlexiPlus ticketholders considered a premium fare.
It is recommended that you use the Advance check-in service online which is valid from 60 days -2 days prior to the date of your flight to avoid the check-in fee at London Stansted Airport. Electronic tickets are permissible for travel on Ryanair flights so you don't need a hardcopy provided you have your confirmation receipt and number, however you must hold a valid ID and passport for international travel to France. On Omio buying flight tickets to Avignon is fast and easy and you can store them in your Omio account.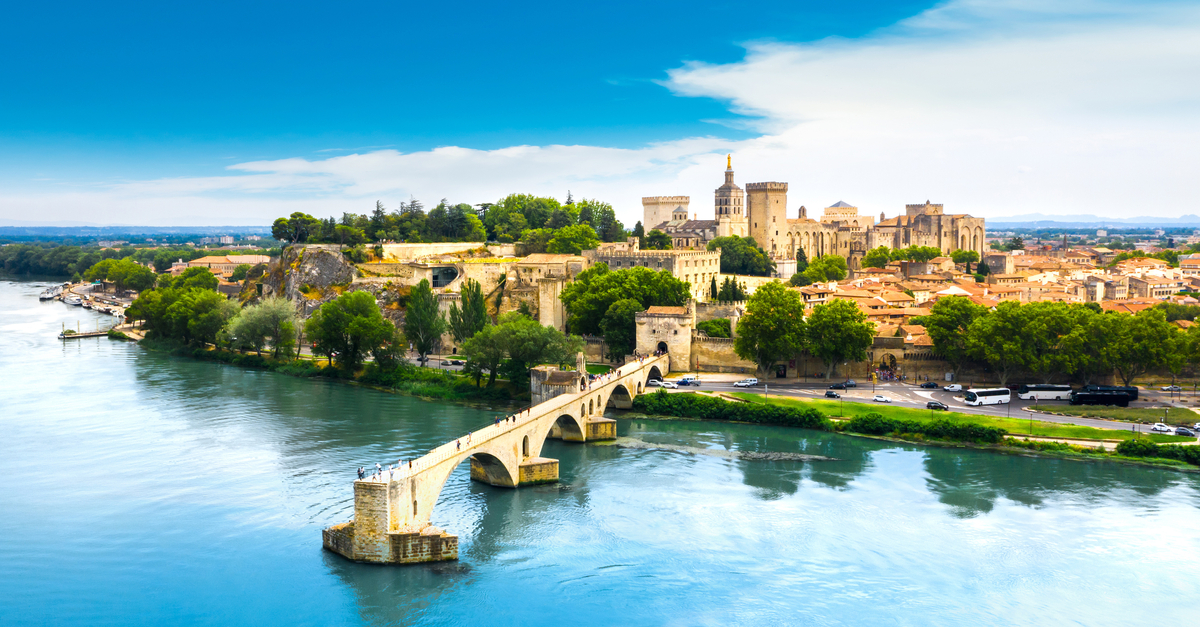 Avignon Aerial View. Source: Shutterstock
To Avignon by flight: travel tips
Avignon holds the unique distinction of being the only European city other than Rome to have ever held the papacy of the Roman Catholic Church and if you love touring historical buildings then the Palais des Papes or Papal Palace should be one of your first stops after arriving in the city. A UNESCO World Heritage Site designate in 1995, you can tour parts of this magnificent structure including the Great Audience Hall and the Great Clementine Chapel to get a sense of its power and majesty. Avignon is also home to several other Gothic architectural masterpieces such Eglise Saint-Pierre and Musee du Petit Palais.
Visiting these landmarks and other attractions is made easier due to the city's public transport network. TCRA operates the bus and tram service as well as the car-pooling and bike-sharing services to be found in Avignon and the city is served by two high-speed rail stations including historic Gare d'Avignon Centre in the city centre and Gare d/Avignon TGV in the south. You can also find free shuttle boasts that cross the banks of the Rhone River.
Outside of the majestic buildings associated with its papal past, Avignon also holds other treasures that you and your family can discover and explore for yourselves. One of its most iconic and cherished attractions is Saint Benezet Bridge which has been immortalised by the children's song "Sur Le Pont d'Avignon" while the park at Rocher des Doms is a great place for a romantic stroll with captivating views of the Avignon skyline.
Avignon hits high watermarks for its iconic Festival d'Avignon which is the highlight of its jam-packed cultural calendar. A month-long celebration of art, film and theatre held in July at the Palais des Papes, it has become a regional tour de force drawing crowds from all over the country. This is followed in August by the Avignon Jazz Festival and the Blues Rock Festival in October. If you truly wish to savour the best of Provence cuisine in Avignon, go where the locals love to eat. You can find some excellent choices along Place de Corps-Saint Avignon with its bistros, bars and restaurants, but the food at Chez Francoise and Les 5 Sens are huge favourites among the cognoscenti in town while the desserts at Patisserie Vernet are quite heavenly.