Buses from Nottingham to Manchester
Travelling from Nottingham to Manchester by road using coach services between the two cities may involve a change in Leeds depending on the bus company you choose and in that case the journey takes between 5h and 6h, depending on traffic and driving conditions. There are bus companies running direct services that take around 3.5h. All in all there are about seven departures a day from Nottingham to Manchester, possibly eight departures on some days of the week.
Nottingham to Manchester Bus Time: Daily Departures
Flixbus runs four services per week on their Nottingham to Manchester route while National Express runs approximately eight services per day on this route. The first bus leaves Nottingham just after 3:00 a,m, and the last one departs at around 8:00 p.m.
How long is the journey by bus from Nottingham to Manchester?
Coaches from Nottingham to Manchester travel via Sheffield, Leeds and Bradford. The direct service takes about 3.5h to make the journey while the alternative service involving a change of buses in Leeds takes up to 6.5h due to the waiting time between arrival and departure in Leeds. Traffic conditions on the roads can affect journey times of course.
What are the departure and arrival stations for buses from Nottingham to Manchester?
Departure bus station: Nottingham Bus Station is usually located in the Broad Marsh shopping centre but the site is currently being repurposed and so for several years buses and coaches have left from Station Street right next to Nottingham Railway Station. Passengers are advised to double-check departure points as the bus station will eventually be moved to a permanent location. Station Street is just a 15 min walk from the city centre, or easily accessible by catching a tram bound for the railway station. As buses and coaches leave from a kerbside location, there are currently no facilities (toilets, eateries, kiosks, ATMs and so on) specifically for bus passengers but all of those amenities are available in the railway station on the corner of Station Street and Carrington Street.
Arrival bus station:Passengers travelling from Nottingham to Manchester by National Express alight at Manchester Chorlton Street Bus Station in the centre of Manchester, just 7min on foot from Manchester Town Hall and well served by taxis and local buses from the outskirts (alight at the Chinatown stop for the bus station), or by car as there is provision for parking. The bus station has all the usual facilities such as food outlets, newsagents, public toilets, coffee shops, ATMs and automatic ticketing machines and all are available between 6:30 a.m. and 7:00 p.m. (6:45 a.m. and 7:00 p.m. on Sundays). Buses and coaches can still arrive and depart outside the opening hours but the facilities will not be available.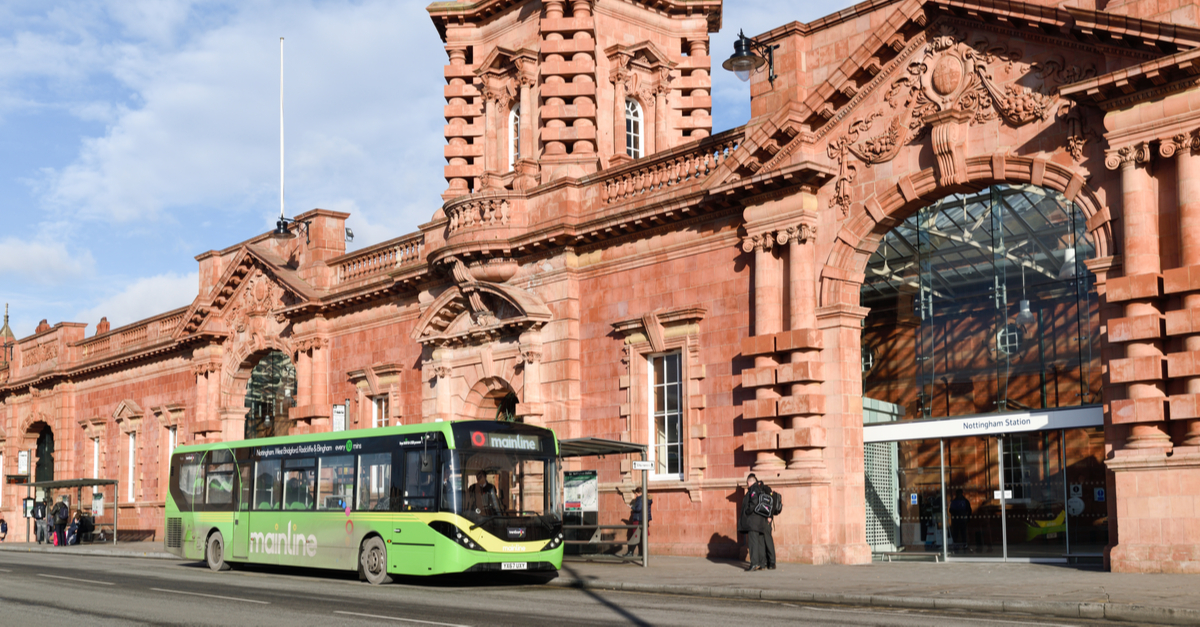 Notthingham Green Bus. Source: Shutterstock
Which bus companies travel from Nottingham to Manchester?
National Express runs the most frequent service with around seven coaches a day from Nottingham to Manchester with a change in Leeds while Flixbus runs one direct service a day Fridays to Mondays inclusive. The direct service provided by Flixbus is faster, taking only about 3.5h.
Flixbus buses from Nottingham to Manchester
The Flixbus company runs one service per day on four days per week (Fridays to Mondays inc., no service on Tuesdays, Wednesdays or Thursdays), with the bus departing from Station Steet in Nottingham at approximately 3:00 a.m. arriving in Manchester at around 6.30 a.m., dropping passengers off at the Studehill Interchange Bus Station in central Manchester, well-served by trams to and from for the adjoining Studehill Metrolink Hub. This service is direct and takes around 3.5h. There are short stops to pick up more passengers in Sheffield, Leeds and Bradford.
National Express buses from Nottingham to Manchester
National Express coaches to Manchester depart from Nottingham Station Street right next to Nottingham railway station The coach travels northwards to Leeds, arriving in Leeds bus station in Dyer Street. Passengers for Manchester alight in Leeds and catch the onward coach for Manchester in the same bus station. The first service departs Nottingham just before 3:30 a.m. ad the last service of the day departs at around 8:00 p.m. Between these two services, there are buses leaving at approximately two-hourly intervals. The journey takes between 5.5h and 6.5h, and potentially longer if road traffic is particularly heavy.
Buses Nottingham to Manchester: Services on Board
National Express coaches are air-conditioned and have a generous baggage hold. Passengers can put a maximum of two small items or one large item in the hold free of charge. Each one must be under 3 stones (20 kg), meaning a total of 6 stones (40 kg) in two small cases or a total of 3 stones (20 kg) in one large case. In addition passengers can take one small item of baggage onto the bus. Extra luggage must be paid for separately, up to a maximum of three additional items. National Express does not carry pushchairs, prams or bicycles unless they are collapsible and fully folded and wrapped.
Apart from assistance dogs, no pets or any other type of animal is allowed on National Express coaches. Companies are obliged by law to provide reasonable access and assistance for disabled passengers but coaches are not necessarily easily accessible for wheelchair users as they are accessed by steps. Therefore the company needs to check that wheelchair hoists are available at each point in your journey if you are a wheelchair user, and that your wheelchair is not too bulky or too heavy for the coach, so call National Express offices in advance if you would like to be sure that accessibility and assistance if required will be available when you need it. The coaches have on-board toilets and power sockets for passengers' use.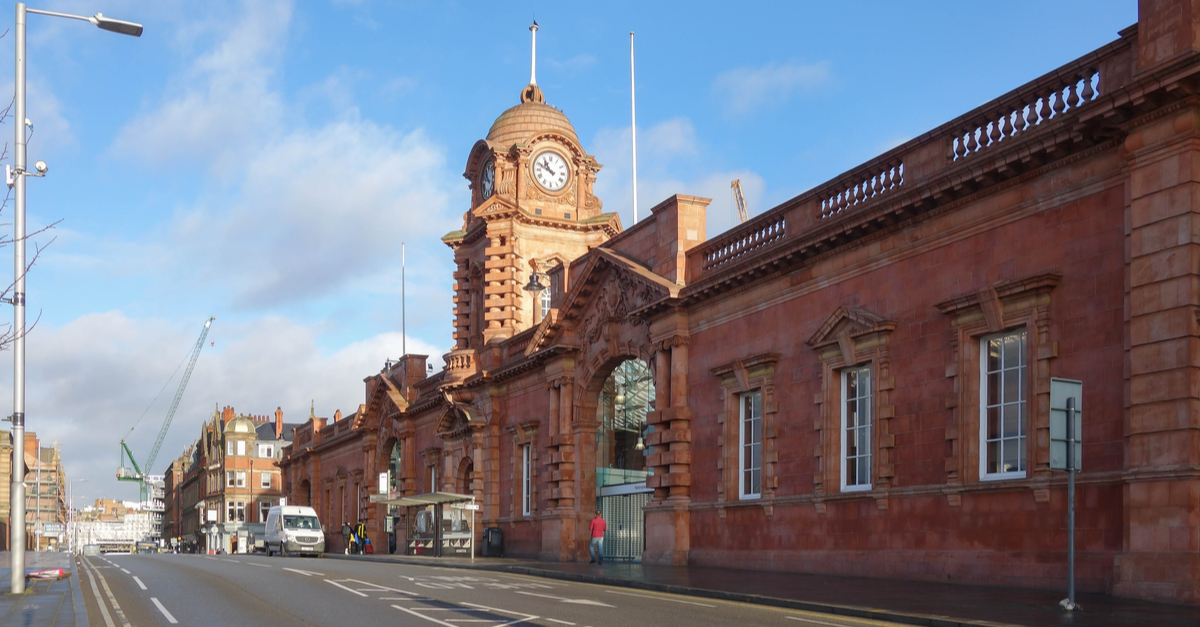 Notthingham Street Bus. Source: Shutterstock
Flixbus Buses Nottingham to Manchester: Services on Board
Flixbus services are similar except when it comes to bikes: you can book places for your bike(s) when you book your Flixbus ticket. There will be an additional and variable cost for this facility. Flixbus does not however carry folding bikes, tricycles, tandems or e-bikes. Flixbus allows you to reserve a seat when you book your ticket, giving you the option of a table seat or one of the 'panorama' seats at the front of the bus as well as the choice of window or aisle seats. Flixbus offers one small pice of hand luggage and one items not exceeding 3 stones (20 kg) in the hold.
Additional luggage items must be paid for when you book your ticket. Folding pushchairs are transported free of charge as long as a request is made in advance of travel. Folding wheelchairs are also carried fee of charge but accessibility is based on being able to access the bus alone or with the assistance of your own companion. If this does not meet the passengers need then the passenger must phone Flixbus offices at least seven days before the date of travel to discuss potential arrangements. No animals are allowed on Flixbus services except assistance dogs for people with a disability.
How to find cheap bus tickets from Nottingham to Manchester?
Omio is a real-time platform that allows you to make price and time comparisons and then book your chosen mode of transport from Nottingham to Manchester. It is a quick and efficient way of finding cheap tickets from Nottingham to Manchester. All the main travel companies serving this route by coach are in one place; in this case there are two, National Express and Flixbus, and the information from each one is displayed to allow you to scan one-way and round trip tickets on all travel options.
Omio makes its customer services and reservation processes available in many languages. Check Omio to compare service providers by entering your dates and routes, then book your travel through Omio, There is the option of selecting mobile tickets – no printing required unless your particular travel company specifies a printout as a condition of carriage. Omio publishes its own in-house online magazine: Window Seat- take a look at the range of articles and tempting destinations we post every month.
To Nottingham by bus—travel tips
Nottingham is an interesting Midlands city on the River Trent. The centre of the city is the Market Square and many visitors take photos of themselves beside or on the lions outside the Council House on the Market Square. A short walk from the Market Square is a very tiny fragment of Medieval Nottingham, including the Trip to Jerusalem Inn, which claims to be one of the oldest pubs in England. Just up the street from this pub, is the statue of Robin Hood and the entrance to the gardens of Nottingham Castle. The castle is home to an art gallery and a café, and is the site of the entrance to Mortimer's Hole, one of the many entrances to the network of caves and underground passages that honeycomb the rock on which the castle is built.
Occasionally there are walking trips through the caves – you come out over a hundred feet down at the foot of Castle Rock, in Brewhouse Yard. The Museum of Nottinghamshire Life is in Brewhouse Yard – pop in to understand more about life in Nottingham over the centuries, including its textile and lace industries. Nottingham is also the county town and as such is home to two theatres, the Theatre Royal and the Nottingham Playhouse and plenty of shops and department stores.