Bus from Liverpool to Derby
Passengers who are seeking tickets from Liverpool to Derby will always find service with the leading coach provider, National Express. National Express coaches depart from Liverpool, One Bus Station, Canning Place 4 times a day. Your coach will then reach Derby's main coach station, Derby Bus Station. A journey can range from 8h 5min to 12h 50min, depending on when you choose to travel. All routes will require 2 changes onboard your route via Birmingham Coach Station then Leicester, St. Margaret's Bus Station. The first coach departs at 08:00 a.m. and the last train departs at 11:35 p.m. Coaches with National Express include some great onboard facilities and great service from staff.
National Express to Derby
Those who are looking for tickets from Liverpool to Derby will always find that they will be coaching with one of the top UK's coach providers, National Express. National Express offer a service 4 times a day, all of which require 2 changes. A passenger will not be able to find a direct route to Derby from Liverpool with National Express but will instead find changes via locations like Birmingham Coach Station and Leicester, St. Margaret's Bus Station. Including layover time, duration of travel usually takes 8h 5min to 8h 40min but if you choose to travel at the last departing train of the day at 11:35 p.m., your coach will take a longer time of 12h 50min.
National Express' first departing train of the day is at 08:00 a.m. and has an arrival time of 4:40 p.m. and a duration of 8h 40min. There are two trains departing at this time in the morning every day. The next train then departs at 10:40 a.m. and has a duration of 8h 5min and an arrival time at 6:45 p.m. The last coach departs at 11:35 p.m. These coaches will always depart and arrive at the same coach stations of Liverpool, One Bus Station, Canning Place, and Derby Bus Station. Both of these stations are well located and have good facilities and service from staff.
Main bus stations in Derby
Passengers will find that their coach from Liverpool will always reach the main bus and coach station in Derby and that station is Derby Bus Station. The station is well located with some great facilities for people passing through to enjoy. Just 1 mile (1.6 km) from Derby's city centre, the distance can be reached in as little as 1 to 4min by public transport. Alternatively, taking a footpath will take 8min for the 0.4-mile (0.6 km) distance.
Although there are several buses that could take you to the city centre, taking buses like V3 towards Burton upon Trent takes just 1min. A passenger aboard this bus will simply need to depart at Albert Street (Stop B3.) Derby Bus Station has facilities like wheelchair access, a ticket counter, a café/restaurant, toilet facilities, and more. In addition, passengers will find that the opening hours of the station are 06:00 a.m. to 8:00 p.m. Monday through to Saturday and open 08:00 a.m. to 8:00 p.m. on Sundays. These times will not affect your travel.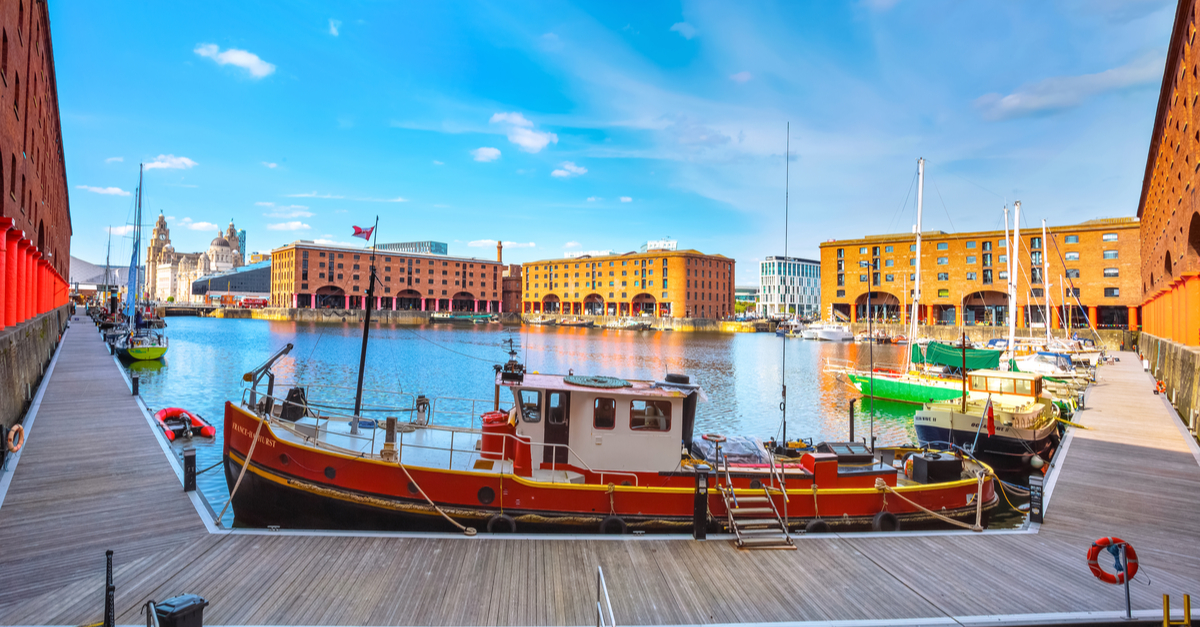 Colorful Liverpool. Source: Shutterstock
Onboard facilities to Derby
National Express is the only coach provider that travels from Liverpool to Derby and passengers can find a selection of great onboard facilities, as well as great service from staff, on and offboard the coaches. Before a passenger even steps onboard the coach, expect to use the easy use of a mobile ticket to board the coach. Whilst onboard, passengers can enjoy the use of free and unlimited Wi-Fi, plug sockets and charging points to accommodate all of your electronic devices, comfortable seating, lots of additional legroom, as well as much more. In addition, if you are planning to travel with a passenger with reduced mobility, you can expect National Express staff to help you on and off the coach. All services must be pre-booked to secure availability. A passenger who is intending to bring luggage onboard the coach will not be able to bring baggage that outweighs the maximum allowance of 20 kg (44lbs.)
Liverpool Panoramic View. Source: Shutterstock
To Derby by bus – travel tips
When visiting Derby it's worth noting that public transport is quite limited and the easiest way to travel around the city is either by taxis or by buses. Whilst the buses offer budget-friendly fares, passengers can also find additional benefits for older people or disabled people with the use of bus Gold Cards. These cards allow passengers to travel for free during off-peak periods. Free travel is available on local buses from 09:30 a.m. to 11:00 p.m. on weekdays, all day at weekends and on bank holidays. In addition, these cards also allow discounts on local shops, businesses, and more. Otherwise, any passenger can get a normal bus ticket with all-day travel. These buses take you to nearly every suburb nearby within just 10min. The buses also include free Wi-Fi. Passengers looking for accommodation during their time in Derby will find lots of suitable places of stay all throughout the city.
To Derby by bus – travel tips
Derby is extremely versatile with its offerings and have lots in store for those visiting with families and children but also for those looking to travel in groups with their friends. If you are looking to visit Derby with your friends then consider renting accommodating within the city centre to enjoy some of the leading bars, clubs, and restaurants.
Just some of the top clubs in Derby include MooMoo Nightclub Derby, Bar Fever Derby, Rasel's House, The Attic Adult Club, Living Lounge Derby, Baby Platinum, BlueNote, Popworld, Jaxx Derby, Eden Lap Dance Derby, Victoria Club, Evington Club, Chaddesden Jubilee Club Limited, as well as much more.
Alternatively, those who are visiting Debry with the intentions of playing tourist throughout your duration then consider visiting some of the top landmarks and attractions. These include Crich Tramway Village, National trust – Kedleston Hall, National Trust – Calke Abbey, National Trust – Hardwick Hall, Heights of Abraham, Haddon Hall, Debry Museum & Art Gallery, Derwent Valley Mills, The Museum of Making at Derby, among others. No matter how you choose to spend your time in Derby, you'll be quickly anticipating your return and Derby will be waiting to have you.
Bus tickets to Derby
Passengers who are travelling to Derby from Liverpool will only find one coach provider serving the journey and that provider is National Express. Travelling with National Express means that there are a few regulations that a passenger must abide by. All passengers must show proof of legitimate identification that matches the name on their ticket. Examples of legitimate identification includes the use of a passport, a bank card, a driving licence, and a provisional driving licence.

If passengers don't bring this identification onboard with them, they might be refused travel. All passengers aboard National Express coaches can benefit from the environmentally friendly use of an e-ticket, also known as a mobile ticket. Mobile tickets can be shown on any electronic device of your choosing and are extremely easy to use, thanks to Omio. All mobile tickets are able to be stored on your Omio account, making ticket filing and sourcing of upcoming coach tickets easy and quick.