Bus from Liverpool to Bournemouth
There is a selection of routes that travel from Liverpool to Bournemouth daily. Passengers can find a mixture of great onboard amenities, good stopover locations, and great service on and offboard their coach. When travelling from Liverpool, expect that your coach will depart from Liverpool, One Bus Station, Canning Place. Your coach will then reach the main station in Bournemouth, also known as Bournemouth, Coach Station. Depending on a number of certain factors, a passenger can expect an average duration of 8h 35min-10h 15min.
National Express to Bournemouth
Passengers who are looking for train tickets from Liverpool to Bournemouth will only find tickets with the reputable and leading coach company, National Express. National Express serves routes all over the UK, as well as Bournemouth. There is no strict schedule that these trains run per day, but passengers can usually find that four trains run between the two locations per day. The average time for the first departure is at 8:00 a.m. with the latest depart at 11:35 p.m. A coach at 11:35 p.m. will mean that you're a customer to an overnight coach with an approximate arrival time of 9:50 a.m.
All routes to Bournemouth will require at least one change which will always commonly alter the duration of your coach trip. Popular stopover locations include London Victoria Coach Station and Birmingham Coach Station. Stopovers via Birmingham are commonly quicker in duration but a duration between Liverpool and Bournemouth will range from 8h 35min-10h 15min. You can also expect that your coach will be departing and arriving at the main coach stations of both of these locations.
Main bus station in Bournemouth
The bus station which passengers will always see their National Express coaches travelling to is Bournemouth's main coach station, also known as Bournemouth, Coach Station. The coach station is well located and is just one mile from the centre of Bournemouth. There is a variety of public transport options that will take you between the two locations and most options are by bus.
Popular bus routes which travel the distance are 13, 15, 3, along with others. Passengers getting offboard their coach will also find themselves within close proximity of top venues in the coastal town, as well as just a short distance from Bournemouth Beach. The coach opening hours are Monday-Sunday 11:00 a.m.-4:30 p.m. but these opening times won't affect your journey. Before boarding your coach to Bournemouth with National Express, make sure to arrive prior to your departure with enough time. Ten minutes prior to arrival is usually recommended.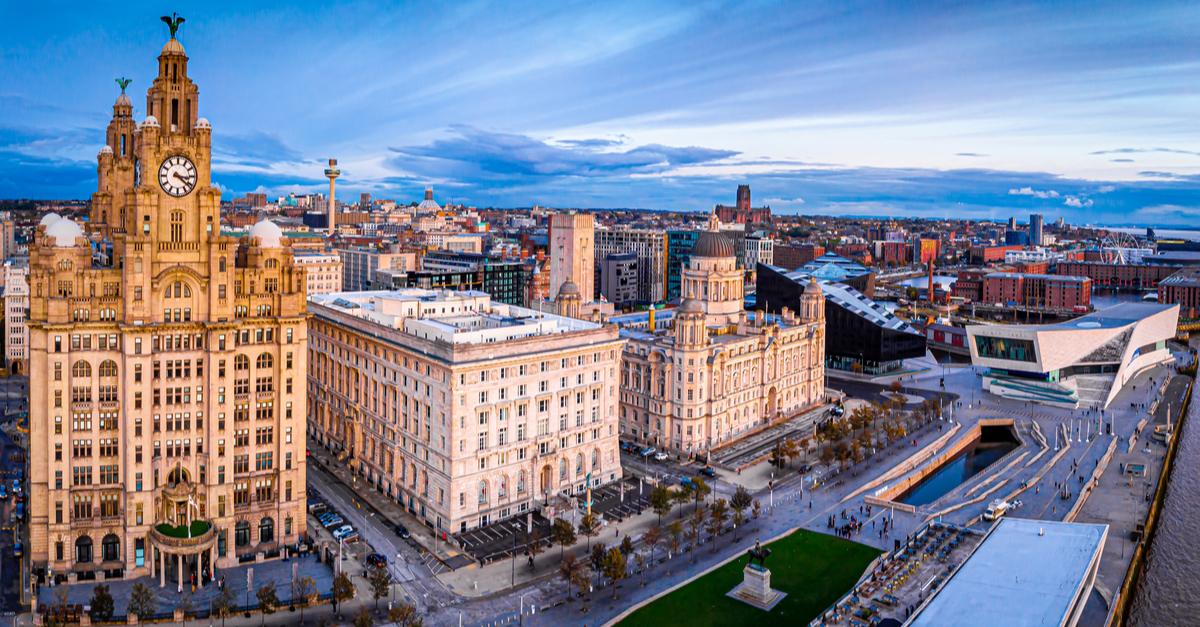 Liverpool Aerial View. Source: Shutterstock
Onboard facilities to Bournemouth
Passengers that are travelling from Liverpool to Bournemouth will have the comfort of knowing that they're travelling with one of the leading providers for coaching across the whole of the UK. Each passenger can benefit from the use of an eco-friendly e-ticket, also known as a mobile ticket, which can be shown on any electronic devices of their choosing.
National Express pride itself in their great service from staff on and offboard their coaches. Passengers can also expect extra comfortable seating, lots of legroom, free Wi-Fi access, charging points to accommodate all of their electronic devices, and a large luggage allowance. All of these useful onboard facilities come within the price of your budget-friendly coach ticket.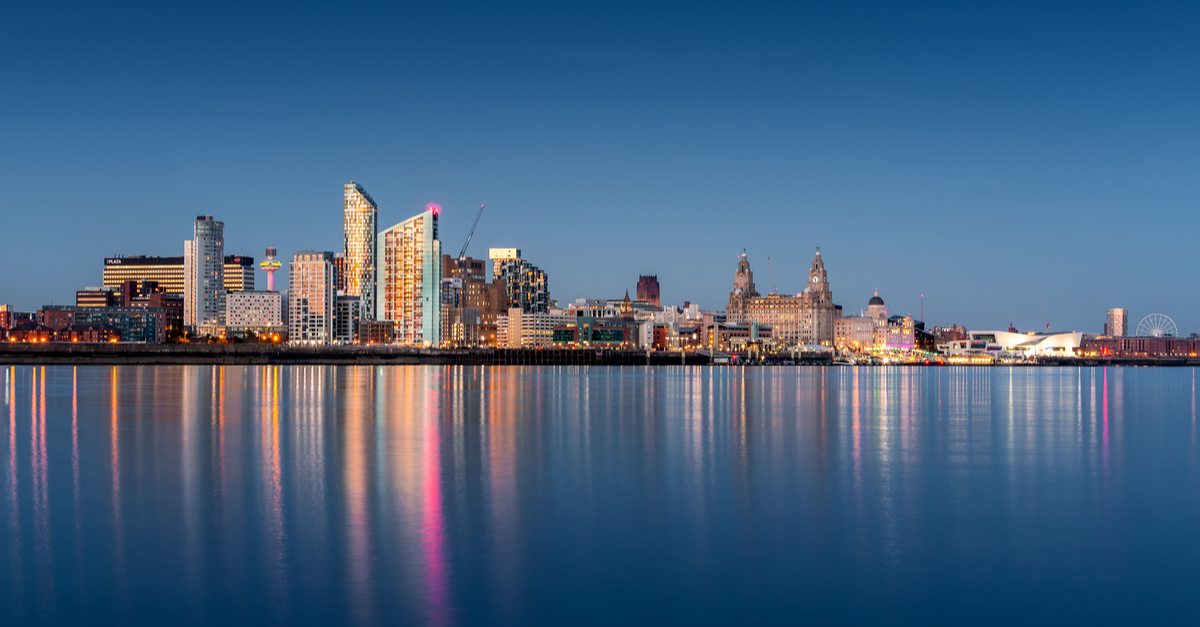 Liverpool Blue Hour. Source: Shutterstock
To Bournemouth by bus – travel tips
No matter how you choose to spend your time in Bournemouth, you'll be quickly anticipating your return. From the start of your trip, you'll be gifted with a coach provider that offers travel around the whole of the UK. Onboard you'll be a customer to great service, as well as popular and useful onboard amenities and facilities. Just some of the facilities include comfortable seating, extra comfortable legroom, as well as much more.
In addition, you'll also have access to an eco-friendly e-ticket which can be shown on any electronic device of your choosing and saves paper. The coastal town of Bournemouth is gifted with lots of exciting attractions and things to do. One of the best attractions is the family-friendly attractions like Oceanarium, Adventure Wonderland, Bournemouth Pier, Splashdown, and more. A guest, visitor, and resident alike can also enjoy the history of Bournemouth with its large offerings of museums that are available to the public, a lot of which are free to visit also. Just some of these museums include Poole Museum, Bournemouth Aviation Museum, and Red House Museum and Gardens.
Alternatively, if you're looking to visit with some of your friends and you're looking to enjoy some of the leading bars, clubs, and restaurants in this coastal town, you'll find a great selection of choices that are accommodating to all kinds of visitors. Enjoy some of the top club venues like Halo Nightclub, Cameo, DYMK Bar & Club, Bournemouth Nightclub, Wiggle Bournemouth, The Vault Nightclub Bournemouth, Club 176, Vinyl, as well as much more. Alternatively, enjoy some of the top restaurants like miXed Bournemouth, Casa GourMex, Koya Restaurant, and Westbourne Grill House.
Bus tickets to Bournemouth
The only provider which offers transport from Liverpool to Bournemouth is with National Express. This route will always require one stopover at the most common locations of Birmingham or London. Omio makes any changes or transfers easy with the additional added benefit of a National Express e-ticket. By booking bus tickets with Omio, you can store all of your bus and coach tickets in your Omio account which means filtering and sourcing any necessary tickets is extremely easy, not to mention that it is a great opportunity to save paper.

When travelling with National Express, all passengers who are intending to board will need to show legitimate proof of identification that matches the name given on their coach ticket. Appropriate identification includes the likes of a passport, a bank card, a full and valid driving licence, as well as a provisional licence. In addition, passengers who are intending to bring luggage onboard the coach will be at a limit of 44 lbs (20 kg) luggage allowance.