Buses from Glasgow to Edinburg
Glasgow is one of the largest cities of Scotland, famous for its architecture, whiskey, and shipbuilding. The cities main bus terminus is Buchanan Bus station. Here you can find connections for buses from Glasgow to Edinburgh, and from all around the United Kingdom, including routes from Glasgow airport to Edinburgh bus stops. The other two main stations are Glasgow Queen Street and Glasgow Central and connect to Buchanan Bus Station via the Glasgow Stations Link Bus. The link bus services all three stations. Other cities that connect to Glasgow by bus from Buchanan Bus Terminus are Aberdeen, Plymouth, Birmingham, London, Blackpool, Inverness, Dundee, Ayr, Largs, Fort William, Hamilton, Bournemouth, Torrance, Paisley, Greenock, Oban, Letterkenny, Falkirk, and Belfast.
Megabus from Glasgow to Edinburg
Megabus is a bus company that services long-distance trips throughout the United Kingdom, and connects buses from Glasgow to Edinburgh. It has five main hubs that connect buses to destinations in Britain. The main endpoints are London Victoria Coach Station, Sheffield Meadowhall Interchange, Leeds City Bus Station, Manchester Shudehill Interchange, and Glasgow Buchanan bus station. Other stations it uses along the way include the University of West England, Newcastle Upon Tyne Central Library, and Aberdeen Union Square Bus Station.
Citylink from Glasgow to Edinburg
Citylink is a Scottish bus company with headquarters in Glasgow, that services long-distance trips throughout England, Scotland, and Ireland. It has seven main hubs that connect buses to destinations in the United Kingdom, including buses from Glasgow to Edinburgh. The main endpoints are Inverness, Dundee, Perth, Stirling, Buchanan Bus Station, Edinburgh Bus Station, and Union Square Shopping Centre.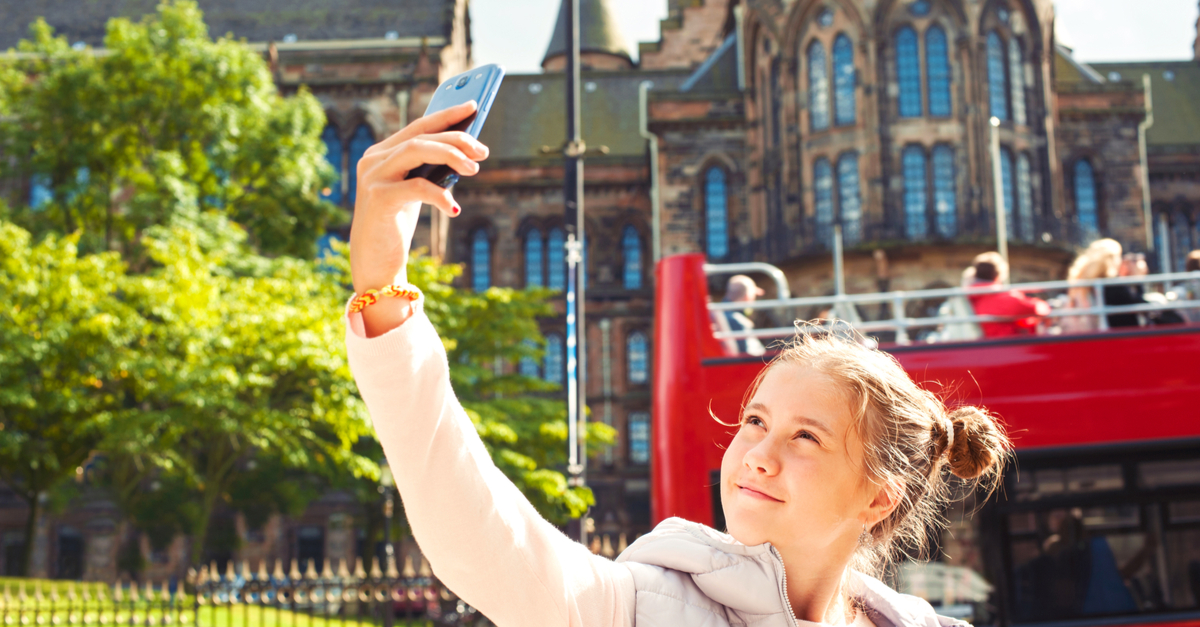 Glasgow Selfie. Source: Shutterstock
National Express from Glasgow to Edinburg
National Express is a British bus company with headquarters in Birmingham, that services long-distance trips throughout the United Kingdom including trips from Glasgow airport to Edinburgh bus stops. It has endpoints all over the United Kingdom, with multiple endpoints in many cities. These cities include London, Ipswich, Bradford, Oxford, Norwich, Cambridge, Bristol, Bath, Manchester, Newcastle Upon Tyne, Liverpool, Glasgow, Halifax, Cardiff, Derby, and Edinburgh. It also offers direct airport services from Heathrow to Birmingham, Swansea, Southsea, Poole, Wolverhampton, Nottingham, and Bradford. And services from Stansted Airport to Birmingham, Oxford, London, and London Stratford.
Main bus stations in Glasgow
There are three main bus stations in Glasgow, that service routes in Scotland and the United Kingdom, including Glasgow airport to Edinburgh bus stations. These are Glasgow Queen Street, Glasgow Central, and Buchanan Bus station which is the bus terminus. These three are accessible to each other by the bus link service. Each of these is located centrally in the Glasgow city centre, with Glasgow Central being the closes to the river, Glasgow Queen Street in the middle, and Buchanan Bus Station towards the outskirts of the city. Glasgow Queen Street and Glasgow Central are both utilised as train stations, and provide more facilities than Buchanan Bus Station. Glasgow Central has the most amenities to offer as it is Scotland's second-busiest station and the 11th busiest in the United Kingdom. There are food, drink, and retail outlets available, as well as free Wi-Fi, lost property, accessibility services, change rooms, showers, trolleys, a post box, a photo booth, and ATMs available at Glasgow Central.
Onboard facilities from Glasgow to Edinburg
Onboard the Megabus there are services to ensure a more comfortable journey. The services available include seat reservation, guaranteed seating, extra legroom seats, free Wi-Fi, charging points, toilets, air conditioning, and around 44 lbs (20 kg) luggage allowance. Onboard Citylink buses you also have guaranteed seating, an onboard toilet, free Wi-Fi, reclining seats, and two medium-sized pieces of about 44 lbs (20 kg) luggage. The National Express onboard amenities include a guaranteed seat, free Wi-Fi, charging points, air conditioning, a piece of hand luggage, and around two bags weighing 44 lbs (20 kg).
To Edinburgh by bus—travel tips
Edinburgh is the capital city of Scotland and well known for its numerous castles, monuments, and parks. Edinburgh is also known as a UNESCO site for the City of Literature. In the Princes Street Gardens, there is a monument to Sir Walter Scott's. This monument is the largest in the world dedicated to a writer, easy to see why it is the world's City of Literature. To get a good look at the city head for somewhere with a high view. You can climb to Arthur's Seat on the top of an extinct volcano, which is 820 feet (251 m) above sea level, and survey the city's sites.
Alternatively, you can see the city from Calton Hill, which features some of Edinburgh's most famous national monuments. Also on the top of a volcanic peak is the Edinburgh Castle. This is a famous and historic icon and a landmark of Scotland, which is a part of Edinburgh's World Heritage Site. To get around Edinburgh and see these sites is relatively straightforward and easy. The city has a simple and easy to use public transport system which uses trams and buses. There's the Transport for Edinburgh (TFE) app which you can download from the Apple Store and Android Play Store.
The app provides you with a lot of information for Edinburgh Trams and Lothian Buses. It includes information on departures, proximity to different stops, live tram and buses, and step by step journey navigation. You can save your most used journeys as favourites and share them with your friends and family. The app allows you to share your journey even with people who don't have the app downloaded.
Edinburgh is a lively city, always brimming with events and festivals, and is internationally known as the festival city. The festivals occur all year round, with one specials and seasonal events, always updating its events and showing something of interest. The festivals include a range of arts, with specialities in each field. There's the art festival, literature festival, performance festival, science festival, comedy festival, jazz festival, film festival, tattoo festival, a storytelling festival, and much more. The festivals are often held in the New Town, with close proximity to the Old Town.
Edinburgh also has a rich history which you can learn about while strolling down the cobblestoned, medieval streets in the Edinburgh Old Town. The Royal Mile is the main street where you'll see the home of Mary, Queen of Scots at Holyrood Palace, and close by is the Camera Obscura and World of Illusions, which features optical illusions and with an old-fashioned rooftop projector. A short walk away you'll find the Scotch Whisky Experience. This is a distillery tour offering a restaurant and a masterclass. For history buffs, you can learn about Edinburgh's underneath hidden streets with the Mary King's Close tour or if you love museums head over to the National Museum of Scotland. For fans of movies, you can plan a day trip to various Harry Potter filming locations, featuring iconic scenes and landscapes.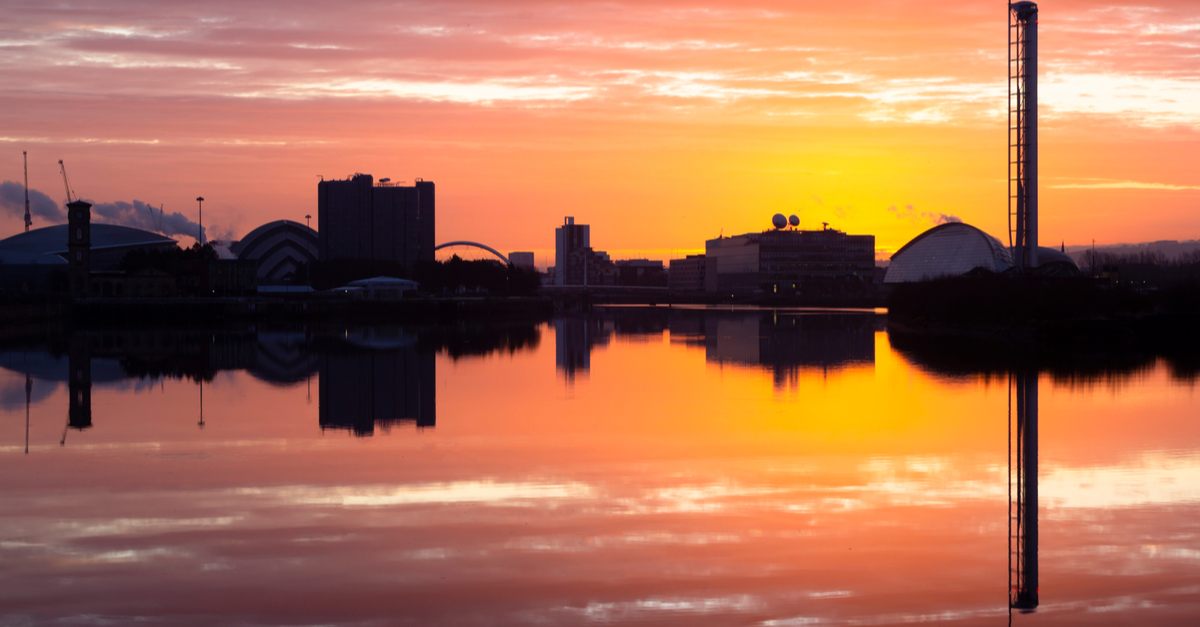 Glasgow Sunrise. Source: Shutterstock
Bus tickets from Glasgow to Edinburg
Journeys with Megabus, National Express, and Citylink offer their customers mobile tickets. These tickets are emailed to your email address upon purchase. Mobile tickets are very handy as you do not need to print out your ticket. Simply show the ticket to the bus driver on entering. The driver may scan the ticket with the ticket's barcode. It's always best to bring a valid form of identification when travelling, in case of any misunderstandings or disputes. When you purchase your bus ticket from Glasgow to Edinburg through Omio, the process is quick and simple. For convenient travel, you can easily store your tickets all together on your Omio account.