Buses from Dundee to London
The journey from Dundee to London is pretty long, but also pleasantly scenic. It takes around 12h and includes one connecting stop. One of the buses used for this trip travels three times a day – so you can complete your journey starting in the morning, or you can get to London overnight – there is something convenient for every type of traveller. The bus stations at both Dundee and London, and also the connecting stop – Edinburgh, are conveniently located at the centres of the respective cities, so there will be no time wasted looking for additional transportation.
Dundee to London Bus Time: Daily Departures
If you are looking to travel from Dundee to London via bus, you are looking at at least one connecting stop at your journey. You will need to depart at Seagate Bus Station located at Dundee, where the buses to the layover stop – Edinburgh, run hourly and every day. The trip from Edinburgh to London itself runs three times a day, every day of the week. The first bus is at 8:45 a.m., and the last one – at 10:20 p.m.
How long is the journey by bus from Dundee to London?
The journey by bus from Dundee to London takes around 12h. The bus from Seagate Bus Station to Edinburgh Bus Station takes a little over 1h 30min (can vary due to traffic and weather conditions), and runs hourly. The bus from Edinburgh Bus Station to London Victoria Coach Station takes just above 9h, and can be either during the day or overnight – so if you would rather sleep on the bus to make the time pass quicker that will always be an option!
What are the departure and arrival stations for buses from Dundee to London?
Departure bus station: The departure bus station for this journey is at Dundee – Seagate Bus Station. It is conveniently located at Dundee's city centre and has many bus stops and parking lots nearby for those that are travelling from afar. It's also a five minute walk away from the train station at Dundee. There is storage for bikes for free at the station, and luggage storage facilities are available for a small fee.
Arrival bus station:The arrival bus station of this journey is London Victoria Coach Station. It is the largest coach station in London and is located in a central district. The station sees more than 15 million passengers each year at its 21 departure gates. Victoria Coach Station has separate departure and arrival terminals. The facilities at those include luggage facilities, ticket hall, food and retail outlets, waiting rooms and baby-changing facilities.
Dundee View Bus. Source: Shutterstock
Which bus companies travel from Dundee to London?
There are a few bus companies that operate the route from Dundee to London. The ones that complete the trip from Seagate Bus Station to Edinburgh Bus Station are Megabus UK and Stagecoach East Scotland. Stagecoach East Scotland takes a longer route, and choosing it over Megabus might cost you an extra 1.5h – almost double the time of the journey. The journey from Edinburgh Bus Station to London Victoria Coach Station is served by Megabus, National Express and by Flixbus. Flixbus' services are usually a little faster than those that National Express offer due to the fewer number of stops along the way. National Express, on the other hand, offer more travel times daily, whereas Flixbus only has one departure per day.
National Express buses from Dundee to London
The National Express buses that serve this route operate only the second part of the journey: from Edinburgh to London. They are direct and depart two times a day: at 10:45 and 21:50, and take between 9h 30min and 11h to reach the destination, depending on the departure time.
Megabus buses from Dundee to London
The Megabus coaches that serve this route operate both parts of the journey. They run once every 1-2h, and take around 1h 30min to reach Edinburgh. They take around 9h to reach London from there, and operate once every 2h.
Stagecoach East Scotland buses from Dundee to London
The coaches by Stagecoach serve the first part of the journey: from Dundee to Edinburgh. They run twice hourly and take between 2-3h to reach Edinburgh.
Flixbus buses from Dundee to London
The coaches by Flixbus serve Edinburgh to London and run once daily – at 10:20 p.m., providing for a faster overnight trip that takes just shy of 9h.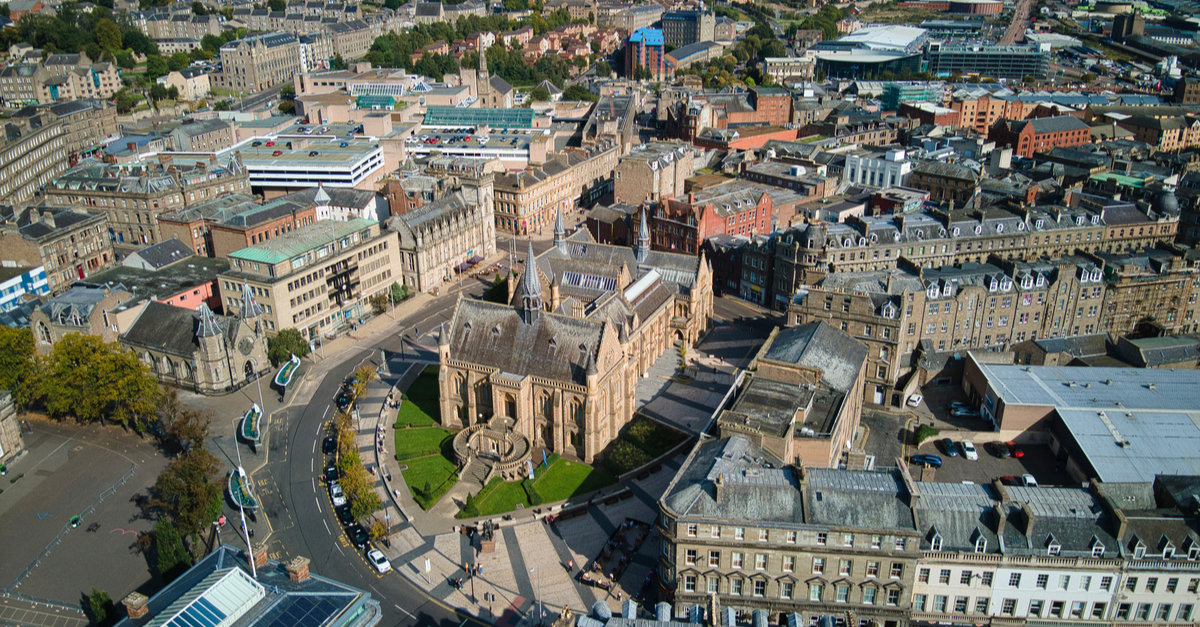 Dundee Museum. Source: Shutterstock
Bus Dundee to London: Services on Board
The service along this route provided by Megabus, Stagecoach East Scotland, National Express and Flixbus only provide for a standard, non-refundable ticket fare. Unfortunately, there is no first class ticket availability. All these bus companies allow passengers to take two pieces of luggage – one up to 30kg for the carry-on, and a small bag with essentials to take on the bus and fit either under the seat, or in the overhead compartment above it. Bikes can be taken on those journeys as long as they are folding bikes. All the coach companies also do not allow any pets on board, with the exception of guide and companion dogs.
How to find cheap bus tickets from Dundee to London?
There are a few easy ways for a traveller to make sure they are booking cheap tickets for this route. You have to book in advance, especially since this journey includes more than one coach. Some of the services from Dundee to London are also infrequent, so it's better to book with some time on your hands to make sure that your travels will happen as planned before tickets are sold out. If you want to save some more money, it's always an option to book a connecting trip from Edinburgh to London as well – those usually have a layover in either Manchester or Leeds. You also have to be flexible with your travel days, as Fridays and weekends tend to be more expensive due to higher demand.
To London by bus travel tips
There are many reasons to visit London – after all, it's one of the most desired tourist destinations in the world. It has something for every type of tourist – endless history and countless museums, incredible food and drink options, art, architecture and fashion. It's vibrant throughout the whole year and there will always be a reason to visit it. You should make sure you spare some time to enjoy a drink near the Thames or one of London's canals along the way – such as Little Venice.
You can also see the city in all its glory from one of the major buildings with spectacular skylines, such as The Shard. You should also keep in mind that there is something for everyone's budget – some of London's biggest attractions are free to visit, such as the National History Museum, the British Museum and a large number of exhibitions at Tate Modern.