Buses from Broadstairs to London
You can catch several coaches from Broadstairs to London every day. They take between about 2h 50min and about 3h 10min to make the journey, which depends on the time of day that you travel. The buses run every day of the week, including Saturdays and Sundays. They leave at pretty regular intervals throughout the day and into the mid-evening, with an average of about 4-5 buses leaving each day.
Broadstairs to London Bus Time: Daily Departures
Coaches from Broadstairs to London leave four times a day from Tuesdays to Thursdays, with an extra trip added at the end of each day from Fridays to Mondays. This gives you just under 30 bus trips to choose from each week. The first buses always leave at about 8:10 a.m. regardless of which day it is. The last buses on Tuesdays to Thursdays depart at around 4:25p.m., with the extra bus on Fridays to Mondays leaving at just after 9:00 p.m.
How long is the journey by bus from Broadstairs to London?
Coaches from Broadstairs to London take slightly different travel times on almost every trip during the day. The first two buses of the morning take about 3h 10min, with a midday one taking roughly 3h 5min. The next one, which is the last of the day on Tuesdays, Wednesdays and Thursdays takes about 2h 55min. The fastest bus of all is the late one of Fridays to Mondays, which takes around 2h 50min. As you can see, the time differences between all buses are quite negligible – you'll get there in roughly the same time no matter which you book.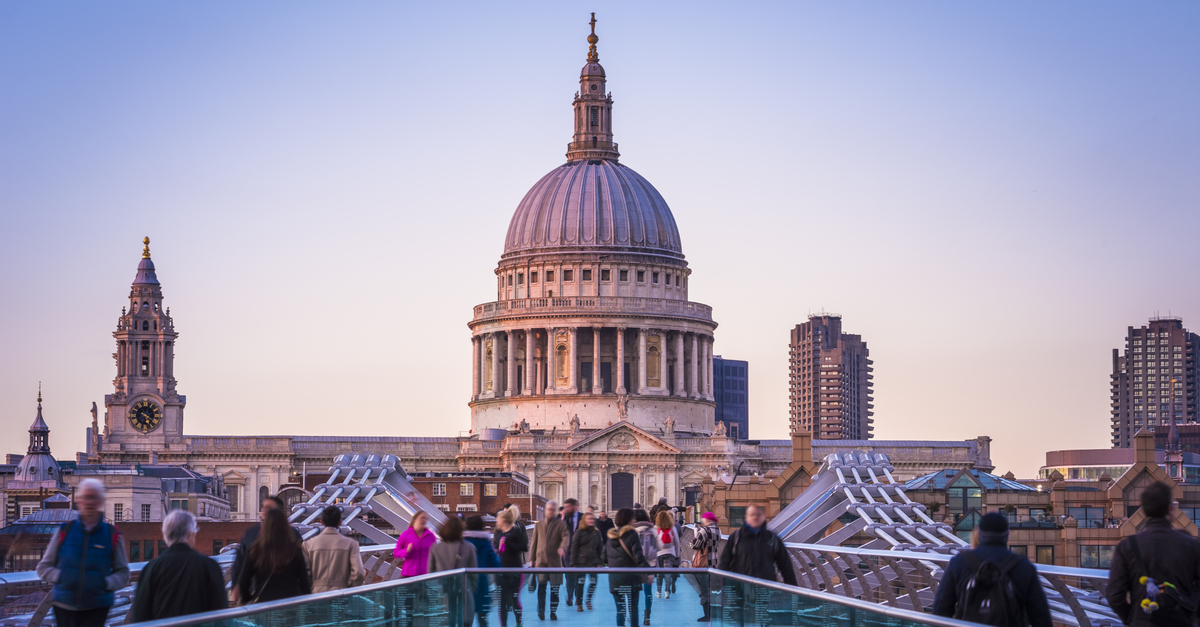 London Tourists Cathedral Sanpablo. Source: Shutterstock
What are the departure and arrival stations for buses from Broadstairs to London?
Departure bus station: The coaches to London from Broadstairs all leave from Broadstairs High Street bus station. Getting there using public transport presents a bit of a paradox, as the station is virtually in the town centre – so much so that you can walk there in about 4min. However, the bus route takes an anti-clockwise loop from the station around the whole town before returning to the centre, for a total travel time of about 1h 25min. We'll leave the choice up to you on this one. This is a National Rail-run station, with staff on hand for limited mobility access. Other facilities on are the basic side, with a waiting room and a coffee kiosk.
Arrival bus station: Your coach to London will arrive at London Victoria Coach Station, which isn't too far from Central London. You can get there from the station in about 10min on the Line 211 bus or by taking the Circle Line subway train, a trip of about 13min. The station has a few coffee kiosks, cafés and small general convenience stores. Unfortunately personalised limited mobility assistance isn't currently available, but the station is wheelchair-friendly.
Which bus companies travel from Broadstairs to London?
All buses on each day to London from Broadstairs are operated by National Express. These are all direct trips that won't require you to change buses on the way, or stop at stations in-between. They're not high-speed buses, but you can find faster trips by travelling in the late afternoon and evening. It's a short-haul coach drive at standard motorway speed. Prices are also the same for all the trips, so it doesn't matter which one you book from that point of view. You'll also have the same facilities and amenities on all buses, so there aren't any disparities between any of the journeys besides the travel time. There also isn't much difference here, as the quickest journey takes about 2h 50min, with the longest only taking about 20min longer, at 3h 10min.
National Express buses from Broadstairs to London
National Express is the only bus carrier that operates on the route from Broadstairs to London. As mentioned, these are all direct buses from Broadstairs High Street Bus Station to London Victoria Coach Station. They travel 4-5 times a day, leaving first in the mid-morning, with the final bus of the day leaving in the mid-evening. They all take roughly the same amount of time to make the trip. One thing to note is that the last mid-evening bus is only available from Fridays to Mondays – otherwise the last bus is in the early evening.
Bus Broadstairs to London: Services on board
National Express is one of the most ubiquitous commuter bus services in the UK, and these bus trips are efficient, with standing room and seating available. You can choose the luggage combination that best suits your needs – either bring two medium-sized suitcases to go in the hold, or put one medium-size luggage item in the hold and bring one piece soft luggage on board with you. You won't be able to travel with pets, unfortunately – service dogs are the exception and are welcomed on the bus.
You can bring a foldable bicycle as a hold item, as long as it conforms to the specification requirements of standard hold luggage. Wheelchair assistance is on hand, with space for them on board, and the buses have deliberately low floors for easy access for passengers with limited mobility. Wi-Fi connectivity is freely available on all trips. You can buy different types of tickets that can save you money on the per-trip cost, like season tickets, monthly tickets and weekly tickets. Flexitime tickets allow you to travel on any bus within a period of a couple of days.
How to find cheap bus tickets from Broadstairs to London?
You won't be able to save much on the standard bus tickets on this route, unfortunately, as they're all offered at the same price. This is quite a small cost on the face of it, so it's not a particularly expensive route on which to travel. However, if you remain flexible about when you travel, you'll be able to pick up last-minute tickets that become available at a discount as a result of cancellations.
You can also take the opposite approach and buy tickets well on advance, which allows you to benefit from early-bird deals. You can often pay less for tickets on buses that make round-trips or stop more frequently – this isn't the case on this particular route, but bear it in mind if you're travelling between other UK towns and cities.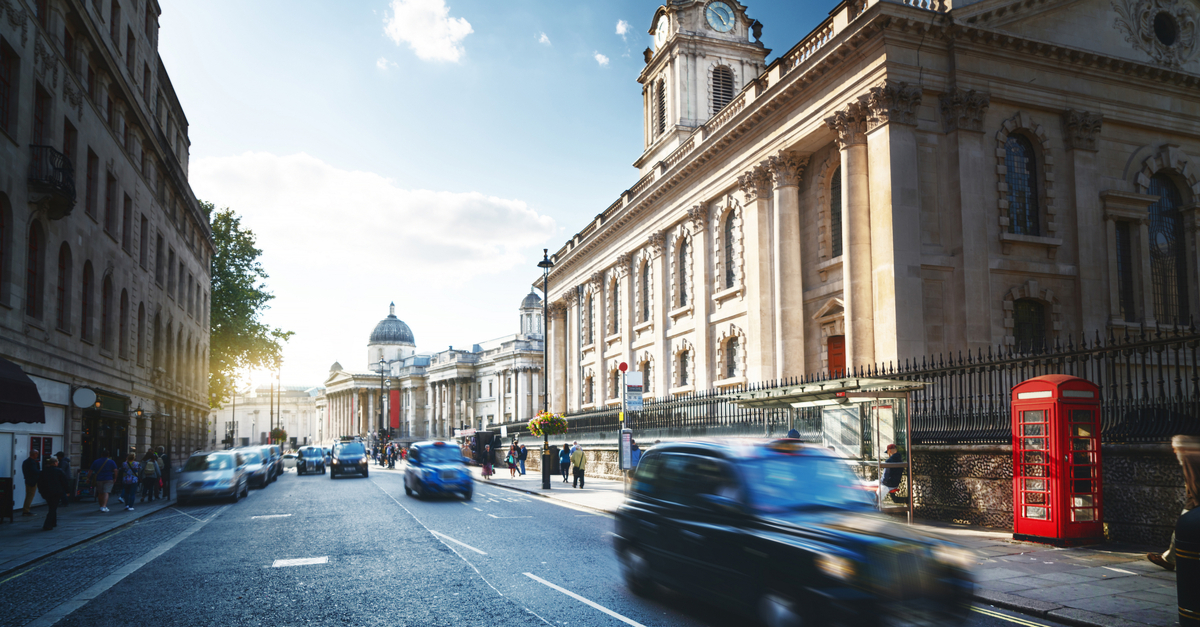 London Street Cityscape Taxi. Source: Shutterstock
To London by bus—travel tips
London is one of the world's great tourist cities, so when you get there you'll face a huge variety of choice. Here are some highlights to help you make your decisions. London is known particularly for its Royal buildings and its excellent museums. A visit to Buckingham Palace should definitely be on the cards; time your visit to coincide with the Changing of the Guard for some traditional British pomp and ceremony.
Trafalgar Square and Piccadilly Square are two of the city's most popular attractions and socialising spots, the former drawing many visitors to view Nelson's Column. Another iconic landmark is Cleopatra's Needle on the Thames Embankment. You also can't visit London without taking in some of the world's most magnificent museums found here. The British Museum, The Natural History Museum and the Imperial War Museum are must-sees.
More modern attractions include the London Eye that will lift you high up about the city and the Canary Wharf area, which is the place to head for trendy restaurants and nightlife. You shouldn't run out of ideas, but if you need more inspiration, have a look at the Omio online travel magazine, The Window Seat.