Coaches to Aldershot
Aldershot is captivating for its historic story and attractions that are on offer to the public. Aldershot is accompanied by two major bus stations. The coach station which you will find the most of your coaches departing at Aldershot Bus or Coach Station. The station is fairly quiet and sees in coaches and buses from London's major cities, towns, and station. Coaches to Aldershot will most likely find that they may need to transfer coach during their journey.Those intending to travel to Aldershot may found that you might find coach transfer along your journey. Nonetheless, it will be worth it when you finally reach the destination of Aldershot.
MegaBus to Aldershot
Coaches to Aldershot via MegaBus is a great option of choice.Travelling and coaching with MegaBus to Aldershot is a great option of choice. They're the perfect choice if you're looking for budget-friendly travel and looking for coach travel that's on a low budget. Their onboard facilities are similar to those of other companies, but they still pride themselves on good and efficient service, as well as frequent and easy travel options. Not only does MegaBus serve the UK but it's also a great form of coach travel in Europe too.
If you choose to coach with MegaBus you can benefit from their onboard facilities. Just some advantages are the use of free Wi-Fi and 44 pounds (20 kg) of baggage allowance. If you're wanting to enjoy the sights of Aldershot on your trip and not just through your coach seat window, then why don't you look at enjoying a sightseeing trip when visiting Aldershot. A great option of choice is MegaBus's exclusive sightseeing opportunities, 'Mega Sightseeing Trips.' The MegaBus sightseeing trips are affordable and are accessible to adults and children alike. They can be reached through most points in the UK.
National Express to Aldershot
National Express is the perfect option for coach if you're wanting affordable travel with the guaranteed promise of good service. National Express is one of the leading coach companies in the UK to travel with. They're the perfect choice of travel for their efficiency and punctual arrival and their commitment to helping the environment. In the UK, National Express are the most sustainable intercity network. The coach company have a large variety of onboard facilities that you can benefit from on your trip to perfect your coach to Aldershot. Just some of the benefits are free and unlimited Wi-Fi, as well as extra legroom for your comfortable seating. Choosing to travel with National Express will be the perfect completion of your trip and you will not be left disappointed. In addition to your faultless service and trip with National Express, there will also be great views on offer all from your coach window.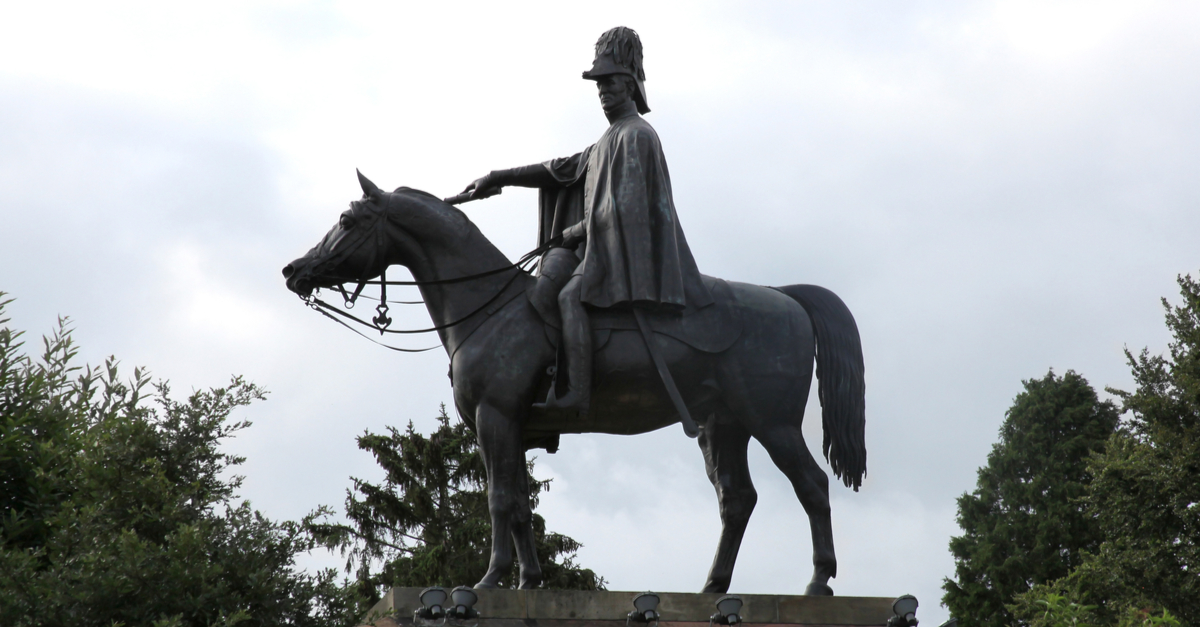 Aldershot Statue. Source: Shutterstock
Main bus stations in Aldershot
Coaches to Aldershot will most commonly findThose who are travelling to Aldershot will find themselves departing at one of two coach stations in Aldershot, Aldershot Stagecoach and Aldershot Bus and Coach Station. The coach stations are in close walking distance of each other are located directly at Aldershot's train station. Its convenient location means that you're able to catch further transport from the train station if it's intended. Not only that, but the walking distance is extremely convenient and accessible to any passenger. The station, Aldershot Bus and Coach Station seems to be the most popular and bigger of the two stations. It serves the city of Aldershot and sees in coaches from to and far. Coaches that travel here tend to be from the UK's leading towns, cities, and airports.
Onboard facilities to Aldershot
Despite whom you're travelling with on your coach to Aldershot, you're guaranteed to benefit from the wide use of facilities that are on offer to its passengers. All companies that coach to Aldershot differ in their offer of facilities, so the free offerings are dependent on who you're travelling with. However, they all offer the same kind of interesting and convenient service. Travelling with National Express will mean that you're guaranteed good service, onboard and offboard your coach trip.
Passengers can benefit from the use of free and unlimited Wi-Fi and plug sockets to accommodate all of your electronic devices and their charging needs. National Express also allow you to stretch your legs with extra comfy seating to accommodate the additional legroom. MegaBus also offers similar facilities but with the addition of 44 pounds (20 kg) luggage allowance to allow you to a large limit on any luggage that's coming with you in your travels.
Bus tickets to Aldershot: Useful to know
If you're planning to travel to Aldershot via coach, you will find transport from companies like National Express and MegaBus. Both of these companies are two of the leading companies for coaching in the entirety of the UK. Both companies pride themselves on being reliable, efficient and budget-friendly fares. If you're looking to travel with either of these companies then you can benefit from their paperless tickets by the use of their eco-friendly, e-tickets on any electronic device of your choosing.
Accommodating with your e-ticket and allowing access onboard to your choice of coach, you will have to show a valid form of identification that matches the name on your ticket. A valid identification can be anything like a full driving licence, provisional licence, or even a bank card. No matter who you choose to coach with Omio make all your coaching trips quick and easy. If you have an e-ticket then you can benefit from Omio's help in storing all of your e-tickets to organise your future travel and to guarantee efficiency.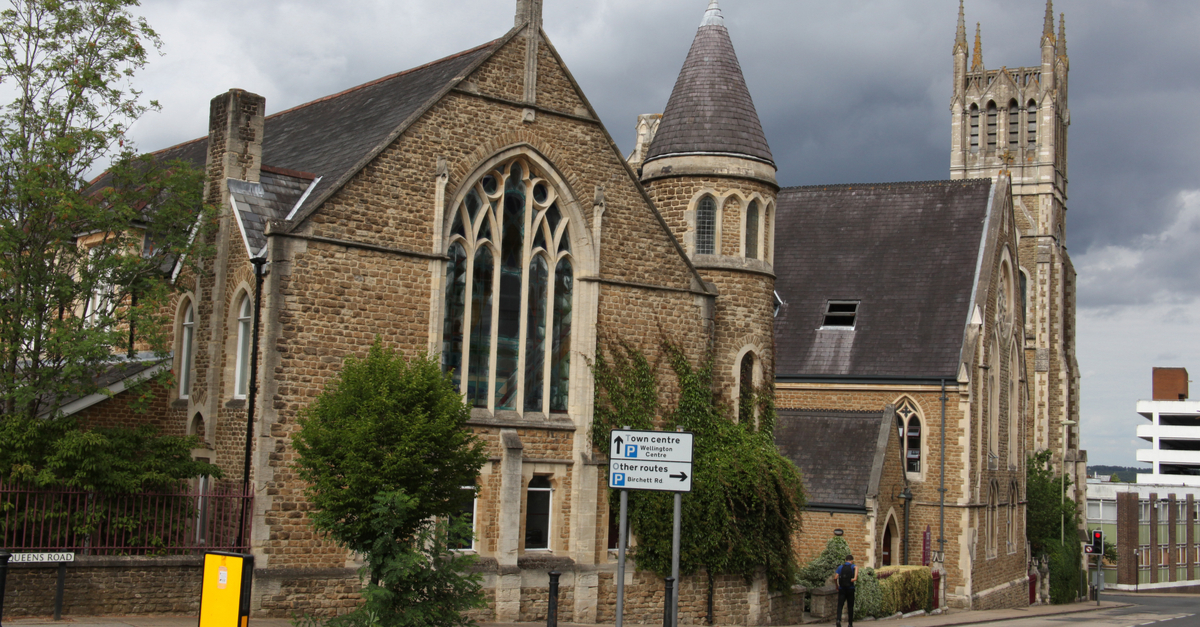 Aldershot Chruch. Source: Shutterstock
To Aldershot by bus – travel tips
Aldershot truly is a great place to visit and offers a fascinating insight into British history. Aldershot is home to the British Army so it would be only essential to visit attractions like the Aldershot Military Museum. The Aldershot Military Museum is a great attraction for adults and children alike. Those who are visiting will be able to discover a historic and interesting journey into the life of soldiers and civilians. Benefit from this learning experience at an affordable price. It's a great learning experience and simply can't be missed.
Alternatively, if you enjoy sports why don't you consider attractions like Alpine Snowsports Aldershot. Putting all of your skiing skills to the test, this attraction is the perfect choice for those visiting as it's filled with fun and is attractive to both adults and children alike. With a variety of slopes on offer and fitting to anyone, this accommodating attraction is full of fun and excitement, no matter if you're travelling solo or possible in a small group.
Aldershot, the quiet town in Hampshire, is a perfect choice of location if you're looking for a choice of accommodation and travel that's accommodating to the entire family. Although it's fairly quiet, you'll be surprised at the number of offerings there are to visitors and tourists alike.
Enjoy the history of Aldershot in their variety of museums like Farnborough Air Sciences Trust Museum and Aldershot Military Museum. Or perhaps you want to experience the beauty of Aldershot and want to spend your time appreciating nature.
If that sounds like something, you're interested in then why don't you consider something like Basingstoke Canal or Brickfields Country Park Boxalls Lane? They're both beautiful attractions that are intriguing to visitors and residents alike. They give a beautiful view of the greenery, nature and the canals that are surrounding.