Train to Bicester
Bicester is a town located in northeast Oxfordshire, with good connections to Oxford and London. It is a popular town for tourists to visit, with the historic market centre being just one of the main attractions. In the centre of the town there are two train stations, Bicester Town train station and Bicester North train station, which operate regular services to and from Oxford and London Marylebone train station. With Oxford only about 15min away and London around 45min away, you can travel with ease to many other parts of the UK. You can also travel to Birmingham in just over 1h by train, which makes Bicester a great all-round location to travel to and from.
Chiltern Railways to Bicester
Chiltern Railways is the main provider that operates trains to and from Bicester, making it an important company to travel with. If you are travelling from London then you will depart from London Marylebone train station, which is in the northwest of central London. Chiltern Railways operates a frequent and direct service to both Bicester North and Bicester Town stations from London, so you'll be at your destination before you know it. With some journeys taking as little as 42min, it won't take you long to complete your journey.
Chiltern Railways also operates a direct service from Oxford train station too, with trains tending to arrive into Bicester Town train station. Journeys on this route can be as fast as 14min, so you'll just about have time to drink your coffee before you arrive into Bicester. For those that are travelling from Birmingham, you can also take a journey with Chiltern Railways. The direct routes normally depart from Birmingham Snow Hill train station and arrive into Bicester North train station. This journey tends to take just over 1h, so you'll have time to sit back, relax and enjoy the journey. Whether you're travelling for work or leisure, Chiltern Railways provides a great timetable or you to choose from.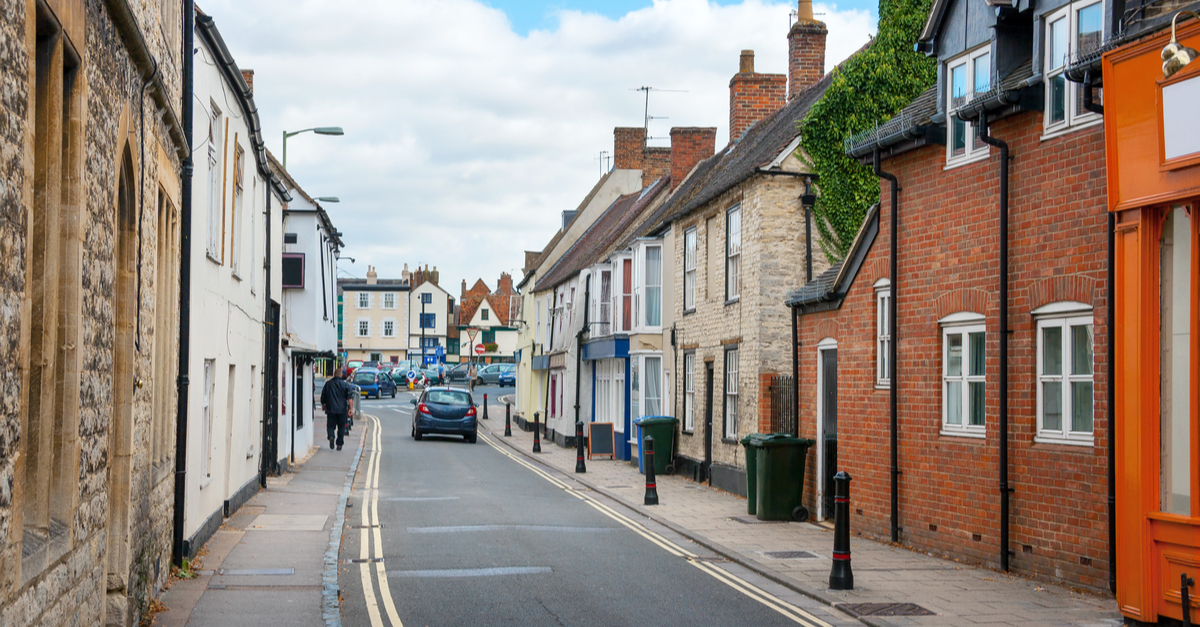 Bicester Village Street. Source: Shutterstock
Main train stations in Bicester
There are two main train station in Bicester, so before you book your ticket it's best to ensure you know which one you are arriving into. The two stations are Bicester North and Bicester Town, which operate trains to and from Birmingham, London and Oxford. The two train stations are only around a 20min walk apart from each other though, so they are easy to travel between. From Bicester North you can get to Bure Park Nature Reserve in about 15 walking.
Whereas from Bicester Town train station you can walk to Garth Park in about 8min. At Bicester North train station you can access a variety of facilities to make your onward journey more pleasant. There is Wi-Fi for the public to use, refreshment areas, toilets, baby changing facilities and waiting rooms. There is also a ramp for train access and also step-free access, which makes the station very accessible. At Bicester Town train station you can access a ticket machine and toilets at the station, whilst there are also staff on hand to help you should you be travelling with a disability. You can also access a food outlet, waiting room and Wi-Fi whilst you are at the station.
On board facilities Bicester
Travelling to and from Bicester on Chiltern Railways is a great experience, with the trains offering a range of facilities for you to enjoy. If you are travelling for work, then you can upgrade your seat to the Business Zone, which offers tables, wider seats and more legroom than standard seating. There is also wi-fi available on all the mainline trains that this company operates. If you want to take you pet on board you may do so, with there being a limit of two animals per person. These must be kept in a suitable pet carrier or on a lead at all times though.
You can take two large items on board the trains with you, but they can be no larger than 30cm x 70cm x 90cm each. You should also be able to lift this luggage yourself, unless you have a disability or are travelling with reduced mobility. If you require special assistance to board and alight the trains then you can call up the provider at least 48h before your trains departs and they will ensure someone is on hand to help. You can take a folded bike on all Chiltern Railway trains, but normal bikes can only be taken on during off-peak times.
Train tickets to Bicester: useful to know
When you get to Bicester train station it is easy for you to get your tickets for your journey. You can use your e-ticket, which will be in your Omio App, to get through the gates at the platform. Whilst mobile tickets are preferred as they are better for the environment, you can also print your tickets at the station too, should you want a physical copy. There are ticket machines at both Bicester North train station and Bicester Town train station, so you'll have your tickets in your hands before you know it.
You do not need to have ID with you when you travel on these journeys, but you will need to show your railcard if you used one to get a discount on your trip. For instance, a young person's railcard will need to be shown alongside your ticket if you claimed the reduced fare. You'll find it easy to buy tickets on the Omio website, with tickets being delivered directly to your account. They'll be stored safely until you're ready to use them. You can always contact our friendly customer support team if you have any questions about this.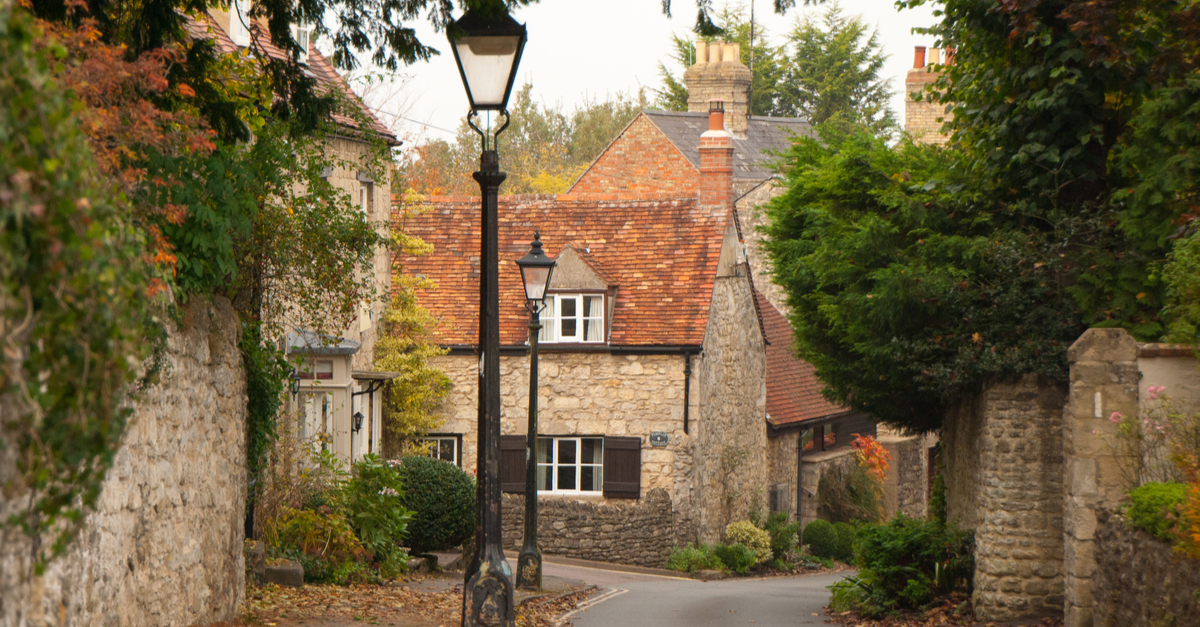 Bicester Village Old House. Source: Shutterstock
To Bicester by train—travel tips
Trains to Bicester are a great idea as the town is only a short trip from London, Oxford and Birmingham. It has a lot to offer visitors, especially if you want a relaxing weekend being at one with nature. Garth Park is one of the open spaces in the town where you can relax and take in some fresh air.
From here you can take the number 17 bus to Island Pond Wood, which is a wildlife area where you can take in the nature and local wildlife. You could also take the number 21 or E1 bus from Garth Park to Bure Park Nature Reserve, which is made up of broad leaf trees and grassy meadows. The River Bure also runs through this reserve, so you can enjoy a picnic amongst a scenic backdrop.
Bicester is a great place for those that want a break away from the big cities. With London, Oxford and Birmingham only a short journey away, it's easy to see why this market town is so popular with tourists. If you're visiting Bicester, you should get an itinerary in place so that you don't miss out on the top attractions. Begin you trip at Bicester Heritage, which is a historic military base with original buildings. Then take yourself to Bicester Village where you can enjoy boutique shops and quaint cafes.
For those that have an interest in architecture, St Edburg's Church is a must see, with a history dating back as far as 850AD. If you're travelling with kids, then you can take them to Rebound Revolution, where they'll have great fun burning some energy. After eating at one of the many great food establishments in the town, you can finish your trip with a visit to Bicester Bowl, where you can enjoy an evening with friends and family.