Flights to Perpignan
Nestled among the grasslands at the base of the French Pyrenees the prefecture of Perpignan is located in SW France a few miles from the Mediterranean Sea. The city or commune is the focal point of the larger geographical region known as Perpignan Mediterranean Metropolitan area which is in close proximity (about 25 miles or 40 km) from the border with its southern neighbour Spain. As with other cities in this region it enjoys an agreeable Mediterranean climate and is a popular tourist destination across Europe. For this reason most of the flights to Perpignan are seasonal in nature and Ryanair is one of the few airlines offering direct service from London Stansted Airport (STN) to Perpignan–Rivesaltes Airport also known as Perpignan Llabanère Airport (PGF).
Ryanair flights to Perpignan
If you wish to travel to Perpignan by flight, Ryanair offers summer service from London Stansted Airport direct to Perpignan Llabanère Airport from around the beginning of June until about the end of September. Despite the fact that Ryanair operates an air hub at London Stansted Airport these flights do not occur on a daily basis, so it may be necessary to travel to a nearby airport when/if such flights are fully booked or to make sure your travel schedule is not adversely affected.
In such cases, Ryanair also offers direct flights from London Stansted Airport to Beziers Cap d'Agde Airport (BZR) which is situated about 49 miles (79 km) north of Perpignan and also to Carcassonne Salvaza Airport (CCF) which is located about 45 miles (75 km) northwest of Perpignan. From either of these secondary airports you can purchase tickets on Omio for passage aboard a high speed TGV train (service via SNCF) destined for Gare de Perpignan, the main railway station in the city centre or hire car at either airport and drive to your destination.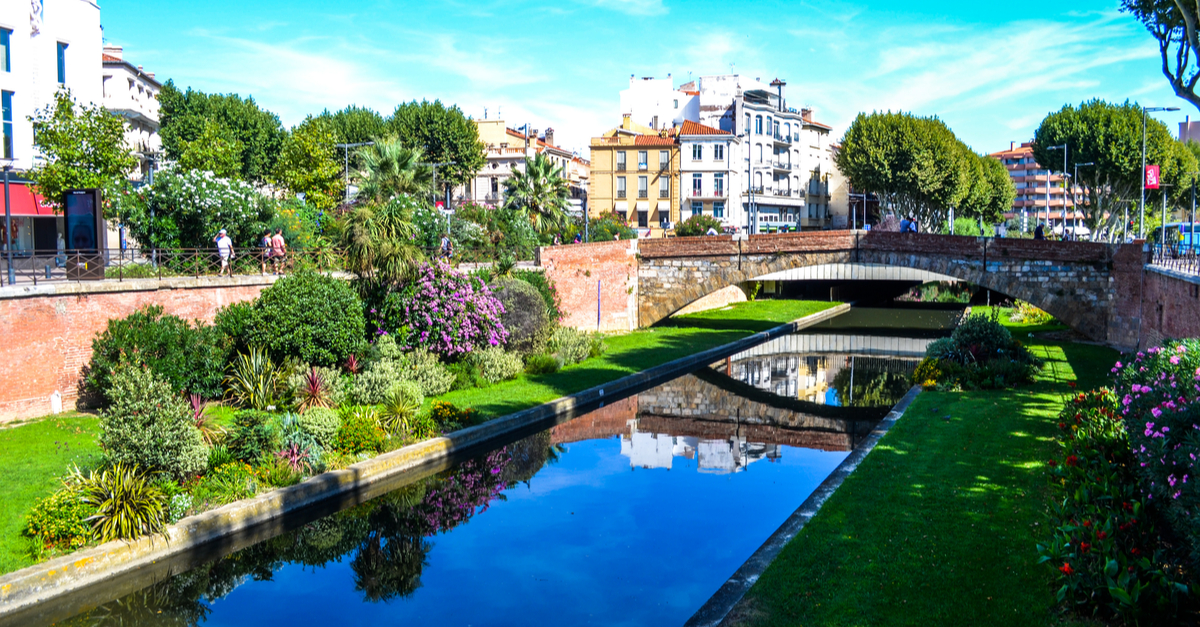 Paris Night Lights. Source: Shutterstock
Main flight stations in Perpignan
Perpignan Llabanère Airport is located between the French communes of Perpignan and Rivesaltes; about 4.5 miles (7.2 km) north of Perpignan city centre and is the only international airport in the city. It handles mostly seasonal air traffic owing to its geographical location along the coast of France as a favoured summer destination. A small airport, Perpignan Llabanère Airport consists of a single terminal building for both domestic and international flights.
When travelling by flight to Perpignan be aware that the size of the airport terminal limits its variety and number of facilities and services beyond the basics such as Wi-Fi, ATMs, ground transportation and refreshments. The airport's hours of operation are from Monday-Friday 5:30 a.m. to 10:30 p.m., Saturday 5:30 a.m. to 8:00 p.m. and Sunday from 09:00 a.m. to 10:30 p.m.
Onboard facilities: Perpignan
Ryanair flights from London to Perpignan offer the most basic of onboard facilities are you would expect from a low-budget air carrier which does not include pillows and blankets since most of their routes are of the short haul variety. However, Ryanair does provide its passengers with a choice of hot or cold beverages and sandwiches and is not picky if you decide to pack your own refreshments to consume during the flight.
There is also no in-flight entertainment on Ryanair flights so bring along a portable DVD player, MP3, tablet with headphones so you can enjoy your own entertainment without bothering your fellow passengers. For families travelling with infants, Ryanair provides in-flight nappy changing facilities and bottle warming service.
Flight tickets to Perpignan
Ryanair offer five classes of tickets to its customers: Value, Regular, Plus, FamilyPlus and FlexiPlus. These are graded respectively from basic to premium and carry their own terms and conditions with respect to changes or cancellations. If you've never flown with Ryanair before it is helpful to know that there is an in-person check-in fee at the airport, but you can avoid this charge by taking advantage of the airline's online check-in option which is valid from 60 days – 2 days prior to your scheduled departure.
E-ticket holders are still required to have a hardcopy of their boarding pass however if you book directly with Omio the digital version along with your valid ID or passport will suffice. Ryanair also has a strict policy regarding size and weight of onboard luggage so be careful not to exceed the required measures as outlined on your ticket at the time of purchase. Purchasing your flight tickets on Omio to Perpignan is fast and easy and you can store them in your Omio account until ready for use.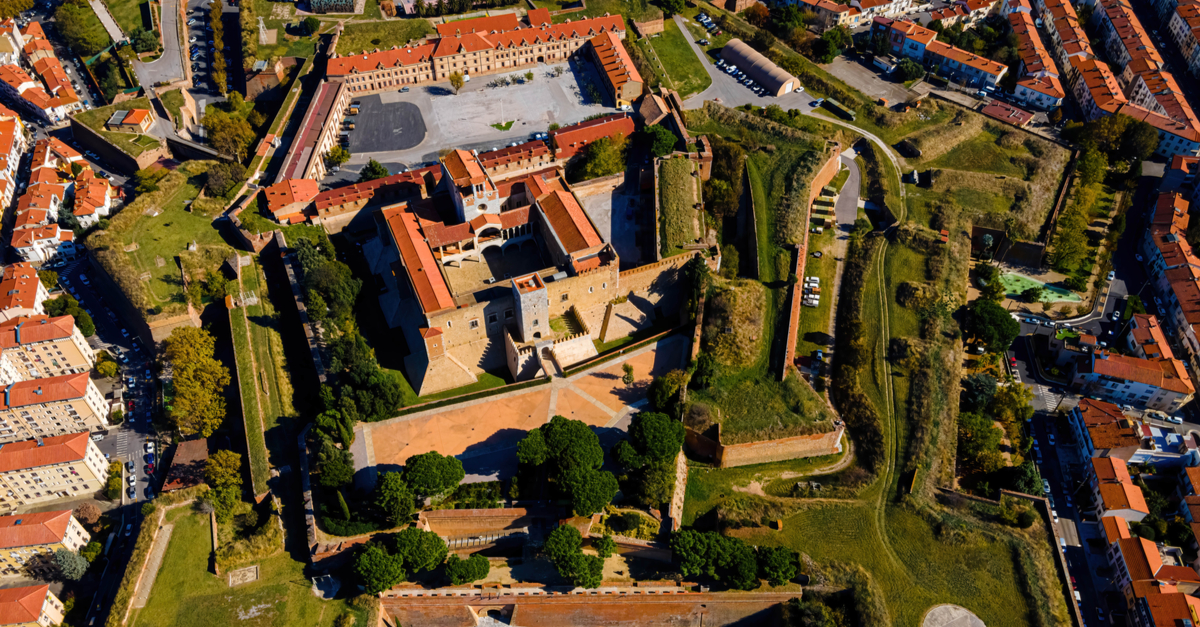 Parignan Aerial View. Source: Shutterstock
To Perpignan by flight: travel tips
Perpignan is famous for its blend of Spanish and French history and culture, many of which are on magnificent display within and around the downtown area. The city is also well regarded for its beaches which enjoy the warmth of the summer sun just a few miles from the city centre. There are many from which to choose including Argeles sur Mer with its stunning vistas of the Pyrenees and wide sandy beaches. St Cyprien Plage boasts miles of coastline which means you're likely to find a secluded spot away from the mass of holidaymakers while Le Franqui is the beach to be if you're a fan of water sports like windsurfing.
Perpignan is a very green city and there are many campgrounds and campsites such as Camping Hippocampe, Camping des Alberes and Camping Le Pinada where you and the family can spend a few nights under the stars. If you're considering moving around via public transportation, be aware there is an Airport Shuttle (Bus Line 7) you can use to connect to the city centre after your flight arrives and when you're ready to navigate the city's precincts, you can rely on Sankeo's network of public buses, trams and trains to freely move about in any direction.
For travellers looking to explore beyond the city limits there are high velocity trains operating from Gare de Perpignan to destinations such as Toulouse, Nimes, Marseilles and Lyon.
The city of Perpignan is one of the rare French regions that shares a common heritage with its Spanish neighbours to the south having once been incorporated under and later the capital of the Kingdom of Majorca. As such, much of its early culture was dominated by Spanish culture and customs with vestiges of these which remain to this day. The citadel of the Palace of the Kings of Majorca is perhaps the most prominent example of this sitting high on its ramparts above the city.
Other surviving landmarks from the 13th and 14th-century Spanish rule include Chateau Royal de Collioure, Perpignan Castillet and Palais des Rois de Majorque. More contemporary favourites such as the Musee d'Art Hyacinthe Rigaud with its Gothic and Baroque collections and the Gare de Perpignan which was designed in part by Salvador Dali should rate high on your list of sights to see.
A large part of this city is devoted to parks and La Miranda is one of its finest specimens where locals and tourists can enjoy bike rides and picnic among its natural splendour. To enjoy some authentic French cuisine, visit Creperie du Theatre, La Galinette or the vegetarian menu at Les Saisons for lunch or dinner and when you're hanging about late at night try the Latin American fare at Barraco Do Dende.