Flights to Albufiera
The city of Albufiera is one of the most popular tourist destinations in the Algarve region of southern Portugal and is perhaps best known for its splendid climate, beautiful beaches, and magnificent stretch of Atlantic Ocean coastline. You can get flights to Albufiera, but you'll have to land at Faro Airport (FAO) since the city does not have an international airport and make your way to Albufiera from there. Flights to Faro Airport depart mainly from London Stansted Airport (STN) and London Gatwick Airport (LGW), especially during the busy summer period from June to September when the low-cost airlines such as easyJet, Ryanair, and Vueling are most active. These flights are a mixture of direct and one-stop flights and include other UK cities beyond London such as Birmingham, Manchester, and Newcastle.
TAP Air Portugal to Albufiera
The Portuguese flag carrier operates air service several times a day from London Heathrow Airport (LHR) and these flights require a stopover and transfer at Lisbon Portela Airport (LIS) before continuing on to Faro Airport. TAP Air Portugal also offers flights from London Gatwick Airport but these involve two stopovers: once at Porto Airport (OPO) and again at Lisbon Portela Airport enroute to Faro Airport. Stopover times can vary from as few as 5h to as many as 35h including an overnight stay.
easyJet to Albufiera
easyJet operates direct flight service to Albufiera out of London Gatwick Airport at least twice daily and also provides multiple daily flights from London Luton Airport (LTN) destined for Faro Airport. easyJet uses both London Gatwick and London Luton airports as air hubs for flights to many European destinations. Flight time from both points of origin to point of destination is just under three hours.
Ryanair to Albufiera
You can also travel by flight to Albufiera using Ryanair which operates daily flight service from its hub of operations at London Stansted Airport to its hub of operations at Faro Airport. Typically these flights occur once in the early morning and also in the early afternoon hours on average. Ryanair generally offers the cheapest ticket prices on this route and their flight times of 2h 50min are among the fastest to Faro Airport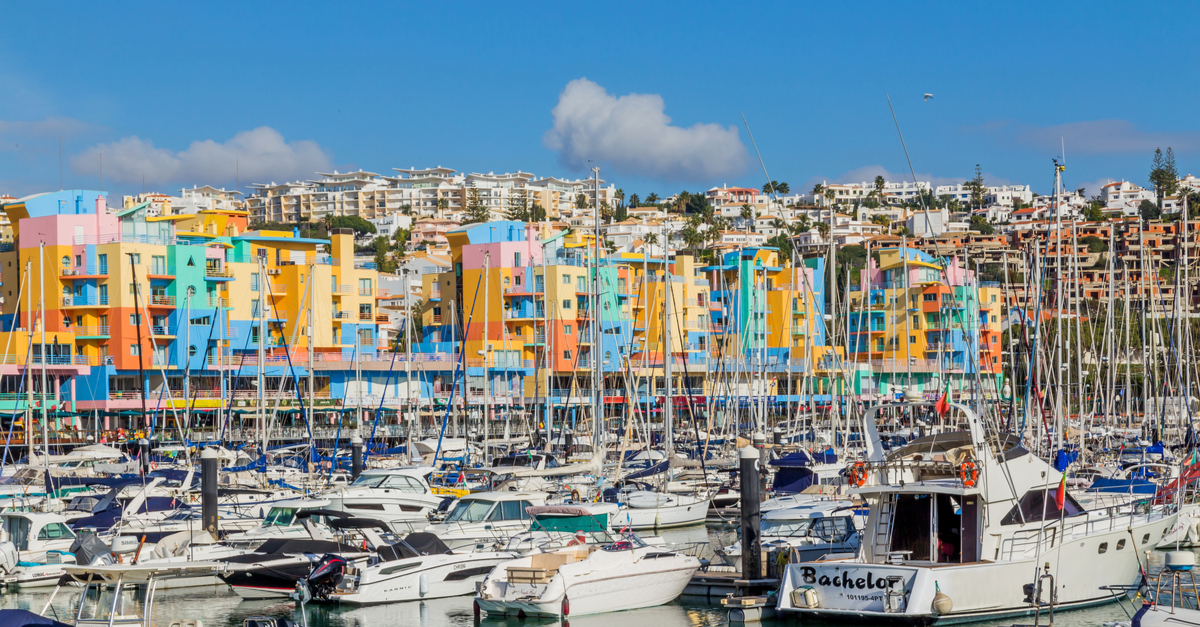 Albufeira Marina Pastel. Source: Shutterstock
Main flight stations in Albufiera
Faro Airport at a distance of about 28 miles (46.5 km) is the closest international airport to the city of Albufiera which means you will have to arrange your own travel to your destination once you arrive there. Faro Airport has a car hire centre if you choose to drive and there is a taxi rank if you prefer with fares ranging from about €45 (£40) and take about 45min to Albufiera. A cheaper option is the express bus from Faro Bus Station to Albufiera which costs about €5.50 (£5) per person. Faro Airport has a single terminal building but this is an extremely busy transit point particularly during summer months, so you can find a good range of facilities and services there such as WC, ATMs and foreign exchange offices, medical services, car hire centre, ground transport, shops and restaurants, a post office and an Information Desk.
Onboard facilities
TAP Air Portugal usually provides meals and refreshment including hot and cold beverages on its flights, but these may not all be available on short haul flights so it's not a bad idea to grab a sandwich and take it with you just in case. The same applies to in-flight entertainment so again you should bring along a tablet, MP3 player or other electronic device to keep yourself entertained, but use headphones so you don't bother other passengers. Pillows and blankets may not be available for short haul flights and if you're travelling with infants or small children enquire as to baby changing or bottle warming facilities when you book your flight. easyJet won't provide you with complimentary meals as part of their in-flight service but they do offer a bistro service where you can purchase food and beverages. Pack a sandwich and water or soft drink as a cheaper alternative since this is a short haul flight.
There is no in-flight entertainment either on easyJet flights to Albufiera but you are allowed the use of electronic media such as tablets, laptops and MP3 players as long as you use headphones in consideration of fellow passengers. Pillows and blankets may not be available and enquiries should be made if you are travelling with infants or small children regarding additional facilities and services. If you choose Ryanair for your flight to Albufiera you will enjoy a sandwich as well as your choice of hot or cold beverages on their flights and the airline encourages you to bring your own meal and beverage if you prefer which is ideal for vegans, vegetarians and others on restricted or special diets.
As there is no in-flight entertainment on Ryanair flights have you tablet, portable DVD player or laptop ready to pass the time but be sure to pack your headphones so you don't bother other passengers on the flight. Pillows and blankets may not be available on your flight and you should make enquiries into additional facilities or services when travelling with infants or small children.
Flight tickets to Albufiera: useful to know
TAP Air Portugal offers several fare classes for passengers on its flights: Discount (cheapest), Basic, Classic and Plus (great for family travel) are standard options while Executive and Top Executive fares are considered premium class which entitles them to extra benefits like improved seating, Fast Track, priority boarding and the use of the Executive Lounge. Terms and conditions for refunds, changes and cancellations vary among Standard fares so be sure you check them out prior to purchasing your tickets. TAP Air Portugal allows the use of e-tickets for boarding which should make getting onboard your flight a smoother experience, but be sure to have a valid passport and ID since you are travelling to a foreign destination.
On Omio buying flight tickets to Albufiera is fast and easy and you can store them in your Omio account until you're ready to fly. When flying easyJet to Albufiera you can select from among Standard, Flexi and Plus fares where Standard is the most basic option; Flexi allows for a single free change and in-flight bistro voucher while Plus fares enjoy choice seating, additional hand luggage and Fast Track services. First and Business Class options may be available on some short haul flights depending on type of aircraft and it's worth it to make a few enquiries before purchasing your tickets. Terms and conditions regarding refunds, changes and cancellations vary across ticket classes so be sure of your travel plans prior to booking. easyJet allows for boarding with electronic tickets which save you time just be sure to have your valid ID and passport among your belongings for international flights.
On Omio buying tickets to Albufiera is fast and easy and they can be stored in your Omio account. It's useful to know that there is a per person charge of £55 for in-person check-in at all UK airports when you fly Ryanair to Albufiera. These charges can be avoided if you avail yourself of the Advance online check-in feature which is available from 60 days to 2 days prior to your flight date. Ryanair offers five fare types on its flights ranging from Value (most basic) to FlexiPlus (most premium) and includes a FamilyPlus option which is great for families travelling to Albufiera on holiday. Plus ticket holders enjoy free check-in and security Fast Track privileges over Standard fare types.
Terms and conditions regarding cancellations, changes and refunds vary across fare classes and many are actually non-refundable so be sure of your travel plans at the time of booking. Ryanair also allows for boarding with e-tickets as a hassle-free service to its passengers so all you need is your confirmation receipt/number and a valid ID or passport to travel. When you buy your tickets to Albufiera on Omio it's fast and easy and you can always store them in your Omio account.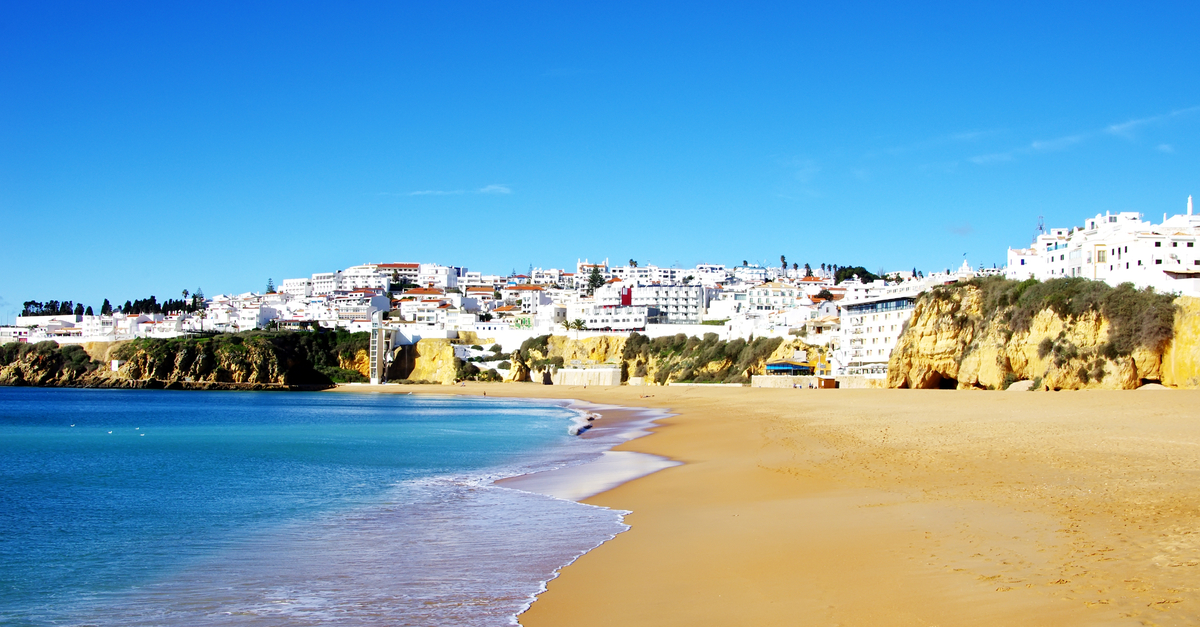 Albuferia Beach. Source: Shutterstock
To Albufiera by flight: travel tips
If you've never stepped foot on beaches with wide swathes of red/gold sand, this alone is reason enough to visit the city of Albufiera. Praia dos Pescadores, Praia da Falesia and Praia da Oura are excellent examples you can explore to enjoy a sea bath or spend a few hours soaking up the sun. The city also offers much more including historic monuments and buildings like the Cathedral of Silves with its gothic architecture and the ruins of the 12th century Paderne Castle which should not be missed.
The Old Town is a charming mix of ancient and modern structures such as the Marina de Albufiera and Igreja de Sao Sebastiao for fun-filled explorations with the family while the New Town or The Strip is a haven for nightlife with its open air clubs and bars. Getting around Albufiera by public transport isn't the easiest but it's still possible.
There's a local bus network known locally as the Giro which is the cheaper option compared to the more expensive taxis. Sightseeing bus tours are an option to discover local attractions and you can find a few local buses but these are limited in scope and frequency.
Albufiera can basically be broken down into two sections: the Old Town which is the more family-friendly portion of the city and The Strip or New Town which is party central for the young and adventurous with its numerous open air bars, pubs and clubs which can go on until the early morning hours. Regardless of your age, all can enjoy the many spectacular beaches the city has to offer (see above section for a few examples).
Off the beaten track you can visit Luso Aventura for a day of fun and activities suitable for the entire family or enjoy the thrills, spills and excitement of karting at Hot Wheels Raceway which is situated in the lower levels of the Marina complex. With several hundred eateries from which to choose you are literally spoilt for choice when it comes to places to replenish your energy reserves.
Most dishes are based around rice and seafood since this is a coastal city but you can find vegetarian and vegan dishes at a few of them if you prefer. O Marinheiro offers authentic Portuguese and vegetarian fare amid a relaxed atmosphere and The Palacete is a favourite among visiting families while Alquimia is recommended for a fine dining experience.