Buses from Worthing to Brighton
On weekdays there are up to six buses per hour running along the coast from Worthing to Brighton between about 5:00 a.m. and 6:00 p.m. The service is less frequent on Sundays and in the evenings but even so, you will not wait for more than about half an hour for your bus if you want to get from Worthing to Brighton, always providing that you don't miss the last bus, which leaves at about 11:00 p.m.
Worthing to Brighton bus times: Daily Departures
There are buses leaving Worthing to go to Brighton approximately every 10min between about 5:00 a.m. and 6:00 p.m. on weekdays. On Sundays the buses start a bit later in the morning and there are only two or three services per hour. Buses are certainly less frequent in the evenings than during the day but there are still two services an hour and they run until about 11:00 p.m. meaning you should be able to reach Brighton before midnight.
How long does the journey by bus from Worthing to Brighton take?
Getting from Worthing to Brighton by bus on the Stagecoach route does not involve any changes – it is a direct route through the smaller coastal towns between Worthing and Brighton such as Lancing, Shoreham and so on. There is often a lot of traffic, especially during the summer, and there are many stops along the way so it is not possible to guarantee a journey time, but it should not take more than an hour to cover the 11 miles (18 km) between the two towns, and often considerably less. In fact the journey between Worthing and Brighton almost always takes less than an hour, and ideally as little as 37min in the evenings if the roads are not too busy.
What are the departure and arrival stations for buses from Worthing to Brighton?
Departure bus station: There is no central bus station in Worthing so catch your bus to Brighton from stop G outside 'The Dome' on Marine Parade, just along from the famous pier, on the other side of the road, on the corner of Marine Parade and Library Place. This bus stop is right in the centre of town, on the sea front. There are plenty of little shops and cafés nearby if you want to grab a snack for the journey or a coffee to drink while you wait and of course if you have time, you could pay the Vintage Tearooms in The Dome for a taste of Worthing's former Edwardian glory days.
Arrival bus station: Stagecoach buses from Worthing stop in Clarence Square right in the centre of Brighton and just a couple of blocks from beach. No matter whereabouts in the centre of Brighton you want to be, you will find it in walking distance of the Clarence Square bus stop. Head off down Canon Place leading from Clarence Square and then straight down to the pebbly beach, the salty sea air and the bright blue English Channel – Brighton at its best. Clarence Square itself is a good location for visitors looking for low-cost accommodation in Brighton before resuming their journeys along the South coast.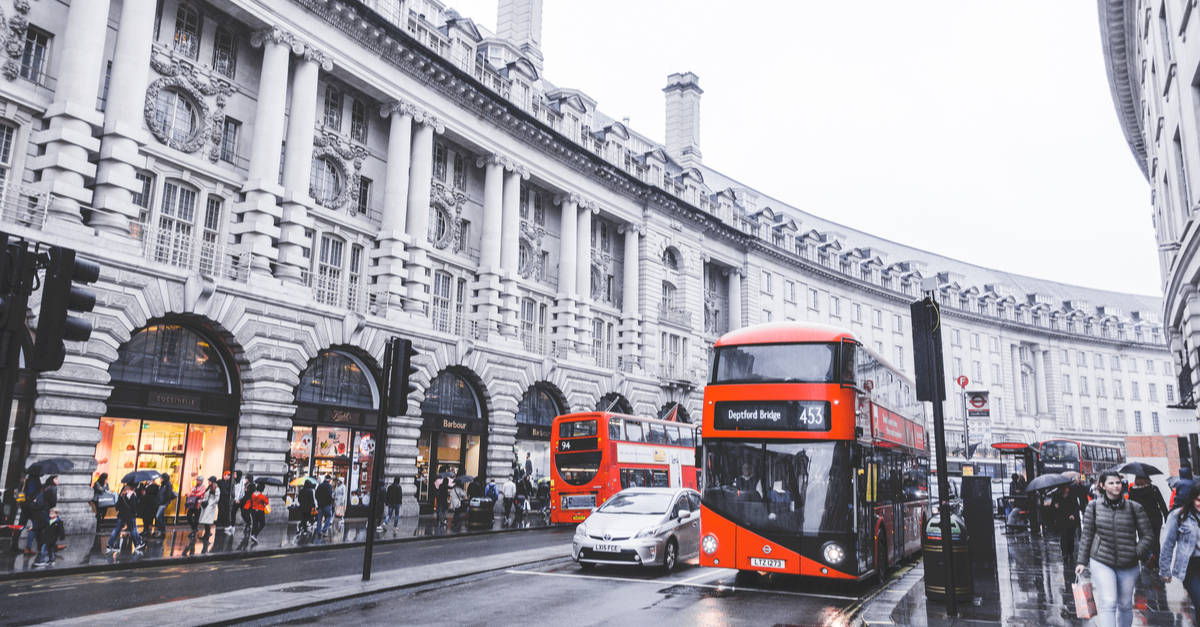 Bus Traffic Brighton. Source: Shutterstock
Which bus companies travel from Worthing to Brighton?
Stagecoach and National Express travel between Worthing and Brighton but only Stagecoach operates a bus route between the two towns. The National Express coach picks up passengers in Worthing and again in Brighton on its way to London but it is a long distance service to London, not a local bus.
Stagecoach buses from Worthing to Brighton
Stagecoach runs its Coastliner 700 service from Wick to Brighton via Littlehampton and Worthing. The buses stop at stop G on Marine Parade in Worthing approximately every 10min starting at around 5.00 a.m. in the morning on weekdays. The buses are double-deckers – try to grab the front seat on the top deck if you want the best seat in the house for enjoying the beautiful Sussex countryside. The route takes you through East Worthing, South Lancing, Shoreham-by-Sea, Southwick, Fishersgate, Portslade-by-Sea and Hove, with several stops at each one.
National Express buses from Worthing to Brighton
National Express does not run a direct service specifically between Worthing and Brighton but it does offer a route to London Victoria Coach Station that leaves Stop G on Marine Parade in Worthing and passes through Brighton with a stop of a few minutes in Pool Valley Coach Station in Brighton. You can double-check availability of tickets for just the Worthing to Brighton leg of this service instead of paying for the entire journey to London if you prefer National Express to Stagecoach. The National Express coach leaves Marine Parade in Worthing twice a day (at around 6.45 a.m. and 8.45 a.m. each day) and arrives in Brighton 30min later.
Buses from Worthing to Brighton: Services on Board
As you would expect on a bus service, there are no first or second class tickets. The Stagecoach buses are double-deckers so there is some luggage storage space inside the bus but no dedicated trunk for large items. You can take your dog on the bus (on a lead, of course) but any other pets such as cats, small mammals etc. must be in a pet carrier. Folding bikes can be accommodated on board but there is no space for regular bikes on this route. By law, bus companies must make reasonable efforts to allow disabled people to travel so of course there should be ramps and the driver should be able to assist passengers who need assistance.
Nevertheless, it is advisable to phone your local Stagecoach office to confirm exactly what assistance they can provide. There is space for wheelchairs and buggies (pushchairs) but don't forget that wheelchairs have priority in all circumstances so be prepared to fold your pushchair, put it in the luggage space and hold your baby on your lap if someone needs the space for their wheelchair.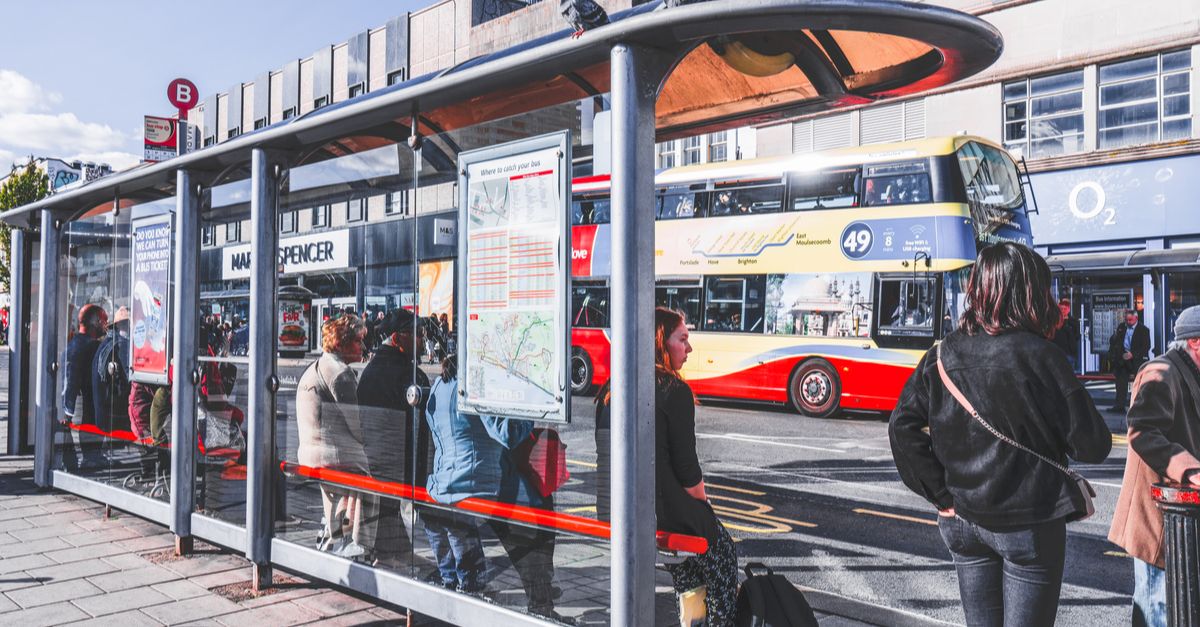 Bus Station Brighton. Source: Shutterstock
How to find cheap bus tickets from Worthing to Brighton?
Tickets for this roughly eleven mile journey are not expensive but there may be cheap bus tickets available by booking in advance through Omio or by being flexible on dates and times of travel. It is always worth checking out how coach travelcards work and the reductions they may provide for eligible passengers on this route.
To Brighton by bus—travel tips
People have been flocking to Brighton for over two hundred years and for many it is the ultimate British seaside destination. It used to be called Dr Brighton by Londoners seeking its sea air as a respite from the smog and pollution of London and many visitors still swear by the health-giving properties of fresh air and sea bathing. Then there are all the attractions of the classic seaside pier which even houses a small fairground as well as the usual gaming arcades and ice cream stands. Brighton is also home to a huge community of people interested in alternative lifestyles. It elected Britain's first Green MP and has the highest percentage of vegans in the country!
Don't forget to visit all the fascinating little independent shops in The Lanes, and to sample the myriad of coffee shops and restaurants, or even treat yourself to fish and chips on the beach – but watch out for the 'friendly' sea gulls. After lunch, take a look at Brighton Pavilion, a royal folly of a building right in the centre of the town. Look out for articles on Brighton and many other interesting destinations on our in-house magazine Window Seat.