Coaches to Walthamstow
Those looking to visit Walthamstow won't be left disappointed with their wide variety of offerings available to the public. With cafes, restaurants, bars and bars that align with the high street, you'll be left with far from little choice on how to spend your time. You'll commonly find that coaches to Walthamstow won't reach the main coach station of Walthamstow.
Due to Walthamstow's close proximity to the major station that is London Stratford City Bus Station, you will commonly find that your coaches will reach here. The journey from the bus and coach station at Stratford is only at a short distance for those who were hoping to reach Walthamstow.
National Express to Walthamstow
Choosing to coach with National Express to Walthamstow is a great choice of travel. They pride themselves on their great service to passengers, onboard and offboard the coach. National Express are one of the leading coach companies in the UK and you're guaranteed to have a faultless trip if you choose to travel with National Express.
They have eco-friendly coaches and also pride themselves on their part of helping the environment with being the most sustainable intercity network in the whole of the UK. With eco-friendly and punctual travel, they really are one of the perfect forms of travel. The reliable transport also offers a large variety of onboard facilities to its guests, as the use of unlimited and free Wi-Fi, and extra-legroom to accommodate comfortable seating.
FlixBus to Walthamstow
FlixBus are a great option for travel if you're looking for cheap fares at budget-friendly prices. Along with National Express, they are also one of the UK's leading coach companies. FlixBus pride themselves on their eco-friendly buses and their environmentally friendly travel. Along with their efficient coaches and excellent carbon footprint, they promise punctuality in their arrival of coaches and the promise of a faultless trip, no matter if your trip is long or small. Passengers can also benefit from their great range of onboard facilities. Those who are wanting to travel with FlixBus will find that within their low-cost bus far, they will also have access to the coaches 4G and unlimited Wi-Fi seating, comfortable seating, and much more.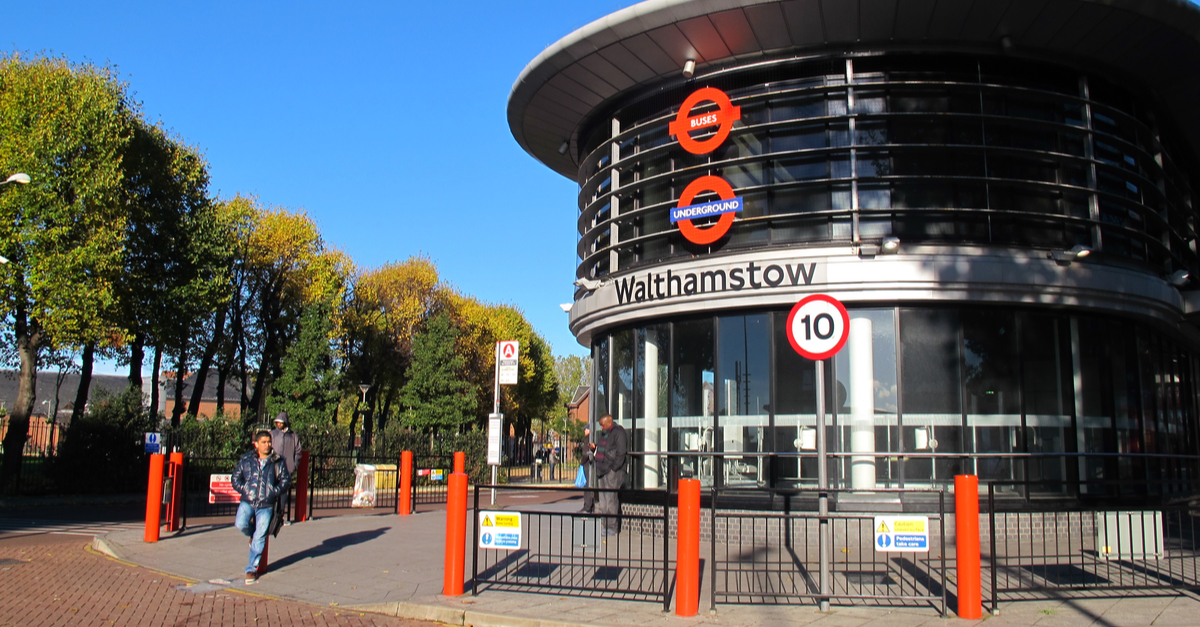 Walthamstow Underground Station. Source: Shutterstock
Main bus stations in Walthamstow
Those who are looking to travel to Walthamstow will commonly find that any form of coach transport will not actually reach the direct centre of Walthamstow. Instead, passengers will find that their coach will reach the nearby and major station that is London Stratford City Bus Station. This bus station is located extremely close to the centre of Walthamstow and can be easily accessed with a short commute.
In fact, there is actually a bus that runs directly from Stratford City Bus Station to Forest Road Bell Corner, which is only a 1min walk from Walthamstow centre. Bus 97 is the ideal form of choice and is a relatively short journey. Alternatively, if you were looking to drive or catch a taxi then a journey will take approximately 17min.
Onboard facilities to Walthamstow
Coaches to Walthamstow will most likely offer a similar offering to their onboard facilities. Onboard facilities will normally differ on the company that you're travelling with so it's best to travel with your travel provider beforehand! Facilities available from coach companies that travel to Walthamstow, like National Express and FlixBus, are similar in offerings to their passengers.
Those looking to travel with National Express will find fares at a cheap cost, free and unlimited Wi-Fi, charging points for all of your electronic devices, as well as the extra legroom, to accommodate your comfy seating. Those looking to travel with FlixBus will find a guarantee of budget-friendly fares, as well as similar offers to National Express. You'll have free Wi-Fi ass, extra legroom, power sockets for your electronic devices, as well as available snacks and beverages at a low cost.
Bus tickets to Walthamstow: Useful to know
Coaches to Walthamstow will commonly find transport from companies like National Express and FlixBus. They're part of the leading companies in the UK for coaching and offer great service and a lot of useful onboard facilities. When you're at the point of presenting your ticket, those travelling with National Express can benefit from the paperless e-ticket that can simply be shown on an electronic device of your choosing. Choosing to purchase through Omio is quick and simple.
You have the ability to store all of your e-tickets on your Omio account to keep them organised. If you're travelling with FlixBus then you'll need to make sure you have a printed and physical ticket to be allowed access onto the train. In addition to tickets, passengers who are travelling with National Express will need to show a legitimate form of identification that matches the name on their e-ticket in order to be granted access onto the train. Alternatively, those who are planning to travel with FlixBus will not need to provide identification. A ticket will do just fine.
Wathamstow St.Peter. Source: Shutterstock
To Walthamstow by bus – travel tips
Walthamstow is an exciting place to visit and is accommodating to all kinds of guests. You'll be spoilt with choice in how to spend your time and will find that you have so much stuff to visit and do. Passengers who are arriving at Walthamstow by coach will find that most commonly their transport will reach London Stratford City Bus Station, rather than the centre of Walthamstow itself. But you need to make use of Stratford whilst you're there!
Take use of London Westfield where you can shop to your heart's content and enjoy direct links into the city of London. Alternatively, when you reach Walthamstow itself, attractions like William Morris Gallery are a must for its visitors. This art gallery is a huge attraction to those in Walthamstow and is intriguing to tourists, visitors, and residents alike.
Or perhaps you want to spend your time appreciating the bars, pubs, and clubs that come with the buzzy nightlife of Walthamstow. God's Own Junkyard is an attraction that's liked among many and will find people travelling from short and fall to enjoy the alcoholic beverages and fun available.
If you're looking to visit Walthamstow, then you'll be spoilt with choice on how to spend your time. That's sightseeing activities that are available to appreciate the offerings around Walthamstow, for instance, maybe you want to visit the galleries and parks that are accommodating to all guests.
Or perhaps, you want to discover the wide range of restaurants, cafes, pubs, bars, and nightclubs that align the streets of Walthamstow and provide a great atmosphere with lots to enjoy. With their large range of museums available, like the Vestry House Museum and Walthamstow Pumphouse Museum, there are lots that are waiting to be explored by you.
Alternatively, if you're wanting to travel with children then they'll find hours of fun in the themed golf course, also known as Jurassic Falls Adventure Golf. There are lots of activities that are available to women, men, and children alike, and with close connections to the city of London, you'll find time running away with you as there's simply so much to explore. No matter how you choose to spend your time in Walthamstow, you'll be planning your trip back already!