Coaches to Skipton
Skipton is an ideal choice of location for anyone, and you will find that the small market town is accommodating to all, no matter who you're choosing to travel with, and no matter the occasion. You will find that most coaches that choose to travel to Skipton will be from major cities, towns, or airport across the UK. You might find it quite common that you will have to transfer coach during your trip but don't worry, with Omio's easy storage of tickets, changing trains have never been more efficient and easier. Those looking to travel to Skipton will most likely find transfers from locations like London Finchley Road Station.
National Express to Skipton
Coaches to Skipton with National Express is a great choice. This coaching company is extremely popular and you will them running from most major cities, towns, and airports in the UK. National Express are of the leading coach companies in the whole of the UK and pride themselves on their unbeatable service and quality that can be found offboard and onboard your coach trip.
Not only does the coach offer good service but it also provides fares at low costs. National Express pride themselves on their help to saving the environment with their great eco-footprint. National Express are the most sustainable intercity network in the whole of the UK. Along with all of these added benefits of travelling with National Express, they promise efficient, reliable, and punctual travel. National Express also offer a great amount of onboard facilities that passengers can enjoy, included in the price of their coach tickets. Facilities include free and unlimited Wi-Fi, extra legroom to accommodate its comfy seating, among much more!
MegaBus to Skipton
Coaches to Skipton with MegaBus have the promise of good service and budget-friendly fares with their low costs. MegaBus are one of the major leading coach companies in the UK and serve most major towns, cities and airport in not only the UK but also in Europe. Expect faultless service with MegaBus offboard and onboard your coach trip. At the price of an affordable ticket, you will also have access to a large number of facilities that are free of charge to passengers.
If you noticed the fascinating and intriguing sights in the duration of your trip to Skipton and are aching to seek more then you should consider a sightseeing trip. Why don't you consider a MegaBus exclusive sightseeing trip, also known as 'MegaBus Sightseeing Trips.' You simply just have to look out for the big buses that can be found at most major points in the UK. Along with their coach travel, they promise budget-friendly fares and are accessible to all kinds of passengers. The trip is enjoyable to men, women, and children alike, are provide endless fun and enjoyment.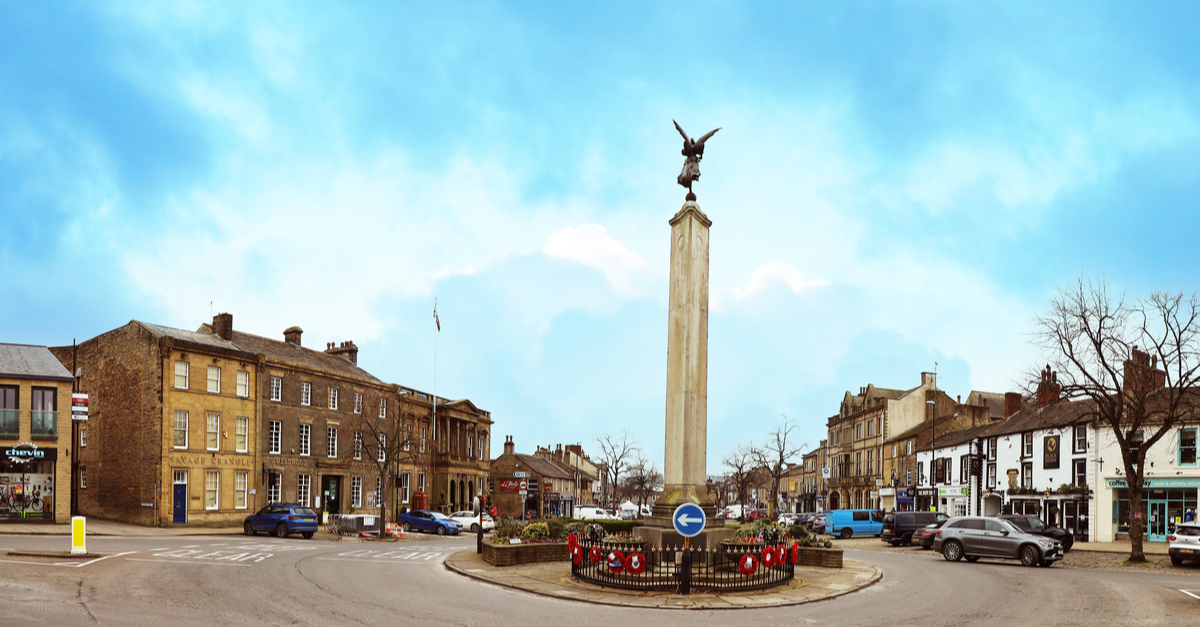 Skipton War Memorial. Source: Shutterstock
Main bus stations in Skipton
Those who are travelling to Skipton will find that they will most likely be receiving transport from major coach companies like National Express and MegaBus. Skipton is relatively small. Most major coach companies will choose to depart at Skipton Coach and Bus Station. The station is relatively small and is equipped with a limited number of bays.
Those wishing to travel to Skipton will most likely find that the coach station only sees coaches from most major cities, towns, or airports across the UK and offers a limited service. If you're looking at travelling to Skipton from the South, you will commonly find that you will be transferring trains at locations like London Finchley Road Station. Before you're due to travel, make sure to check if you're at the possibility of any transfers to make your coach trip to Skipton easy and stress-free.
Onboard facilities to Skipton
Those travelling to Skipton via coach will most likely find that coach companies offer similar onboard facilities to their passengers. Each company differs in their offering of facilities but they're all convenient and perfect addition to your trip to Skipton, no matter if the journey is long or short. Those travelling with National Express can expect the guarantee of faultless service from staff and that's included onboard and offboard the coach.
When you're on board, expect to benefit from free and unlimited Wi-Fi, a large number of power sockets to charge all of your electronic devices, as well as extra legroom to accommodate the comfy seating that you'll find yourself on. MegaBus offer similar facilities with their coaching trip. Guests can benefit from plug sockets to charge their electronic devices, the use of free Wi-Fi, comfortable seating, as well as the allowance of 44 pounds (20 kg) of baggage allowance to allow flexibility with all of your transportation goods.
Bus tickets to Skipton: Useful to know
Coaches to Skipton will usually be from companies like National Express and FlixBus. They are two of the largest and leading coach companies in the UK, priding themselves on good service and efficient travel around most major places in the UK. If you're planning on travelling with National Express, then you can benefit from their paperless feature of e-tickets that can be shown on any electronic device of your choosing. This efficient form of ticket usage is made easier if you buy through Omio.
Ticket purchase through Omio is quick and easy and allows you to filter and organise your e-tickets in your Omio account. MegaBus also use of e-tickets. When planning to travel with either of these two companies then make sure to bring a legitimate form of identification that matches the name on your coach ticket. Identification can range from anything like a full driving licence, provisional licence, passport, or even bank card. Not show identifications along with your coach ticket could mean the possibility of being refused access to the coach.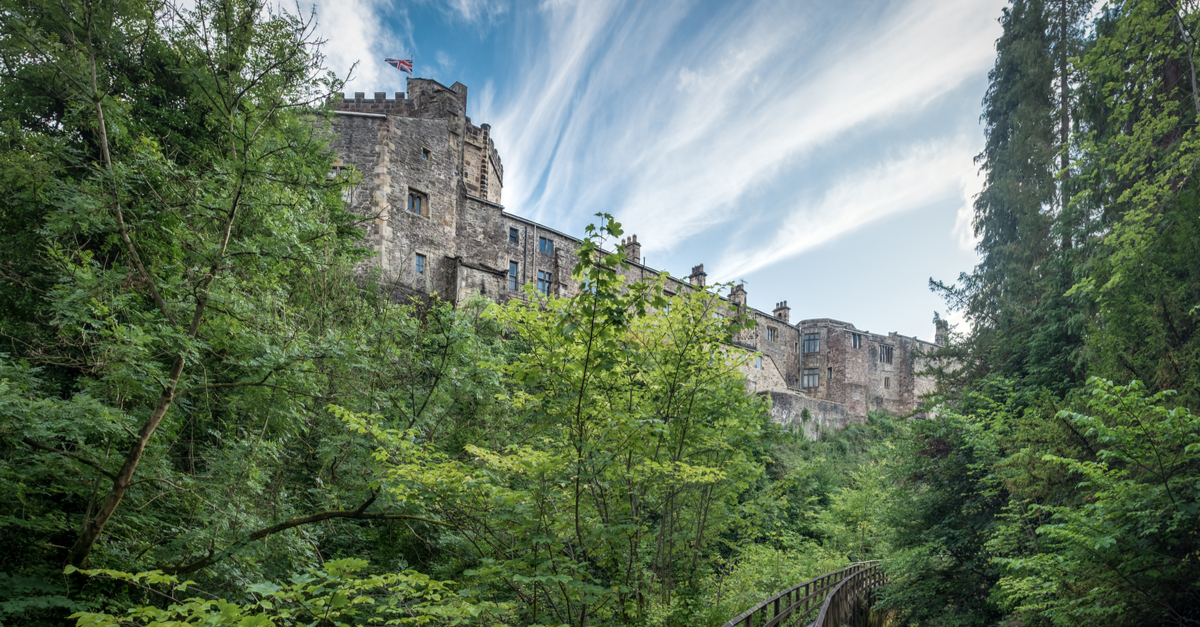 Skipton Castle Woods Doulton. Source: Shutterstock
To Skipton by bus – travel tips
There are many reasons that will want to attract you to the town of Skipton. If you're hoping to dive into the town's history and want to appreciate the landmarks that are available, then why don't you consider appreciating and visiting sights like Skipton Castle and Bolton Priory. Both attractions are highly adored by tourists, visitors, and residents alike.
These attractions are just one of the reasons that make Skipton into the beautiful and quiet town it is. Alternatively, if you're looking at appreciating some great artworks then why don't you visit the Craven Museum & Gallery. This quiet little town is most commonly explored by foot.
The small market town of Skipton is a great choice of travel and those who are looking to visit will not be left on offer. When visiting Skipton, it's nothing but essential to appreciate the cute cafes, restaurants, and bars that align with the quiet high street. Simply sit at a café window and people watch to enjoy this beautiful town.
Alternatively, you might not want to sit around over a warm cup of hot chocolate. Instead, you might want to get exploring and seek all of Skipton that's waiting to be discovered. There is a lot of architecture that deserves appreciation, as well as famous landmarks that provide an interesting story and insight into the town's history. Discover the history that lies behind these ruins with a quick visit. Intriguing and fun for women, children, and adults alike, you're bound to want to return to the little town that is Skipton.