Buses from Nice to Monaco
You can travel by bus from Nice to Monaco with ease, with there being a regular bus service between these two locations in France. With there being about 57 buses during the week, depending on which day of the week you travel, there is a great range of options for you to choose from. The bus journey tends to take approximately 37min too, so you'll be in Monaco before you know it. With the added benefit that all the routes between these two cities being direct, you can just sit back, relax and enjoy the journey.
Nice to Monaco Bus Time: Daily Departures
There is a frequent bus service from Nice to Monaco, so you should be able to find a bus that fits your schedule. On weekdays, the first bus tends to depart at about 5:35 a.m., with the last departure of the day being at around 8:30 p.m. On Saturdays, the buses run for a bit longer, with the first departure being at approximately 1:14 a.m. and the last one being about 10:14 p.m. On Sundays the first bus leaves Nice for Monaco at around 6:00 a.m., with the last departure of the days being at about 9:00 p.m. With there being around 57 buses leaving daily between Mondays and Saturdays, and about 43 on Sundays, there are plenty of departures to choose from.
How long is the journey by bus from Nice to Monaco?
The journey from Nice to Monaco is fast and efficient, so it won't be long before you're at your destination. The average bus time tends to take approximately 37min, so you'll be in Monaco before you know it. As there is only one provider that operates this journey, the journey time doesn't really tend to vary.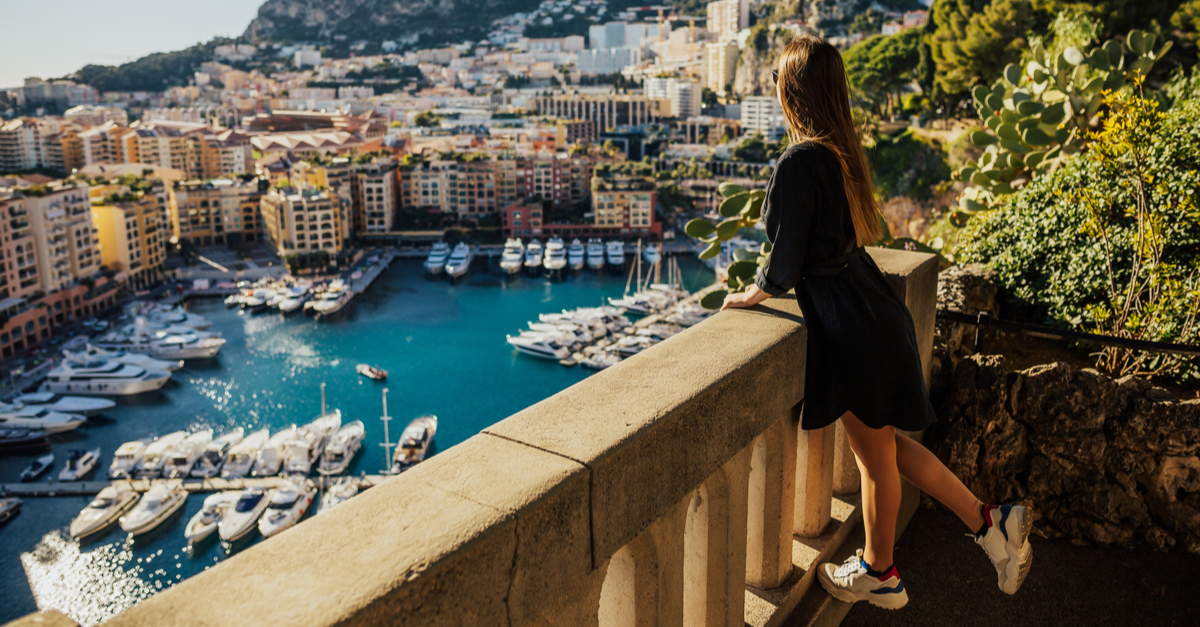 Monaco Cityscape Tourist. Source: Shutterstock
What are the departure and arrival stations for buses from Nice to Monaco?
Departure bus station: All buses depart from Le Port in Nice, which is located close to the centre of the city. For instance, you can walk to the bus station from the Modern and Contemporary Art Museum in around 8min. Whilst there are no facilities per se at this bus stop, you will be surrounded by food and drink outlets. You can also purchase your ticket on board, so a ticket machine isn't necessary.
Arrival bus station: All buses arrive into Place d'Armes bus station in Monaco, which is also well located in the city. You can walk to the Musee Oceanographique de Monaco in about 12min upon arrival. Similarly, whilst there are not facilities as such when you arrive, it won't take you long to find restaurants, refreshment stalls and gift shops.
Which bus companies travel from Nice to Monaco?
There is only one bus company that travels from Nice to Monaco, which makes it easy to find tickets for this trip. The company that operates this routes is Zou! Alpes-Maritimes, which tends to operate up to 57 buses most days of the week. Considered one of the most scenic bus journeys in Europe, you can enjoy views of the Mediterranean sea and whilst you meander along the rugged coastline between these two French cities. With all the buses operating a direct service, you won't have to worry about changing during your journey. The average journey time for this route is about 37min too, so you'll be at your destination before you know it.
Zou! Alpes-Maritimes buses from Nice to Monaco
Zou! Alpes-Maritimes Nice to Monaco buses is a very reliable way to travel between these two popular tourist cities, with there being up to 57 departures on a daily basis. The bus number for this route is the same for every journey, with it being bus number 100. On Mondays to Fridays, you can normally catch around 57 buses each day. Whilst on the weekend, there tends to be about 56 buses leaving Nice on a Saturday and around 43 on a Sunday. The first departure during weekdays it at about 5:35 a.m., which makes this a great option for both business and leisure.
On Saturdays the first departure time is often at about 1:14 p.m., whilst on Sundays you can normally leave as early as 6:00 a.m. The final bus that departs from Nice to Monaco is about 8:30 p.m. on weekdays, with it being slightly later during the weekends. On Saturdays, buses run until about 10:14 p.m., whilst on Sundays these run until approximately 9:00 p.m. All the buses that operate form this provider tend to take the same time too, which is around 37min, so it won't be long before you're enjoying the sights of Monaco. With a direct service being offered throughout, you will be able to enjoy a seamless journey between these two stunning location in the south of France.
Bus Nice to Monaco: Services on board
Zou! Alpes-Maritimes provides a great experience for passengers who are travelling between these two locations. There are no First Class tickets available on these buses, but all seating is comfortable nonetheless. Most of the buses that complete this journey are suitable for people travelling in a wheelchair or with reduced mobility. This will be indicated with a pictogram of a wheelchair on the bus door. You will also be given visual and audio announcements on board the bus which will provide you with additional information.
In general, you should only take on board no more than one personal item and one large suitcase which weighs no more than 44 lbs (20 kg). You are able to transport your bike on many Zou! Alpes-Maritimes buses, providing there is enough space for you to do so. In general pets can also be taken on the buses as well, providing there is space and that they are on a lead or in a suitable pet carrier.
How to find cheap bus tickets from Nice to Monaco?
It is easy to get cheap tickets from Nice to Monaco, with there being a few ways to ensure you get a great deal. One of the best ways to get a reduced cost fare is to book your bus ticket as far in advance as possible. Bus tickets tend to go on sale a few months before they depart, so the earlier you find your fare the lower it is likely to be. It also helps if you are flexible with your journey. For example, if you can travel a few hours either side of your preferred travel time, then you might find that tickets are cheaper.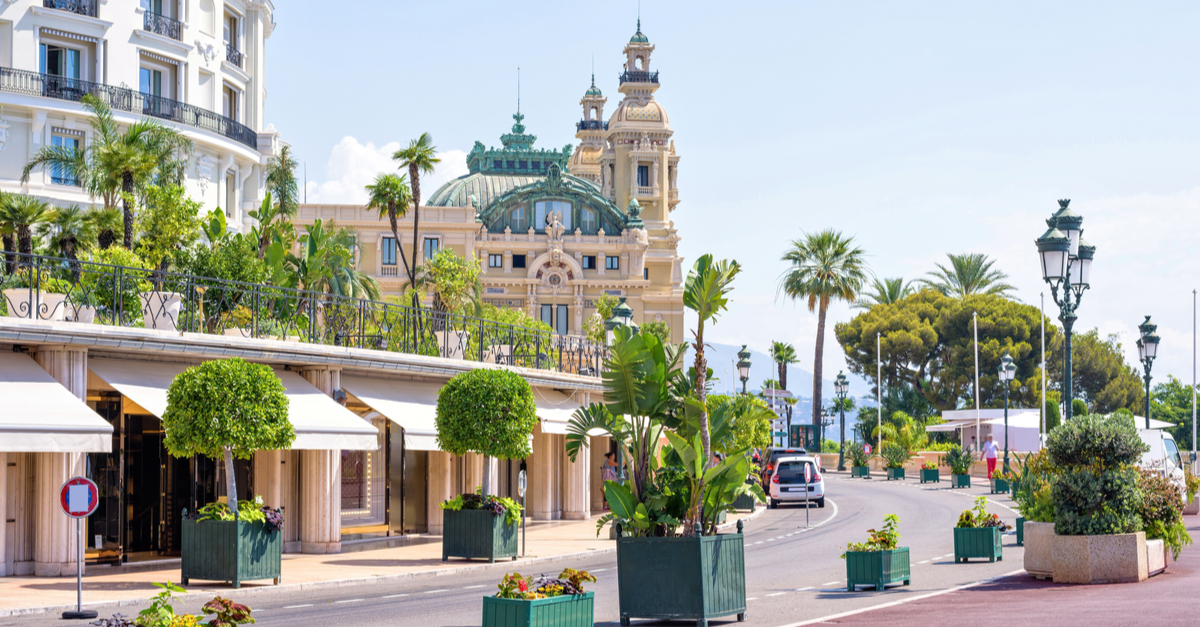 Monaco Street Race City. Source: Shutterstock
To Monaco by bus – travel tips
Monaco is a great city to visit, with there being many top attractions which are worth visiting. The Oceanographic Museum is one of the first place you should head to, which has a range of exhibits and displays on offer that are suitable for the whole family. Then take a look at one of the most famous historical landmarks in the city, Prince's Palace. Built in the 12th century as a fortress, it's stood the test of time well.
Next up head over to the Cathedrale Notre Dame Immaculee, which is a beautiful church that has some impressive stained glass windows. A tip to Monaco goes hand-in-hand with a visit to the casino, so why not try your luck at Casino of Monte Carlo, which is one of the oldest casinos of its type. After you enjoy some local French Cuisine at Monte Carlo Harbour, you can head over to the Japanese Gardens where you can walk off your food and reflect on has been a great trip from Nice to Monaco.