Coaches to Farnham
The market town of Farnham is a great place to visit and is accommodating to all. With attractions and landmarks that are interesting to men, women and children. Your trip to Farnham is guaranteed to be memorable! Coaches to Farnham will most likely find that their coaches will reach Farnham Bus and Coach Station. The station serves the town of Farnham and provides easy access, whether you're searching for short journeys around Surrey, or even perhaps longer distances around the UK. Farnham Coach and Bus station is located directly at Farnham Railway Station and is also within walking distance of the city centre. The easily placed coach station provides easy access for you to explore the town of Farnham.
MegaBus to Farnham
Coaches to Farnham with MegaBus is a great choice if you're looking for cheap fares that are budget-friendly and affordable. Not only do they offer a great and guaranteed price to their passengers, but they're also known for their punctuality, good service, and wide selection of onboard facilities that are available to passengers. Just some of the facilities that on offer to passengers is the use of MegaBus's free Wi-Fi and their luggage allowance of 44 pounds (20 kg) to accommodate all of your transportation leads with a high luggage allowance.
And if you're struggling with what to do on your trip to Farnham but you're sure that you want to appreciate the sights that are available in Farnham then why don't you consider a sightseeing trip. MegaBus's exclusive trips for sightseeing are a great option of choice. Look out for the sightseeing opportunities, 'Mega Sightseeing Trips' if you want to the guaranteed a fun trip with additionally good service. These trips can be accessed through most major points in the UK and are fun and accommodating to any kind of passenger.
National Express to Farnham
National Express is the perfect option for coach travel if you're looking for affordably priced public transport with the guarantee of faultless service. Not only is National Express being one of the leading companies in the UK for coaching but it's also the most sustainable intercity network. Their pride in helping the environment, as well as efficient and punctual travel, makes them one of the best companies to travel with. And that's before we've even mentioned onboard facilities. Their onboard facilities include free and unlimited Wi-Fi, power sockets to charge all of your electronic devices, and also extra and additional legroom to accommodate your comfy seating. National Express is a great form of travel and you will have the guarantee of Farnham's beautiful views right from your coach window.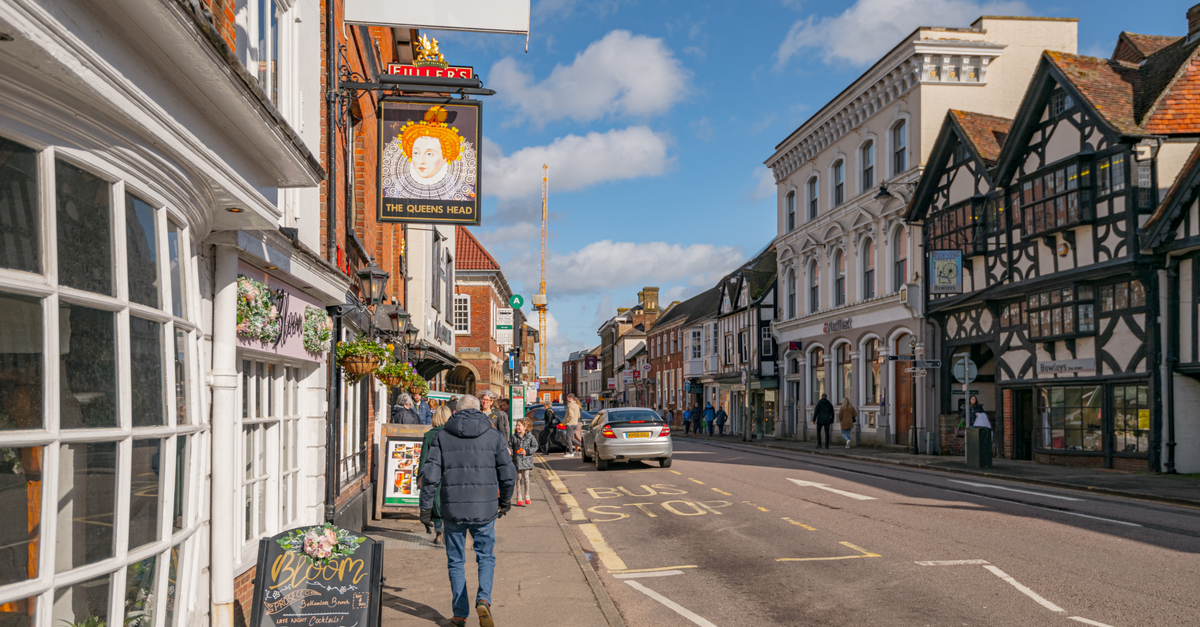 Farnham Downtown. Source: Shutterstock
Main bus stations in Farnham
It's commonly found that coaches to Farnham will reach the main bus and coach station, Farnham Bus and Coach Station. The station is located at Farnham Railway's Station and is easily accessible to reach if you're looking for further public transport around the town and in particular, Surrey. You can find that the bus and coach station conveniently located and within walking distance or alternative commuting distance from Farnham city centre.
The Farnham Bus and Coach Station see in coaches from most major town, cities, and airports across the UK. No matter if you're travelling a short or long distance to Farnham, the station is accommodating to all kinds of travellers. If you're travelling to Farnham, then you should expect that there's a possibility of having to transfer coaches through your journey. Depending on where you're travelling from then this might not be the case. It's good to check beforehand to make your journey as efficient and easy as possible!
Onboard facilities to Farnham
Whoever you choose to coach with on your trip to Farnham, you're guaranteed to benefit from wide use of facilities available. Each coach company may offer similar facilities that come free of charge with your ticket but it's dependent on whom you're travelling with. Those who are choosing to coach with National Express will find that they are gifted with good service and that's counting for offboard and onboard.
Passengers who are coaching with Farnham will be able to benefit from facilities like the use of free and unlimited Wi-Fi to accompany your long or short trip to Farnham, plug sockets for all of your charging needs on a variety of electronic devices, as well as extra legroom to accommodate your comfy seating on your travel to Farnham. Or perhaps, you're wanting to travel with MegaBus.
MegaBus offer similar facilities to their passengers like the use of free Wi-Fi and a large number of plug sockets with charging ports. They also offer 44 pounds (20 kg) of luggage allowance to accommodate all of your transportation needs.
Bus tickets to Farnham: Useful to know
Those who are travelling to Farnham will find that the coach trips will be from companies like MegaBus and National Express. Travelling with either of these two companies will mean that you're travelling with two of the leading companies in terms of coaching. No matter your choice of coach, these companies are efficient on their travel and guarantee good service, onboard facilities, and also punctuality on arrival. As well as their benefits to passengers, you will also find paperless and easily convenient tickets with their e-tickets to Farnham, available and accessible on any electronic device of your choosing.
If you're choosing to benefit from the use of e-tickets, then make sure to bring a form of identification that matches the same name on your coach ticket to Farnham. Identification can range from anything like a driving licence, passport, or even bank card. Purchasing tickets through Omio is extremely easy. Their eco-friendly usage of supporting e-tickets also means that you can store all of your tickets in an organised folder and make for efficient and easy travel.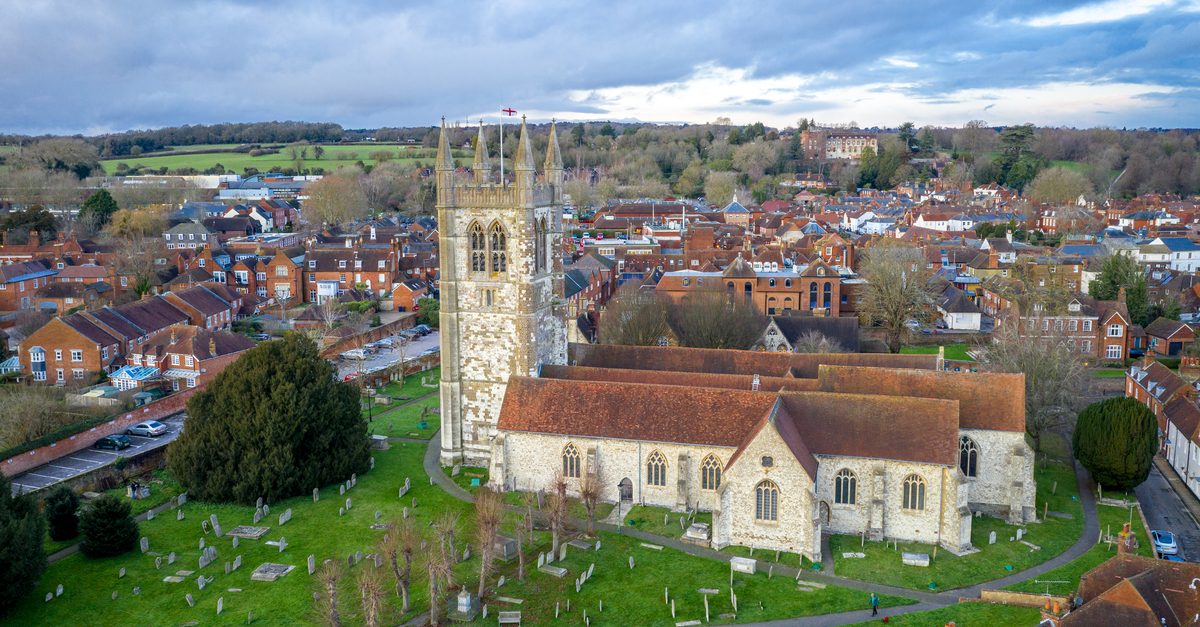 Farnham Aerial Church. Source: Shutterstock
To Farnham by bus – travel tips
The town of Farnham is gifted with some great history and it would be a great shame to travel to Farnham and not witness some of the beautiful and historic landmarks that are available to anyone. Interesting and historic, why don't you consider visiting some of the historic attractions like Farnham Castle and Waverley Abbey.
Or perhaps, you want to experience some of the nature that brings Farnham together in its beauty. Views from attractions like Brickfields Country Park Boxalls Lane, The Victoria Garden, and the Basingstoke Canal are great options if you're looking for some peace and quiet with beautiful views.
Farnham is a beautiful quiet marking town that is waiting to be discovered. Just off the outskirts of Surrey, this small and quiet town is gifted with beautiful sights and deep history. You most probably saw the beauty of Farnham on your coach towards the town and you're itching to discover more of what the town is to offer. Interesting to adults and children alike, this town has a lot to be discovered and a lot to be explored despite its small town.
Consider visiting some of the naturistic spots that are available in the town or perhaps experience and discover some of the history with their famous landmarks. Whatever you choose to do with your time in Farnham, you're guaranteed to have a memorable trip and wish that you were coming back soon.