Coaches to Cannock
Cannock is a small town which is conveniently located in the Southern Staffordshire area of the West Midlands. The main bus station that serves coach passengers to and from Cannock can be found in the Stafford Road, which in the centre of the town. The main cities that are connected to the town of Cannock by coach are Birmingham and Manchester. The overall distance between Cannock town and Birmingham city is approximately 16 miles (26 km) and there are 56 miles (90 km) dividing Manchester city and Cannock.
National Express to Cannock
Once per day the transport company National Express (NX West Midlands) runs a scheduled service offering coaches to Cannock. This route that travels from Manchester Coach Station stops at Chorlton Street before finally arriving at the Penkridge bus stop in Cannock town. The whole coach journey will take you approximately one and a half hours. If you are looking to travel to the nearby popular town of Walsall, you can pick up a National Express bus at Cannock's town centre bus station in Stafford Road. The direct coach route which terminates at Walsall Bus Station will take you up to 50min.
West Midlands Railway Birmingham to Cannock
An alternative method of transportation to coaches to Cannock from other local cities is of course to take the railway. You can ride the West Midlands train from the Birmingham New Street train station straight through to the depot in Cannock's town centre. The direct train journey by West Midlands Railway which runs every half an hour from 5:00 a.m. through until midnight will take you approximately 38min.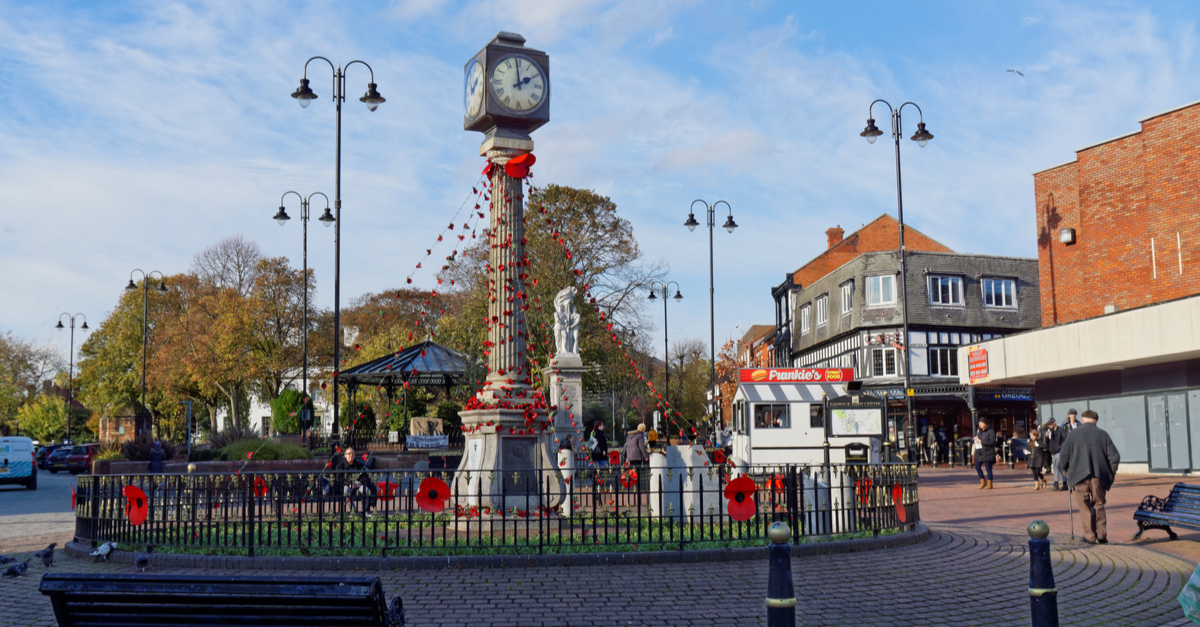 Cannock Square Clock. Source: Shutterstock
Main bus stations in Cannock
Cannock itself may be a relatively small West Midlands town but it is well served by both its internal journeys around the town itself and by its external bus routes. The Stafford Road depot in the city centre is considered to be the main bus station in the town, offering its regular scheduled bus services which run to both Birmingham and further afield in Manchester. The popular former events Stadium in Cannock which is now used as a family orientated play park, is easy to reach by coach journey from various bus stops around the town. These bus pick-up zones include the stops at Common Lane, Cannock Chase Hospital, and Pye Green Road.
Onboard facilities to Manchester
The 72 mile (116 km) coach journey to Manchester from Cannock's Stafford Road station is provided by the National Express company. This journey will take you approximately 1h 50min via coach. The modern coach fleet that is operated by National Express has been fully fitted out for their customers' on-board comfort with a toilet and boasts comfortable leather seats. National Express coach passengers can store up to two pieces of luggage up to the size of two medium-sized suitcases in the undercarriage of the coach, weighing up to 44 pounds (20 kg) each piece. In addition to this, you may carry a small piece of hand luggage. The Wi-Fi connection is available throughout your journey making it easy for you to work, tweet, Snapchat, or Instagram your trip. The onboard temperature is controlled by a modern air-conditioning and heating system for your comfort.
Bus tickets to Cannock: useful to know
The National Express company advises you to buy an e-ticket in advance of your journey for your convenience. However, it is usually possible to purchase a ticket straight from the driver when you board, subject to the seat availability on the day. Your e-tickets will be automatically delivered to you via email at the point of sale, and these e-tickets are also viewable on the Omio app which you can easily show the driver as you board. When you buy a coach or rail ticket with Omio, not only is it a fast and easy way to purchase but you can store all of your tickets within your Omio account on your phone. This makes it super easy to organise your journey and cuts out the need for printing.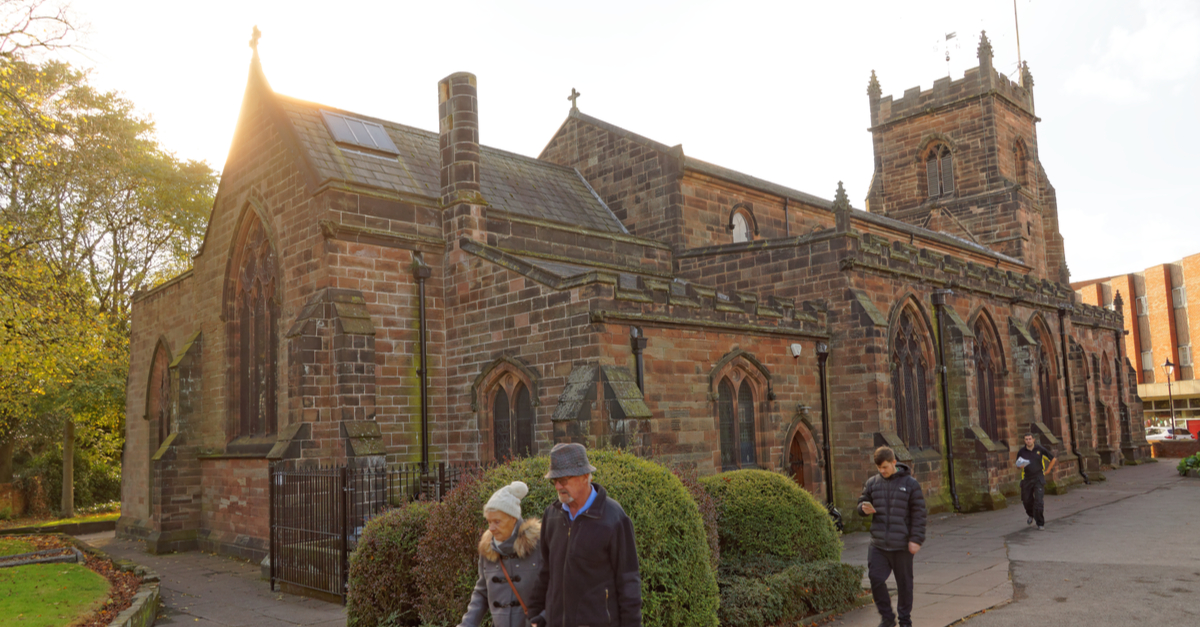 Cannock Parish Church. Source: Shutterstock
To Cannock by bus—travel tips
The town of Cannock in Staffordshire is a popular destination for both leisure travellers and business reasons, due to its central location in England. Offering a choice of ultra-modern hotels, market days, numerous town centre restaurants, shops and pubs which make it a great town to spend a few days in. Cannock town is in easy reach by coach to nearby the towns of Stoke-On-Trent, Walsall and Alton. Getting around Cannock via the local bus service is easy, with regular routes running throughout the town all seven days of the week.
The mainline train line in Cannock, which you can book tickets for with Kayak offers fast links to Manchester, Birmingham, and cities further afield including the capital city of London and Leeds. National and international visitors from further afield visit Cannock town to pay their respects to the deceased soldiers that are interred at the Cannock War Cemetery.
The Cemetery is made up of two burial grounds. The cemeteries hold the graves of fallen Polish, German, and Ukraine which date as far back as the commonwealth war. The graves are a thought-provoking and peaceful place to visit. For the best experience, book a guided tour to hear the individual stories of some of the soldiers who lay there at rest.
When you visit Staffordshire be sure to stop at the countryside of Cannock town, which is known as the smallest protected "Area of Outstanding National Beauty" in the whole of England. A great way to see the area is to take the 4 mile (6.4 km) return journey by rail which travels through Chasewater Country Park. You will be transported by diesel and steam heritage trains, making for a unique journey. Chasewater Country Park also holds a historic railway museum, with a range of gift shops and cafes, making it a fun day out the whole family will enjoy.
Close to Cannock town is the family theme park of Alton Towers which is a popular attraction which is a must-visit day out for organised school and family day trip. The amusement park is packed full of sit-on rides and amusements, rollercoasters, and big dippers along with kiosks and cafes for family meals. The site hosts a hotel, spa, and a water park so you'll not want to miss out on this family stop-over!
Cannock Chase Forest is another great family day out to enjoy whilst you are in the Midlands area. Cannock Chase Forest is packed with private woodland nature trails and walks that will suit all ages and abilities. To really venture out, you can hire a bike from the forest cycle centre and explore the woodland on two wheels. The children's play areas and 'Go Ape' climbing rope areas are a good way to burn off excessive children's energy before stopping for a family picnic in the park area or a bought lunch in the forest café. Dogs are made very welcome in the forest and they even have their own activity trail!