How to Travel from London to Gibraltar?
Travelling from London To Gibraltar takes 2h 55min by plane for the 1091 Mile (1757 km) distance trip. The main airline carriers flying to Gibraltar are Omio travel partners easyJet and British Airways. Flights depart from either London Gatwick or London Heathrow Airport and fly straight into Gibraltar International North Front Airport. The flights are direct with no changes or stopovers.
There are generally 2 flights from London Heathrow departing each day and one from Gatwick International, but if you check the Omio flight timetable you can see what time of day and flight will suit your needs. The flights are all daytime flights so you can relax, read a book and enjoy the journey. Passengers travel from London To Gibraltar for a walking tour through history, to witness the towering Rock Of Gibraltor and for a beach side holiday escape.
What is the Cheapest Way To Get from London to Gibraltar?
The cheapest way to travel to Gibraltar from London is by plane on 2 of the Omio travel partners easyJet or British Airways. If you want to find the cheapest tickets to Gibraltar then your best bet is to book as far in advance as possible.
There are different classes and baggage options for each flight ranging from light to standard on British Airways and the more superior option of flex on easyJet. With each option you get different perks like extra check in bags, seat options, board priority and refundable or semi refundable options, so choose what would suit your needs best. You can travel light with one personal item to save some money, as long as you adhere to the size restrictions. If you want to check in any extra baggage items this will cost you more per item and weight. Another clever tip if you want to save cash for the cheapest flight is you can check your bags in online and not at the airport and save up to 50% off the check in price.
What is the Fastest Way to Travel from London to Gibraltar?
The fastest way to travel from London to Gibraltar is by plane, and you can expect a flight time of 2h 55min for the 1091 Miles (1757 km) distance trip. The main flight partners easyJet and British Airways have different time options and faster flights. The fastest flight time you can expect averages around 2h 55min on British Airways and the slowest on easyJet at 3h 05min. Take into account that if you choose to check in at the airport this will add precious time onto your commute, so the fastest way is to check in online before you arrive at the airport. This can be done via the Omio app under Manage Bookings. Omio helps you become an experienced and efficient traveler and if you follow these easy steps you will arrive at your destination stress free.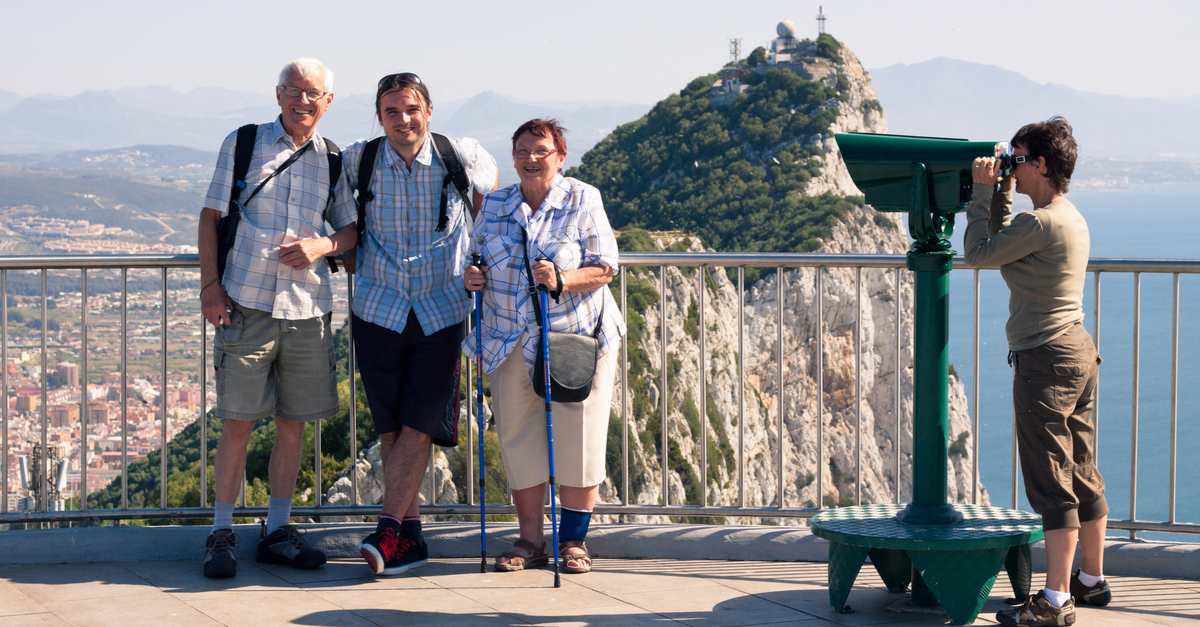 Gibraltar Panoramic Elpeñón. Source: Shutterstock
Find the best tickets from London to Gibraltar and book with Omio
If you're looking for the best tickets from London To Gibraltar, then you need to look no further than Omio to help you with your search. Omio is your digital travel consultant ready to deliver you the best travel options at the click of a link. Omio is an online travel-booking platform that sources and compares all options for your trip and helps you plan everything from the biggest to the smallest detail. You can browse and compare all sorts of different modes of transport taking you from London to Gibraltar and source the cheapest fares available to you, simply and quickly.
The worst part of planning a trip is the wasted minutes online searching for the best deals that suit your unique needs. Omio does all of this for you, within a matter of seconds and within your chosen language of choice. The best thing about it is that Omio offers a wide range of competing companies to choose from, a birds eye view of all travel options available at the best price and the choice of using a mobile ticket on your phone to cut out the paperwork. The Omio Magazine Window Seat is an informative entertaining travel magazine that offers exciting and useful tips to help you plan the perfect trip.
Flights from London to Gibraltar
Travelling from London to Gibraltar by plane is the fastest, most direct route. The Omio flight partners easyJet and British Airways have different options and prices, leaving from either London Heathrow Airport or Gatwick Airport and fly straight into Gibraltar International North Front Airport with no stops and no fuss. There are up to 3 flights per day from London to Gibraltar with 2 normally departing from Heathrow and one from Gatwick Airport.
All the flights are daytime flights and you can choose between different classes on both easyJet and British Airways. easyJet offers an exclusive upper class called Flex that has benefits like extra check in baggage, boarding priorities and all those tiny extras that make travelling more enjoyable. Depending on the plane there may not be a Flex option for certain flights, but if you check your Omio booking timetable you will be able to select the flight and standard of class you want with ease. Once you arrive at your destination Gibraltar International Airport, to get to the city centre is very easy and will take you approx 18min by bus, leaving every 10min and the same amount of time if you drive or catch a taxi. Once you're in the city, your adventure begins.
Flying from London to Gibraltar with easyJet or British Airways
The main airlines flying from London to Gibraltar are easyJet and British Airways. Both carriers have flight options leaving from the main airports in London, London Heathrow International and Gatwick airport. Heathrow is the main departure route with up to 2 flights leaving per day and Gatwick airport normally only one flight per day.
This is subject to change so check your Omio booking table to find your best day and the most convenient airport for you. You can choose from a very standard light class with only one carry on luggage or spoil yourself with the Flex class offered on easyJet if you have lots of baggage and want all the extras that make your journey easier and more comfortable. Getting to London Heathrow International or Gatwick from London City centre both take around the same time on public transport – approx 40 – 50min. All in all, catching a plane from London to Gibraltar is smooth flying all the way.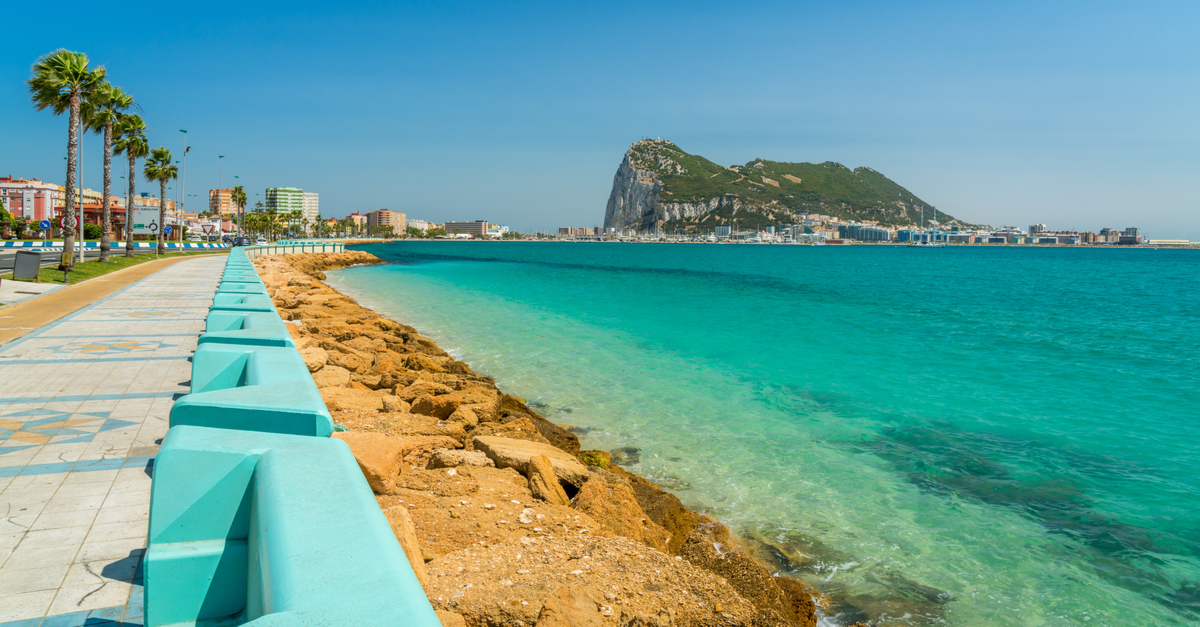 Gibraltar Rocks Beach Line. Source: Shutterstock
To Gibraltar by flight – travel tips
Gibraltar is a famous old British outpost situated on the South Coast of Spain and is alive with history. If you're a tourist, you wont want to miss the famous Rock of Gibraltar, a massive limestone promontory that towers over the sea and town of Gibraltar. The upper peak of the Rock is a nature reserve populated by hundreds of Barbary Macaque monkeys, one of the many reasons visitors flock to Gibraltar.
Another historical must see is the landmark Moorish castle with breathtaking sea views and the age-old defense tunnels that circle under the northern end of the rock. Gibraltar is also known for its exquisite endless beaches with magical views of the Rock of Gibraltar and for its endless amount of limestone caves where you can be privy to wonderful natural light shows.
If you're an adventurer, then why not take the Gibraltar Cable car and see the entire peninsula in all of its spectacular glory. If you're more of a beach person or foodie, then Gibraltar has a delicious international array of restaurants to choose from and sea view cafes to warm the cockles of your heart. Alive with old stories, historical wonder and sea breezes, Gibraltar is a travelers delight.