How to travel from London to Bordeaux?
The travel time from London to Bordeaux is around 9h 6min covering a distance of 460 miles (742 km). Omio indicates how the London Bordeaux journey can be exciting with great stops, including Paris and Brighton. Other locations along this route are Marne-la-valle, Versailles and Ypres. Ever been to Eastbourne and South-End on the Sea? It would be a fair chance to explore these fantastic areas too. Travel options from London to Bordeaux abound. You can do it cheaply via bus /rail or fast by flight for business, weekend getaways, and the usual long vacations. In total, the London Bordeaux route boasts over 40 stops encompassing cities, towns, and attractions.
What is the cheapest way to get from London to Bordeaux?
The cheapest way to get to Bordeaux from London is by bus. While it takes much longer, around 15h 19 min to arrive at your destination, the travel cost is much lower. Remember, there is no direct bus travel from London to Bordeaux. So, you must factor in some transfers too. Some popular bus lines here are BlaBlaCar bus, Flixbus, Eurolines France, and OUIBUS.
Omio has established networks and complete trust with most bus companies along this route. Hence, you can make your booking right from the platform. There are other ways to get the cheapest tickets from London to Bordeaux. For example, you can book in advance with your favourite bus company. You can also go during the off-peak seasons as there is a minor scramble for tickets. Another London Bordeaux cheapest way to travel is the train, especially the slower and connecting trains.
What is the fastest way to travel from London to Bordeaux
The fastest way to get to Bordeaux from Bordeaux is via flight. Non-stop direct flights take approximately 1hr 45 min to destination. On the other hand, connecting flights takes roughly 3h 15 min. Some of the famous airlines plying this route are Ryanair, EasyJet, and British Airways. EasyJet and British Airways depart from London Gatwick, Ryanair from London Stansted, while another EasyJet departs from London Luton. Other travellers, primarily British Airways, begin from London Heathrow airport to disembark at Bordeaux Mérignac Airport.
Find the best tickets from London to Bordeaux and book with Omio
As one of the best and most reputable online booking platforms, Omio goes out of its way to link with the very best airlines, bus, and train operators. The platform also compares prices to find you the best round-trip/one-way tickets from London to Bordeaux. Omio will often offer you the best deal from the complete line-up of companies with whom they do business. Omio also scans travel options at a glance to know which is suitable. As a multilingual platform, communicate and book your ticket in the language you understand. And besides the advantage of mobile tickets, you can also check out incredible tips from our magazine to help you book only the best tickets from London to Bordeaux.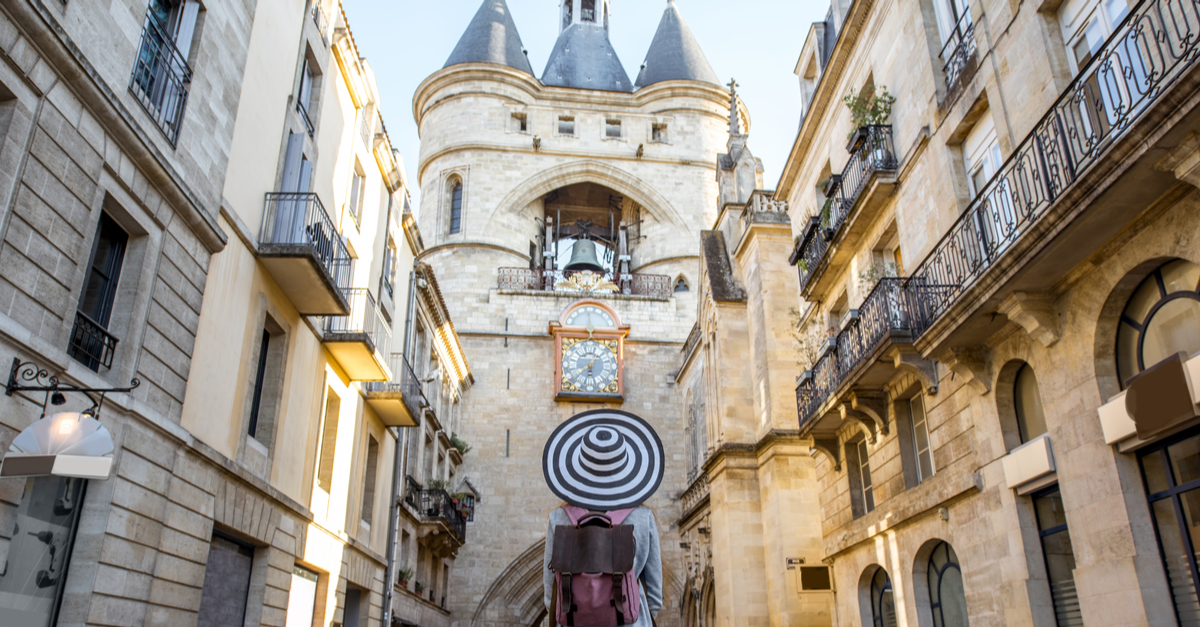 Bordeaux Cathedral. Source: Shutterstock
Trains from London to Bordeaux
One of the most comfortable, relaxing, and affordable ways to get to Bordeaux from London is via train. A typical train time on this route takes about 5hr 55min for the 994 km distance. This route operates on Eurostar, TGV inOui, Paris Metro, and London Underground (Tube). While Eurostar departs from London St. Pancras, other trains from London to Bordeaux depart from London Kings Cross Station and arrive at Bordeaux St-Jean station. This train station is a walking distance from the city centre and enables you to hop onto buses, taxis to your final destination or hotel accommodation. Approximately 42 trains ply this route each successive week. But the numbers can vary during weekends and holidays. Therefore, it would be prudent to consult Omio, who can provide an updated schedule for all train operators on the London Bordeaux train circuit.
Train travel from London to Bordeaux with Eurostar
The relatively cheap tickets, daily operations, and direct services from London to Bordeaux make Eurostar a suitable train company for many travellers. The train operator also has some of the best onboard services, including plenty of luggage space and no weight or liquid restrictions. It is easy to bring your favourite drinks for your weekend vacation to Bordeaux from London. So how early should you arrive to board the Eurostar on the London Bordeaux trip? The recommended time is 45 to 60min before departure, enabling you to pass through customs and other security checks.
Buses from London to Bordeaux
Several bus companies have daily fleets on the London Bordeaux route. Flixbus, BlaBlaCar, Eurolines, and OUIBUS are the most notable. If your schedule is tight and you would like to get to Bordeaux quickly, Omio can get you on the direct bus, which takes fewer hours. You can also get all the bus company schedules on this platform. Other helpful info from Omio is baggage allowance, London to Bordeaux price, and onboard amenities. The platform will also provide you with the departure and arrival times for the particular bus, so you are right on time.
Travelling by bus from London to Bordeaux with Flixbus
If there is a bus company that Omio has excellent links with, it is Flixbus. But it is also popular with most travellers because of its exceptional services. Some of the amenities are spacious luggage allowance and comfortable seats. The bus crew is entirely professional and will promptly respond to your concerns en route. You can also get a Flixbus that suits your needs based on schedule, London to Bordeaux cost, and favourable arrival location. Lastly, Flixbus issues paperless mobile tickets making it convenient to download and head onto the bus station without hassle.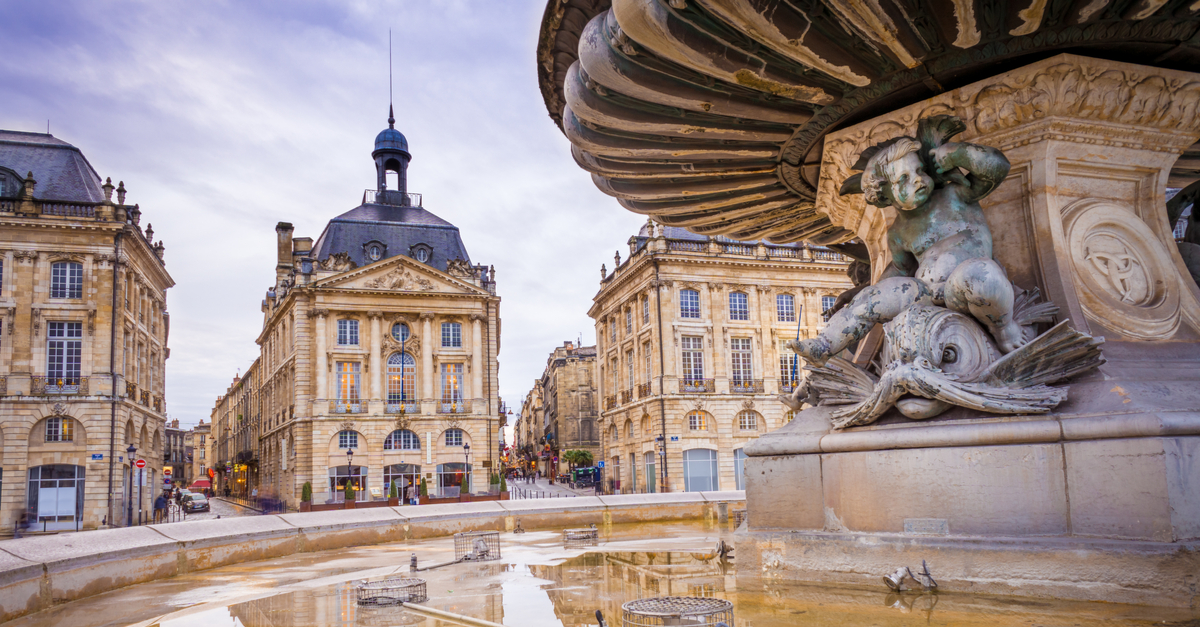 Bordeaux Plaza Fountain. Source: Shutterstock
Flights from London to Bordeaux
One of the fastest ways to get to Bordeaux from London is to fly. Travel time for this mode of transport is approximately 1h 45 min. The most popular airlines are Ryanair, EasyJet, and British Airways. Easy jet and British Airways depart from London Gatwick while Ryanair departs from London Stansted to arrive at Bordeaux–Mérignac Airport. The three flights also have direct flights from London to Bordeaux. The number of weekly direct flights along this route is 32, meaning the frequency is high, and you can get onto one at your convenience. Once at Bordeaux–Mérignac Airport, you can get to the city centre within minutes using the bus and taxi services available 24/7.
Flying from London to Bordeaux with Ryanair
It is easy for Omio to book you on Ryanair based on your schedule. Travel time with this airline is a quick 1h 45min on a direct flight from London to Bordeaux. What makes this airline a traveller's favourite is its affordability. Omio will also occasionally get you even better deals on this airline. The flight crew is also entirely professional, and flight delays are pretty rare.
To Bordeaux from London by train/ bus/ flight—travel tips
Most travellers headed to Bordeaux from London are in for a pleasant surprise. Regardless of the mode of transport, Bordeaux is a breath of fresh air from the usual London hassles and busy lifestyle. As already mentioned, a road trip takes you through the most amazing stopovers and attractions along the London Bordeaux route. Some of the top stops are Brighton Palace Pier and Château de Chenonceau. Canterbury Cathedral, Colchester Zoo, Dover Castle, and Colchester Zoo are other exciting landmarks for London to Bordeaux. Then, of course, you can enjoy the city's green, quiet parks, friendly people and fantastic food and drinks while in the city.