General Information about the journey from Belfast to Liverpool
Despite being separated by the Irish Sea, the journey between Belfast and Liverpool can be easily achieved, with good transport connections by air, train and bus. Travellers looking for the fastest travel options can book a flight from Belfast International Airport to reach Liverpool in under an hour, while other travel options include a much longer journey of several hours by train or bus, which must involve a ferry crossing across the Irish Sea. Despite the lengthier journey time, land travel options do not necessarily offer the most economical modes of transport.
Return journeys from Liverpool to Belfast are also available.
Travel from Belfast to Liverpool
On any given weekday there are at least two flights and two ferries making the journey from Belfast to Liverpool. easyJet provides direct flight service from Belfast International Airport to Liverpool John Lennon Airport with morning and evening departures which complete the trip in about 50min.
If you prefer travel taking the scenic route there are ferries crossing the Irish Sea from Belfast to Liverpool. Stena Line operates morning and night service from the Port of Belfast direct to the Port of Birkenhead which takes about 8h to make the crossing.
About Liverpool
Home of the Beatles and Liverpool F.C. this metropolis ranks as one of the most populated and one of the most visited cities in the UK. Located in the North Eastern English borough of Merseyside, Liverpool sits along the banks of the Mersey River and enjoys a temperate climate with mild summers. cool winters and fairly uniform rainfall patterns throughout the year.
It is a thriving centre for commerce, education and the arts and of course music and sports. You can find a vibrant nightlife and entertainment scene here as well with various restaurants, bars and clubs to suit your taste. Dinner hour is usually around 08:00 p.m. and several eateries stay open until the wee hours, so there's always a place to grab a bite after your journey from Belfast to Liverpool. Many of the city's bars and clubs stay open until 03:00 a.m. while others continue until the crack of dawn (about 06:00 a.m.).
Public transport in Liverpool
Liverpool has a comprehensive public transport system which provides bus, metro, rail, air and ferries services between the city and points national and international. Merseyrail and Network Rail are the key providers of commuter and intercity rail services via a network of railway line connecting the city to much of the UK.
Liverpool John Lennon Airport is the main transit point into the city supporting domestic and international air traffic while Stena Line is the main provider of ferry traffic including service from Belfast to Liverpool via the Port of Birkenhead. National Rail operates long distances coach service in Liverpool from its terminal at Liverpool One Bus Station which is also a good place to catch a local bus to navigate the city after your trip from Belfast to Liverpool if you prefer not to drive.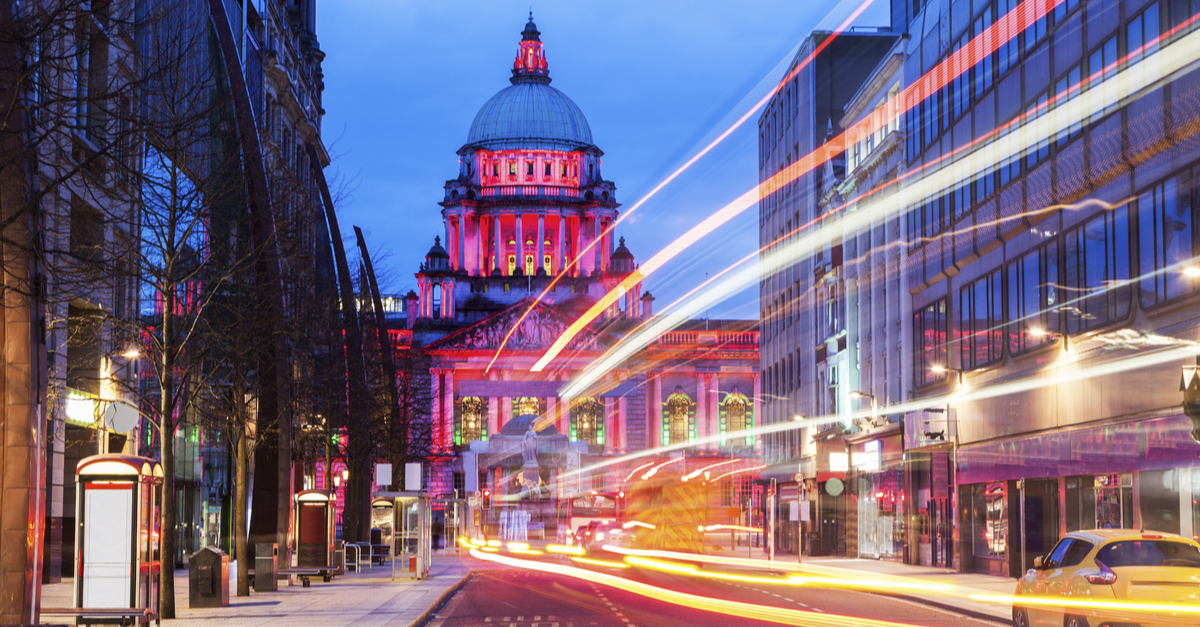 Belfast City Ligths. Source: Shutterstock
Important bus & trains stations, airports to Liverpool
Port of Birkenhead and John Lennon Airport: Port of Birkenhead is the terminus for ferries from Belfast to Liverpool and is about 3.8 miles (6.2 km) or 9min by car, about 14min by train and approx. 16min by bus from Central Liverpool. The closest railway is Birkenhead Hamilton Square Railway Station about 15min away by foot or you can take a taxi if travelling with heavy luggage. Facilities at Port of Birkenhead include ticket and reservation office, WC with baby-changing facilities, refreshments facilities, car parking facilities, public phones and free Wi-Fi.
Disability assistance is also available for persons with reduced mobility. Flights from Belfast to Liverpool will arrive at Liverpool John Lennon Airport which is the primary gateway to the city and the Greater Merseyside region. It is located about 7.5 miles (12 km) or 16min by car and approx. 36min by bus or train from Central Liverpool, with excellent bus links including the Arriva 500 Express Bus to the city centre.
Hunts Cross Rail Station is about 2.2 miles (3.5 km) from Liverpool John Lennon Airport but is easily accessible via airport bus (Arriva 89). Facilities at Liverpool John Lennon Airport include ATM, WC with baby-changing facilities, retails shops and restaurants, ATM, currency exchange counters, luggage storage and Information Desk. The airport is also a fully accessible facility with Blue Badge parking spaces and accessible bathrooms.
Which companies travel to Liverpool?
Of the various passenger/vehicle ferry companies making trips from Belfast to Liverpool, Stena Line is one of the few offering daily direct service from origin to destination. The ferry company uses two vessels, each one making a separate morning and late-evening journey which lasts about eight hours. For faster travel between the cities easyJet provides multiple daily direct flights with morning and evening service from Belfast to Liverpool which lasts about 1h 50min.
Stena Line ferry to Liverpool
Stena Line is a global shipping line company which is also one of the world's leading ferry operators. It provides passenger transport along seven separate lines across the Irish Sea, including three ferries from Belfast to Liverpool which originate from the Port of Belfast. Should you prefer to travel by ferry you can board passage on Stena Edda or Stena Embla which are the two passenger and vehicle ferries that operate twice-daily departures (including weekends) along this route. Ferries from Belfast to Liverpool are direct journeys and take about eight hours to arrive at Port of Birkenhead.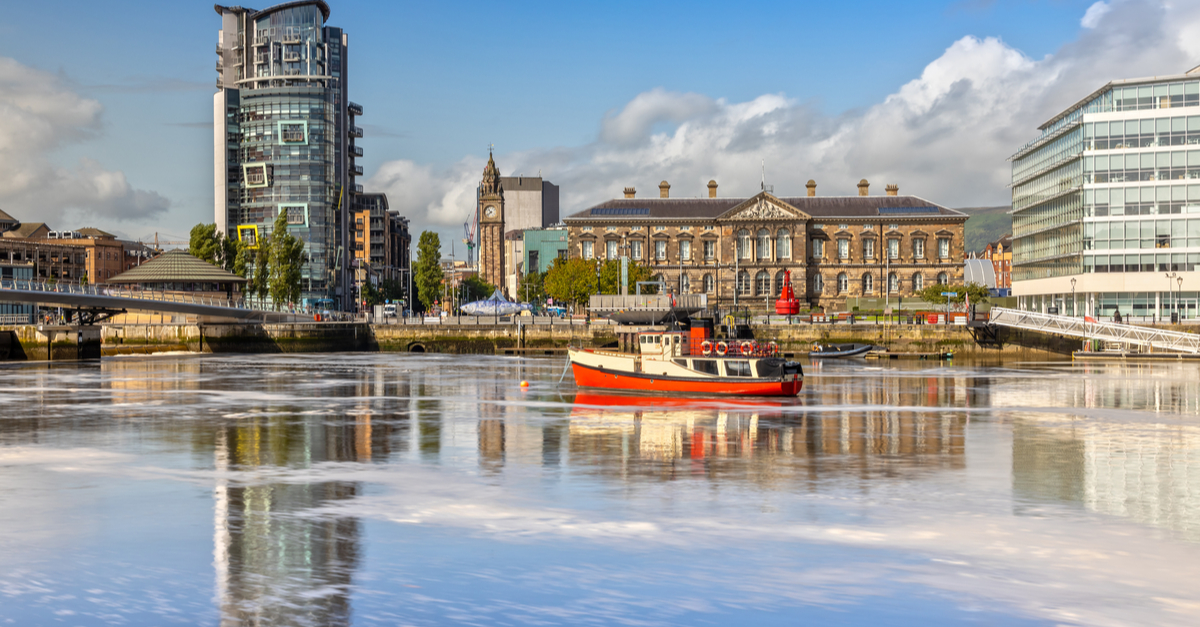 Belfast Custom House. Source: Shutterstock
easyJet flights to Liverpool
easyJet is one of the main operators and providers of low-cost flight service to destinations across the UK and the European continent. It is one of the few airlines offering direct flights from Belfast to Liverpool with service from Belfast International Airport to Liverpool John Lennon Airport. The airline maintains hubs at both locations and provides at least two daily departures including weekends, with as many as four flights from Belfast to Liverpool on some days. If you're travelling from Belfast to Liverpool by plane you should expect easyJet flights to last about 50min. This is the quickest mode of transport between the Northern Ireland capital and the English city.
How to find cheap tickets to Liverpool
The best way to find cheap tickets from Belfast to Liverpool for either mode of travel is by making online reservations as far in advance as possible when fares are generally lowest. Taking advantage of online promotional fares and specials is also a great idea since providers regularly offer discounts for children, seniors, students and groups. They may also offer season tickets from Belfast to Liverpool which can be cost-saving measures for frequent traveller/flyers conducting business between locations.
Flexibility with your travel dates and schedule can be a great benefit when it comes to indirect trips as planes, trains and buses with connecting routes usually offer lower fares than direct or peak time tickets. Purchasing roundtrip tickets is also a more economical way of travelling instead of multiple one-way tickets
Travel to Liverpool – travel tips
The city of Liverpool was one a mighty industrial centre and port city during the Industrial Revolution. While its industrial importance may have waned over time, it is still a very potent metropolis teeming with commerce, arts, culture and nightlife waiting to be discovered after your trip from Belfast to Liverpool. The World Museum is an introduction to the modern city of Liverpool with its space exhibits and planetarium. Liverpool Cathedral is at once the world's longest cathedral and one of the tallest in the world, measuring about 620 ft. (189 m) in length and over 330 ft. (101 m) in height.
Sefton Park is an oasis of natural greenery in this port city and one of its beloved treasures where you can visit the conservatory to view some exotic flora and fauna. For some of the best views after sunset, the 450 ft. (138 m) observation deck at Radio City Tower can't be beat: selfie sticks are definitely recommended.
For lovers of fine dining, Liverpool offers some excellent restaurants to discover. The Art School Restaurant is a fine establishment with a cheese soufflé and Scottish grouse that come highly recommended, but for something more exotic try the tabbouleh at Kasbah or the authentically-prepared tikki masala at Mowgli. To quench your thirst after a long day we invite you to explore two of the most eclectic watering holes Liverpool has to offer: The Camp and Furnace is a multi-purpose event space with a mouth-watering menu and lip-smacking brews while Be At One Liverpool solidifies its rep as the best Happy Hour in the city.